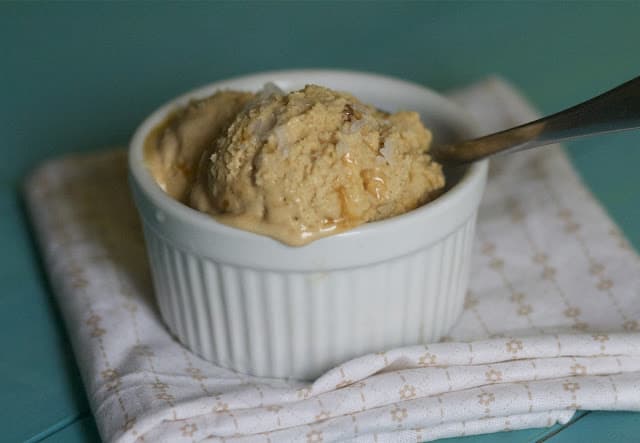 If you have kept up with my blog with any regularity in the last year, you know I have a mild salted caramel obsession. Any time any dessert involves this delicious and addicting ingredient, I don't hesitate to go for it. It's just SO good. The buttery, rich caramel flavor accented by a hint of salt just kills me every time. So, it was only a matter of time before I ventured to the Salted Caramel Ice Cream route. I mean, I had to right?
This recipe is wonderful. It is the richest, creamiest ice cream I've ever made and the salted caramel flavor is just perfect. Little caramel bits, sprinkled throughout the ice cream, end up melting a bit-creating little pockets of caramel. Also- the presence of salt keeps this ice cream perfectly creamy, never allowing it to get rock hard. (You know- that whole salt melts ice thing?) Rather than adding extra salt to the mixture, I sprinkled some flaky bits on top to really give it that perfectly salty flavor.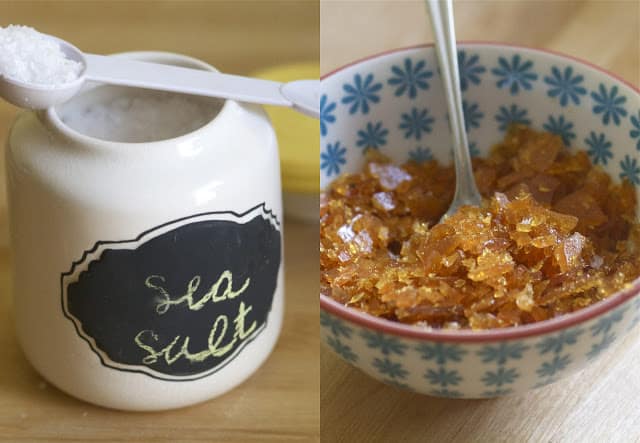 For this recipe, I combined two different ones that both looked good for different reasons. I didn't want anything too complicated or time consuming (since by nature ice cream demands an overnight step,) but also wanted to make sure this was the saltiest, caramel-iest version I could find. I'm so happy with this end result! The only thing I may change when I make it next is to experiment with cream vs. half and half/milk to see how much richness I can take away without compromising flavor. Guess I'll just have to make it few more times to test it out. :)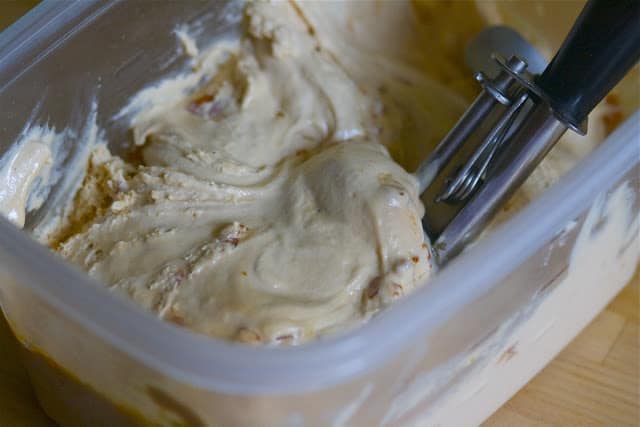 I know not everyone has an ice cream maker, and I totally get that they can be bulky and take up space. But- if you were ever going to get one for a specific recipe, this is the one! I have this inexpensive machine, and I love it. If you really want to try this but don't see an ice cream maker in your future, try David Lebovitz's "Ice Cream without a Machine" method here
Ingredients
For Caramel Candy Mix in:
1/2 cup sugar
3/4 teaspoon sea salt, such as fleur de sel
For the Ice Cream Base:
1 1/4 cups sugar, divided
2 1/4 cups heavy cream, divided
1/2 teaspoon flaky sea salt such as Maldon
1/2 teaspoon pure vanilla extract
1 cup whole milk
3 large eggs
Instructions
To make the caramel praline, spread the ½ cup of sugar in an even layer in a medium-sized, unlined heavy duty saucepan: . Line a baking sheet with a silicone baking mat or spray it lightly with cooking spray
Heat the sugar over moderate heat until the edges begin to melt. Use a heatproof utensil to gently stir the liquefied sugar from the bottom and edges towards the center, stirring, until all the sugar is dissolved. (Or most of it—there may be some lumps, which will melt later.)
Continue to cook stirring infrequently until the caramel starts smoking and begins to smell like it's just about to burn. It won't take long.
Right afterwards, sprinkle in the ¾ teaspoon salt without stirring, and immediately pour the caramel onto the prepared baking sheet and lift it up immediately, tilting and swirling it almost vertically to encourage the caramel to form as thin a layer as possible. Set aside to harden and cool. Once cool- place caramel pieces into a large bag and crush with a rolling pin until pieces are small.
For Ice Cream:
Heat 1 cup sugar in a dry large heavy skillet (I just rinsed the first one and used it again,) over medium heat, stirring with a fork to heat sugar evenly, until it starts to melt, then stop stirring and cook, swirling skillet occasionally so sugar melts evenly, until it is dark amber.
Add 1 1/4 cups cream (caramel will totally seize up ) and cook, stirring, until all of caramel has dissolved. (it may seem like something went wrong but it didn't, just stir the lumpy caramel patiently until it all melts.) Transfer to a bowl and stir in sea salt and vanilla. Cool to room temperature.
Meanwhile, bring milk, remaining cup cream, and remaining 1/4 cup sugar just to a boil in a small heavy saucepan, stirring occasionally.
Lightly whisk eggs in a medium bowl, then add half of hot milk mixture in a slow stream, whisking constantly. Pour back into saucepan and cook over medium heat, stirring constantly with a wooden spoon, until custard thickens and coats back of spoon (do not let boil). Pour custard through a fine-mesh sieve into a large bowl, then stir in cooled caramel.
Chill custard, stirring occasionally, until very cold, 3-6 hours (I always chill mine overnight.) Freeze custard in ice cream maker (it will still be quite soft), then mix in the caramel bits. Store in an airtight container overnight or until ice cream firms up a bit!
Nutrition Information:
Serving Size:

1 grams
Amount Per Serving:
Unsaturated Fat:

0g
Recipes adapted from David Lebovitz and Gourmet