Salted Caramel Pretzel Brownies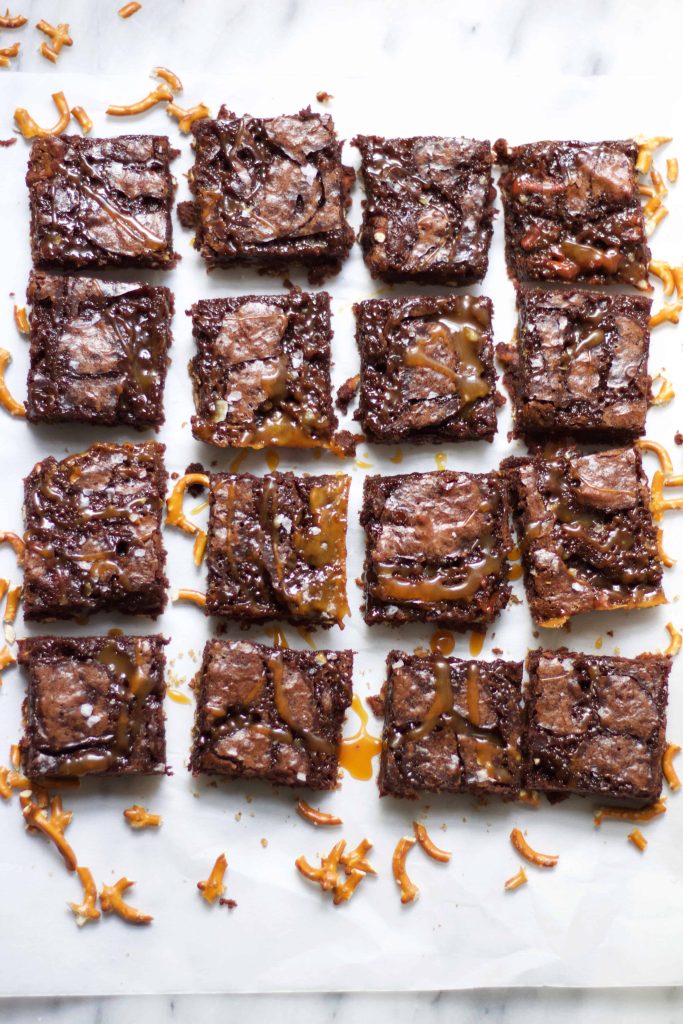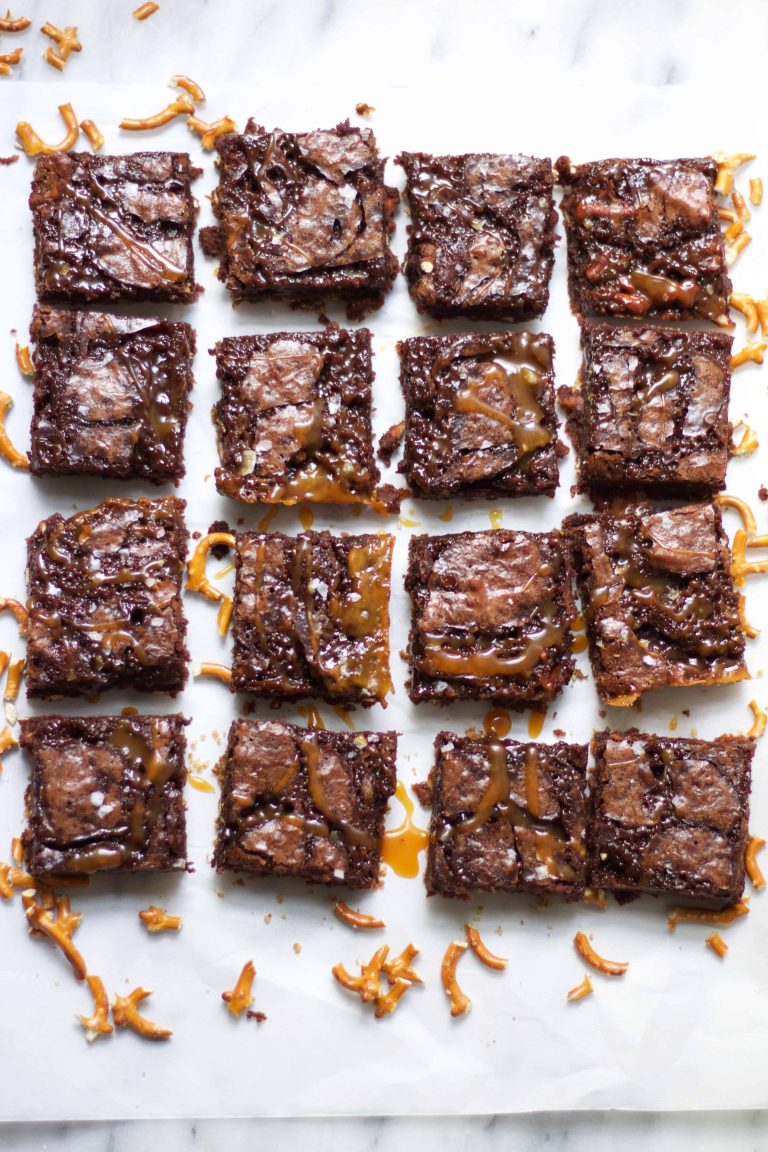 Look at these photos and writing this post is starting my early morning cravings in the best possible way. These brownies are everything I want to be eating right now and more. If my sweet & salty love is pretty high normally, while pregnant it's just through the roof. When it came to these brownies, just adding one salty element wasn't quite enough, so both pretzels, salted caramel, and flakey salt were needed. Even with all that these weren't too salty- I found the contrast to be pretty perfect.
Crushed pretzel crumbs are layered into the bottom of a pan, brownie batter is poured over, and caramel sauce is swirled in. They bake up all crackly and gooey and to-die for good. These may have been a little more time consuming than just a standard brownie, but I found the extra effort so worth it. And truthfully, since I almost always have a jar of Salted Caramel Sauce in the fridge, it was easy to just swirl it in and crush some pretzels.
Is 7 am too early to break into my freezer stash of these? No? Ok see you later…..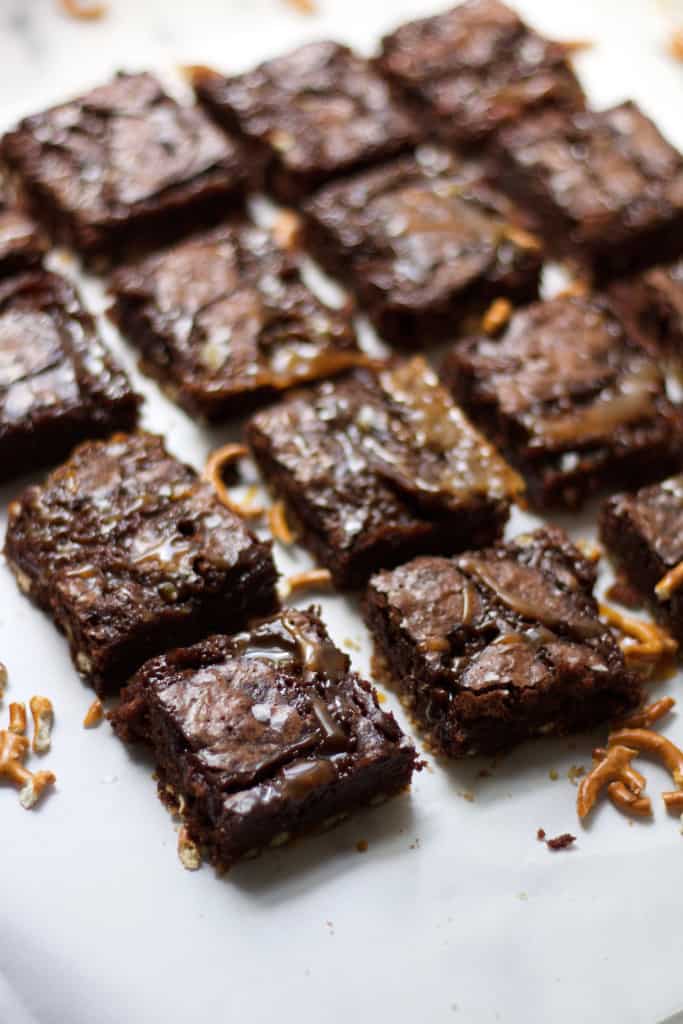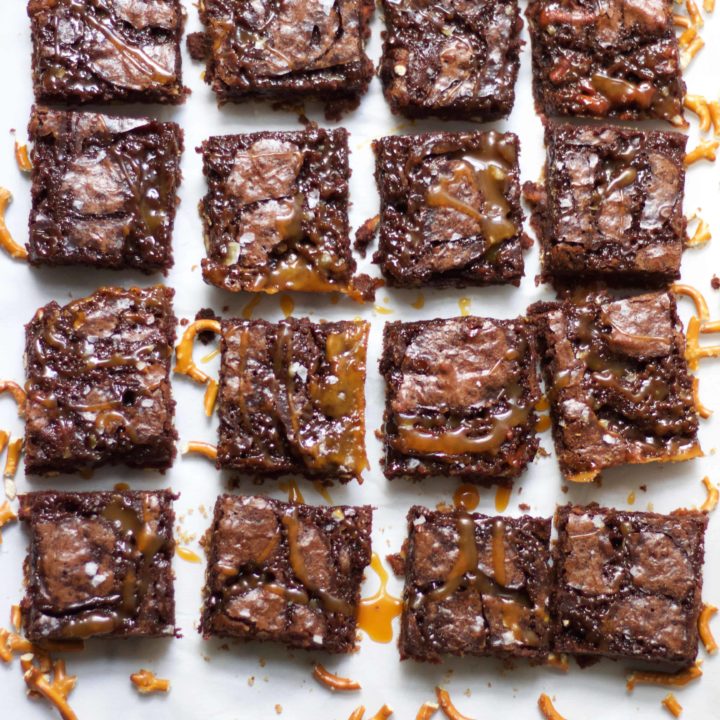 Salted Caramel Pretzel Brownies
Ingredients
For the Pretzel Crust:
4 cups small pretzels, crushed into small pieces
6 tablespoons of butter, melted
For Brownies
1/3 cup Dutch-processed cocoa
1/2 cup plus 2 tablespoons boiling water
2 ounces unsweetened chocolate, chopped fine
1/2 cup plus 2 tablespoons vegetable oil
4 tablespoons unsalted butter, melted
2 large eggs plus 2 large yolks
2 teaspoons vanilla extract
2 1/2 cups sugar
1 3/4 cups all-purpose flour
3/4 teaspoon salt
For the toppings:
Flaky Sea Salt for Sprinkling
Instructions
Preheat oven to 350F. Fit a 9x13 pan with foil or parchment paper, creating two tabs that hang over the sides, overlapping two sheets, so you can easily lift the brownies up.
Add the crushed pretzels to the bottom of the pan and drizzle the melted butter on top. Set aside while you make the brownie batter.
For the Brownies:
In a large bowl whisk together the cocoa powder and boiling water quickly just to combine. Add the chopped chocolate and stir until melted.
Add the oil, melted butter, eggs, yolks and vanilla, whisking after each addition.
Add the sugar, mix until well-combined.
Sprinkle the flour and salt over the batter and then fold in, mixing until smooth and well incorporated while not over-mixing.
For the Toppings:
Pour the caramel sauce over the batter in lines going one direction and then the other. Use the tip of a knife or skewer to swirl it back and forth.
Bake for 30-35 minutes or until a toothpick inserted into the center comes out with a few moist crumbs.
Let brownies cool completely before cutting into squares.