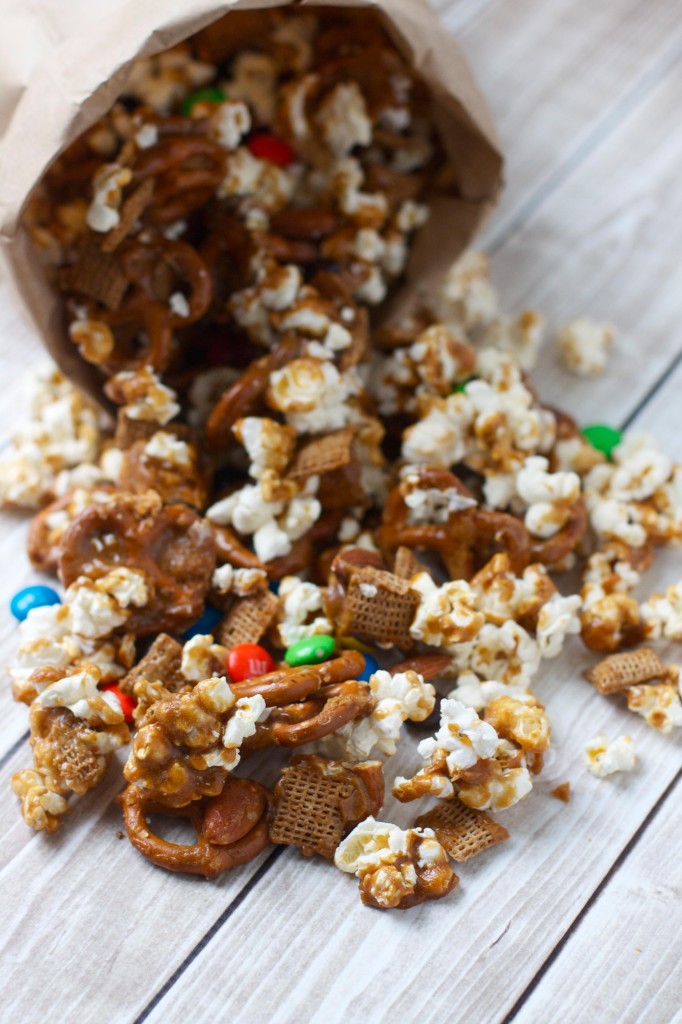 Neither my or Andy's teams are playing in the Superbowl this year (Packers & 49ers,) but I still have a football-loving husband who never likes to miss a game. (He will have to this year if I'm in labor of course!) I'm hoping though, that we'll be watching with a babe in our arms which would be just perfect. (And you can bet I'm decking him out in his little Packers pjs even though they're not in the game!)This sweet & salty snack mix is a huge crowd pleaser and the perfect thing to bring to a Superbowl Party or any get together with people who enjoy this mix of flavors as much as we do. The basic idea starts like caramel corn, but pretzels, cereal, nuts and M&Ms are also tossed in- creating delicious clusters of salted caramely goodness. It makes a good sized portion, is easy to throw together, and lasts for at least a week- making it a perfect "ahead-of-time" treat to bring to your Sunday get together.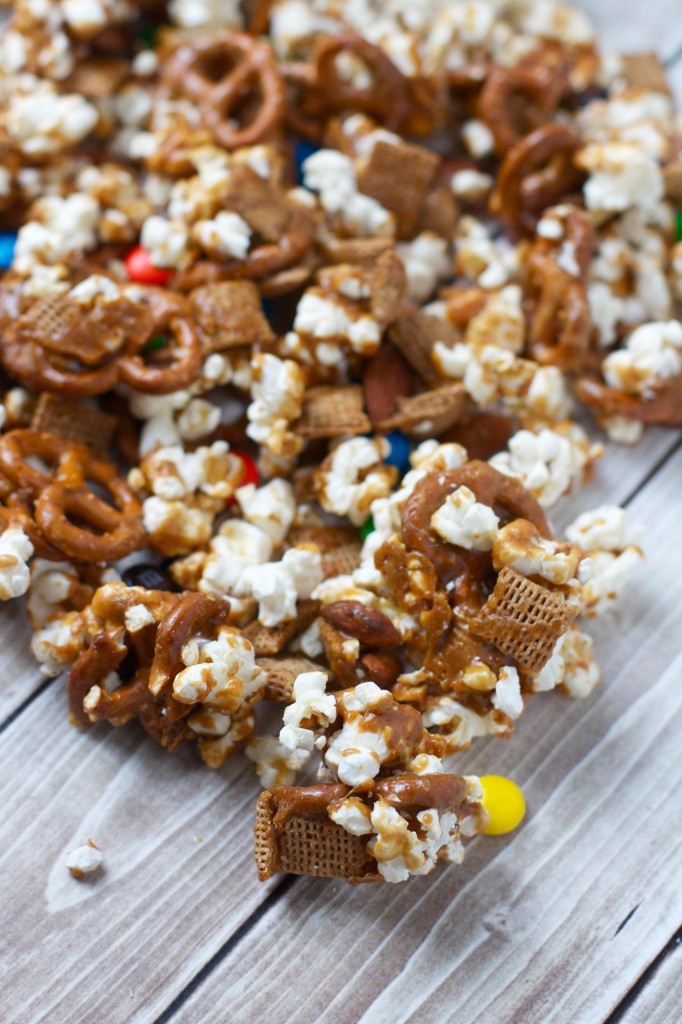 PS- It is SO weird writing these blog posts in advance not knowing if I'll have a baby by the time you are reading it. I made this a couple weeks ago but wish I had it now as my sweet & salty cravings have been out of control!!
Ingredients
2 quarts popped popcorn, 8 cups
3 cups mini pretzels
3 cups Chex cereal
1 cup roasted almonds
1 cup M&M candies, or chocolate chips
1 cup brown sugar
1/2 cup corn syrup
1/2 cup butter
1/2 teaspoon baking soda
1 teaspoon vanilla extract
Sea Salt for sprinkling, I like using something a bit coarse or flaky
Instructions
Spray a large rimmed baking sheet with cooking spray. Add the popcorn and place in preheated 250 degrees F oven while preparing caramel. (This dries it out a bit making it extra crispy!)
Mix brown sugar, corn syrup, and butter in a heavy 2-quart saucepan. Stirring constantly, bring to a boil over medium heat.
Boil 3-5 minutes without stirring or until it starts to darken a bit in color. Remove from heat. Stir in baking soda and vanilla; mix well.
Take popcorn out of the oven and add the pretzels, cereal and nuts to the baking sheet- spreading out into an even layer.
Drizzle the caramel mixture over the snack ingredients as evenly as possible and sprinkle generously with sea salt. Toss a bit to even out the caramel over all the ingredients.
Bake for 40 minutes, stirring every 10 minutes or so. Remove from oven and allow to cool. Add the M&Ms. Break large clumps apart and store in an airtight container for up to a week.
Nutrition Information:
Serving Size: 1 grams
Amount Per Serving: Unsaturated Fat: 0g