Salted Caramel Stuffed Oatmeal Cookies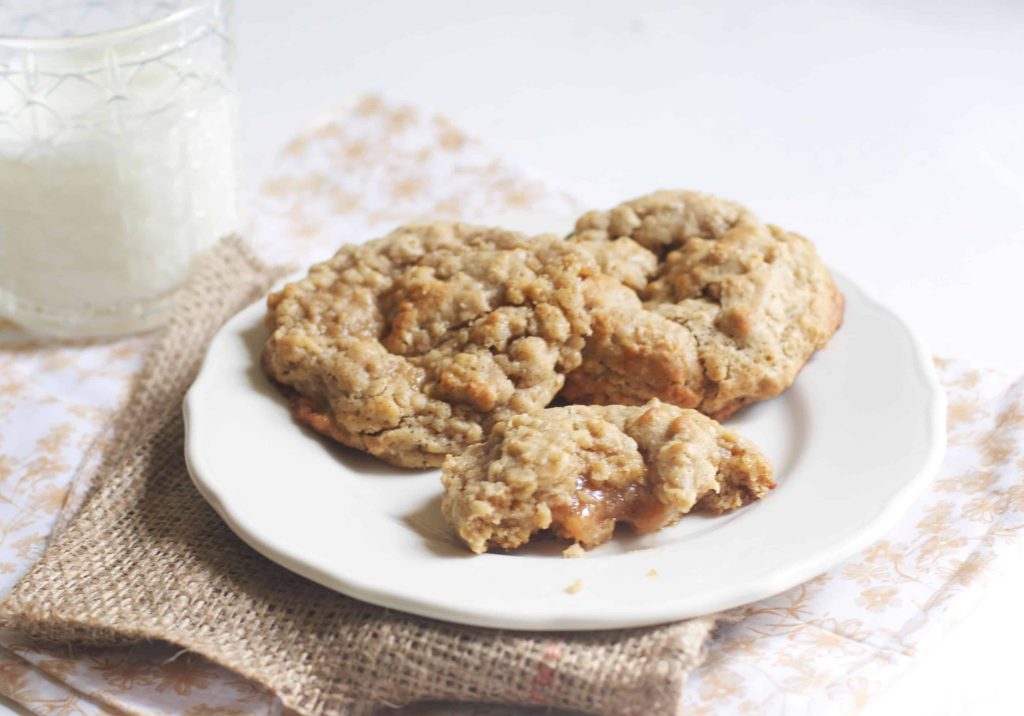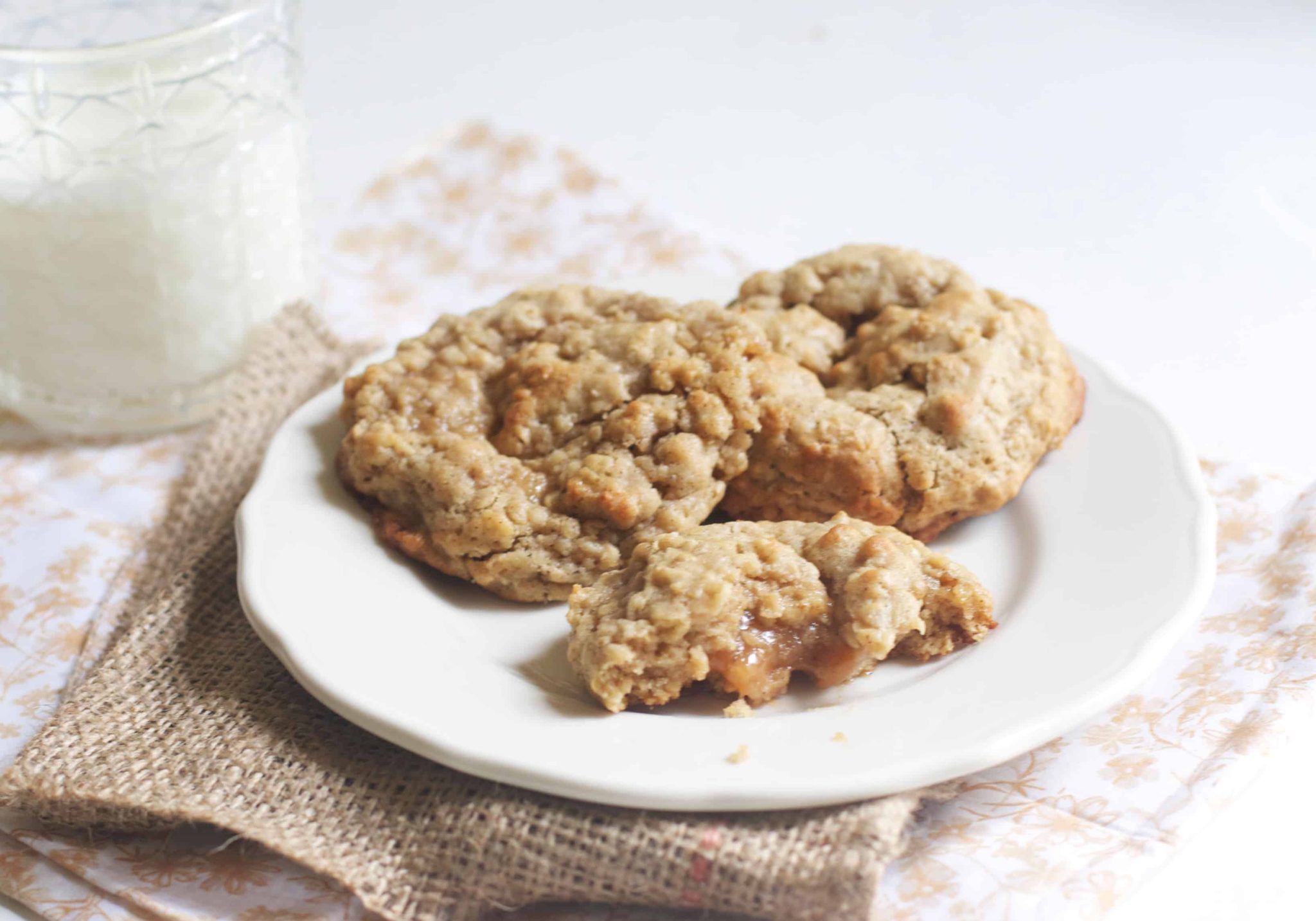 Are you in the "yay" or "nay" group when it comes to raisins in baked goods? I'm most definitely a "nay" and I feel that like nuts, raisins ruin many a baked treat. (At least for me.) I love oatmeal raisin cookies though, even if I have to pick out the raisins. The chewy texture and the sweetness from the raisins are so great, and never quite the same as chocolate chips. So when my friend Carol shared with me her Aunt's recipe for "raisinless" oatmeal raisin cookies, I was intrigued!
Basically raisins are cooked in water, and all the flavor steeps into the liquid making something she calls "raisin water." When added to the cookie dough, you get a raisin-like taste without any of the texture I'm not a fan of. Just on their own- these cookies are fabulous. Crisp edges, very chewy middles and a wonderful flavor. (If I hadn't jazzed them up with caramels, I think I'd toss in some chocolate or butterscotch chips.)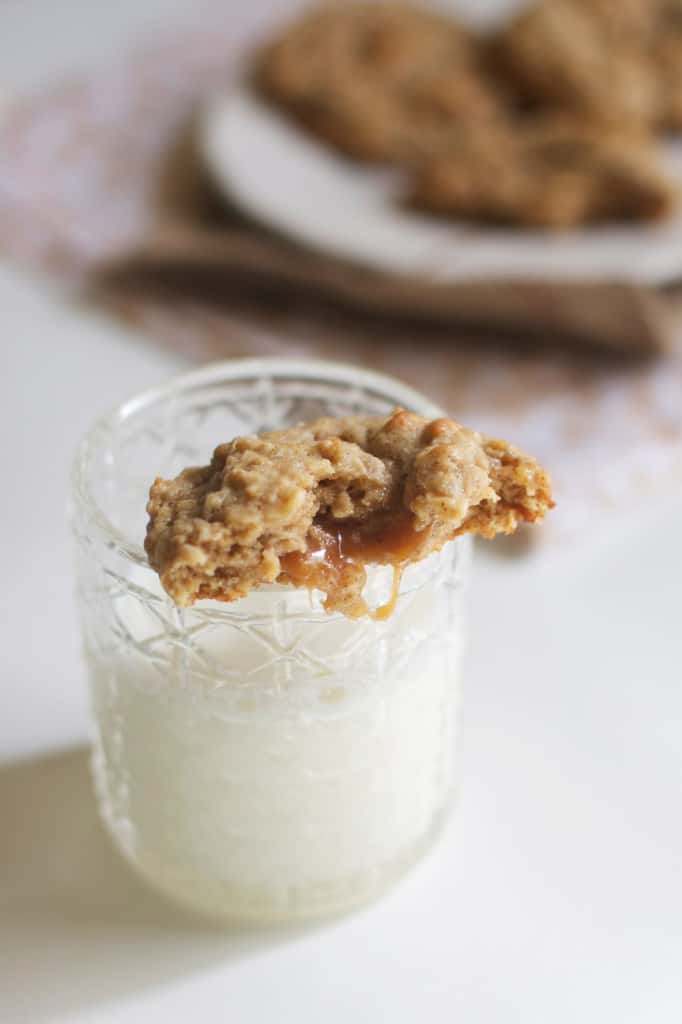 Since I happened to have half of batch of Sea Salt Caramels sitting in my fridge leftover from the weekend, I thought it would be the perfect thing to stuff inside this cookie. A crisp and chewy oatmeal cookie with gooey salty caramel inside sounded too good not to try out- especially since it's been almost two years since I stuffed snickerdoodles with caramel, and I've learned so much since!
The end result was wonderful. The caramel filling keeps these cookies chewy for days and is so fun to bite into. If you can keep it a secret- give some of these away and feel pretty darn special as they ooh and ahh at the caramel surprise!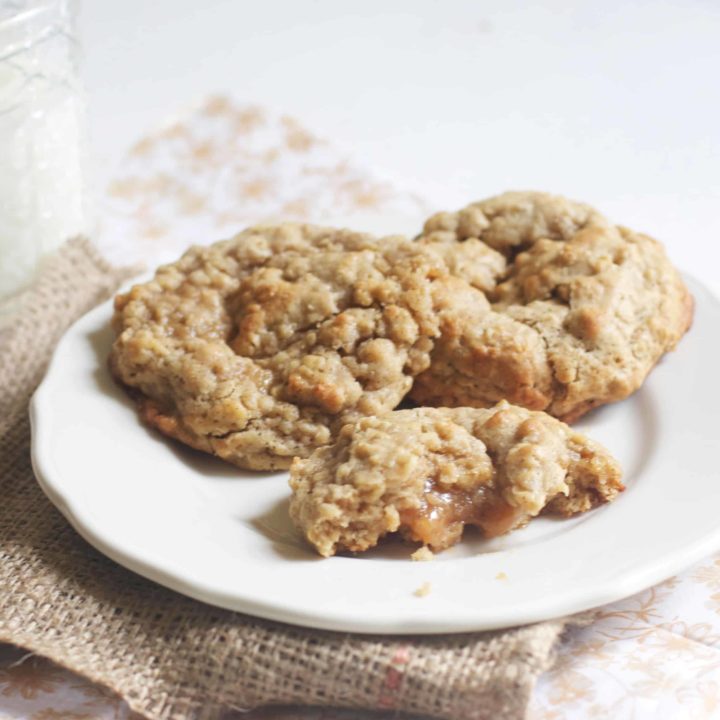 Salted Caramel Stuffed Oatmeal Cookies
Yield:
15 -16 large cookies
Ingredients
1 cup 2 sticks of unsalted butter- softened
1/2 cup sugar
1/2 cup brown sugar
2 eggs
1 tsp. baking soda
1/2 tsp. salt
1 tsp ground cinnamon
2 cups all purpose flour
2 cups oatmeal
1 cup raisins
2 cups of water
15-16 Sea Salt Caramels *
Instructions
For the "raisin water":
In a small saucepan, combine the water and raisins. Bring to a boil and then simmer for 20 minutes, or until the water has reached a dark caramel brown. Strain out raisins and discard.
In a medium sized bowl, whisk together the flour, oatmeal, salt, baking soda and cinnamon. Set aside.
In a large bowl, cream the butter and sugar until light and fluffy, 2-3 minutes.
Add the eggs one at a time, and mix until well incorporated, add 5-6 tablespoons of the raisin water and mix well.
Gradually stir in the dry ingredients and mix until just combined.
Chill dough for 30 minutes or until cold and easy to handle.
Preheat oven to 375 F. Line a cookie sheet with parchment or a silpat.
Place small scoops of dough about 2-3 inches apart on the cookie sheet. Place a caramel onto each one and gently nestle it in, just slightly.
Top each with another scoop of dough, and carefully seal the dough around the caramels, making sure there are no gaps.
Bake for 10-12 minutes, or until cookies are golden brown.
Cool for 10 minutes on cookie sheets before transferring cookies to a wire rack to cool.
Notes
*If you don't have any soft homemade caramels lying around, you can use store bought. Make sure they are on the soft side though, as hard caramels will cool hard and be difficult to bite into. Rolo candies would also be great!
Nutrition Information:
Yield:

15
Serving Size:

1 grams
Amount Per Serving:
Unsaturated Fat:

0g