Salted Caramel Vanilla Bean Layer Cake
Anytime I make the effort to actually bake a layer cake it usually means its a special occasion. Well- can you believe I planned to bake this cake exactly a year ago? I actually decided that every year I'd make this cake and on August 25th I'd eat it with Andy to celebrate our wedding anniversary. How has it been a year?? I feel like just yesterday I was frantically DIY-ing the heck out of that thing in my living room, planning every detail and feeling like it was so far away. How here we are, married a year, and on the road to parenthood. Time sure does fly huh?
We didn't have a traditional wedding cake, but instead had a fabulous dessert bar with a small cutting cake in the middle. My flavor choice is likely not a surprise, and though I don't think I ate more than the bite Andy & I fed each other- I remember thinking that cake was darn good. How can you go wrong with flavors like this? Since my memory of our wedding cake was iffy- I didn't have much to draw from except I knew it was a fluffy vanilla cake with soft caramel sauce and salted caramel frosting as the filling. I went with that and actually think my recreation is spot on! This cake is sweet, salty and oh so good. I look forward to making it for the next 50 years!! ;)
We spent our anniversary in DC, wandering through museums and eating some fabulous meals along the way. Throughout the day I kept looking at the time and saying, "One year ago at this moment I was getting into the limo!!" or "I bet at this exact moment we had our first dance!" Then I made us watch our wedding video and I got weepy thinking about my favorite day ever. I look forward to this next chapter, making new favorite days and memories, but this first anniversary sure was a sentimental one!
PS- More wedding pictures here or here.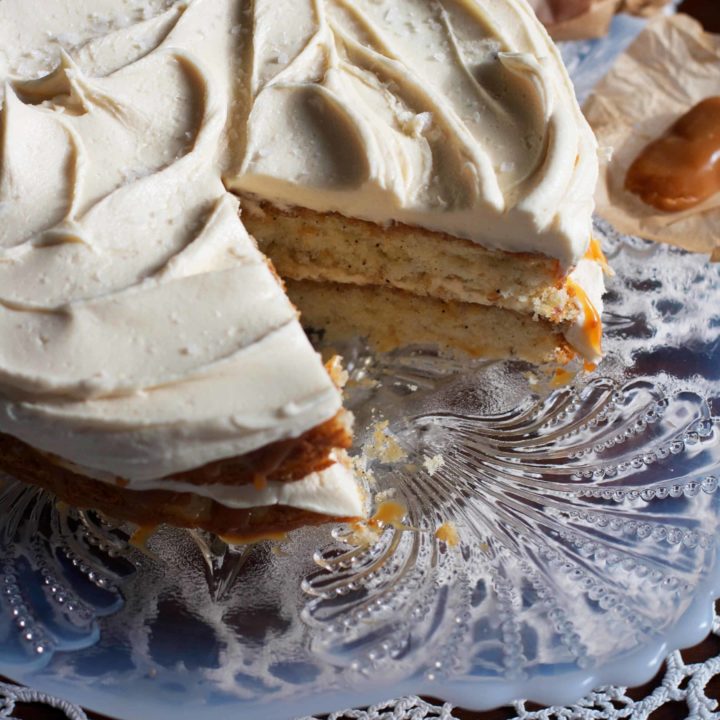 Salted Caramel Vanilla Bean Layer Cake
Ingredients
1 1/2 cup white sugar
12 tablespoons butter, softened
3 eggs, room temperature
3 teaspoons vanilla extract, or a combo of extract, vanilla bean paste or vanilla bean
2 1/4 cups all-purpose flour
2 1/2 teaspoons baking powder
1 teaspoon salt
1 1/4 cup whole milk
1 cup salted caramel sauce*, cooled.
2 sticks of unsalted butter, softened
4 cups powdered sugar
2 tablespoons cream or milk
Instructions
Preheat oven to 350 degrees F (175 degrees C). Butter, flour and line with parchment 2 8x8 round baking pans. Set aside.
In a medium bowl, cream together the sugar and butter. Beat in the eggs, one at a time, and beat on high speed for about 3 minutes, until fluffy and pale. Stir in the vanilla.
Combine flour, baking powder and salt, and add to the butter mixture in three batches, alternating with the milk, starting and ended with the flour mixture. Don't over-beat the batter.
Pour batter into the prepared pans evenly, smoothing tops with the back of a spoon.
Bake for 30 to 40 minutes in the preheated oven or until a toothpick inserted into the middle comes out clean. Let cool in the pans for 5-10 minutes and then transfer to a cooling rack.
For frosting:
Cream butter until smooth and fluffy. Add powdered sugar a cup at a time and beat until well combined. Add 1/3 cup of the caramel sauce and beat until smooth and fluffy. Add 1-2 tablespoons of cream or milk if desired if your frosting seems a little dry.
To assemble.
Place the bottom layer of cake on a cake stand. Use a fork to poke some holes along the surface of the cake. Carefully spread 1/3 cup of the caramel sauce over the cake layer, letting it soak into the cake. Top with a thick layer of frosting.
Add the second cake layer with the flattest side facing up. Repeat the process of poking the cake with a fork, adding the remaining caramel sauce, and topping with frosting. Sprinkle with flaky sea salt if desired.
Notes
*If you don't want to make homemade caramel, store bought is fine- just add a teaspoon of sea salt. Vanilla cake recipe loosely adapted from: All Recipes
Nutrition Information:
Yield:

1
Serving Size:

1 grams
Amount Per Serving:
Unsaturated Fat:

0g