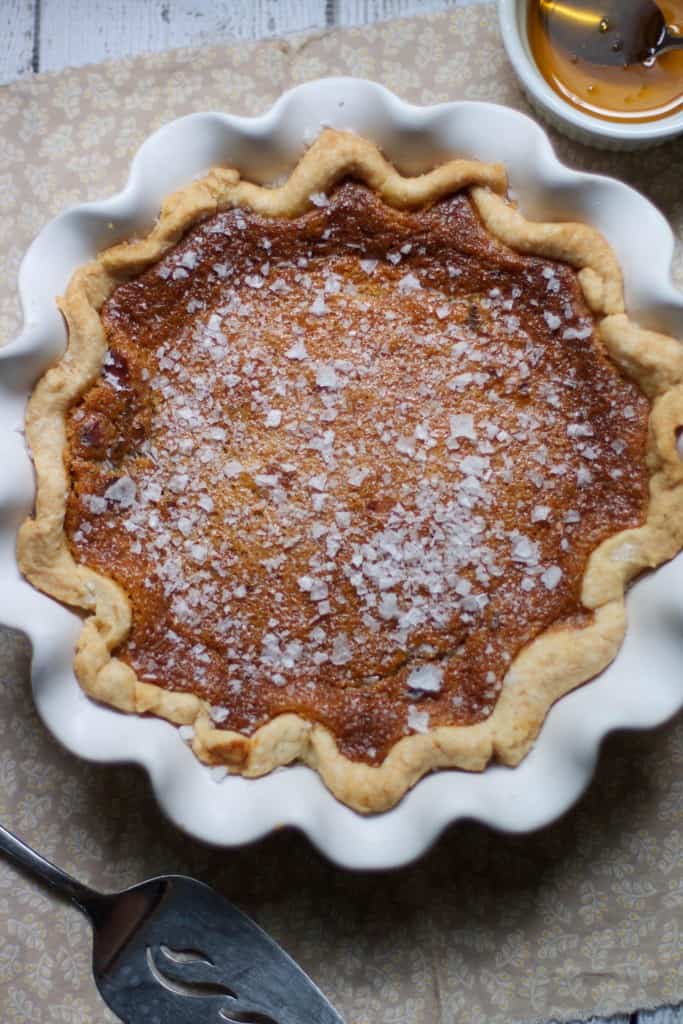 It's November!! How in the world does the month of October always go by so quickly when other months (like January,) seem to drag on forever? I could handle three Octobers, but November isn't too far behind as my favorite month of all time. Why you may ask? Well- it seems like everyone gets excited from the beginning to the end of the month about the same thing- food! I don't know about you, but I am in full on- "pie, potato, roasted vegetable with a side of stuffing" mode. I haven't gone so far as to think much about Thanksgiving dinner yet, (though I am hosting this year for the first time,) but the whole "gather and eat yummy food with your loved ones" vibe is going on full force up in here.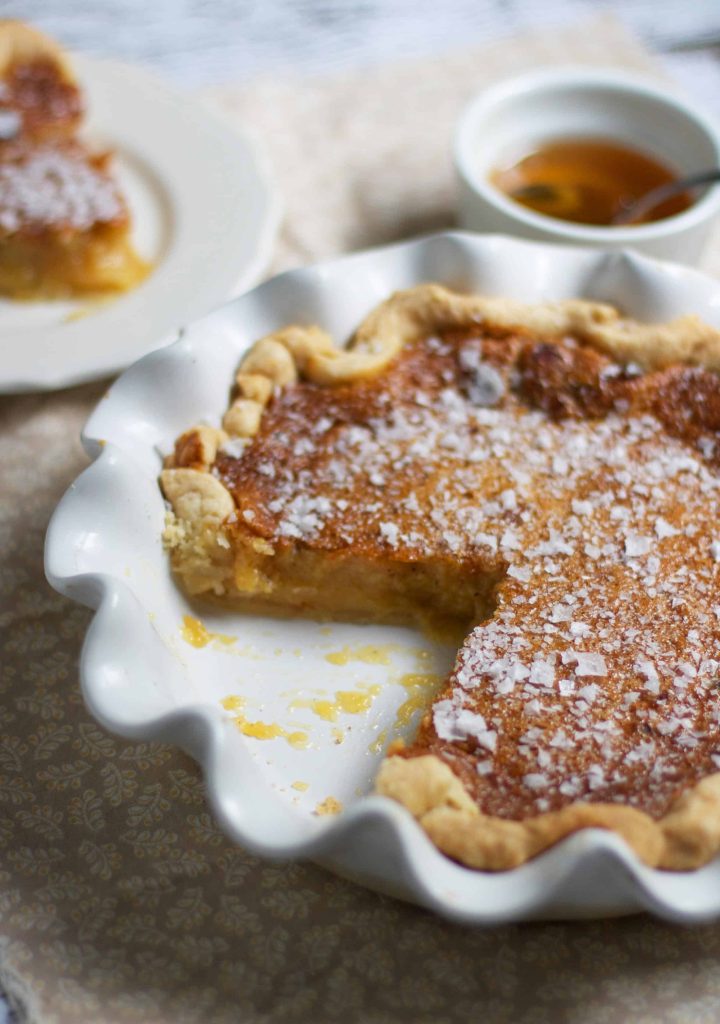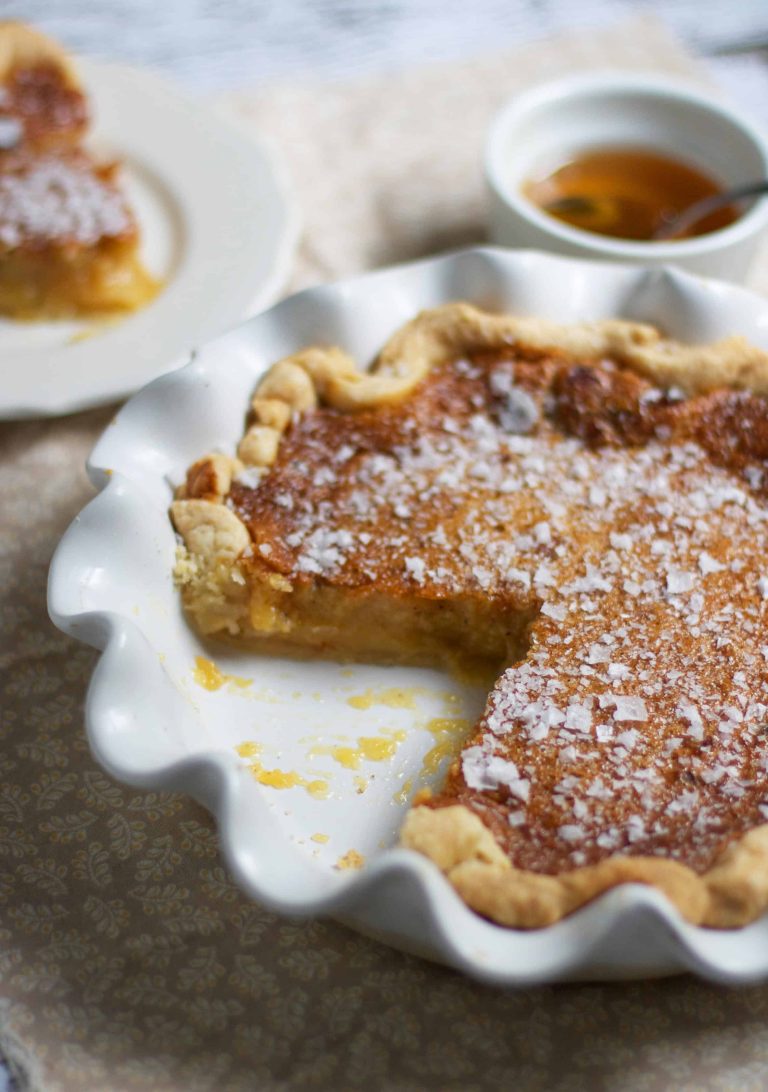 I couldn't possibly start the month with anything other than a pie could I? Lucky for you, I'm pretty much pie obsessed these days. You're getting another one on Monday, and then in a couple weeks I'm organizing an entire week of pie recipes leading up to Thanksgiving. I have always loved making them and eating them, so I am now declaring it Pie Month. What do you say?
This pie has been on my mind since I saw a picture on Instagram that got me a bit obsessed with the idea. I had no idea what a Salty Honey Pie even was, but I knew that I needed to make one stat. Turns out it's a version of a classic Chess Pie, which is custardy pie that has a crisp crust that forms on top, and a gooey center. All of those things combined with honey and sea salt seemed like a match made in heaven, and trust me they are!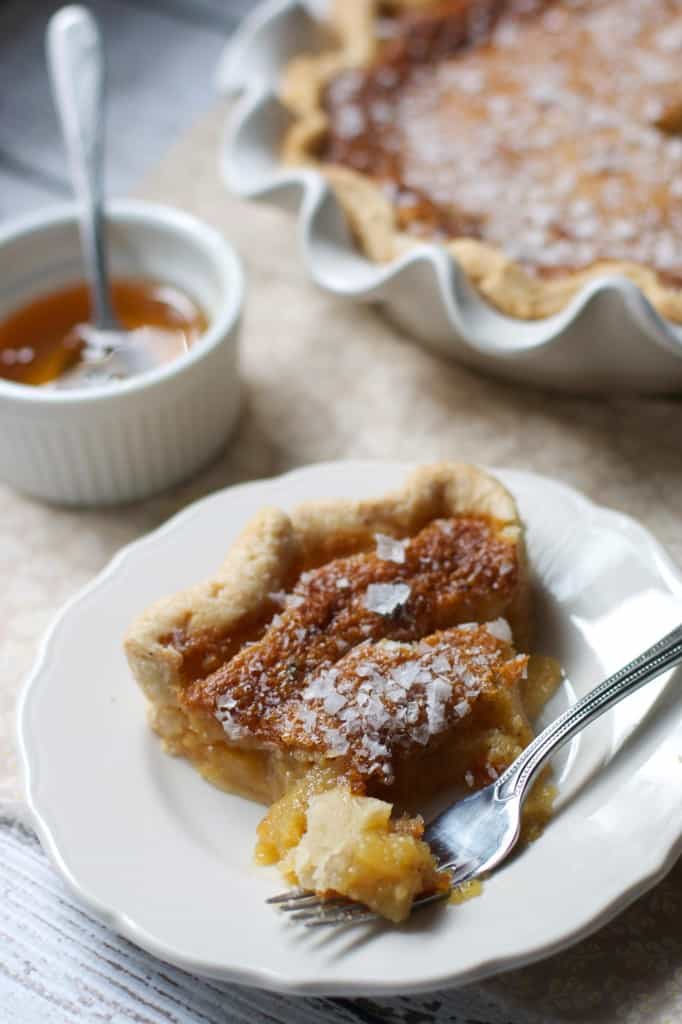 This pie is sweet and salty just how I like it, with tons of rich honey flavor and a smooth and gooey texture. It can be served cold with whipped cream, but I couldn't wait, and loved digging into the slightly warm pie. As far as pie flavors go, I love that while this combo isn't one that you normally seem on a menu, its so delicious it feels like a well-kept secret! Pie month! Pie month!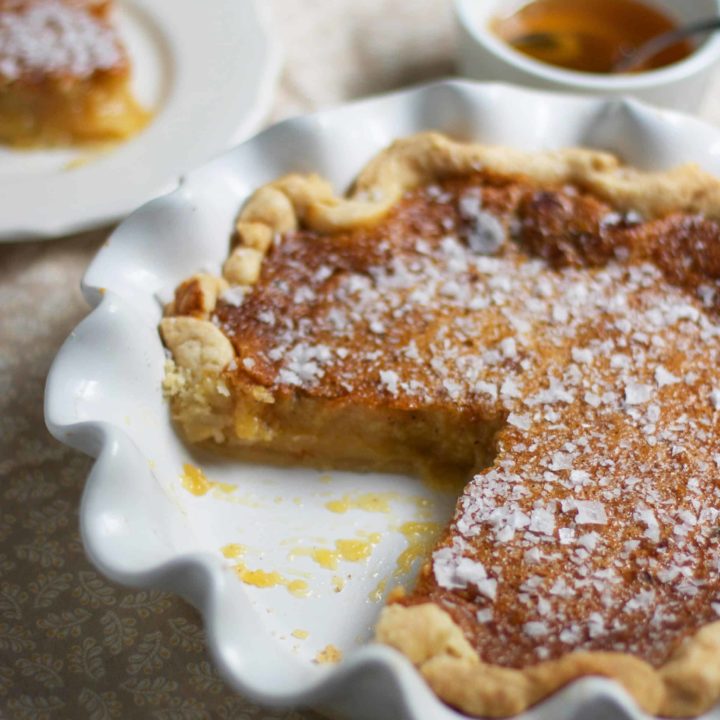 Salty Honey Pie
Ingredients
1/2 recipe Pie Crust chilled, and rolled into a 9 inch pie dish
1/2 cup butter melted
3/4 cup white sugar
2 Tbsp cornmeal
1/4 tsp salt
3/4 cup honey, the best quality you can find
3 eggs
1/2 cup cream
2 tsp white vinegar
1 tsp vanilla paste or extract
1 or 2 Tbsp flake sea salt for finishing, like Maldon
Instructions
Preheat oven to 350F.
In a large bowl, whisk together the melted butter, sugar, corn meal and salt. Add the honey and the eggs one and a time, whisking well after each addition. Whisk in the cream, vinegar, and vanilla until mixture is silky smooth.
Pour filling to shell, and bake pie for 45-60 minutes, or until the surface of the pie is puffed and golden, with the middle still slightly wiggly.
Cool for at least an hour, or overnight. Serve with whipped cream or enjoy it just as it like I did!
Nutrition Information:
Yield:

1
Serving Size:

1 grams
Amount Per Serving:
Unsaturated Fat:

0g