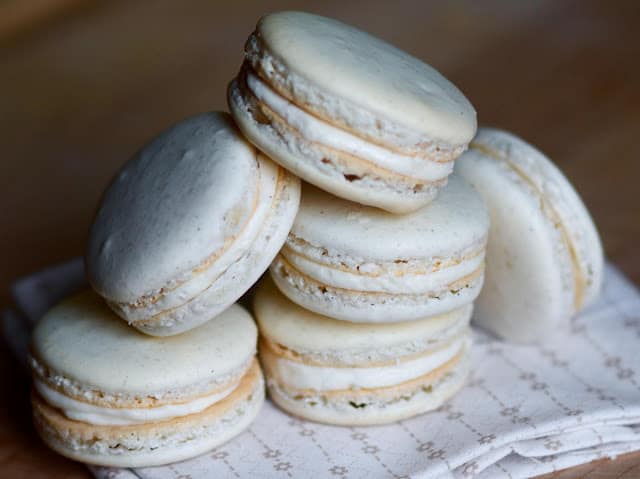 You guys I made macarons that were not a complete failure! After three miserable failures last week, I made a batch that looked pretty, had something that resembled feet, and taste absolutely delicious. I didn't want to over complicate things on my first try, so I just made basic macarons with some vanilla mixed in and a simple vanilla buttercream. Now that I know these beauties are actually doable, I can't wait to be a little more daring with the colors, fillings, toppings etc.
Now- for all you macaron experts out there- these may be flawed. I may have just gotten lucky this time and it's quite possible my next attempt will fail as well. But you know what? I actually think this is just a really great recipe that anyone can master. I tried 4 recipes and this one was by far the easiest for me. I am going to tell you exactly what I did and even though these beautiful, impressive and delicious cookies can be daunting- I really urge you to give this recipe a try. I can't quite describe how happy I was pulling my first successful batch out of the oven!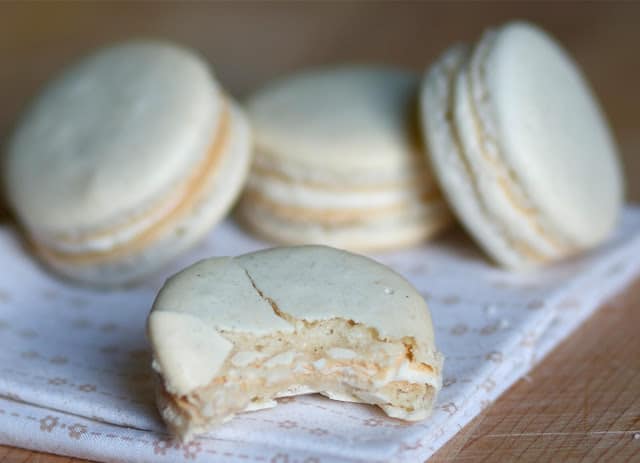 what i learned:
1- For me at least, liquid egg whites from a carton do NOT work. I thought I read somewhere that they did, but you won't get a good meringue and you'll end up tossing them.
2- Letting your egg whites "age" for 12-24 hours is supposed to release some of the moisture and help make these beauties rise better. For me though, I had a failure even when I aged them, and in this recipe I didn't age them and they still turned out well. Next time, I may try this same recipe with aged whites to see the difference.
3- When you pipe these onto your parchment lined baking sheet, they will spread- a lot. Make sure you leave a couple inches in between each round of batter so they don't end up spreading into each other like mine did.
4-Don't be afraid to fold your dry ingredients into the meringue a bit quickly at first to break it up. After reading the wonderful tutorial on Tartelette and watching a few videos- I finally learned that lesson.
5-Yes a kitchen scale is needed for these. I got a reasonable on one amazon and have used it for many things!
Ingredients
110 grams blanched slivered almonds or ground almond flour
200 grams confectioners sugar
100 grams egg whites, from 3 eggs, separated 24 hours in advance or microwaved for 8 seconds
1/4 tsp vanilla paste or extract
1 vanilla bean split lengthwise
50 grams granulated sugar
vanilla buttercream
Instructions
Pulse the almonds/almond flour and confectioner's sugar several times in your food processor until thoroughly mixed. Place egg whites in a clean bowl and beat using mixers (or whisk) until soft peaks form. Split and scrape the vanilla pod and add the beans and extract to the egg whites. Add the sugar and turn the mixer to high, whisking until you have a glossy meringue with stiff peaks.
Fold the dry ingredients into the egg whites gently, briskly at first to break up the meringue a bit, until thoroughly mixed. It's important you don't over mix the batter, but it should be well combined and is supposed to "ribbon" off the the spatula when lifted from the bowl.
Transfer the batter to a piping bag fitted with a large round tip and pipe rounds of 1.5 inches along two parchment or silicon-lined baking sheets (leaving space between each.) Let sit one hour at room temperature to develop a shell.
Heat oven to 300. Bake for 10-12 minutes. Cool completely and remove from the pan.
To fill, match up like sized cookies and pipe with buttercream or other filling of choice. Helen says they taste even better when stored in the fridge for a couple days and I agree!
Nutrition Information:
Serving Size:

1 grams
Amount Per Serving:
Unsaturated Fat:

0g
Recipe adapted from Confections of a Foodie Bride via Tartelette