Skillet Chicken Pot Pie with Cheddar Biscuits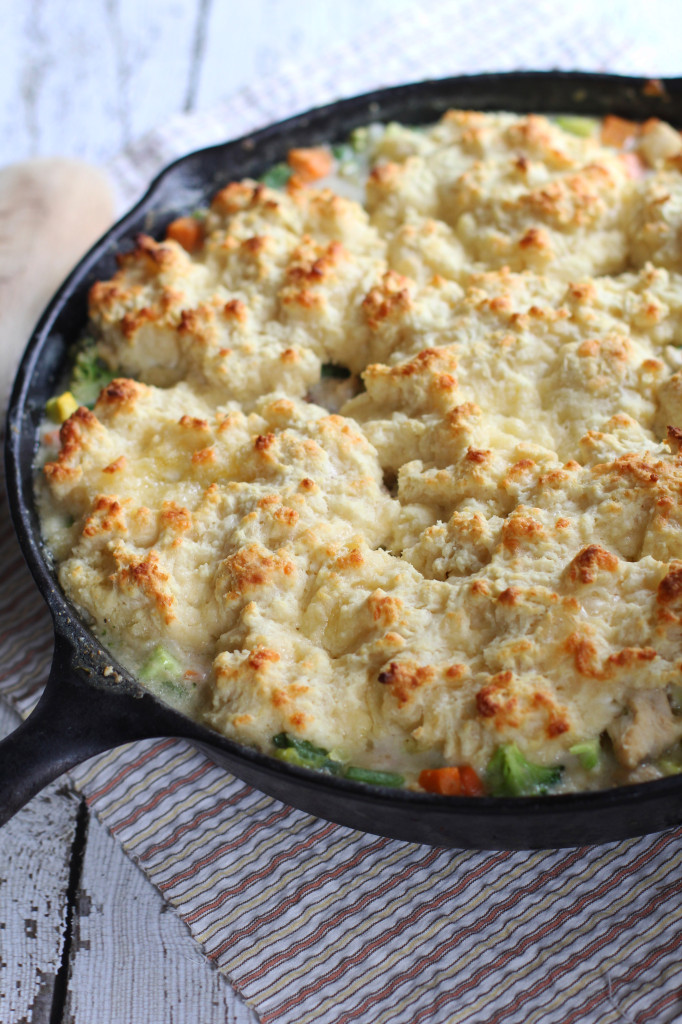 Hooray! Part two of the Skillet Supper Series is here! I guess we could rename it the "Easy Dinner Series" or the "Ready In Less Than An Hour Dinner Series," but either way- it's happening. This meal is a family favorite over here, because not much is more comforting on a cold winter's day than a warm bowl of creamy chicken & veggies topped with cheesy biscuits. Both my boys adored this super satisfying, filling meal and it's really so simple to make!
In true one- pot fashion, I used my skillet for everything, starting with cooking the chicken and veggies in some broth, then making the cream sauce, and finally baking the whole thing up. I whipped up an easy drop biscuit batter and dolloped in on top. After baking for about 15 minutes the most delicious bubbly dinner was ready to be served- comforting, quick & delicious- what more could you want?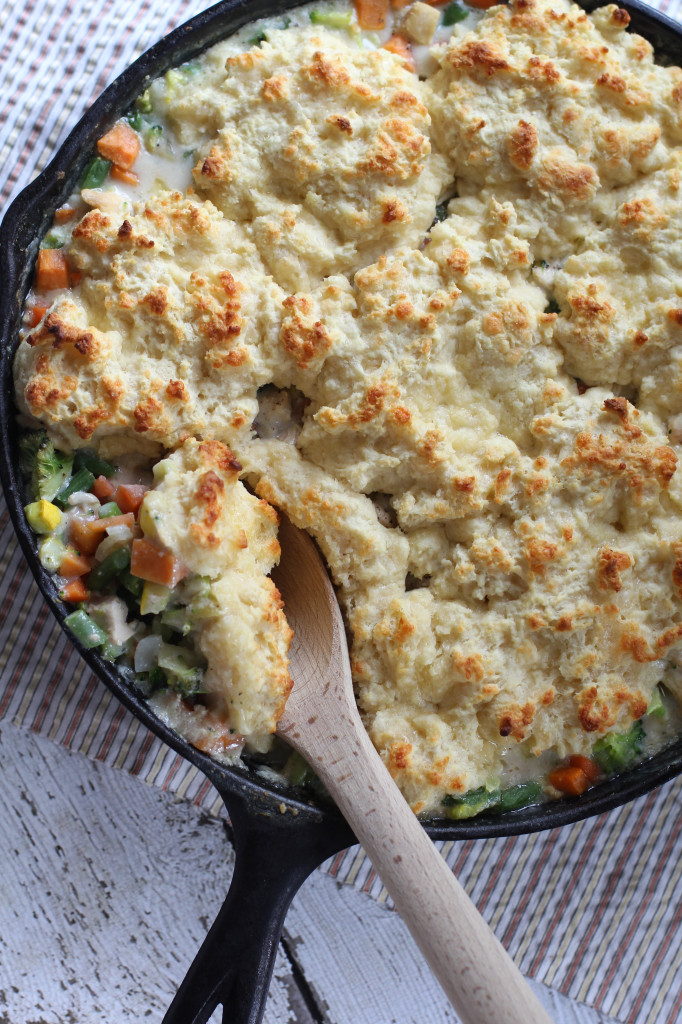 PS- Though I made this with chicken this could be an easy vegetarian option by skipping the meat and just adding extra veggies!
Skillet Chicken Pot Pie with Cheddar Biscuits
Ingredients
For the Filling:
1 pound skinless, boneless chicken breast halves - cubed
4 cups chopped veggies, (potatoes, green beans, carrots, broccoli etc.)
1/2 cup butter, 1 stick
1 small onion, chopped
1/2 cup all-purpose flour
1/2 teaspoon salt
1/4 teaspoon black pepper
Other spices to taste, garlic, celery seed etc.
2 cups of chicken broth
1 to 1 1/2 cups milk
For the Biscuits:
2 1/4 cups all-purpose flour
2 1/2 teaspoons baking powder
2 teaspoons sugar
3/4 teaspoon baking soda
1 teaspoon salt
6 tablespoons 3/4 stick cold unsalted butter, cut into 1/2-inch cubes
6 oz Cheddar, coarsely grated (1 1/2 cups)
1 cup well-shaken buttermilk
Instructions
Place the chopped veggies* and chicken in a 12-inch cast iron skillet and cover with chicken broth and bring to a boil. Cook for 15 minutes or until the chicken is cooked through and the veggies have softened. Drain the veggies reserving the broth. Set both aside.
Wipe out the skillet and melt the butter. Add the chopped onion and cook, stirring frequently, until onions are soft and translucent. Add the flour, salt, pepper, and spices. Stir constantly until golden.
Slowly add 1 cup of milk and 1 1/2 cups of broth. Whisk liquids in until sauce is smooth. Stir frequently until thick and bubbly.
Add the chicken & veggies into the sauce mixture, tossing to combine. If mixture doesn't seem saucy enough, add more milk or broth and needed to thoroughly coat the chicken & veggies.
Preheat oven to 425F
For the Biscuits:
Stir together the flour, baking powder, sugar, baking soda and salt.
Add the butter chunks and use your hands to work them in, breaking them apart until coarse crumbs are formed with no bigger than pea sized chunks.
Stir in the grated cheese and then the buttermilk, stirring together until just combined.
Scoop the dough on top of the chicken/veggie mixture, spreading evenly with your hands.
Bake for 15-18 minutes, or until the biscuits are golden.
Notes
*Some veggies need more cooking time than others. I always add carrots, potatoes & green beans to boil in the broth mixture, but if I use broccoli I like it less cooked so I just add that in with the cream sauce at the end. :)
Nutrition Information:
Yield:

6
Serving Size:

1 grams
Amount Per Serving:
Unsaturated Fat:

0g