You know what's funny? Trying to get pictures of a squirmy toddler 30 minutes before nap time on the beach in the wind storm. Anyone want to see the outtakes from this photo shoot? Haha. This is my 5th entry of the Sakura Bloom Sling Diaries. Check out my first four entries here, here, here and here.
Laugher. As a parent, I can't think of a more important ingredient to make the day to day ups and downs more manageable. I remember a day when Hugo was about 3 weeks old. I was in my first week of being alone with him, and it was hard. I was mourning the loss of my live in helper (Mom,) and just generally overwhelmed with caring for a newborn by myself. I really thought that caring for a baby would be easy as pie for me. I helped raise my littlest sister, I had been babysitting for 15 years, I knew babies. But I was wrong. It was hard, and on this particular day I was introduced to the ever so torturous witching hour, which meant that around 6 pm Hugo would start screaming inconsolably. So I paced around nervously, bouncing, shushing, singing, until I found the magical cocktail of soothing methods that worked: The vacuum cleaner turned on high next to me while I sat in the pitch dark, bouncing on the medicine ball, patting Hugo rhythmically on the back. In my world it was stressful and emotional, but the moment Andy walked in on this scene he couldn't help but start laughing. I initially shot him a "This isn't funny!" look, which was quickly replaced with a slow start of laughter. I realized the sheer hilarity at what our lives had become and we both started cracking up which is even funnier when you have to do it under your breath so you don't wake up the baby you've worked so hard to put to sleep.
These types of moments have happened more times than I can count in the last 18 months. The time I called Andy over to show him how Hugo would smile if I tickled his tummy only to have him puke all over me, or the phase around 8 months old where he would just wake up in his crib and sit up, not crying yet but just sitting there in an equally creepy/adorable fashion. It's true you guys, parenthood is really funny.
I have to work at letting that smile creep in. Sometimes I refuse it, feeling too exhausted or overwhelmed by the day and all of it's ups and downs. Sometimes I want to laugh, but having a chip on my shoulder makes me feel clouded, like I can't let the day win by making me smile. I have to keep my sour face on to prove how hard it was. I am working on this.
Luckily, toddlers are the best example of attacking each day with a heart full of joy. Watching Hugo's face light up and his little lungs break out into peals of glorious laughter for what appears to be no reason at all makes me remember that life is short. Even when I haven't had my coffee and 1st year molars have kept me up all night and I just want to climb back into bed and watch Friends reruns alone, I have this living breathing reminder that you can be happy about the smallest things at any time if you want. I couldn't have predicted the lessons I'd be learning from my child but this may be the greatest one.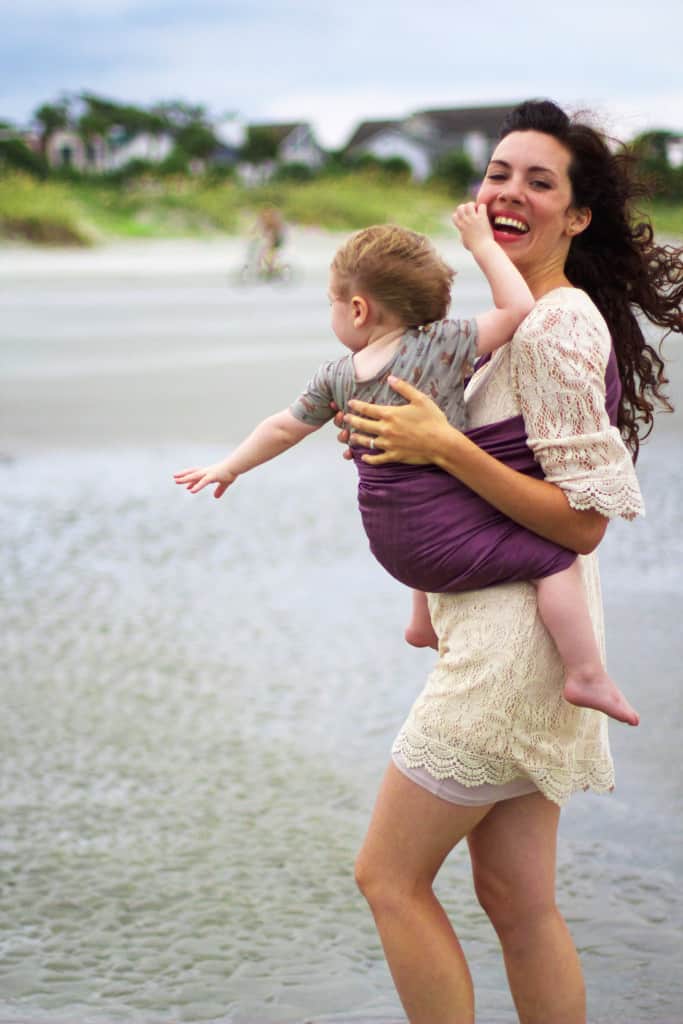 These photos were taken on Hilton Head Island, South Carolina by my niece Kayleigh. I'm wearing Hugo in the discontinued Fig simple silk, similar to Sakura Bloom's current colorway Anise.