Slow Cooker Chicken Tortilla Soup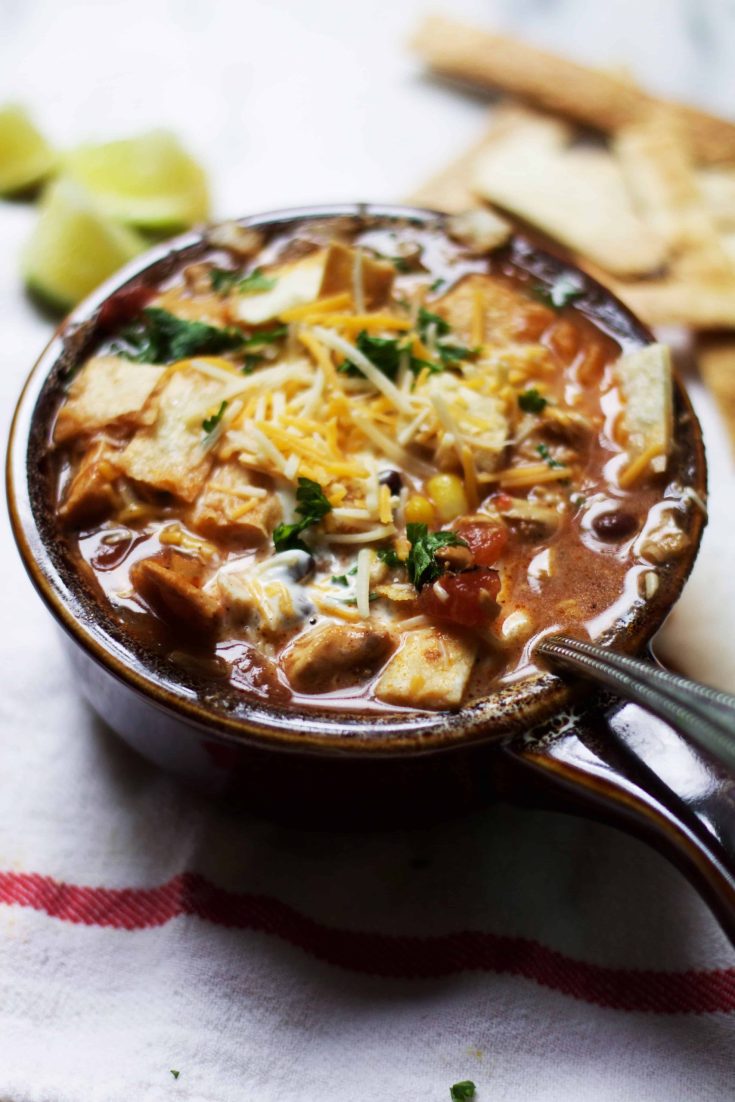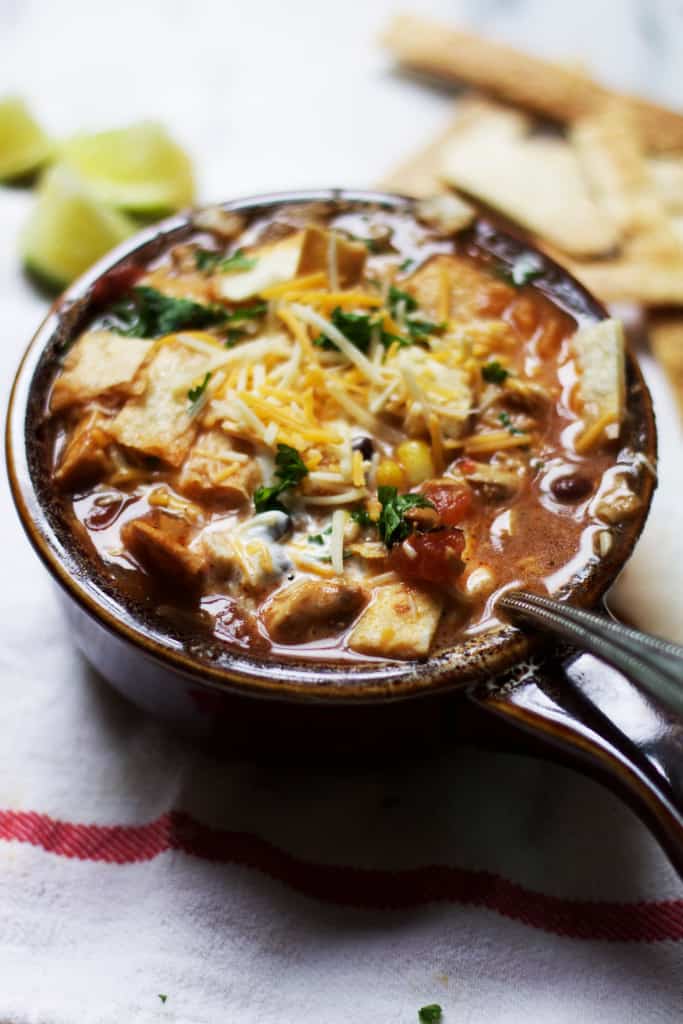 I know I've talked a bit about my eating habits pre-baby, but I feel the need to elaborate as an intro to this post Ok? So- 3 years ago- and for the many years before that, what was for dinner was never something I had to worry about. I just figured it out. Sometimes it was a last minute take out order, (Ok usually,) or throwing some snacks together from my usually-empty fridge. After getting married it was a bit more regimented, but not much. We always just winged it and figured it out. It wasn't something that had to be thought about any earlier than 20 minutes before the meal. That's just how it was.
You should see me now. Our dinner menu is planned for the whole week. My planner has notes for when I need to start dinner to be done in time for Hugo to eat at 5:30. I have to plan this you guys. I have a child who needs a real meal every night. I can wing it here and there, but to be honest that causes stress in my day. When I can roll in from the playground at 5 and know that a meal is ready to go- it feels like the hugest win.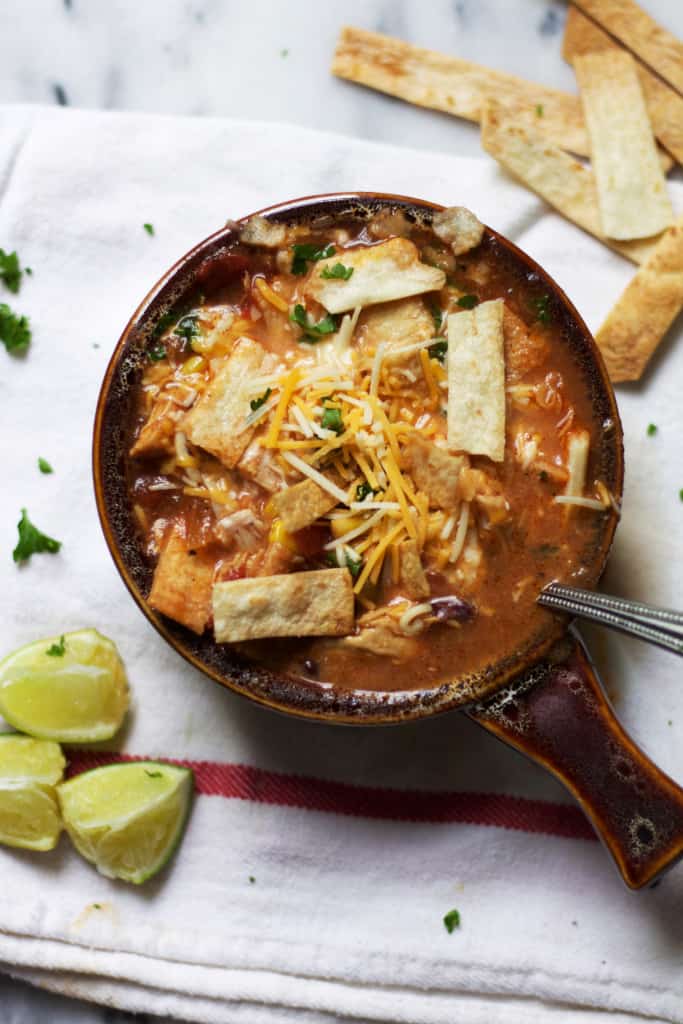 As you can imagine, utilizing the slow cooker is a life saver. I can actually prep everything while Andy is still home and then just walk in to a complete dinner. Given that Hugo is obsessed with Mexican flavors- I was sure he'd love this soup and I was right. The whole family loved it and I'm already figuring out the next time I can make it. It is just so easy. Chopping an onion was the most time-consuming part of the whole process which took a total of 3 minutes. I can't beat the combo of easy and delicious and this recipe is that and more. Add it to your meal plan folks! :)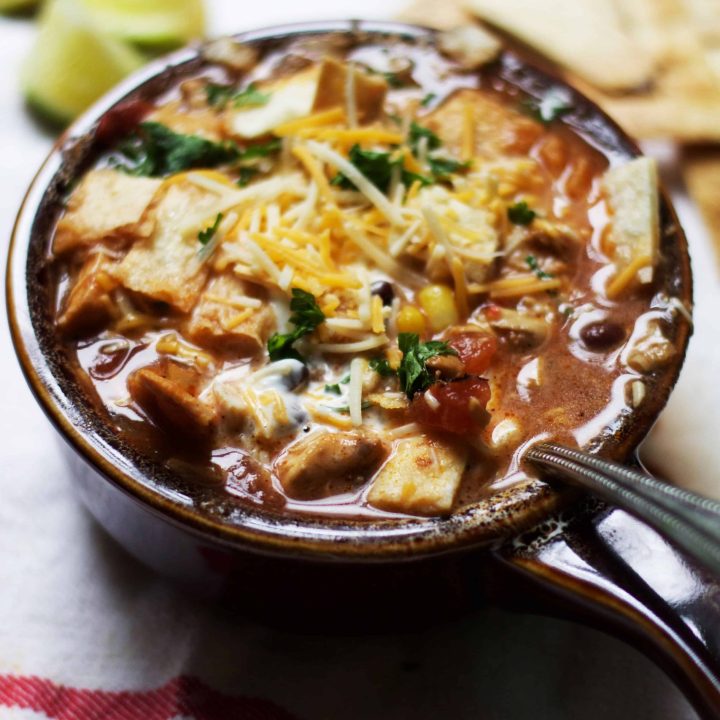 Slow Cooker Chicken Tortilla Soup
Total Time:
8 hours
15 minutes
Ingredients
1 lb. raw chicken breasts or thighs
1 (15 ounce) can fire roasted tomatoes
1 (10 ounce) can enchilada sauce*
1 medium onion, chopped
1 (4 ounce) can chopped green chile peppers
2 cloves garlic, minced
2 cups water
1 (14.5 ounce) can chicken broth
1 (10 ounce) package frozen corn
1 (15 ounce) can of black beans, rinsed
1 teaspoon cumin
1 teaspoon chili powder
salt & pepper to taste
lime wedges, cheese, sour cream & avocado to garnish
For the Tortilla Strips**
7 flour tortillas
vegetable oil for brushing
Instructions
Add the chicken, tomatoes, enchilada sauce, onion,chiles, garlic, water, broth, corn, beans & spices to the slow cooker, stirring a bit to combine.
Cook on high for 3-4 hours or low for 6-8 hours.
After cooking, use two forks to shred the chicken. (I like to pull each out onto a cutting board to shred and then add back to the pot.) Add salt & pepper to taste.
Serve with lime juice, shredded cheese, sour cream and avocado if desired.
For the Tortilla Strips:
Brush one side of the tortillas with the oil and stack 4 at a time. Cut into 1/2 inch strips and lay in a single layer on a cookie sheet- sprinkling with salt.
Bake at 400F for 10-15 minutes or until crispy.
Notes
Recipe adapted from All Recipes

*I would have been happy using store bought sauce, but evidently couldn't find it anywhere so made mine using this super easy recipe.

**I homemade my tortilla strips but in a pinch some crushed chips would work well too!