Slow Cooker Mashed Potatoes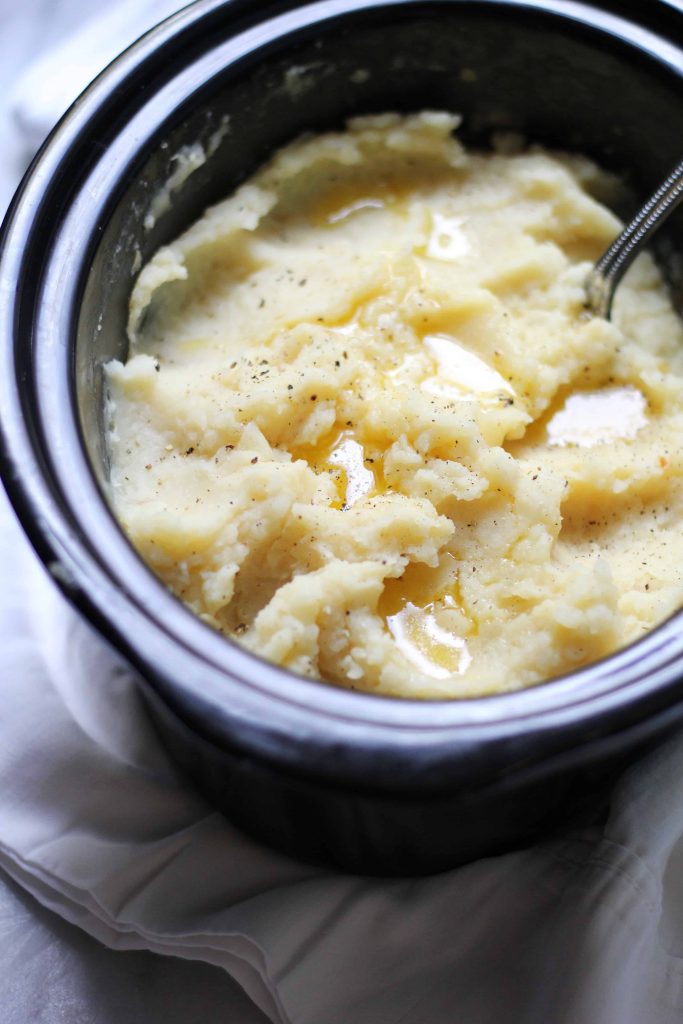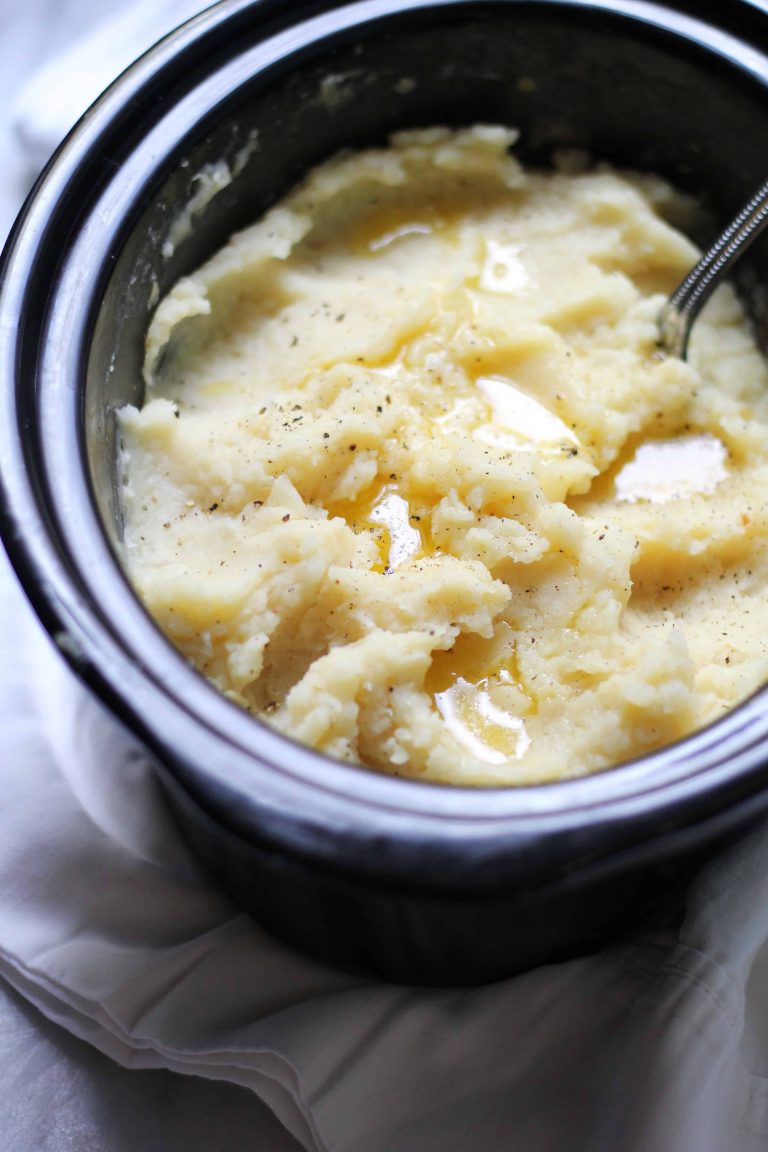 Thanksgiving has creeped up on me folks. Anyone else?
It's 2 weeks from tomorrow you guys, and other than the Cheddar Streusel Apple Pie I shared last week, I haven't really started my annual "post-everything-I want to make- for-Thanksgiving-on-the-blog" fest.
Don't worry though. Next week will be all Thanksgiving and I have this fabulous time-saving recipe for you today!
It wasn't until recently that I understood how vital a slow cooker is to successful Thanksgiving planning. Oven real estate is always valuable and anything that frees some up is a beautiful thing am I right?
I think last year anyone that had a slow cooker brought it full of a side dish because not only can you cook them right in it, but then you don't have to worry about keeping things warm while the oven is cooking the turkey or other last minute sides.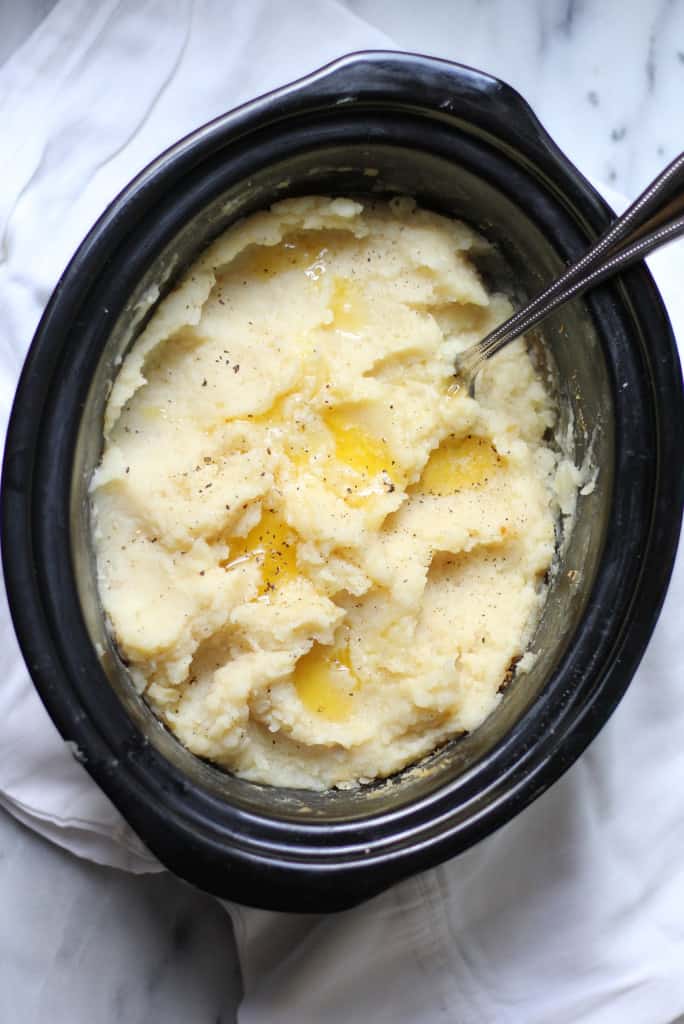 These mashed potatoes couldn't be easier. To be honest, I've always categorized mashed potatoes as something I love to eat but am too lazy to make regularly, and that all changes with this recipe.
Everything gets tossed in, the slow cooker goes on, and then you simply smash the potatoes into creamy goodness before serving. Then you can keep them warm for hours until ready to serve. Too good to be true right?
These also happen to be the creamiest, dreamiest mashed potatoes I've ever made. Something about cooking them in broth and milk instead of water and really letting them get so soft before mashing is what does the trick I think. I can't wait to make these again for Thanksgiving!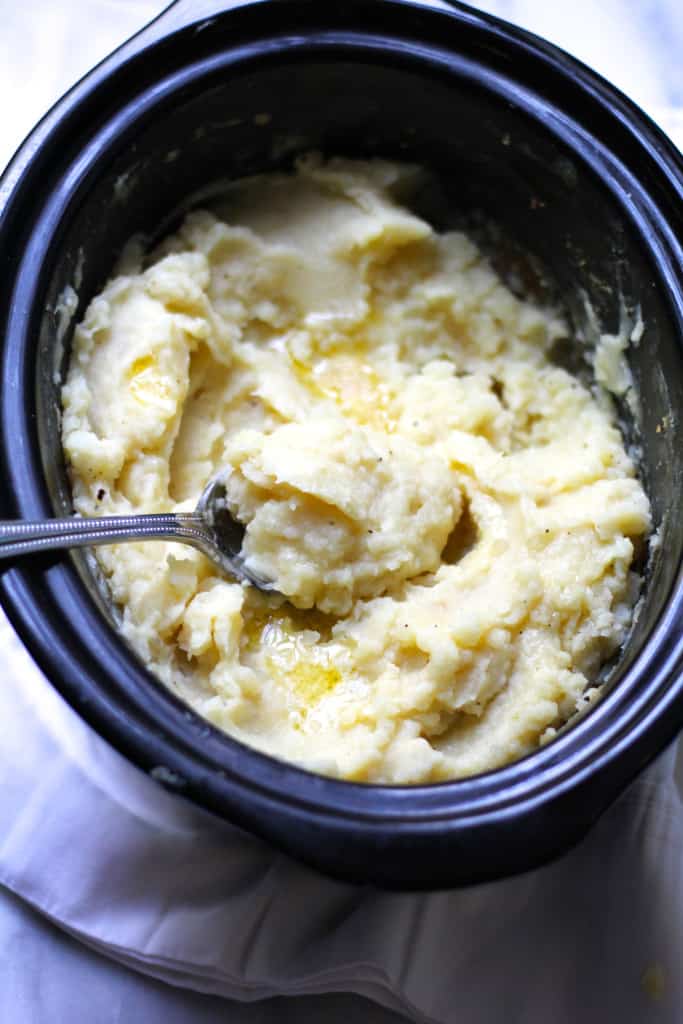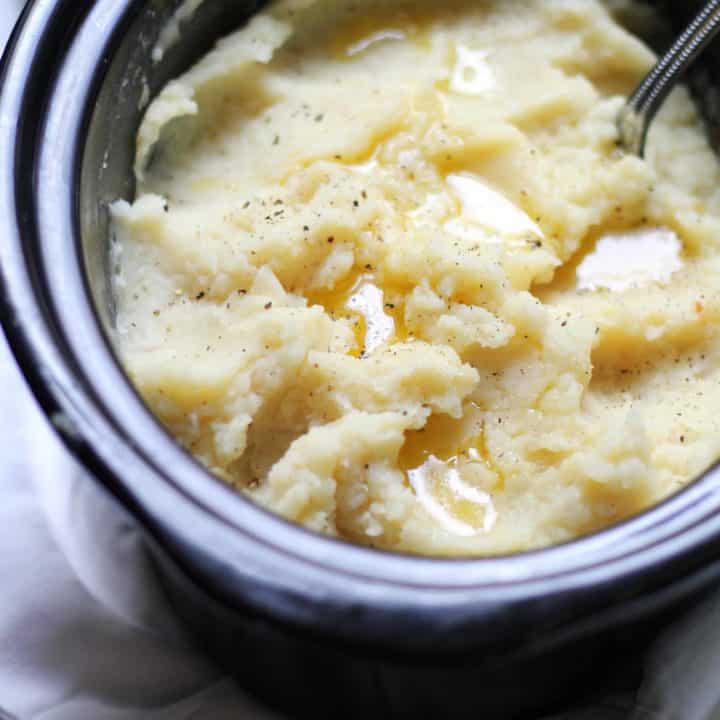 Slow Cooker Mashed Potatoes
Ingredients
4 lbs. of potatoes, peeled and cut into 1-inch pieces
1 1/2 cups chicken or veggie broth
1 1/2 cups milk
3 cloves garlic, minced
8 tablespoons (1 stick) butter
salt & pepper to taste
1/2 cup sour cream
Instructions
Put the potatoes, broth, and milk into the slow cooker. Sprinkle the garlic and 4 tablespoons of the butter on top. Sprinkle with salt & pepper.
Cook for 3-4 hours on high or 6-8 hours on low, or until the potatoes are super soft. Use a potato masher or hand mixer to pureé the potatoes to your desired texture. (I liked these really creamy!)
Stir in the sour cream and more salt & pepper to taste.
Top with the remaining butter in pats.
Keep warm until ready to serve.
Notes
If you are going to be waiting awhile to serve these, I suggest topping the crock pot with a clean towel and then placing the lid on top. This will absorb the steam and keep the potatoes from getting gummy.

Recipe adapted from All Recipes