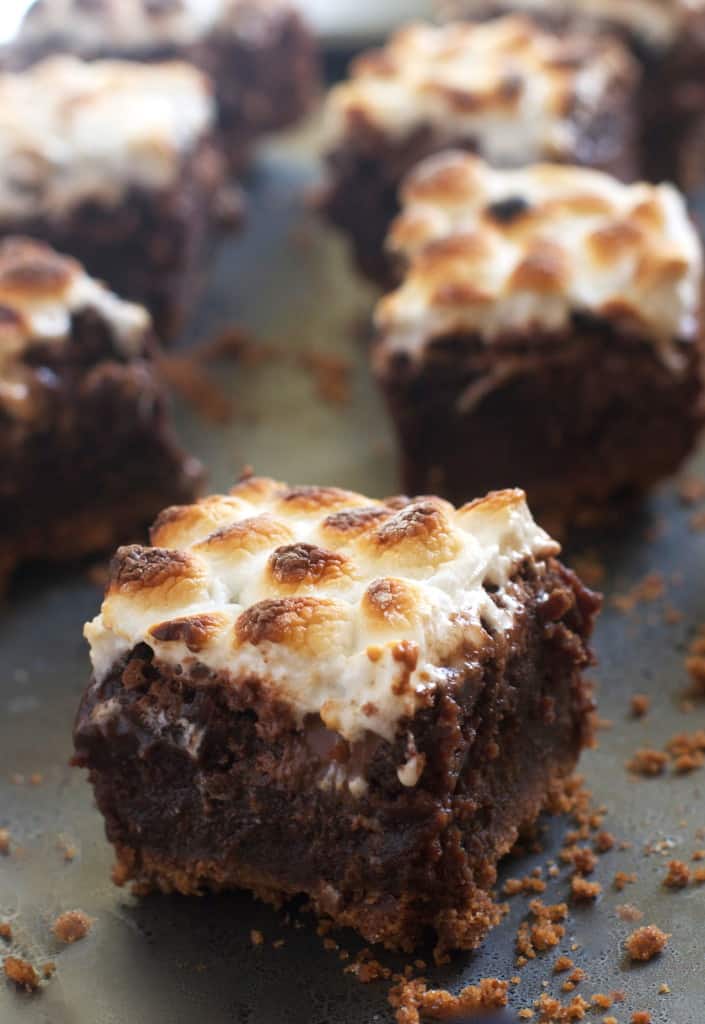 Did you have a good weekend? Mine was really great actually- Andy and I saw Iron Man 3 (loved it,) had some yummy Cinco de Mayo margaritas and on Saturday ventured to Brooklyn for to donate a batch of these brownies to the NYC Bake Sale. It was held at the Brooklyn Flea market (which I've always wanted to visit) and was a huge success! (They raised over 3,000 for No Kid Hungry!)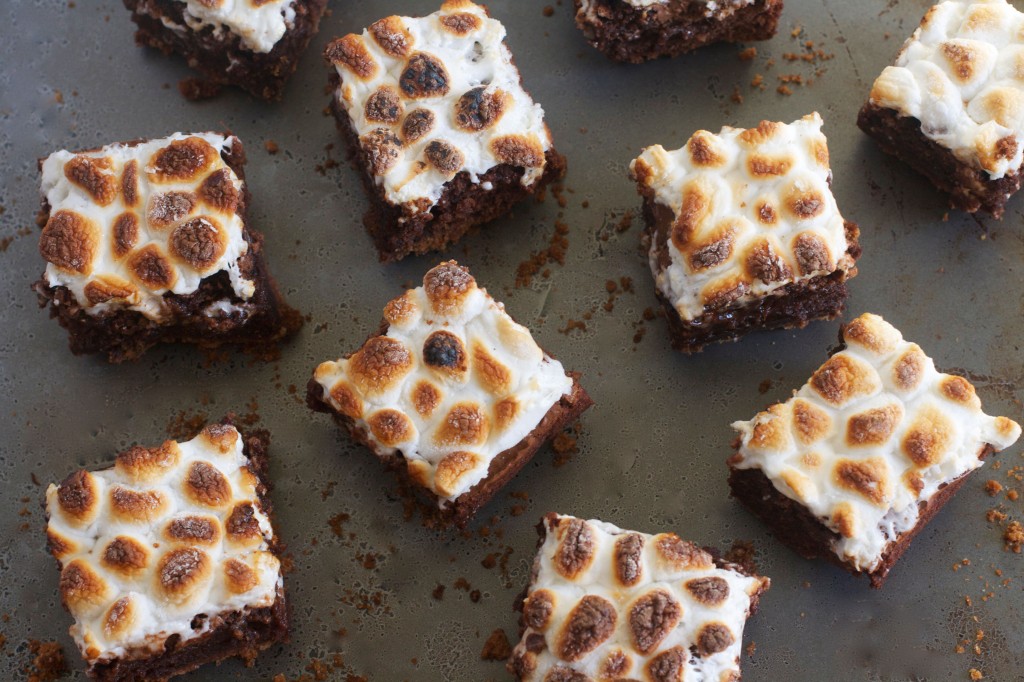 When I first volunteered to donate goodies to the bake sale, they were looking for volunteers to get sent some chocolate to bake with from Divine Chocolate. I wasn't familiar with the brand, but am always happy to have more chocolate on my hands. When I saw the thick milk and dark chocolate bars, my idea for S'mores brownies came to be. Rich dark chocolate was baked into the brownie batter and a layer of milk chocolate bars were nestled on top, giving the first bite of these babies a gooey S'mores-y affect. The cool thing is that the actual cocoa farmers who from the company stopped by the bake sale and got to sample these brownies. I hope they liked them!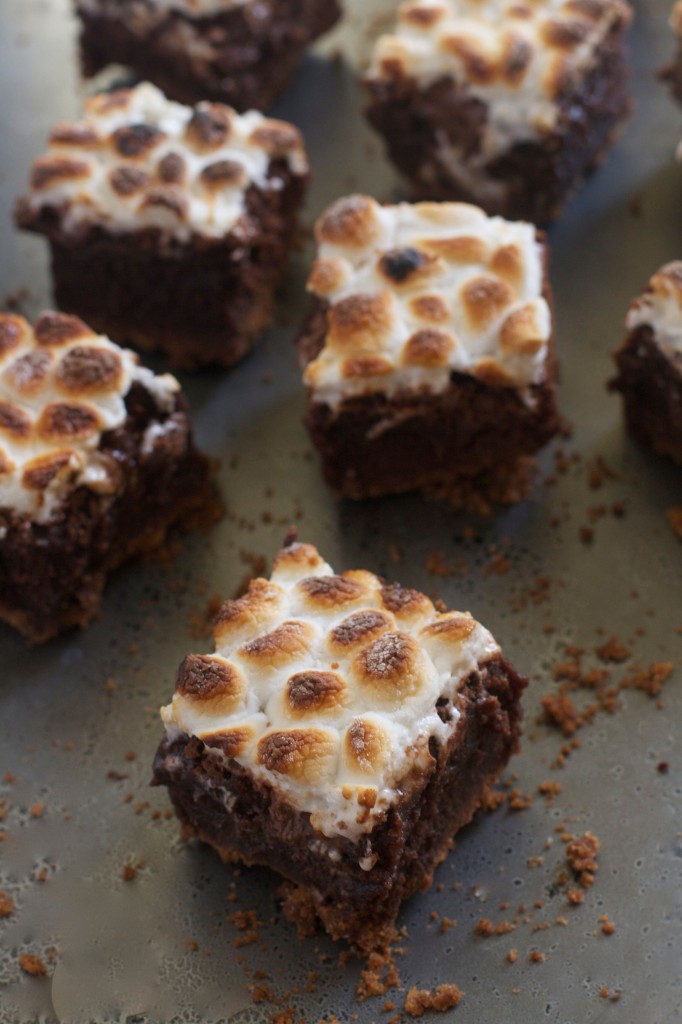 This is a super thick brownie, that I think could have easily been divided into two separate batches if you prefer something thinner. The first bite is perfect with crisp graham cracker crust, fudgy brownie, gooey chocolate and a toasty marshmallow topping. Anything S'mores related always reminds me of a summer campfire with marshmallows on a stick. I always always ended up burning mine and as you can see some of these babies got a bit charred- luckily for me that's just how I like it. (Hopefully some of the bake sale patrons thought so too!)
S'mores Brownies
Total Time:
1 hour
20 minutes
Ingredients
Crust:
6 tablespoons unsalted butter, melted
1 1/2 cups crushed graham cracker crumbs
2 tablespoons sugar
Pinch fine salt
Brownies:
8 tablespoons 1 stick unsalted butter
4 ounces unsweetened chocolate, chopped
1 cup packed light brown sugar
3/4 cup white sugar
1 1/2 teaspoons pure vanilla extract
1/2 teaspoon fine salt
4 large cold eggs
1 cup all-purpose flour
Topping:
4 oz of milk chocolate bar- broken into squares/chunks
2 cups mini marshmallows
Instructions
Preheat oven 325 degrees F. Line an 8 by-8-inch square baking pan with foil so it has an inch-long overhang.
For the Crust:
Lightly butter the foil with some of the melted butter. Stir the rest of the butter together with the crumbs, sugar, and salt in a medium bowl. Press the crumb mixture evenly over the bottom of the pan. Bake until golden brown, about 20 minutes.
Meanwhile, make the brownie batter. Put the butter and chocolate in a large microwave safe bowl. Melt in the microwave on medium power for 2 minutes. Stir, and microwave again on half power until completely melted, about 2 minutes more. Mix in the sugars, vanilla and salt. Add the eggs one at a time and beat vigorously to make a thick and glossy batter. Fold in the flour and gently stir until just incorporated.
Pour batter into the prepared pan. Bake until the top is crispy and a toothpick inserted into the middle comes out mostly clean, with a few crumbs, about 40 to 45 minutes.
Remove from the oven and nestle the chocolate chunks into the brownie crust. Top with marshmallows.
Carefully position a rack about 6 inches from the broiler and preheat on low. Toast marshmallows under the broiler until golden, (keep an eye on it, it can go quick), about 2 minutes.
Cool on a rack, gently removing the brownies from the pan using the aluminum flaps. Carefully separate any marshmallow from the foil and fold away. Cut into 12 (2-inch) squares. (I found that dipping the knife into a glass of warm water helped to reduce any stickiness when cutting.)
Nutrition Information:
Yield:

12
Serving Size:

1 grams
Amount Per Serving:
Unsaturated Fat:

0g