Soft Frosted Egg Nog Cookies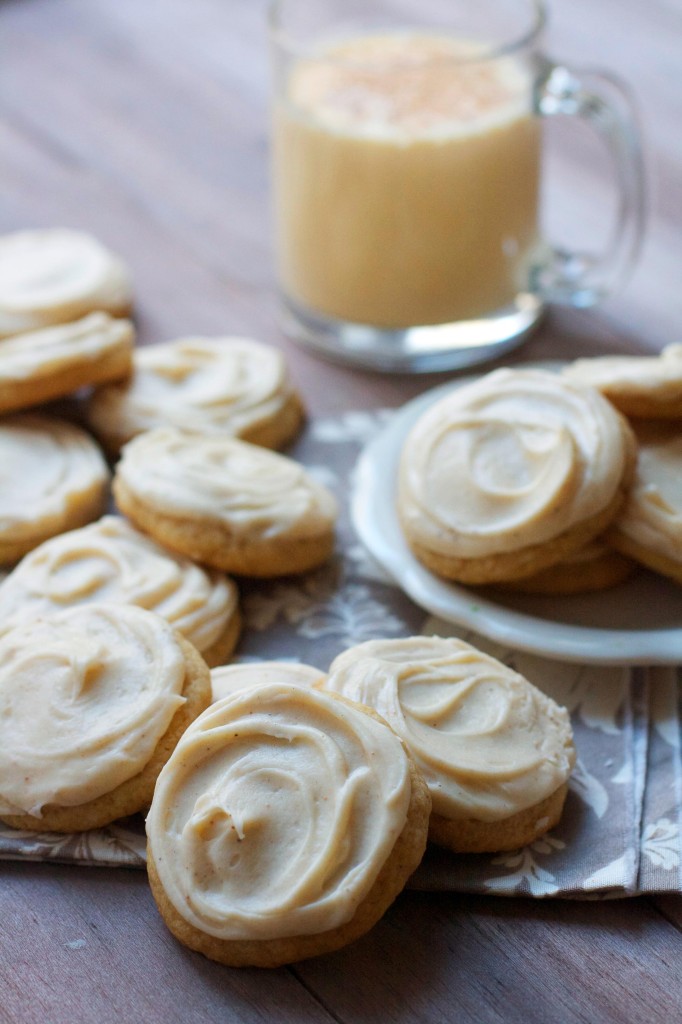 Did the holiday season sneak up on anyone else out there or just me? Maybe it's because Thanksgiving was so late, but either way I am just now getting into the spirit of things- starting with these cookies. I was invited to three cookie exchange parties this past weekend, one of which was held my neighbors in my building- so you can guess which one I ended up going to! (Nothing is quite so nice as leaving a party when you're tired and just going right to bed downstairs.) Anyway- I brought these beauties and they were a hit!
I love baking with eggnog around the holidays, and I also am obsessed with soft puffy cookies topped with creamy frosting. These were so delicious, starting with soft and puffy spiced cookies and topped with a creamy eggnog buttercream that gave the cookie a perfect festive touch.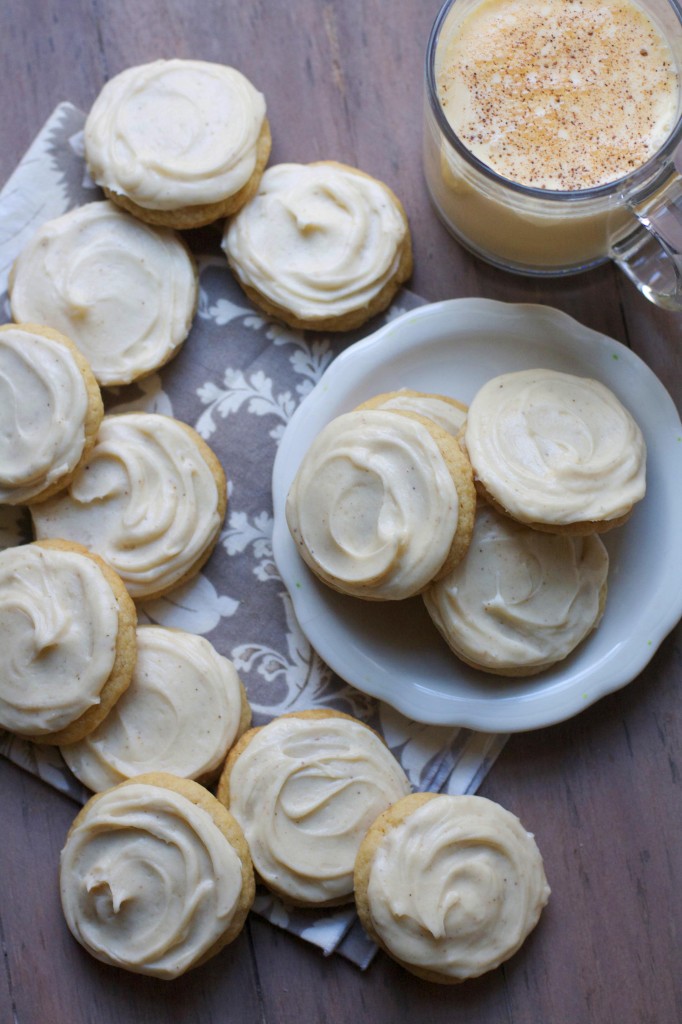 Saturday was "Christmas Tree Day" over here at the Fullerton household, and after we finally got our tree situated and decorated, we put on some Christmas movies and I sat and frosted these babies while watching. A small off-set spatula works perfectly, and slathering the frosting on was so relaxing to me. Does that make me the biggest baking dork ever? :)
Now that I've started- I'm in full on Holiday-baking obsession mode. Stay tuned for some fabulous treats this week!!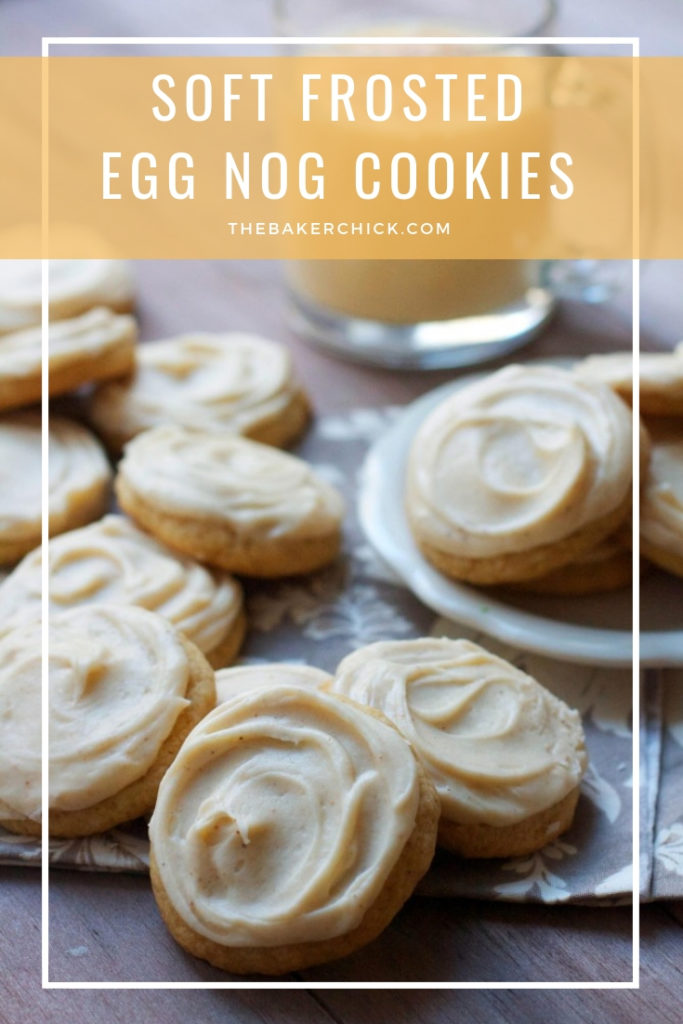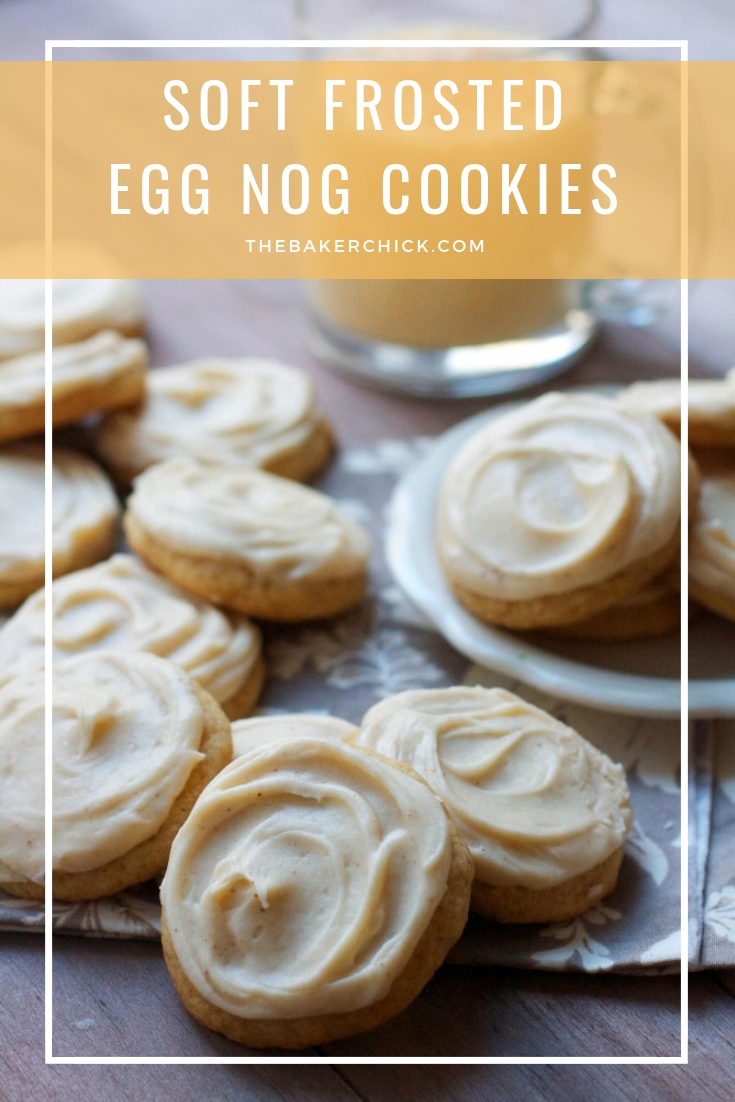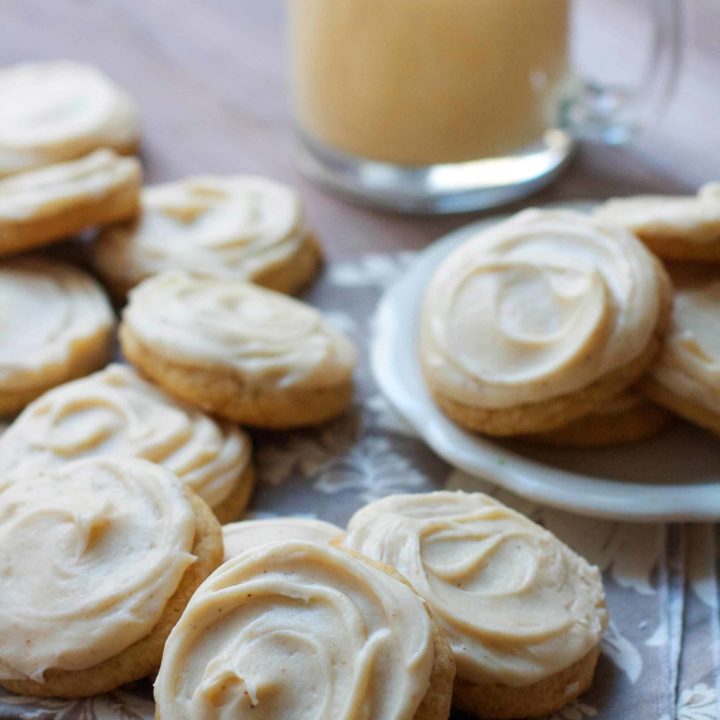 Soft Frosted Egg Nog Cookies
Yield:
about 3 dozen cookies
Ingredients
2 1/4 cups all-purpose flour
1 teaspoon baking powder
2 teaspoons ground nutmeg
1 teaspoon ground cinnamon
1/2 cup white sugar
3/4 cup brown sugar
3/4 cup (1 1/2 sticks) unsalted butter, softened
2 egg yolks
1/2 cup eggnog
1 teaspoon vanilla extract
For the Frosting:
1 stick unsalted butter, softened
3 cups powdered sugar (plus more if needed)
1/4 cup eggnog (plus more if needed)
1/2 teaspoon nutmeg
1/4 teaspoon ground cinnamon
1/4 teaspoon rum extract (optional)
Instructions
Preheat oven to 350F. Line a cookie sheet with parchment or a silpat and set aside.
In a medium-sized bowl, combine the flour, baking powder and spices- set aside.
Cream together the butter and sugars until light and fluffy. Add the egg yolks, eggnog and vanilla and beat until smooth and creamy.
Gradually add in the dry ingredients until well-combined (don't over-mix.)
Use a cookie scoop or tablespoon to portion off 1 1/2 inch sized dollops of dough and roll into a ball shape before placing on the cookie sheet 2 inches apart.
Bake for 12-14 minutes, or until the edges seem set and just slightly golden. Cool completely before frosting.
For Frosting:
Cream the butter until light and fluffy. Add in the 3 cups of powdered sugar gradually, until mixture is dry and crumbly. Add the egg nog, spices and extract if using. If you want a very stiff frosting that will dry hard, add more powdered sugar if needed. If you want a smoother frosting add a little more egg nog until you reach your desired consistency.