Soft Frosted Strawberry Lemonade Cookies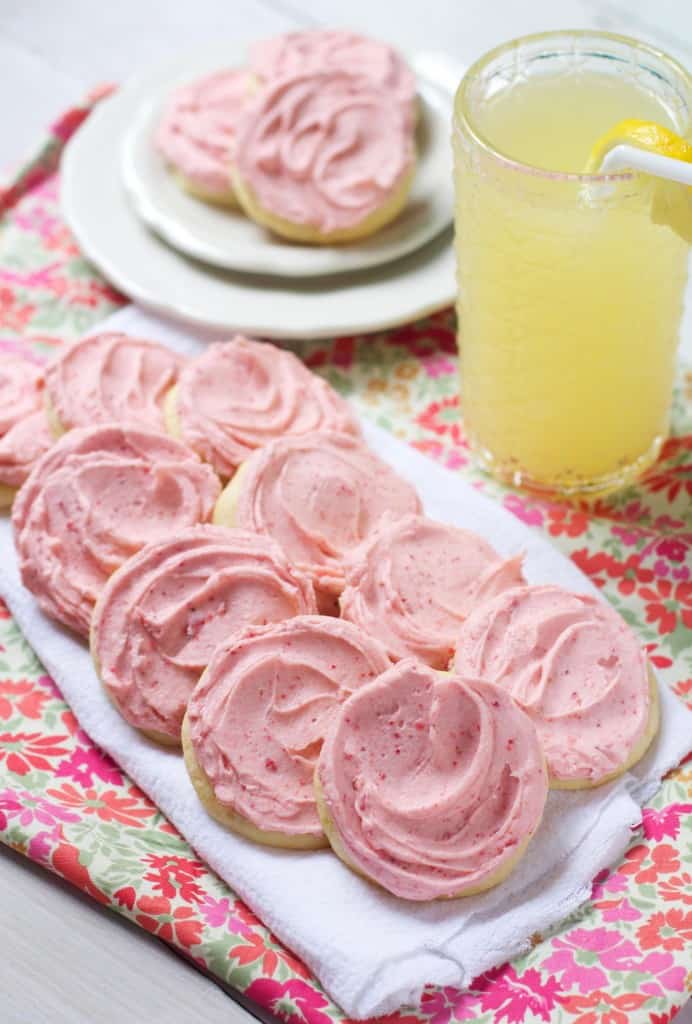 Man oh man you guys- I never thought I'd get here. I got hit hard with pneumonia for the last 2 weeks and I couldn't imagine ever wanting to get into the kitchen and bake again. Have you ever been so sick you really and truly forget what it's like to feel like yourself? I definitely had my moments of that through my 104 fevered haze. Thanks to antibiotics and the sweet & loving care of Andy, a few dear friends/sisters, (and my Mom who flew out for 48 hours of TLC,) I am finally feeling like myself. That one was a doozy.
I had a dream about these cookies during a brief fever-induced nap and didn't hesitate to make them as soon as I had my strength back. You see- I'm always on the hunt for the best way to make strawberry frosting. Stiff, shape-holding strawberry frosting that isn't runny from strawberry pureé but really has a strong strawberry flavor. The secret? Freeze-dried strawberries. Are you familiar? It's what you find in many breakfast cereals, and Trader Joes sells them by the bag. They are dried strawberries that are dry and crisp instead of chewy (like normal dried fruit.) Running the berries through a food processor yields a pink powder that is perfect for getting the ideal frosting texture. The finished result really tastes like fresh berries too which is exactly what I was going for with these.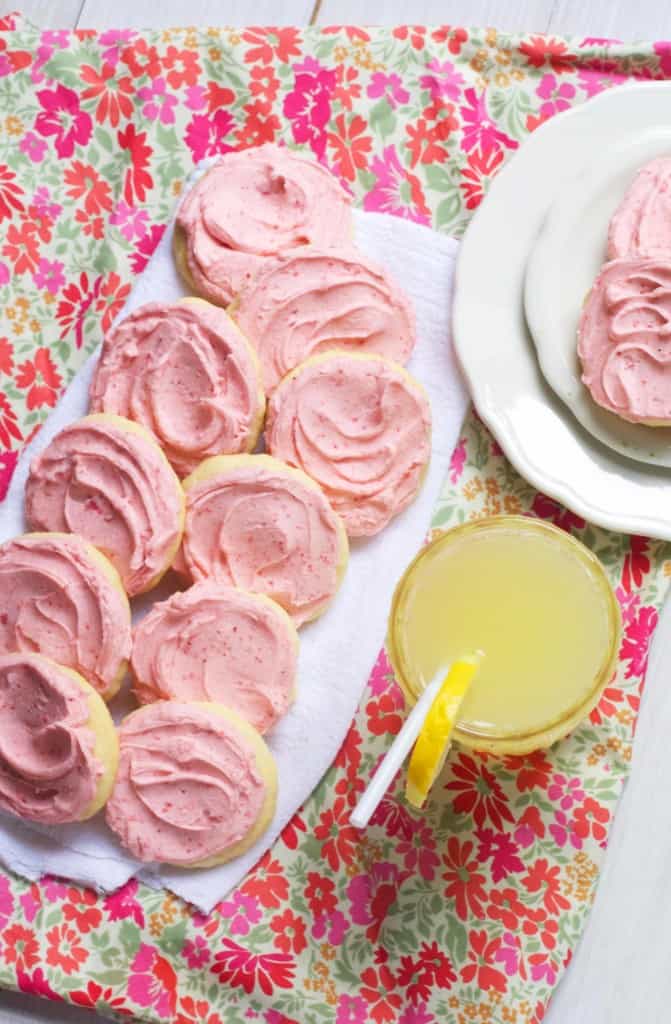 The base cookie is a soft and pillow-y lemon sugar cookie which isn't too sweet, begging to be topped with loads of frosting. The strawberry buttercream is bursting with sweet berry flavor and dolloped on top gives these cookies that sweet/tart flavor combo that I love so much. These are truly the ultimate summer cookie- so fresh and bright!
I can't wait to experiment more with freeze-dried fruit in frostings. Do you think you'll give it a try?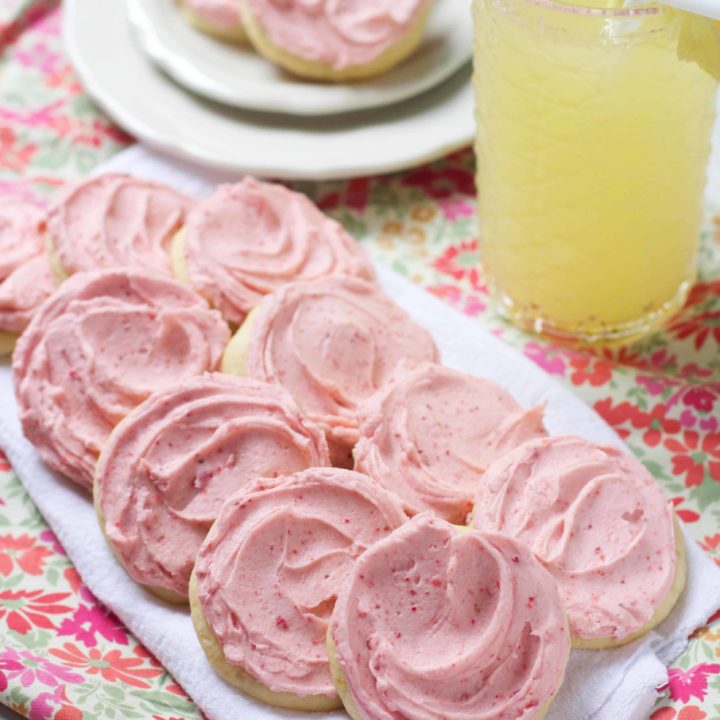 Soft Frosted Strawberry Lemonade Cookies
Ingredients
For the Cookies:
2 1/4 cups all-purpose flour
2 1/4 tsp. baking powder
1/2 tsp. salt
1½ sticks, 12 tablespoons unsalted butter, at room temperature
3/4 cup sugar
1 large egg, plus one egg yolk
2 tsp. vanilla extract
1 tsp lemon extract, or juice in a pinch
zest of one lemon
For the Frosting:
1 1/2 sticks unsalted butter, softened
2/3 cup freeze-dried strawberries- ground into powder
2-3 cups powdered sugar
splash of milk or cream
Instructions
For the Cookies:
Preheat oven to 350F. In a small bowl, stir together the flour, baking powder and salt, set aside.
In a large bowl of a mixer fitted with a paddle attachment, cream the butter and sugar until light and fluffy. Add the egg and yolk and mix until smooth.
Add the extracts and zest and continue to mix until incorporated.
Gradually add the dry ingredients and beat on low until just combined.
Use a small cookie scoop to portion dough and then roll into balls and flatted slightly with your fingertips. Place dough 2-3 inches apart on a sil-pat or parchment lined cookie sheet and bake for 9-11 minutes or until just set on the edges. (Cookies won't be golden.) Chill dough in between baking each batch.
Allow cookies to cool before frosting.
For the Frosting:
Cream the butter with the strawberry powder and 2 cups of powdered sugar until thick and creamy. Add a splash of milk and the rest of the powdered sugar gradually until frosting is thick, smooth, and spreadable.
Pipe or spread frosting on cooled cookies.
Nutrition Information:
Yield:

2
Serving Size:

1 grams
Amount Per Serving:
Unsaturated Fat:

0g