Soft Frosted Sugar Cookies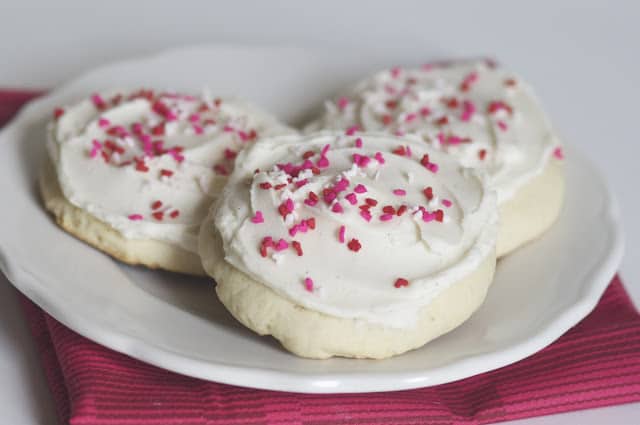 When something has been as popular in blogland as these cookies, you know they must be something special. How could they not be something special really? I mean you have a soft and pillowy sugar cookie with a creamy buttercream…sounds like a confectionary jackpot to me. Especially when you were/are as obsessed with the version of these cookies that you can find in the bakery section of most grocery stores. I have fond memories of scarfing down several of these while perusing the grocery store aisles in college. (Am I the only one who always digs into what's in my cart before getting to the checkout?)
This really is a truly wonderful recipe. The use of sour cream in the batter makes the cookies puffy and fluffy but not too sweet. The hint of buttercream makes each bite perfectly smooth and well balanced. The frosting and sprinkles can be adapted for just about any holiday or season and I guarantee they'll please any crowd you serve them to. Since Valentine's Day is just around the corner I decorated them with some festive hearts, but I can't wait to adapt them for every occasion. They're just so good.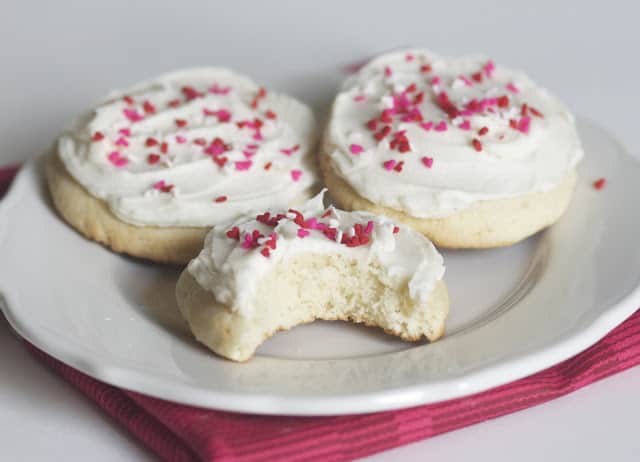 Also- I didn't realize there were actually two different versions of the this recipe going around. I look forward to trying out the other one next time!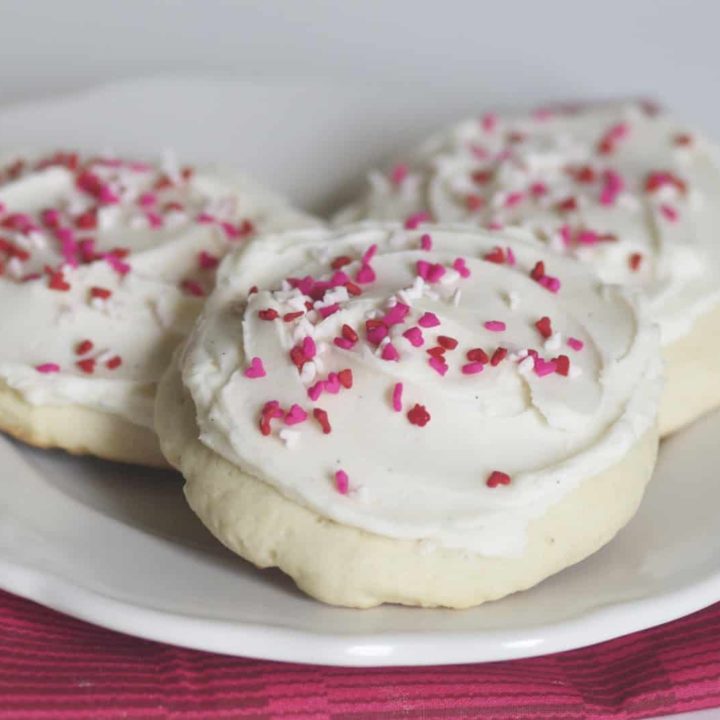 Soft Frosted Sugar Cookies
Yield:
5 -6 dozen cookies
Ingredients
6 cups all-purpose flour
1 teaspoon baking soda
1 teaspoon baking powder
½ teaspoon salt
1 cup unsalted butter, at room temperature
2 cups granulated sugar
3 eggs
2 teaspoons vanilla extract
1½ cups sour cream
for the frosting:
1 cup unsalted butter, room temperature
1 teaspoon vanilla extract
4 cups powdered sugar
Pinch of salt
6 tablespoons heavy cream
Instructions
In a medium bowl whisk together the flour, baking soda, baking powder and salt; set aside.
In the bowl of a stand mixer with the flat beater attached, cream the butter and granulated sugar at medium speed until light and fluffy, about 3 minutes.
Scrape down the sides of the bowl with a rubber spatula as needed.
Add the eggs, one at a time, beating until each is incorporated. Add the vanilla and sour cream and beat at low speed until combined.
Add the dry ingredients and beat at low speed until just combined, scraping down the bowl as needed. Dough will be a bit "sticky". Chill in the refrigerator overnight or at least two hours until firm.
Preheat the oven to 425 degrees F. Line large baking sheets with parchment paper; set aside.
Using a small cookie scoop, portion the dough into 1 1/2 inch balls. press them down with your fingers until they are about 1/4 inch thick, even and smooth. (The original recipe has you roll/cut these out, but I had no patience for that. Instead I scooped and flattened/smoothed them with my fingers. Either is fine!)
Place them evenly on a cookie sheet and bake for 7 minutes or until pale golden. Don't over bake!
For the Frosting:
In a large bowl cream together the butter and vanilla with an electric mixer.
Slowly beat in the powdered sugar and the pinch of salt.
Once smooth and creamy, add in heavy cream, 1 tablespoon at a time, then beat at medium-high speed for a minute or two until light and fluffy.
If desired, add food coloring and beat until combined.
Once cookies have cooled, frost and add sprinkles. Allow frosting to set, then store in an air-tight container. Let cookies sit for several hours before serving to allow the flavors to develop.
Nutrition Information:
Yield:

5
Serving Size:

1 grams
Amount Per Serving:
Unsaturated Fat:

0g
(Recipe adapted from Brown Eyed Baker via Authentic Suburban Gourmet)