This Sour Cream Coffee Cake is to die for, with a thick cinnamon ribbon and a perfectly moist cake with a perfect balance due to the addition of rich sour cream. It's a must make!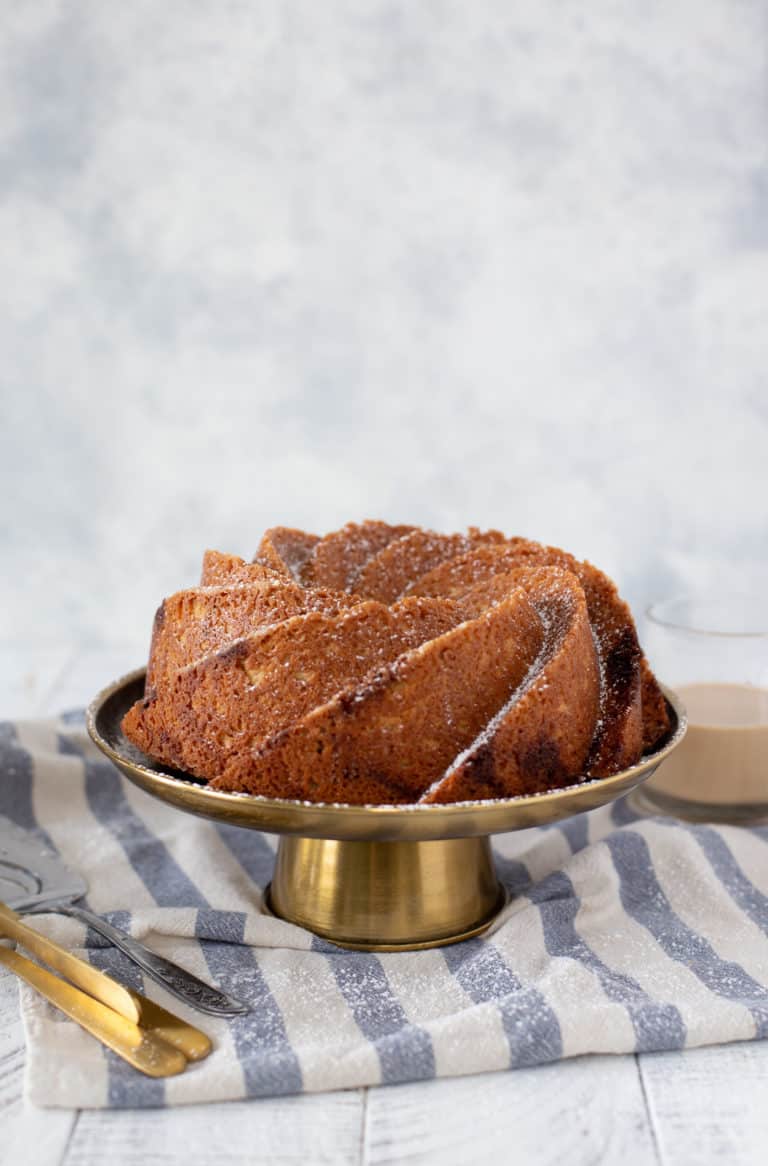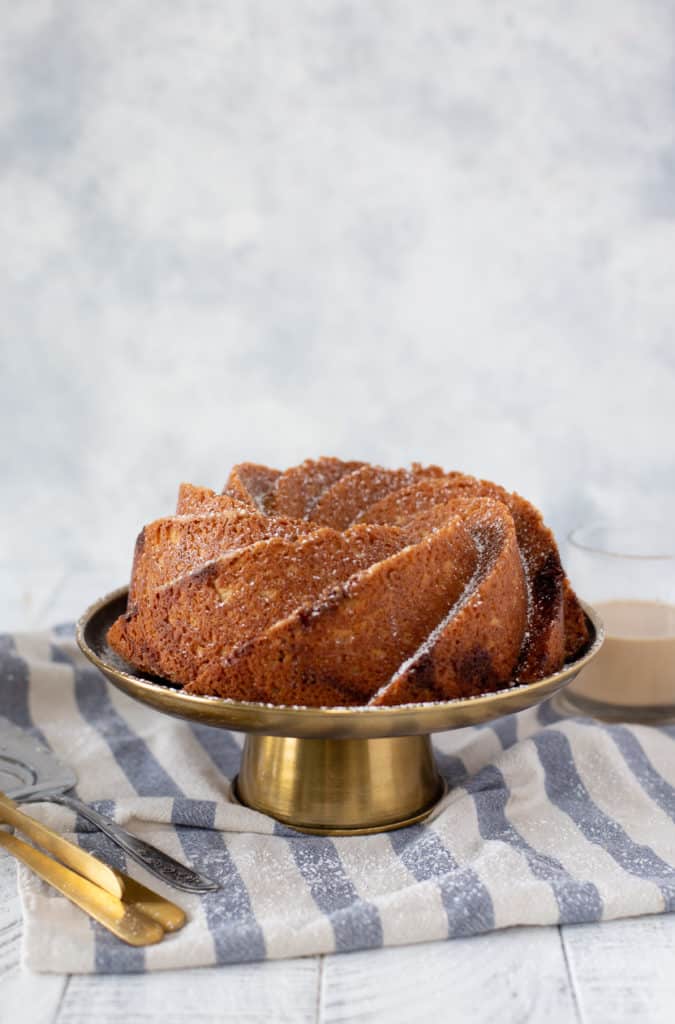 I've professed my love for bundt cakes before, but all it takes is getting a new fancy pan to send me head over heels all over again. After recently purchasing this new bundt pan, I realized that it's the key to making a gorgeous cake with minimal effort.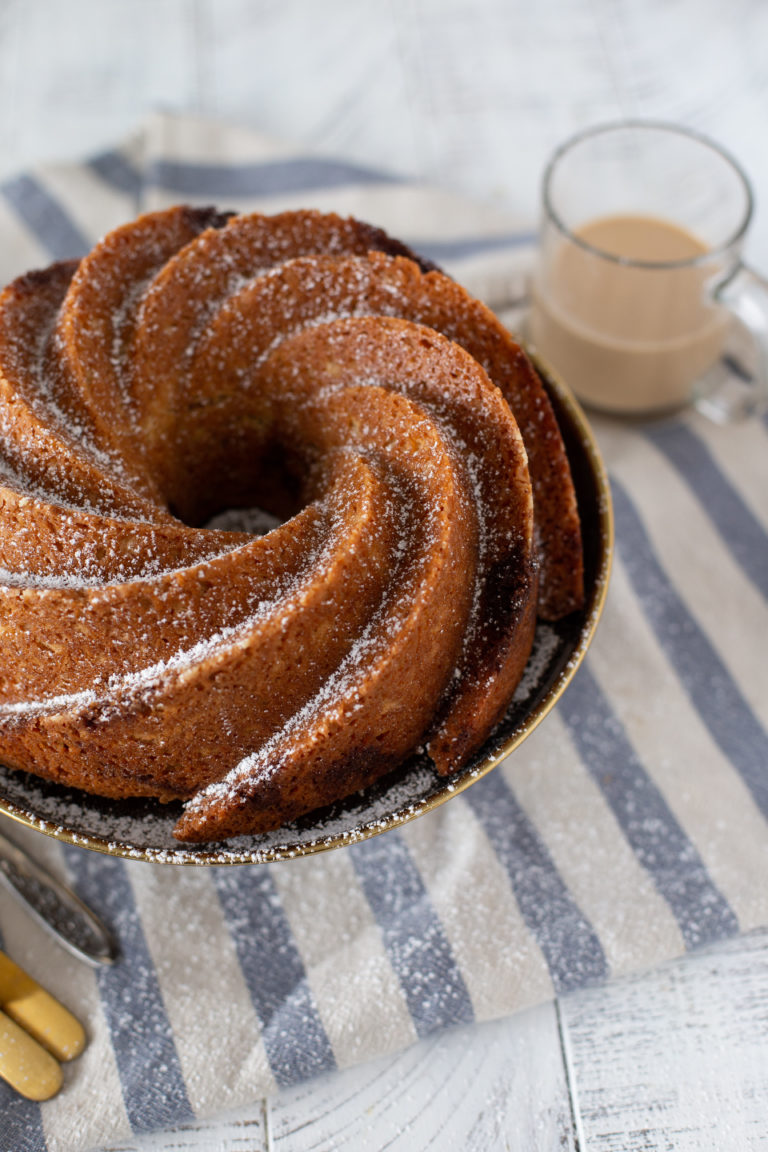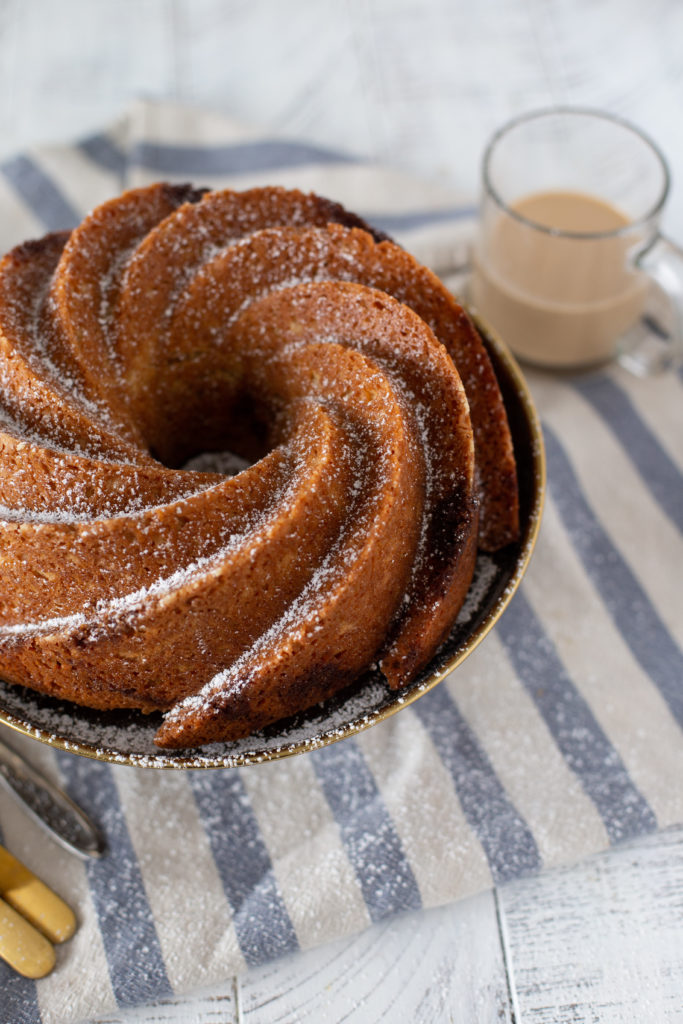 Now don't get me wrong, you know I love decorating beautiful layer cakes with glazes, frostings, and fillings, but how great to make a cake that requires nothing fancy? A dusting of powdered sugar and then calling it a day? It's pretty quick and fun.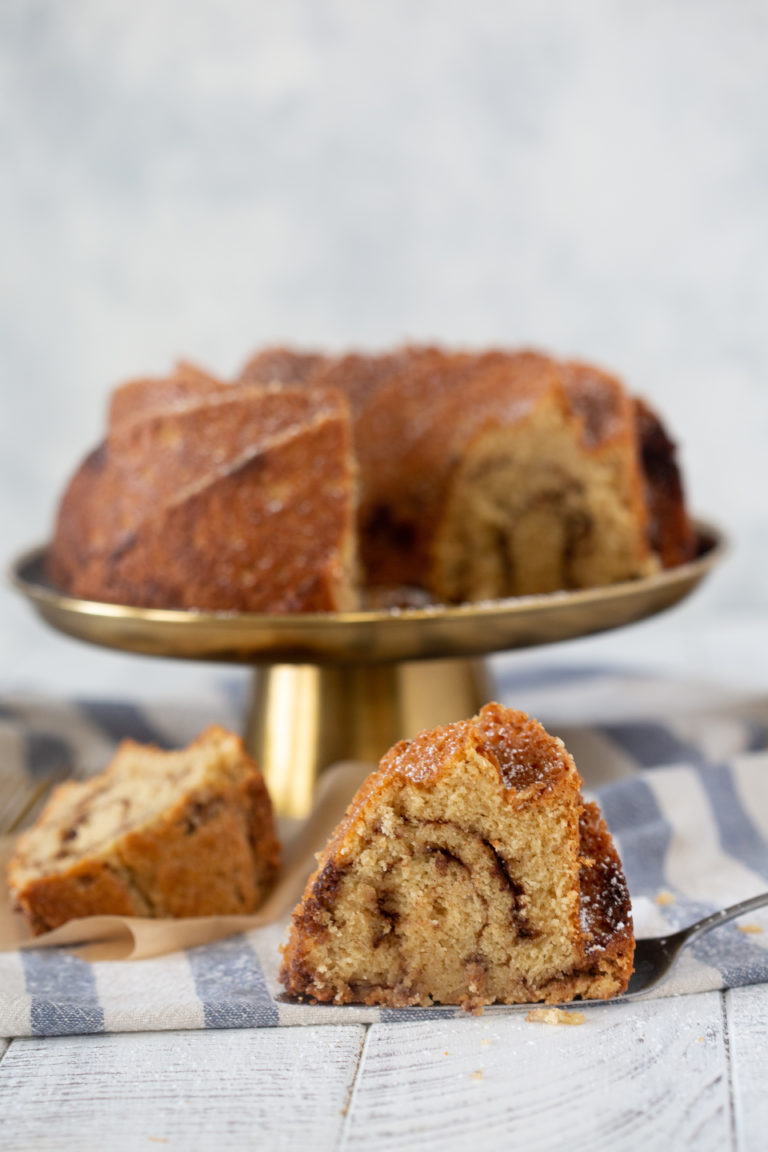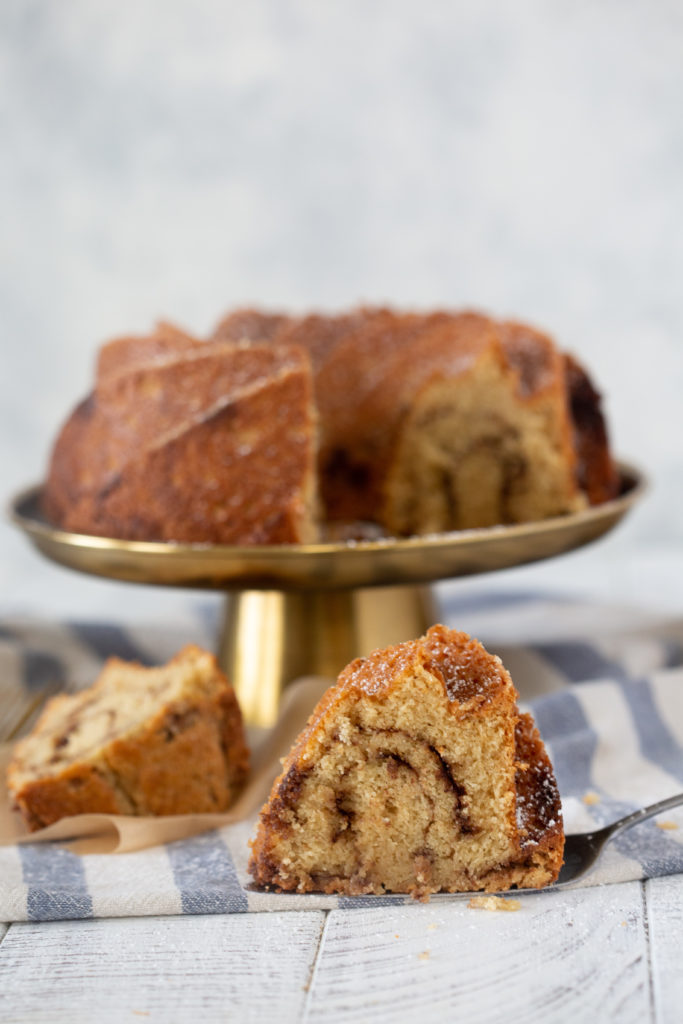 This Sour Cream Coffee Cake recipe is slightly adapted from one in a new cookbook I love and recommend called Zingerman's Bakehouse. Have you heard of the bakery? If you are from Michigan chances you have, and I hope someday I can visit and try their goodies first hand.
I discovered the Zingerman's Bakehouse cookbook from a fun facebook group I joined called Food52 Baking Club. If you like to bake and discover new cookbooks I really recommend it! Every month they pick a new cookbook and everyone bakes from it and shares their results.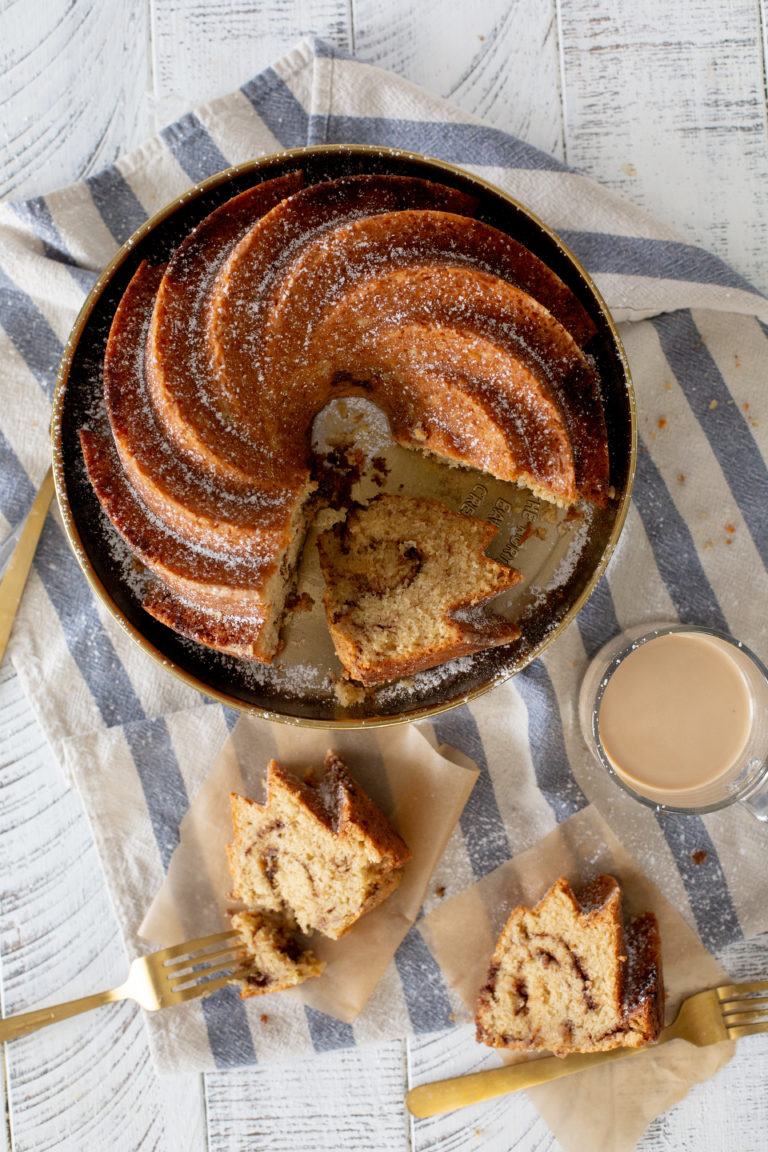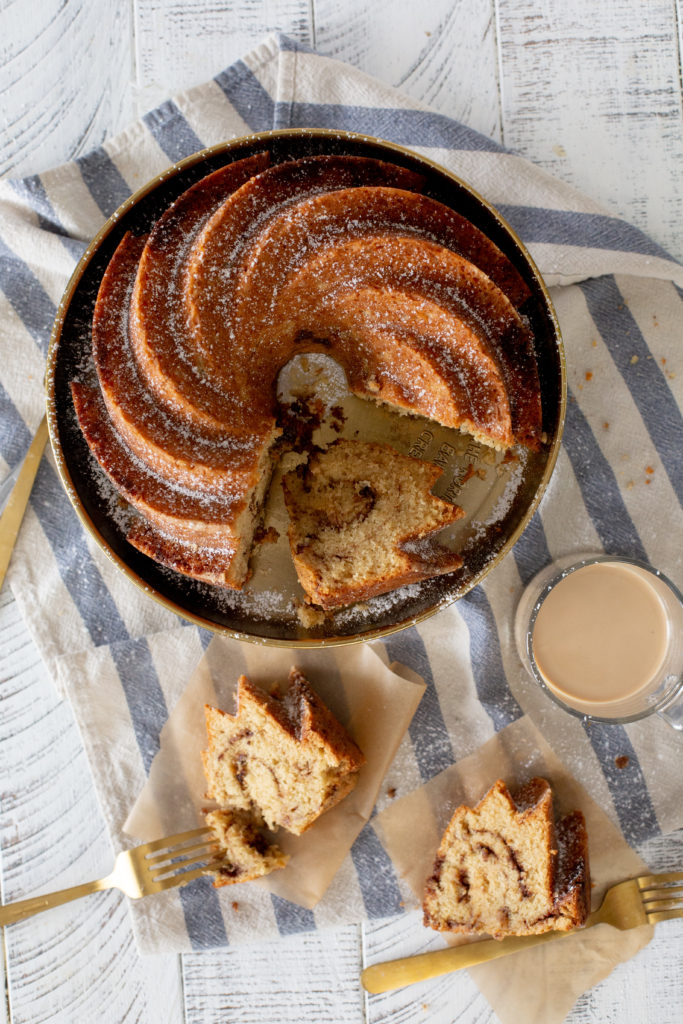 This Sour Cream Coffee cake has been a popular one to bake this month and so I decided to give it a try.
Not being fans of nuts in our house, I skipped the walnuts and doubled the cinnamon filling, adding a touch of cocoa similar to my favorite Triple Cinnamon Coffee Cake. (For color not flavor!)
The result- an absolutely dreamy coffee cake with wonderful texture that tastes even better on day two.
The only change I'd make the next time I bake it is to reduce the sugar in the cake by 1/4 cup or so. Doubling the filling was an excellent choice, but doing do made the overall cake very sweet. Still delicious, but I think a touch less sugar would do well here. (I'll give you both options in the recipe!)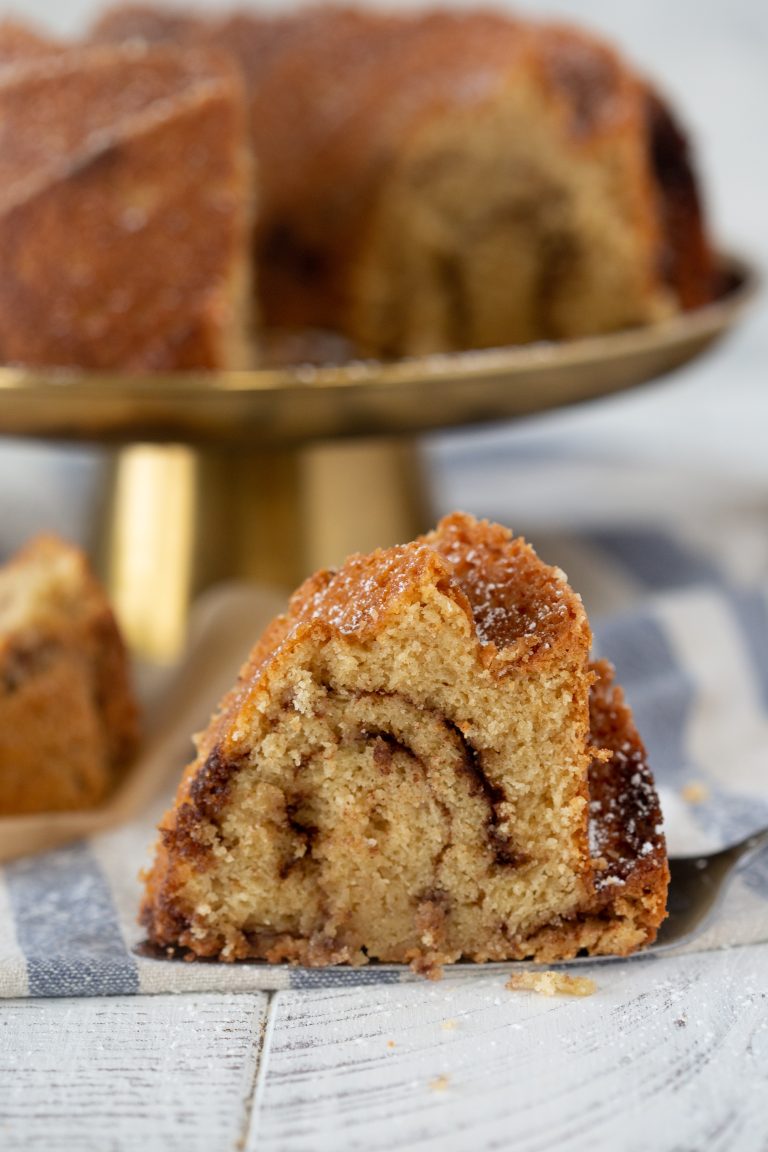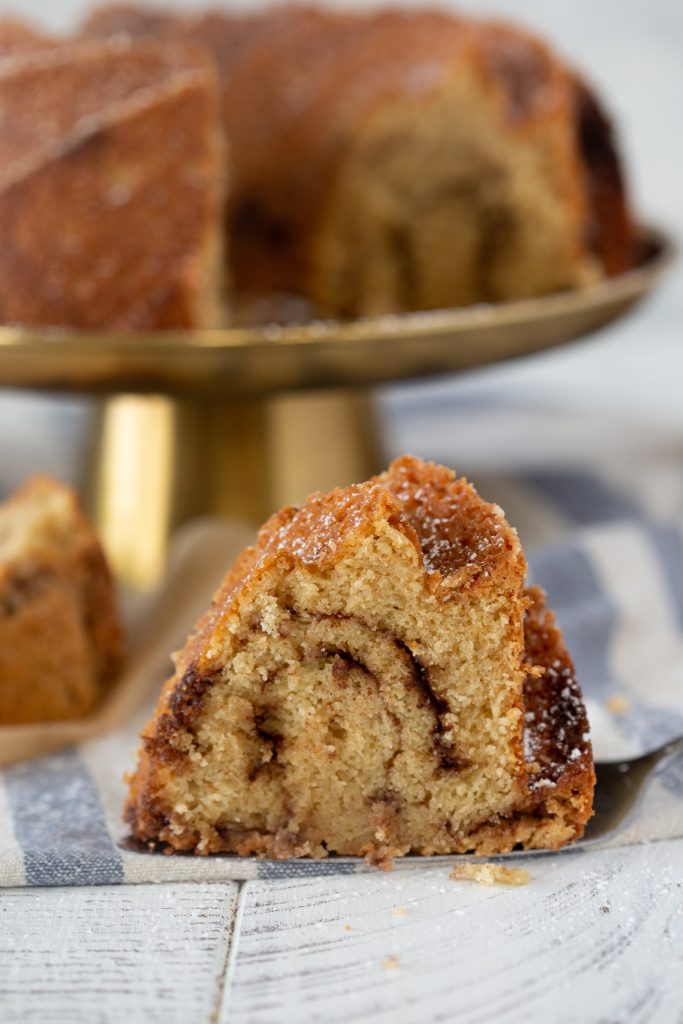 Get the recipe for Sour Cream Coffee Cake here: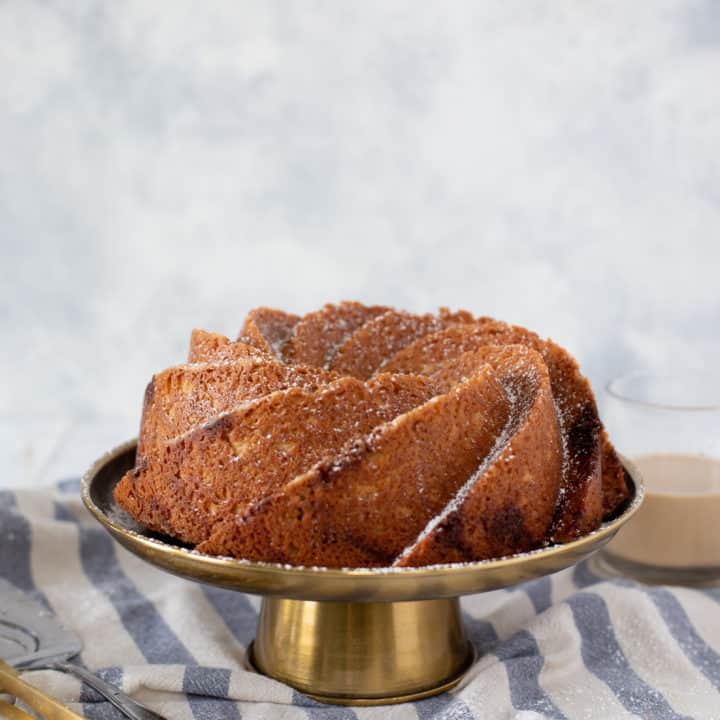 Sour Cream Coffee Cake
Yield:
1 9-inch coffee cake
Ingredients
1/3 cup brown sugar
1 heaping tablespoon ground cinnamon
1 1/4 cups white sugar
1/2 cup brown sugar*
1 cup unsalted butter at room temperature
3 large eggs
3/4 cup plus 3 tablespoons sour cream
1 1/2 teaspoons vanilla extract
2 1/3 cups unbleached, all-purpose flour
1/2 teaspoon baking soda
1 teaspoon sea salt
Instructions
1. Preheat oven to 325ºF. Spray a 9-inch Bundt pan with non-stick spray, coat with flour, tapping out excess and set aside.
2 .Combine the brown sugar and cinnamon together in a small bowl and set aside. In a separate bowl, combine the flour, baking soda and salt, whisking together. Set that aside too.
3. Place the sugar and butter in the large bowl of a mixer and beat on medium speed until creamy and light. Add in the eggs, one at a time, beating well after each one and using a rubber spatula to scrape down the sides and bottom of the bowl as needed. Add in the sour cream and vanilla and mix just until incorporated. Scrape down the sides of the bowl well and gradually add the flour mixture, keeping the mixer on low speed. (You will need to scrape the sides down a lot as the mixture is very thick and you want to make sure it gets evenly mixed.)
4. Spoon about 1/3 of batter into prepared bundt pan and smooth it down evenly. Sprinkle 1/2 of the cinnamon mixture evenly across it and top that with another 1/3 of the batter, spreading it out evenly to the sides. Sprinkle the rest of the cinnamon mixture evenly across the top and follow it with the rest of the batter, spreading it out evenly. Use the top of a sharp knife to gently swirl the layers together just a bit.
6. Bake for about 60 minutes, until a cake tester inserted into the center comes out clean (it might take longer/shorter depending on your oven and pan. Mine needed 55 minutes ). Let the cake cool for about 15-20 minutes in the pan on a wire rack and then invert and remove cake. Let cool before slicing and serving. (I enjoyed it a bit warm!)
7. Cake keeps well wrapped at room temperature for up to a week.
Notes
Recipe adapted slightly from: Zingerman's Bakehouse Cookbook
*I reduced the sugar by 1/4 cup to account for extra brown sugar in the filling.