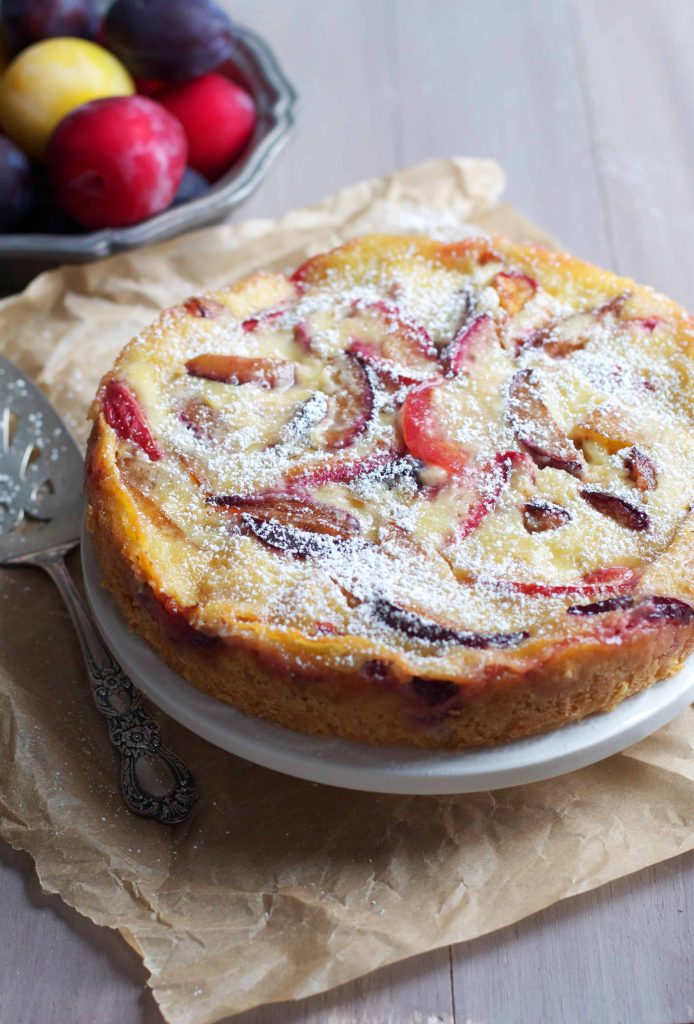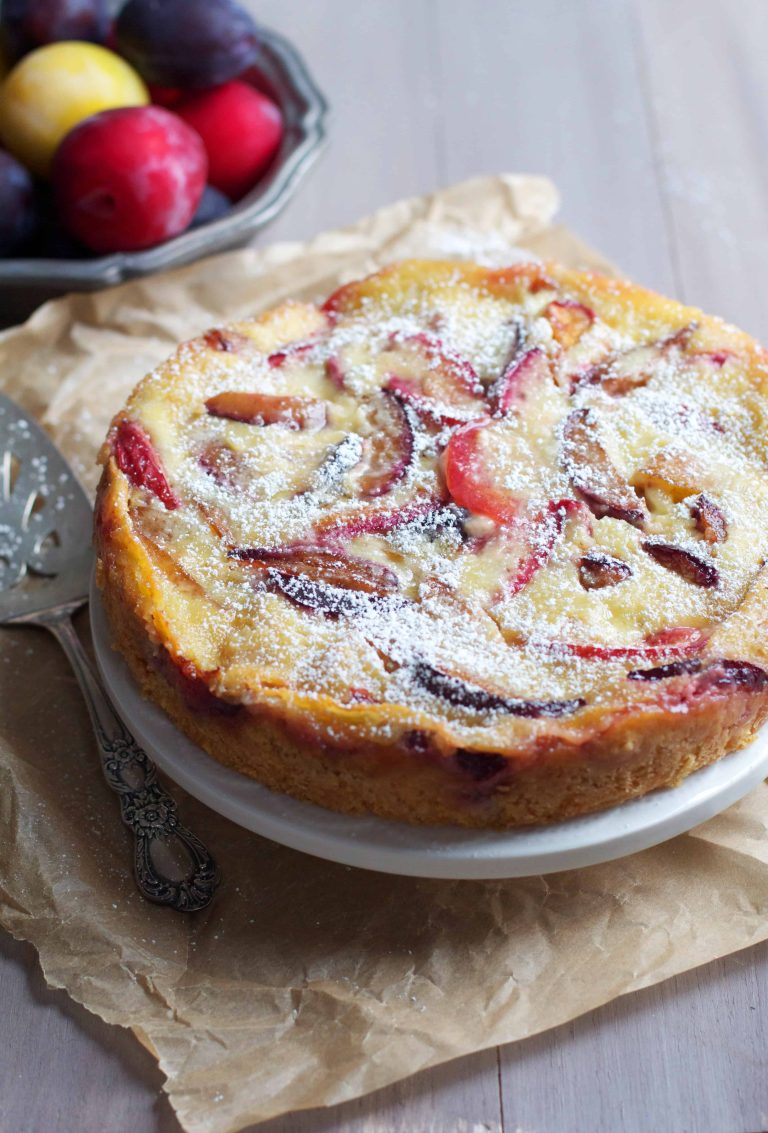 September is a weird produce month don't you think?
While we all are yearning for apples and squash, sometimes the warm summer days are still lingering in the farm stands.
I learned this to be true when I received 3 pounds of beautiful plums in a fruit CSA box last week. I was a bit thrown as I kinda had moved on from summer stone fruits, but they were so lovely and just begging to be baked with so I had to make them into something. (Luckily for me Hugo also loves plums! He's been eating 1 a day!)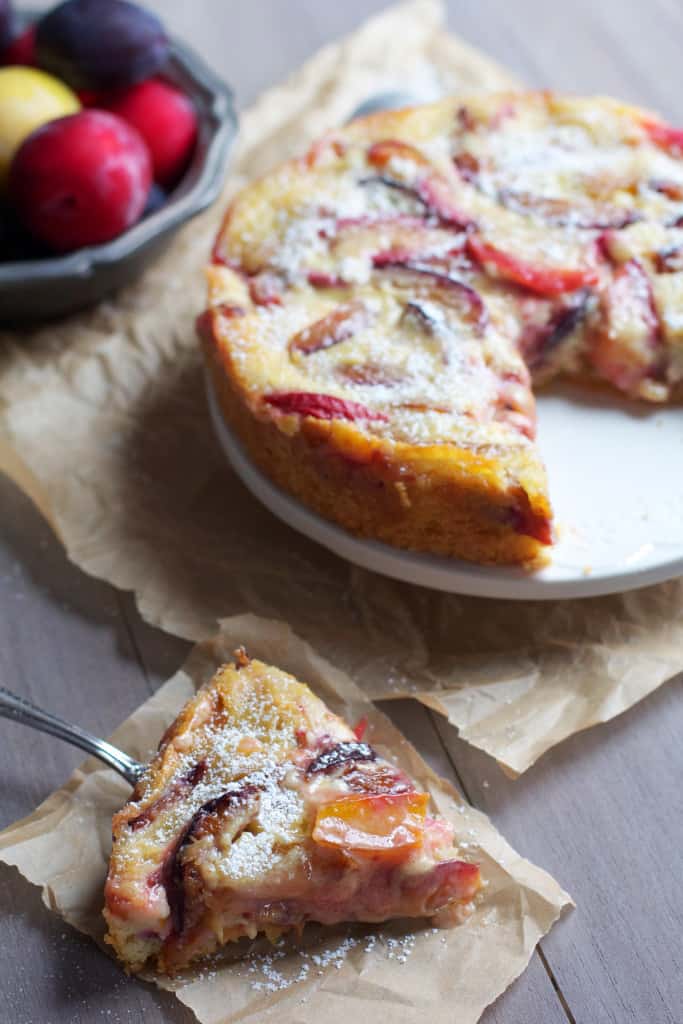 This cake is just lovely. It has a buttery base that is just a teeny bit sweet, which is topped with lots of fresh juicy plums, and finally a sweet & creamy custard topping.
The finished product is super delicious and the perfect not-t00-sweet option for breakfast or snacking. It's great out of the fridge, warm and gooey out of the oven, or room temperature. If you have some late season plums you're dying to use- this cake is just the thing.
I wanted to keep things semi-fall appropriate, so I tossed the plums in cinnamon, ginger and nutmeg. The final result would be just perfect with a warm cup of tea and a good book. (Which reminds me, I'd really like to read one sometime soon!)
So what do you think- are plums still season appropriate? Or has that ship sailed?
Want another delicious plum dessert?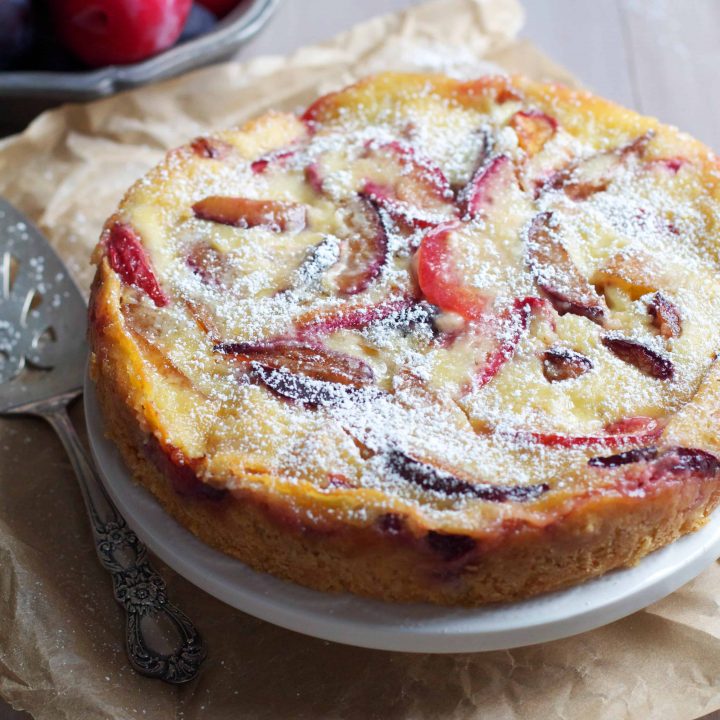 Spiced Plum Custard Cake
Ingredients
1 cup all-purpose flour
1 tablespoon white sugar
1 teaspoon baking powder
1/2 cup butter- cold and cut into cubes
2 tablespoons heavy cream
1 egg
2 1/2 cups pitted and sliced plums
1/2 teaspoon cinnamon
1/4 teaspoon ground ginger
1/4 teaspoon ground nutmeg
For the custard:
1/2 cup heavy cream
1/2 cup white sugar
1 egg
1 teaspoon vanilla extract
Instructions
Preheat oven to 350F. Lightly spray an 9 inch springform pan* and set aside.
Toss the sliced plums with the spices and set aside. In a large bowl, stir together the flour, 1 tablespoon sugar and baking powder. Add the cubes of butter and use a pastry blender, knife or your hands to cut the butter in until coarse crumbs form. Stir in 1/2 teaspoon of vanilla, 2 tablespoons cream and an egg. Continue to stir for a few seconds of until well combined. (But not necessarily perfectly smooth.)
Turn the dough into the bottom of the pain and press in with your fingers. Arrange the spiced plums over the dough. Bake for 20-25 minutes on top of a sheet pan.
While cake is baking prep the custard by whisking together the 1/2 cup of cream, 1/2 cup of sugar, vanilla and egg.
When the cake is done baking, pour the custard over the plums, and return to the oven, baking for another 20-25 minutes or until the custard has set.
Cool before eating, enjoy warm or cold, store in the fridge.
Notes
* I used an 8 inch pan, but 9 inch is fine too, the cake will just be a little thinner! If there is a chance your pan has leaks, the filling will seep out and create a burning steamy mess. It's important to bake this cake on a cookie sheet or wrap your pan in foil to avoid this. Otherwise you may also use a different type of pan.