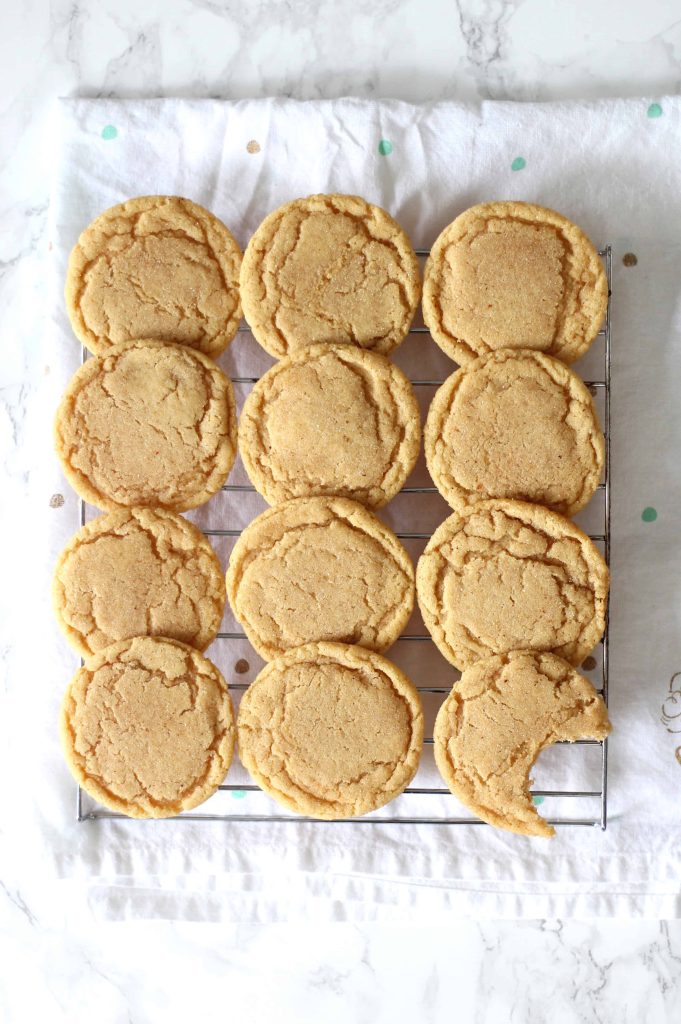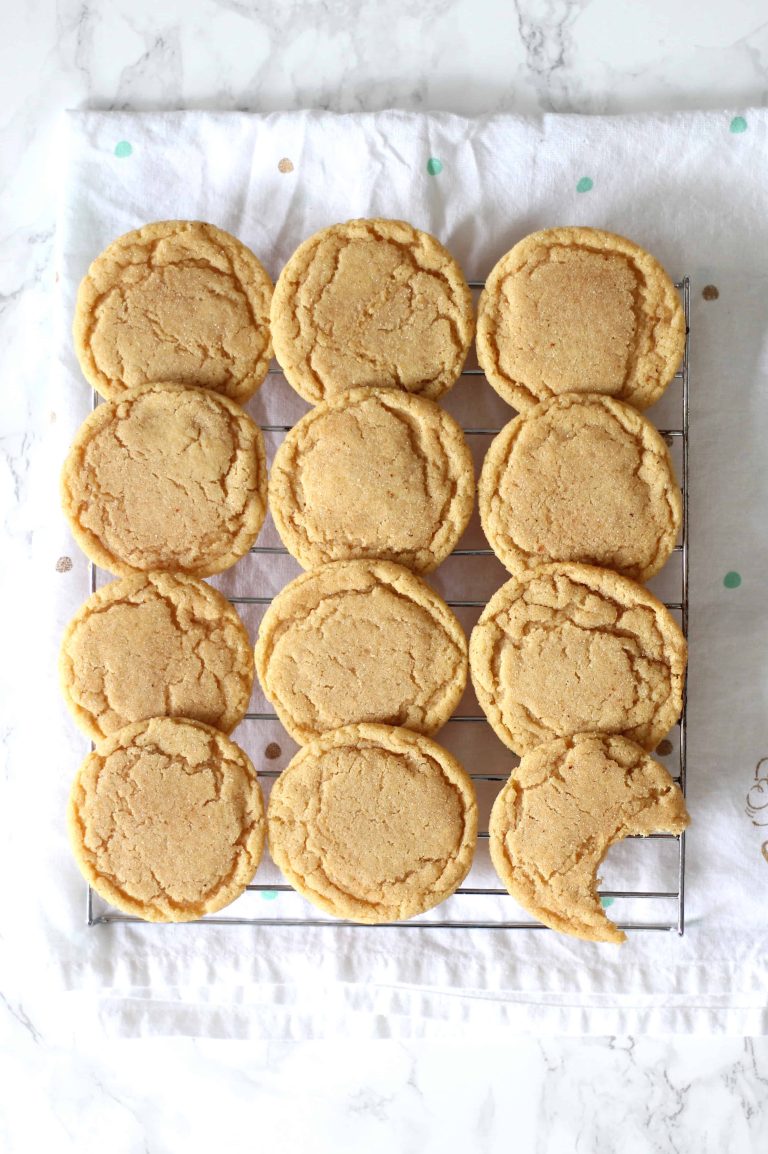 As I finalize my plans for holiday baking, I always try to have a nice variety. Some gingerbread, some peppermint, something festive, and then one really easy scoop and bake cookie. It changes from year to year, but I'm so incredibly thrilled with this addition to the spread. These Spiced Rum Cookies are probably one of the easiest cookies I've made and they turn out so beautifully, with perfectly crackled tops and soft & chewy middles. They have a buttery rum flavor and are rolled in a spiced cinnamon sugar and baking these delicious cookies will make your whole kitchen smell amazing.
I used some real spiced rum in the batter of these, but rum extract would give an even stronger flavor. If you don't have either of those, vanilla extract or almond extracts would be fine too! Either way, I highly suggest adding this addictive and easy cookie recipe to your spread!

Ingredients needed for Spiced Rum Cookies:
white sugar
brown sugar
unsalted butter, room temperature
egg
dark rum or rum extract
all purpose flour
baking soda
salt
cinnamon
nutmeg
cloves
cream of tartar
flaky sea salt (optional)
Supplies needed for Spiced Rum Crinkles:
Large bowl
Parchment paper or silicone liner
Cookie sheet
Wire rack for cooling
Hand mixer or stand mixer
Cookie Scoop
The process:
In a medium sized bowl, combine all the dry ingredients besides the spices. In a large bowl cream the butter and sugars, add the egg and rum or extract, and cream until smooth. Slowly add the flour mixture to the wet ingredients and mix for a couple minutes, or until well-combined without over-mixing. Use a spatula to scrape the bottom of the bowl making sure there are no dry bits. Combine remaining sugar and spices in a small bowl and set aside.
Scoop cookie dough into a 1.5 inch dough ball and roll in the sugar-spice mixture. Place cookie dough balls on a parchment-lined baking sheet and sprinkle with sea salt flakes if desired. Heat oven to 350F and bake cookies for 9-10 minutes or until the edges are set and slightly golden, and the cookies are cracked.
What is the role of Cream of Tartar?
If you don't have cream of tartar on hand, skipping it won't change the taste of the cookies, but it does help give the top of the cookies their crackled and "crinkled" appearance which is so pretty.
Can I make the dough in advance and bake later?
Yes! Chilled dough is always easier to work with. You can either chill the dough balls after rolling, or chill the whole bowl of dough and let it come slightly to room temperature to make scooping easier.
Store cookies Airtight container or freezer bag at room temp for 4-5 days, in the fridge for a week or in the freezer for up to a month.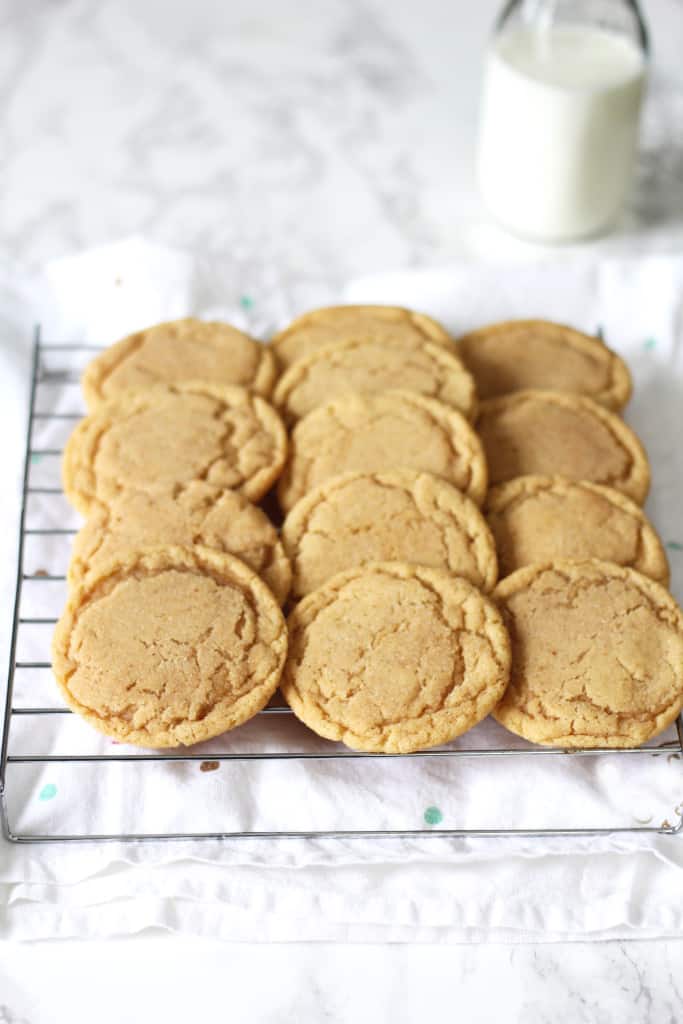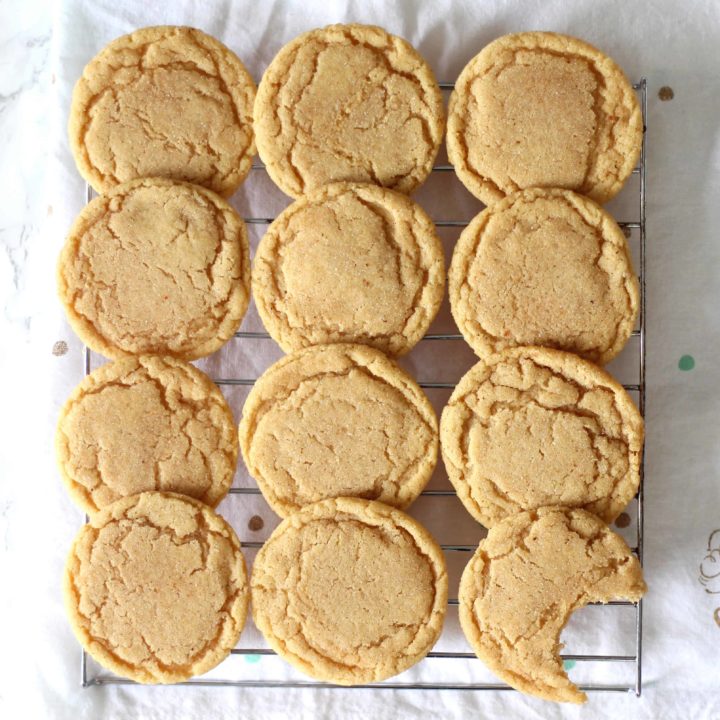 Spiced Rum Crinkles
Ingredients
1/2 cup sugar
1 cup brown sugar
1 cup butter
1 egg
2 teaspoons rum or rum extract
2½ cups flour
2 teaspoons baking soda
¼ teaspoon salt
2 teaspoons cream of tartar
For rolling:
1/4 cup granulated sugar
3/4 tsp ground nutmeg
1/4 tsp ground cinnamon
1/8 tsp cloves
Instructions
Preheat oven to 325F.
Cream together the butter and sugars until smooth and fluffy. Add the egg and rum (or extract,) and mix together until smooth.
Add the dry ingredients and mix on low until well combined.
Roll dough into 1-1.5 inch balls (they spread a lot while baking,) roll the dough balls in the sugar mixture and place on a cookie sheet.
Pop all the dough into the freezer for about 10-15 minutes before baking, this will yield a thicker cookie. Bake for 9-10 minutes or until the tops are crackled and the edges are set.