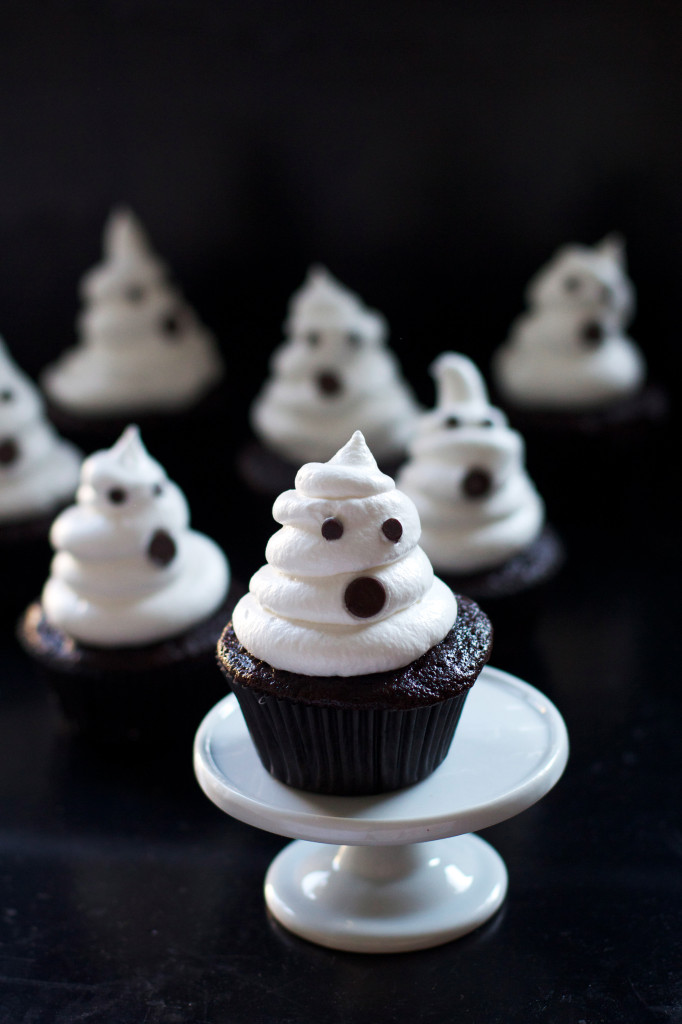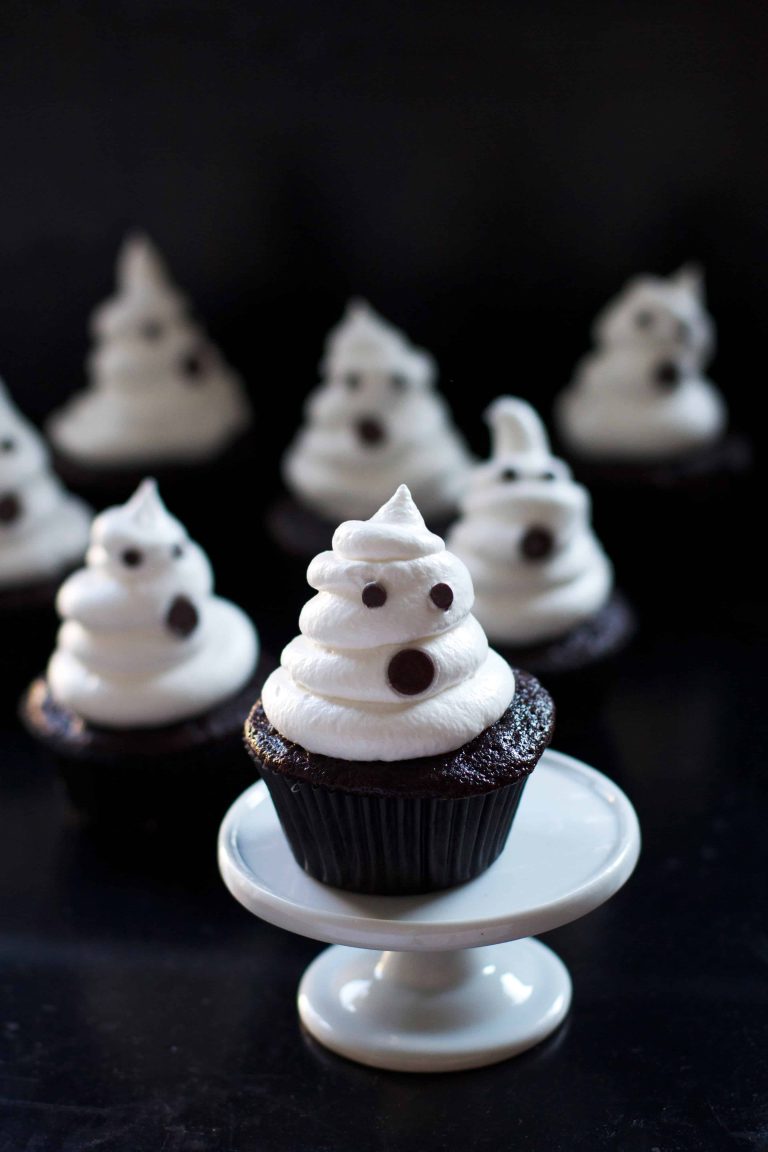 I have always loved Halloween, but it is just so much more fun with a kid. I mean don't get me wrong, I love "adult Halloween," but with a child there are just SO many fun activities and occasions to dress them up. With a baby, it just feels like a huge game of dress-up as they obviously have no idea what's happening but hopefully roll with the punches.
Our kick-off to Halloween week was a fun party on Saturday with a spooky "Glow-in-the-dark" theme. I offered to make cupcakes, and since the whole party centered around black lights and that creepy "bright white" theme, I decided to contribute these cupcakes.
They are so simple really, start with your favorite cupcake recipe- (chocolate is of course best for that high contrast in color.) I made a batch of 7-minute frosting because I wanted it to be two things- bright white, and very stiff. I didn't want any buttercream that could get smushed or slide around. I wanted swirly ghosts that would stay where I put them. (And they did!) Then I used mini and regular chocolate chips for the face! Easy as can be!
And speaking of babies on Halloween…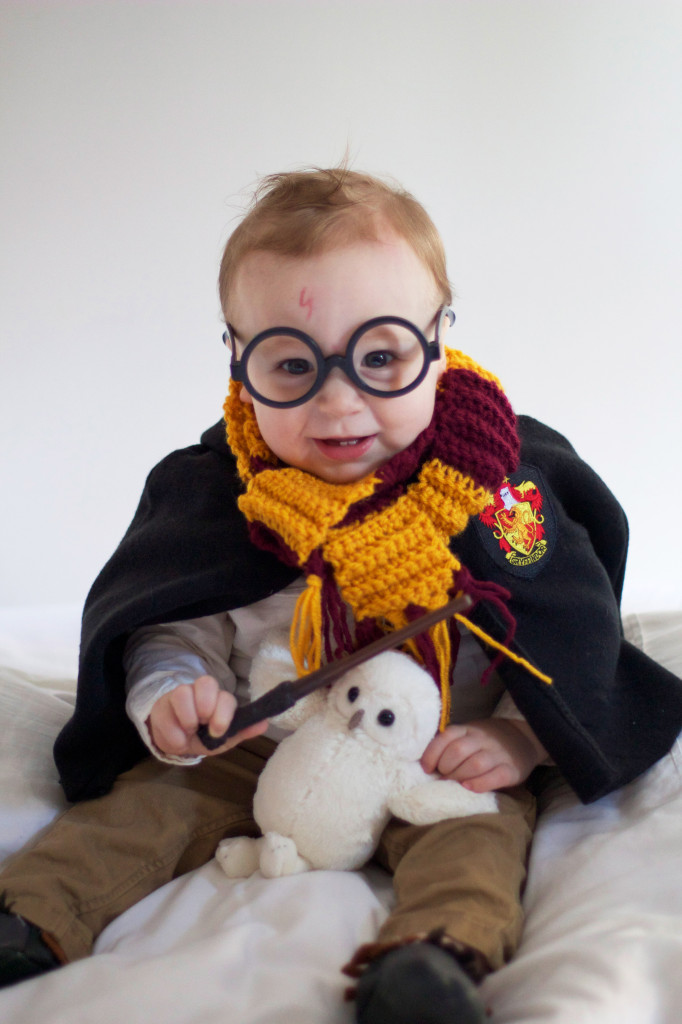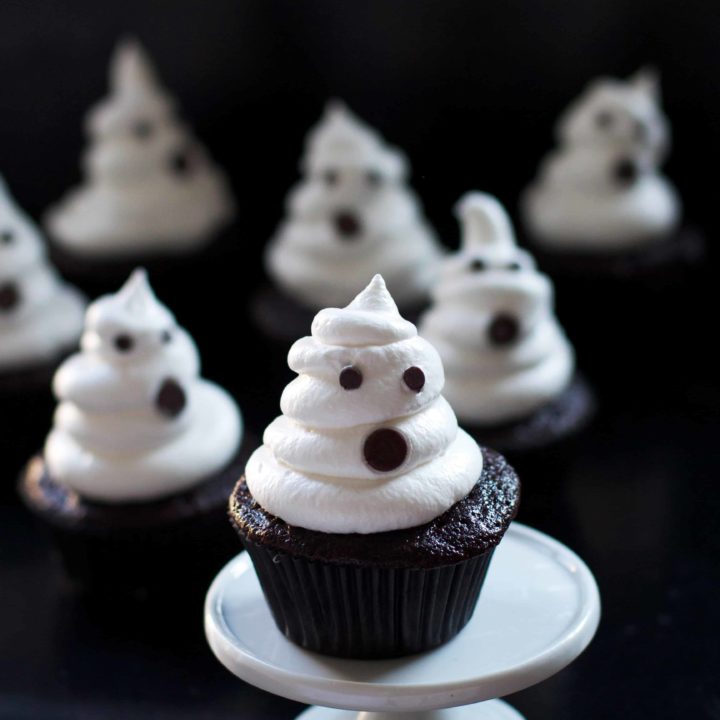 Spooky Ghost Cupcakes
Ingredients
For the cupcakes:
1 1/2 cups sugar
3/4 cups unsweetened cocoa powder
1 1/2 cups flour
1 1/2 teaspoons baking soda
3/4 teaspoons baking powder
3/4 teaspoons salt
3/4 cups buttermilk, room temperature
3 tablespoons vegetable oil
2 large eggs
3/4 cup warm water
1 teaspoon pure vanilla extract
Seven Minute Frosting:
3/4 cups sugar
1 tablespoon light corn syrup
2 tablespoons water
3 large egg whites
1/2 teaspoon pure vanilla extract
mini & regular chocolate chips for the face!
Instructions
For the Cupcakes:
Preheat oven to 350F. Line cupcake tins with liners, set aside.
In a large bowl, whisk together the sugar, flour, cocoa powder, baking soda, baking powder and salt.
Make a small well in the middle of the bowl and add the buttermilk, oil, eggs, water and vanilla. Whisk the wet ingredients together and then incorporate the dry until smooth and lump-free.
Fill cupcake liners 2/3 of the way full and bake for 20-23 minutes. Allow cupcakes to cool while you make the frosting.
Place egg whites in the clean bowl of a stand mixer with a whisk attachment. In a small saucepan with a candy thermometer attached, combine the sugar, corn syrup and water.
On medium-high heat cook the sugar mixture until boiling. At that point- turn the mixer on medium high speed to get the egg whites to soft peaks. When the sugar mixture has reached 230F, slowly pour it down the side of the bowl in a steady stream while the mixture continues to run.
Beat on medium-high for about 7 minutes or until the bottom of the bowl is cool to the touch and stiff glossy peaks have formed. Add the vanilla right before you finish beating the frosting
Pipe frosting onto the cupcakes right away (it gets a bit firm otherwise.) and decorate with the chocolate chips!
Notes
Recipe adapted from Martha Stewart
Nutrition Information:
Yield:

20
Serving Size:

1 grams
Amount Per Serving:
Unsaturated Fat:

0g