Spring Vegetable Casserole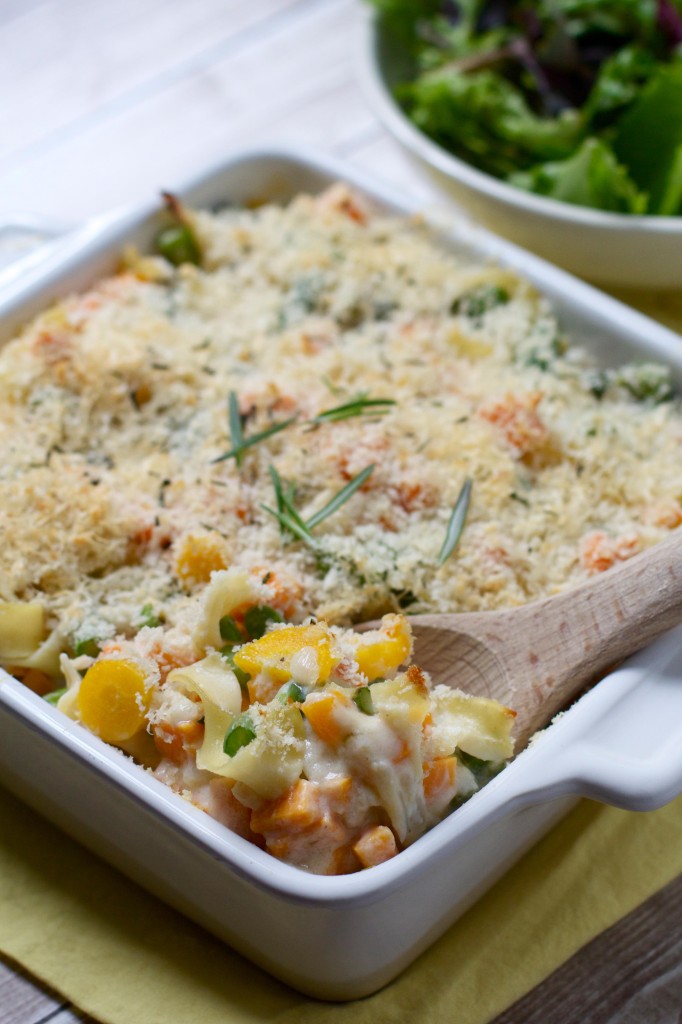 I figure if a dish is good enough for me to make it twice in one week it's worth sharing right? I know this blog is 99% desserts, but I do cook dinner most nights these days and this meal is a keeper for sure so I thought I'd pass it along! What is it about casseroles- I just love them. Creamy filling usually involving egg noodles, and a crispy crunchy top. So so good. Don't they seem retro and isn't retro in again? I'll take an old fashioned casserole any day thank you very much!
The fact that this casserole is chock full of spring veggies makes it somehow seem healthy despite the cream sauce and noodles right? I love how adaptable this recipe is- the veggies, cheese and herbs can totally be adjusted to whatever you have on hand. In fact- I bet you have everything in your pantry to make your own version of this on a moment's notice so get to it!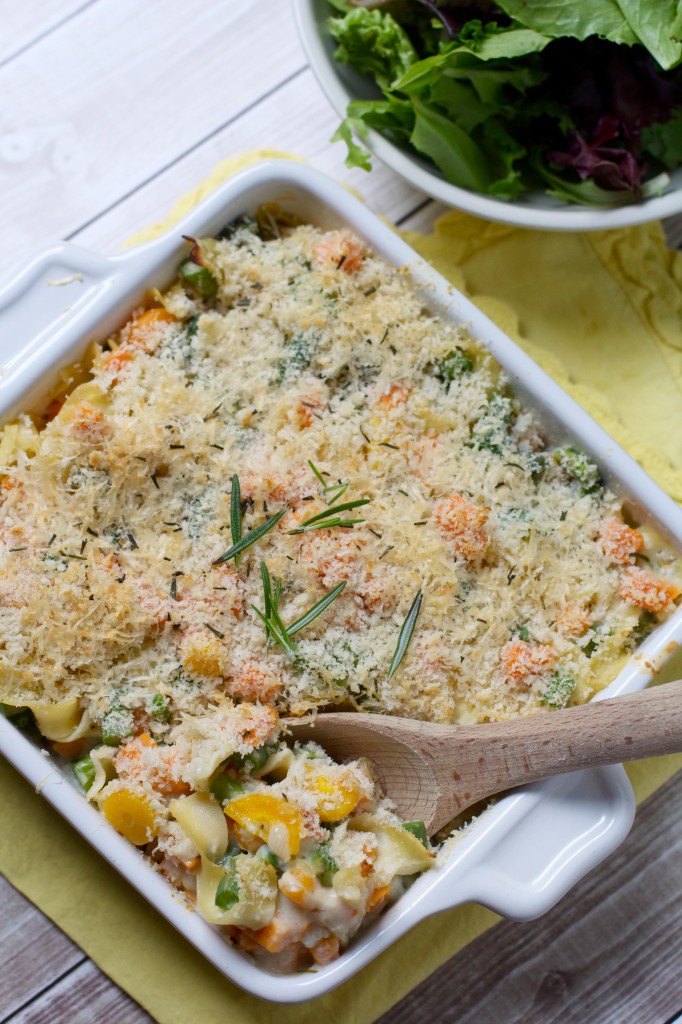 I used asparagus, green beans, beautiful heirloom carrots and a sweet potato. The first time we made this using lemon thyme (which I am new to but I love,) and this go it's full of fresh rosemary which is so lovely. This can be made early in the day and popped in the oven right before serving, or even frozen and cooked right out of the oven. (Perfect for new parents or make-ahead dinners!)
The filling is creamy from a delicious parmesan bechamel sauce that is full of the veggies and egg noodles. Panko breadcrumbs and more parmesan cheese make for the perfect crispy topping. Ok- now I want to make this again. :D
Spring Vegetable Casserole
Ingredients
1 sweet potato, peeled and diced
2 medium-sized carrots, peeled and sliced
small bunch of asparagus, about 10 spears tough spots discarded, cut into bite-sized pieces
1/2 cup of green beans, cut into 1-inch pieces
1 1/2 cups of egg noodles
3 tablespoons of butter
3 tablespoons of all purpose flour
1 1/2 cups milk
1 1/2 cups finely grated parmesan cheese
1 small onion, diced
3 cloves of garlic, minced
salt and pepper to taste
1/2 cup panko breadcrumbs
1 sprig of rosemary, chopped
Instructions
Heat two medium sized pots of salted water until boiling. In one, cook the sweet potato, carrots and green beans for 10 minutes or until tender. In the other, cook the noodles for 5-6 minutes, reserving 1 cup of the pasta water.
In the pot used for the pasta, melt the butter and add the onions and garlic, cooking until soft and fragrant- about 5 minutes. Add the flour and stir frequently until slightly golden. Add the milk and whisk constantly until the sauce is thick, smooth and creamy- about 5 minutes. Season with salt and pepper- whisk in 1 cup of grated parmesan and chopped rosemary.
Add the noodles, cooked veggies and asparagus to the cream sauce and toss to coat. Add salt and pepper to taste. Slowly add the reserved pasta water until mixture is thick and creamy. (You may not need it all.)
Transfer filling to an 8x8 baking dish (or something similar.) Sprinkle bread crumbs and remaining cheese on top.
Bake at 475F for 10-12 minutes or until golden and bubbly.
Nutrition Information:
Yield:

4
Serving Size:

1 grams
Amount Per Serving:
Unsaturated Fat:

0g