Star Spangled Blueberry Pie Bars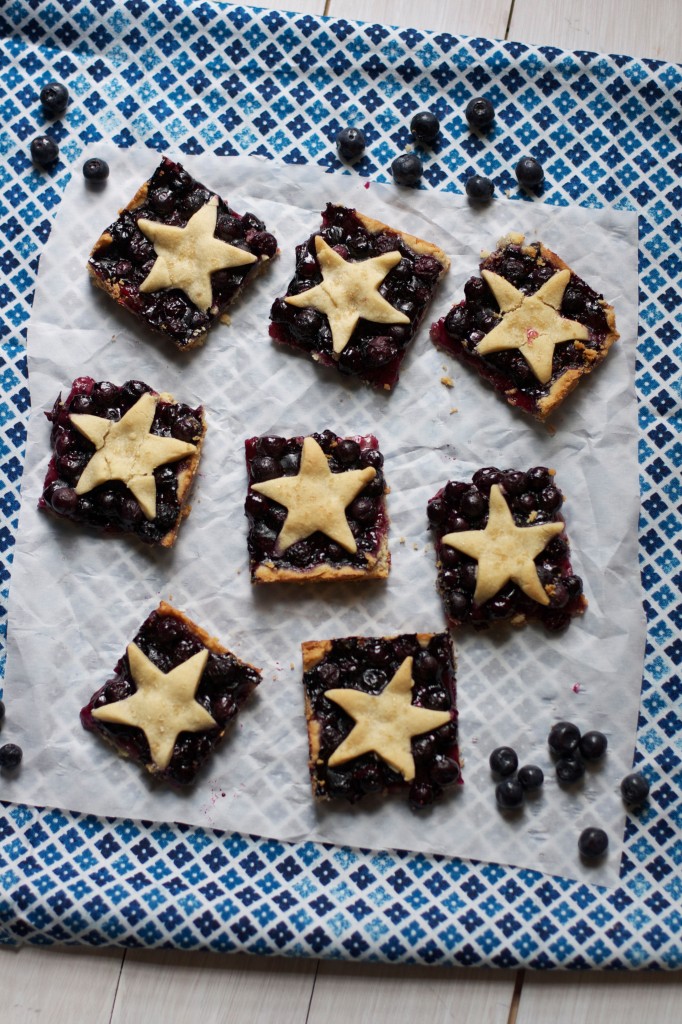 It's July!!! Does that make you sad or excited? See I am probably the minority here- but I am so thankful that summer is moving along. I'm a fall girl 100%. A pumpkin-baking, sweater-wearing, leaf crunching lover through and through. There are absolutely things I can appreciate about summer- but most of those involve me leaving New York so since this is where I'm spending it- I can't help but be excited that we're that much closer to September. (And that means football- I am so excited for football.)
I'm going to be with my in-laws down south for the 4th of July, but I couldn't leave you without a cute festive treat could I? These would be so pretty with a traditional lattice top, but my handy star-cookie cutters left me inspired to make them "star-spangled."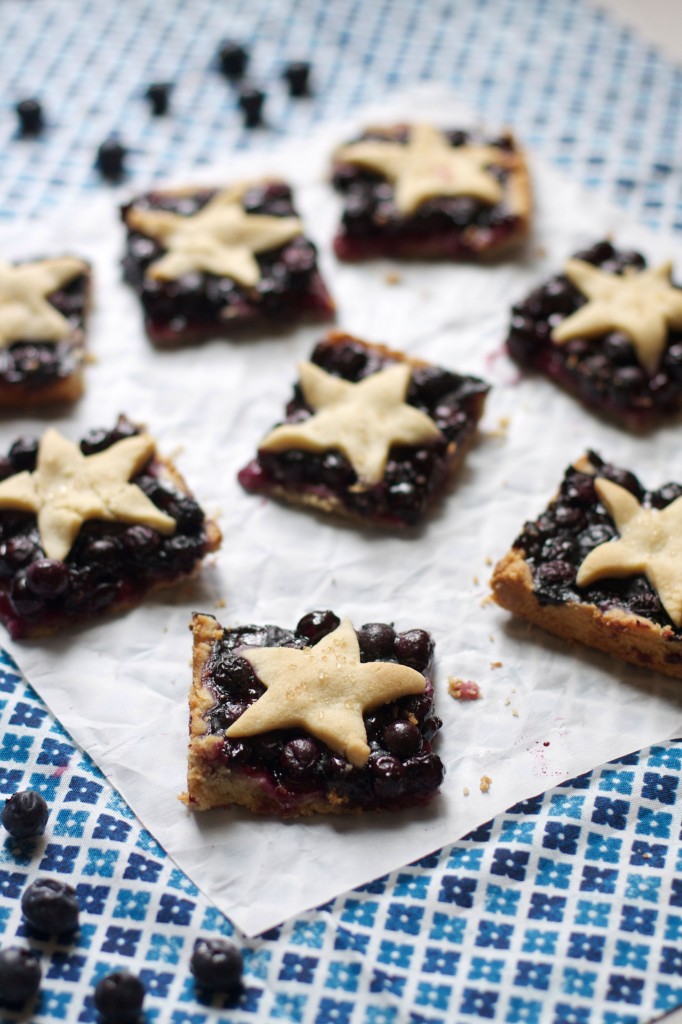 A shortbread-type cooke crust serves as the base and topping, and a simple blueberry filing comes together in just a couple minutes. We brought these to a cookout over the weekend and everyone loved them as is, but I think warm with a scoop of ice cream would really up the "pie a la mode" deliciousness.
I am so looking forward to fleeing the city for a few days where I'll have tons of hungry family members to bake for! (My sweet tooth still appears to be missing.) Hopefully when I come back I'll have lots of fun things to share with you all- (plus a couple things I'm already planning.) I'm churning up a fresh fruity ice cream today that you can check for soon! Happy Monday!
Star Spangled Blueberry Pie Bars
Ingredients
1/2 cup butter, softened
1/4 cup brown sugar
1 egg yolk
1/4 teaspoon vanilla extract
1 1/3 cup all-purpose flour
1/8 teaspoon salt
1 1/2 cups fresh or frozen blueberries
1 tablespoon lemon juice
1/2 cup sugar
1 1/2 tablespoons cornstarch
Coarse sugar for sprinkling.
Instructions
In a large bowl, cream butter and sugar until light and fluffy. Beat in egg yolk and vanilla. Combine flour and salt; gradually add to creamed mixture until well blended. Cover and stick in the freezer for 20-30 minutes.
Meanwhile, in a small saucepan, bring the blueberries, lemon juice, sugar and cornstarch to a boil. Cook and stir for 2 minutes or until sugar has dissolved and mixture has thickened. Allow to cool in the fridge until the dough is chilled.
Roll two-thirds of the dough into an 8x8 square (Or the closest you can get- use your fingers to press the dough into the bottom of a greased 8x8 baking dish). Top with filling. Roll out remaining dough to 1/4-in. thickness. Cut out stars and arrange evenly over filling- re-rolling dough if needed. (The dough will be a teeny bit crumbly so be gentle with it) Sprinkle with coarse sugar.
Bake at 375° for 25-30 minutes or until top is golden brown. Cool on a wire rack and then cut into squares.
Notes
If you decide to make a lattice top instead of stars, you may need to keep the dough very cold to make it easier to work with. Adapted loosely from: Taste of Home
Nutrition Information:
Yield:

9
Serving Size:

1 grams
Amount Per Serving:
Unsaturated Fat:

0g