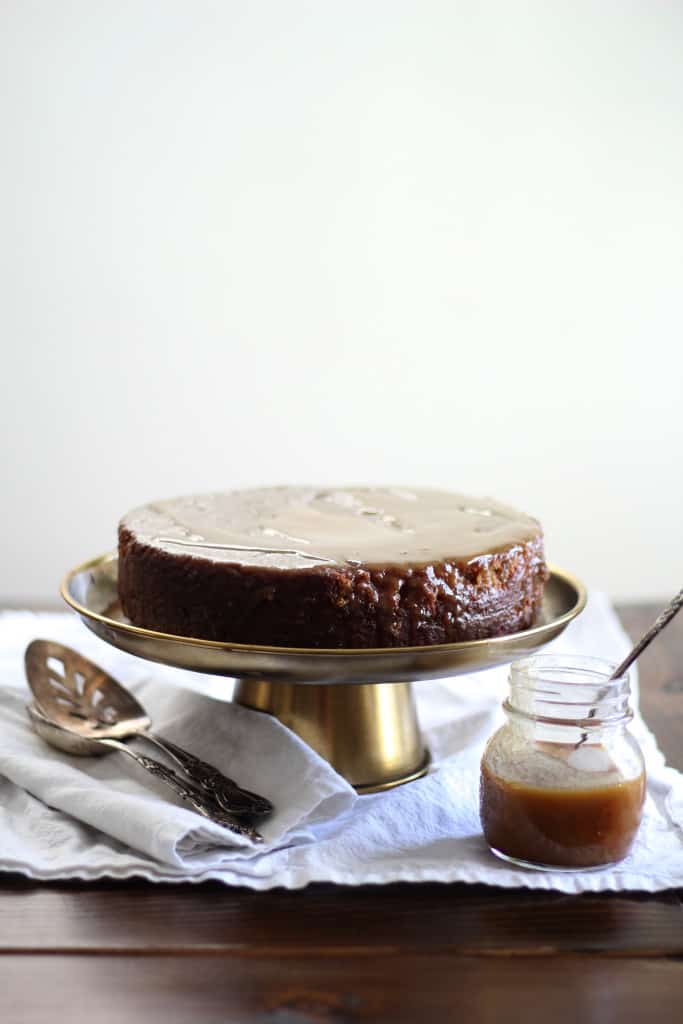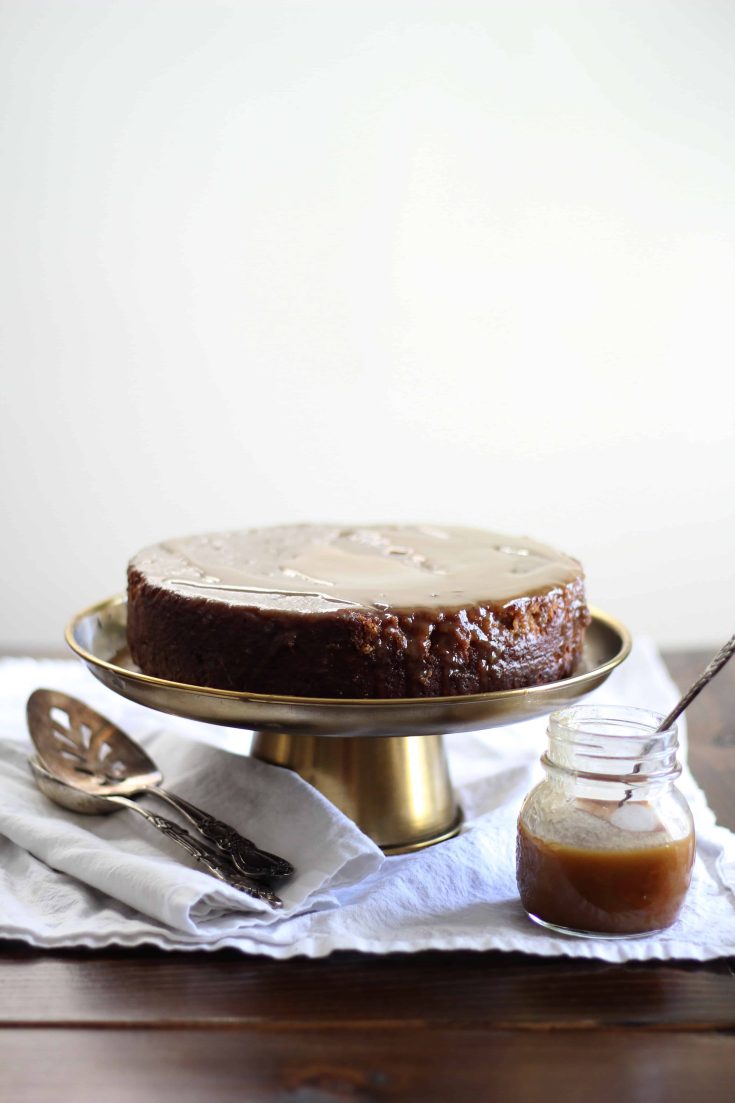 Looking for a luscious and indulgent dessert that's sure to impress? Look no further than Sticky Date Pudding Cake. This rich and decadent cake is made with dates, rum, flour, eggs, butter, and sugar, and is typically served with a warm and rich toffee sauce which is similar to caramel sauce. In this post, I'll walk you through the steps of making Sticky Date Pudding Cake with a few extra tips and tricks for an even more delicious dessert.
Ingredients in Sticky Date Pudding Cake:
Dates (I use medjool dates)
Light Rum
All purpose flour
Baking powder
Salt
Cinnamon
Baking soda
Unsalted butter
Dark brown sugar
Eggs
Hot water

Supplies needed for Sticky Toffee Pudding Recipe:
Large bowl
8-9 inch baking pan
Food processor or high speed blender
Electric mixer or stand mixer fitted with a paddle attachment
How to Make Sticky Date Pudding Cake:
To make the date mixture for this Sticky Toffee Pudding Cake, start by roughly chopping the dates. Then, cook them with rum until soft, and puree them until smooth using an immersion blender or food processor.
In a large bowl, cream together unsalted butter and dark brown sugar until light and fluffy. On low speed add in the eggs, one at a time, followed by vanilla extract. In a separate bowl, whisk together all-purpose flour, baking soda, and a pinch of salt. Add the dry ingredients to the cake batter in three parts, alternating with the cooled date mixture. Scrape down the sides of the bowl as needed. Mix until just combined, being careful not to over-mix, you just want to make sure the flour mixture is well combined.
Pour the batter into a greased 9 inch baking dish and bake in a preheated oven at 350°F for 25-30 minutes or until a toothpick inserted into the center comes out clean.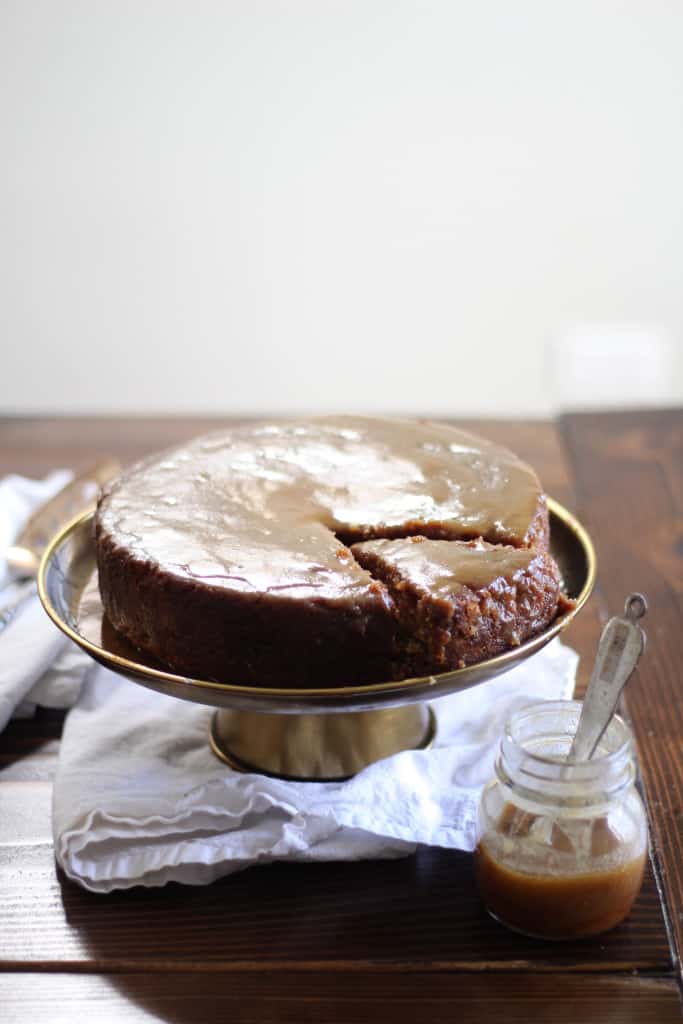 While the cake is baking, prepare the toffee sauce by combining heavy cream, dark brown sugar, unsalted butter, and rum in a small saucepan over medium heat. Cook, stirring occasionally, until the mixture thickens and becomes glossy. Remove from heat and set aside.
Once the cake is done, let it cool in the pan for 5-10 minutes before removing it from the pan and transferring it to a wire rack. Pierce the top of the warm cake all over with a skewer, then pour the warm sauce over the cake, allowing it to soak in.
Serve the Sticky Toffee Pudding Cake warm with a scoop of ice cream or a dollop of whipped cream on top. Or, divide the cake batter among individual ramekins or a muffin tin and bake for 20-25 minutes for a fun and individual dessert.
Leftovers can be stored in an airtight container at room temperature for up to 3 days or in the refrigerator for up to a week. To reheat, wrap the cake in plastic wrap and microwave for 15-20 seconds or until warmed through.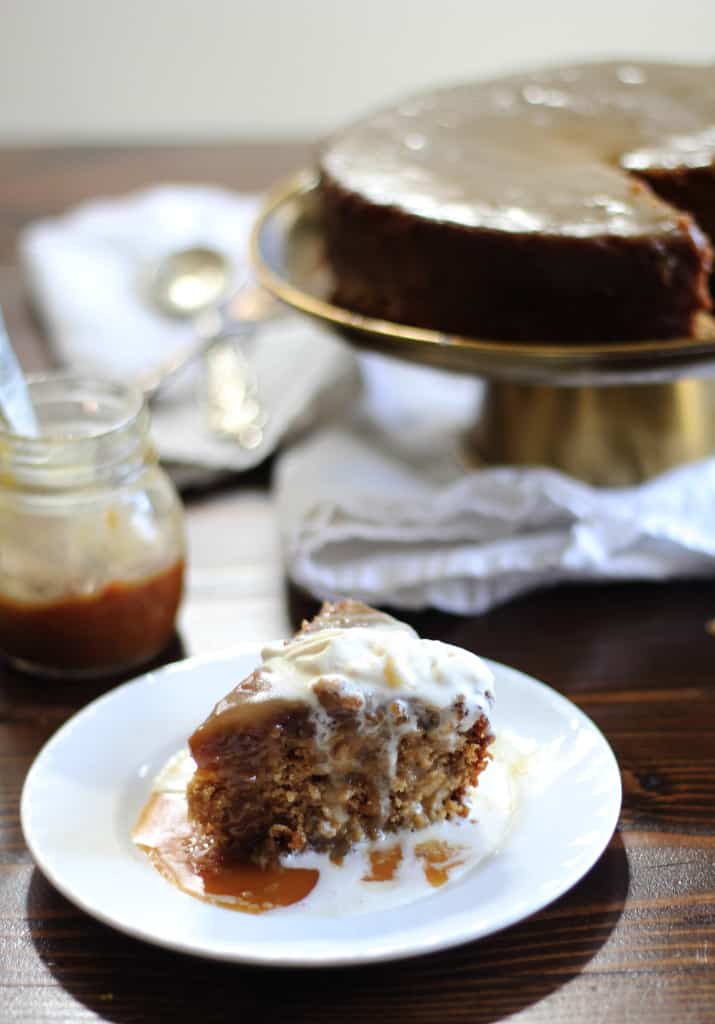 Tips and Tricks for the perfectly moist and sticky Date Toffee Pudding Cake:
Use fresh, high-quality ingredients. Since this recipe relies on simple ingredients, it's important to use the best quality ingredients you can find. Fresh, plump Medjool dates are essential for creating the sweet and sticky flavor of the cake, and high-quality butter and cream will make the toffee sauce extra rich and delicious.
Don't overmix the batter. When mixing the cake batter, be careful not to overmix it. This can cause the cake to become tough and dense, rather than light and fluffy.
Make sure the cake is fully baked. To ensure your cake is fully baked, insert a toothpick into the center of the cake. If it comes out with a few moist crumbs, the cake is ready. If not, bake for an additional 3-5 minutes and check again.
Poke holes in the cake before pouring on the toffee sauce. Before pouring the warm toffee sauce over the cake, use a skewer to poke several holes into the top of the cake. This will allow the sauce to seep into the cake, making it even more moist and flavorful.
Serve the cake warm with ice cream or whipped cream. The warm cake paired with a scoop of vanilla ice cream or a dollop of whipped cream is absolutely divine. Don't skip this step!
Store leftovers in an airtight container. If you do happen to have leftovers (unlikely, but it can happen), store them in an airtight container at room temperature for up to a week. When you're ready to eat, simply reheat in the microwave or oven until warm.
In conclusion, Sticky Toffee Pudding Cake is a delicious and indulgent dessert that is perfect for any occasion. With its sweet flavor and sticky toffee sauce, this classic British dessert is sure to be a crowd-pleaser. Serve it warm with a scoop of vanilla ice cream for an extra special treat that everyone will love.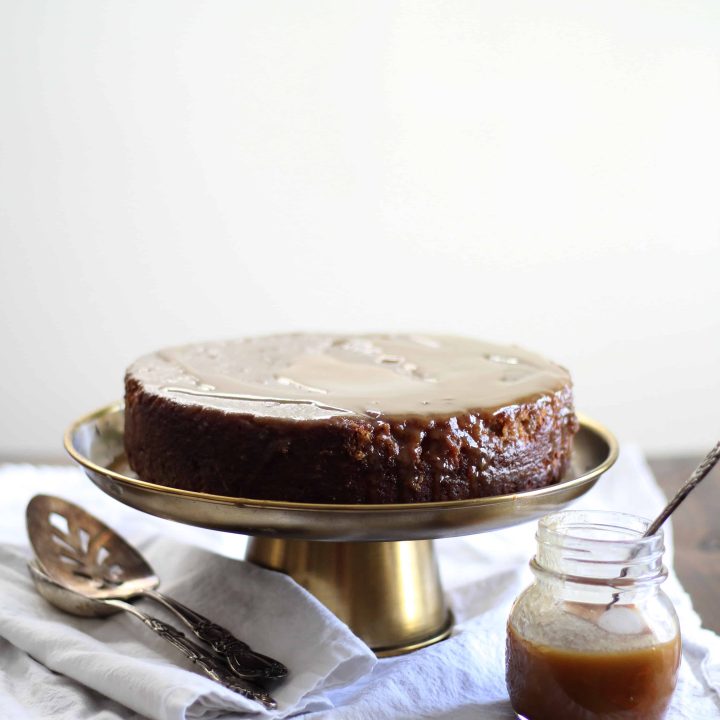 Sticky Toffee Pudding
Ingredients
For the cake:
8 ounces dates, pitted
1/2 cup light rum
2 cups all-purpose flour
1 1/2 teaspoons baking powder
1/2 teaspoon salt
1/2 teaspoon ground cinnamon
1/4 teaspoon baking soda
1/2 cup (1 stick) unsalted butter, softened, plus more for pan
1 cup packed dark-brown sugar*
2 large eggs, room temperature
For the sauce:
1 cup heavy cream
1 cup packed dark-brown sugar*
1/4 cup (1/2 stick) unsalted butter, cut into small pieces
1/4 cup light rum
1/2 teaspoon sea salt
Instructions
Preheat the oven to 350F. In a small sauce pan combine the dates and rum and bring to a boil. Then reduce head to low and simmer for about 3 minutes, until the dates are blistery and soft. Use an immersion blender or food processor to blend the dates/rum into a creamy paste. Set aside.
Meanwhile, in a medium sized bowl stir together the flour, baking powder, salt, cinnamon and baking soda. Stir together and set aside.
In a large bowl use an electric mixer to cream together the butter and brown sugar until fluffy. Add the eggs one at a time, mixing until well-combined.
Add the flour mixture in batches, alternating with the date paste, starting and ending with the flour. Don't over-beat the batter, mix just until smooth and well-combined.
Grease or spray an 8-inch round or square pan and pour the batter in, smoothing the top with the back of a spoon.
Bake for 20 minutes, and then reduce the heat to 325F and bake for another 10-15 minutes or until a cake tester inserted into the middle of the cake comes out clean.
Let cake cool on a wire rack for 5 minutes and then run a knife around the edge and invert on a cake stand or plate.
For the sauce:
While the cake is baking make the sauce. Combine the brown sugar, butter, cream and rum in a small sauce pan over medium heat. Whisk until well-combined and smooth. Cook until bubbly, then remove from heat and stir in sea salt.
Use a fork to poke holes all along the top of the cake, trying to get at least half way through. Slowly pour about half the sauce over the top and sides of the cake, making sure it soaks in before adding more.
Serve warm with additional sauce and whipped or ice cream!
Notes
*If you don't have dark brown sugar on hand, (I often don't,) just use regular brown sugar and a splash of molasses- works great!

Recipe adapted from Martha Stewart