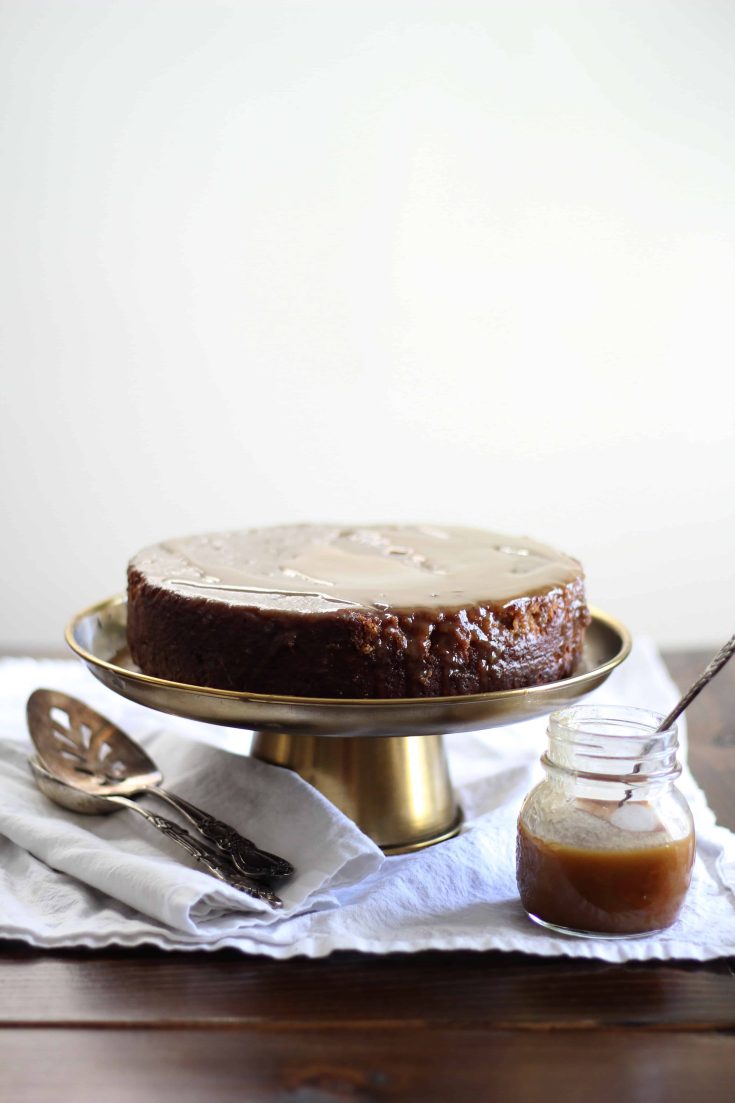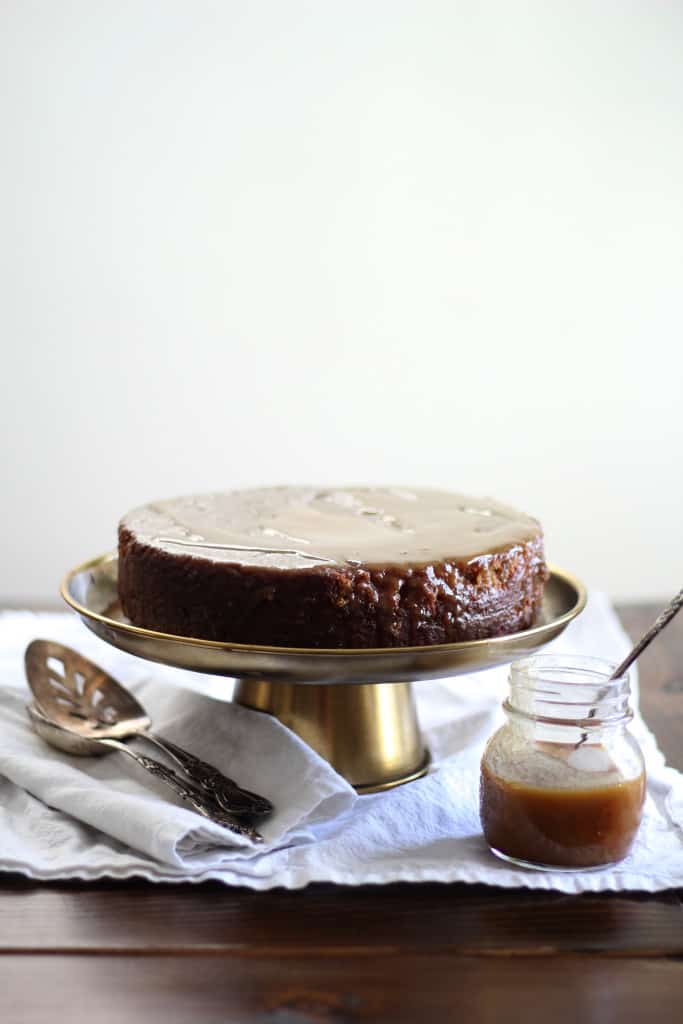 Almost 11 years ago, when I first moved to NYC, I got my first job waiting tables at a fabulous restaurant called Tabla. It was such a great job with great people and really helped me get grounded in the city. They had this awesome program for their employees where you got a gift card to use at any of the sister restaurants. We'd save up a few months and go have an amazing meal and really get to experience fine dining in New York City.
One of my favorites was a BBQ place called Blue Smoke. (It's still there actually and I miss it!) It was one of the more casual options and we'd go, order everything from the menu and just have a fantastic meal. They had Sticky Toffee Pudding on their menu that was just the best. We couldn't possibly eat there without getting and order of the gooey, moist, caramelized goodness. I haven't had any since, and this past weekend I decided to change that.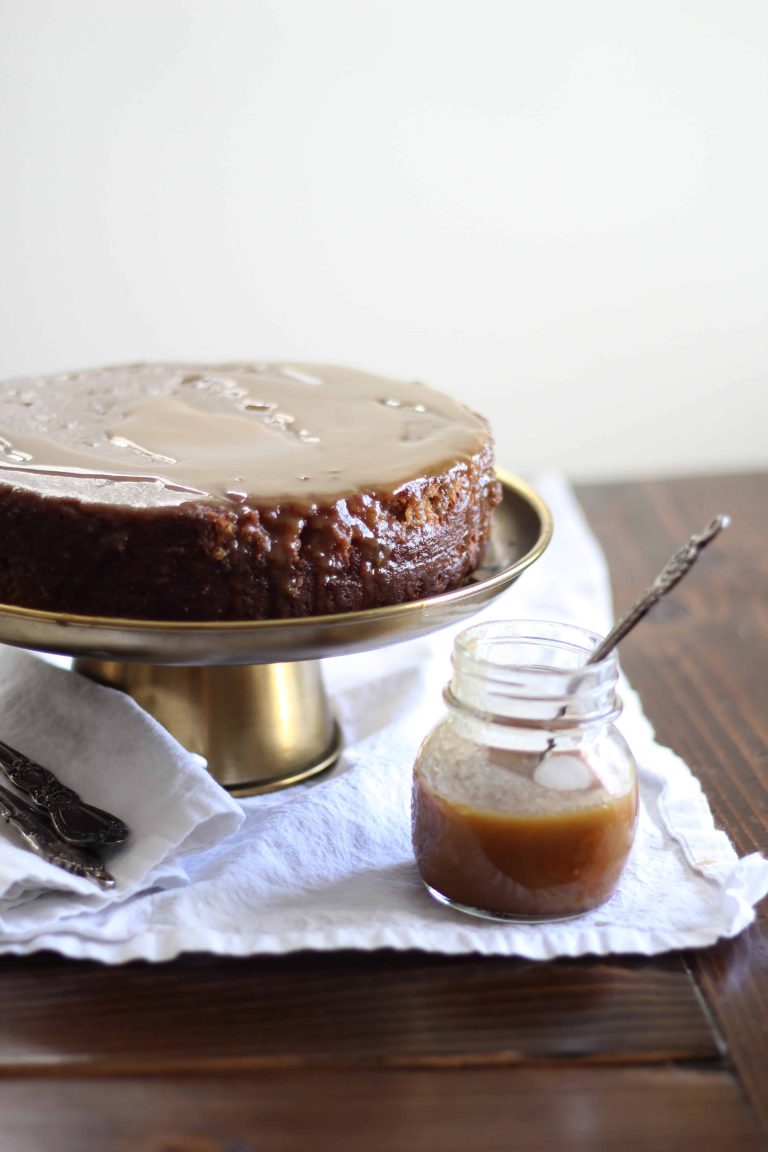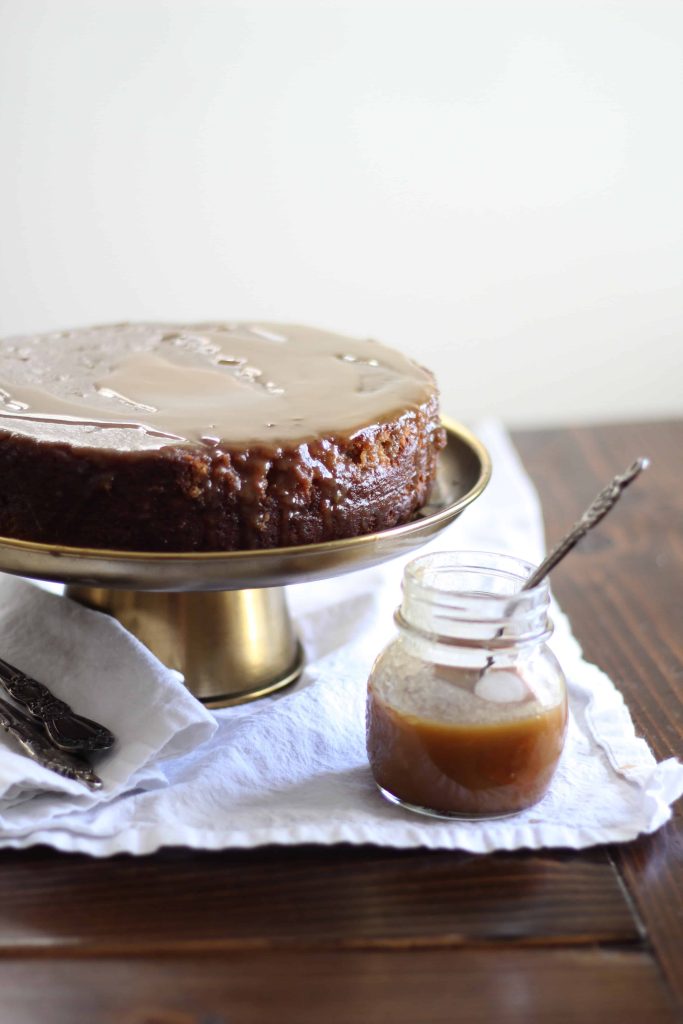 I'm not sure exactly where the idea came to whip this fabulous dessert up, but once my mind was made I was just dying for it. I did some research of different recipes and decided to use Martha Stewart's as a starting point. First because she rarely does me wrong, and second because her version included rum both in the cake and the sauce and it had been a long week. This recipe was fabulous so I'm so glad I went with it!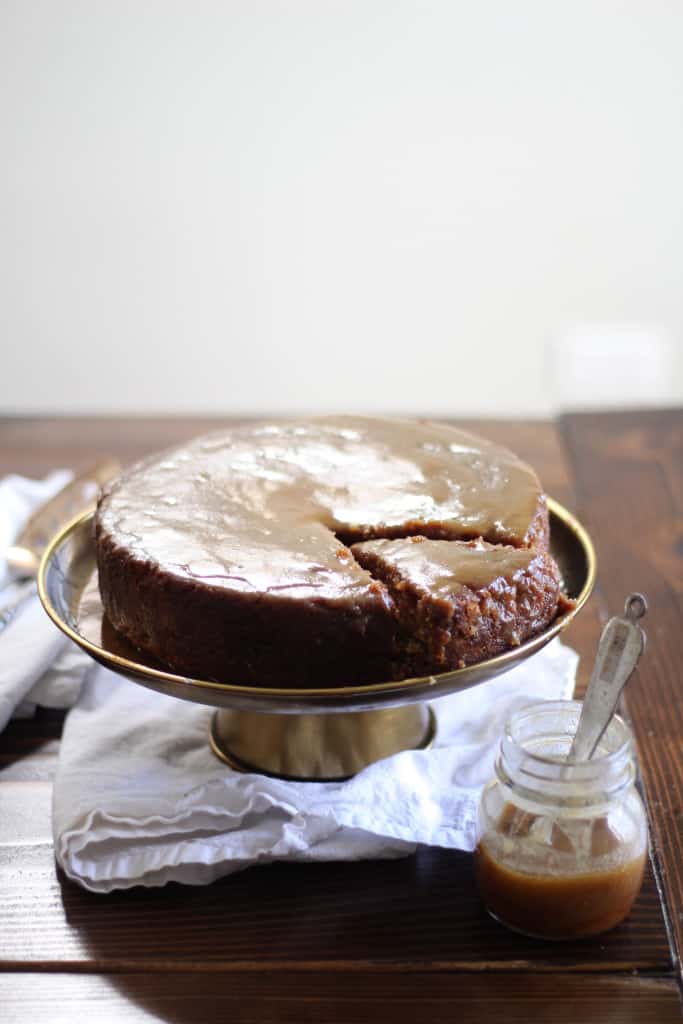 Now you may be wondering why this is called a pudding but really looks more like a cake. I tried to figure it out, and I hope someone can enlighten me, but the jist of the answer is that "pudding" in the UK is a more general term for a shape/texture of the dessert, vs. the creamy, custard-like stuff we make. Either way- this is so delicious I don't really care what it's called.
The rich cake is made with dates, my new favorite ingredient. In this version they are cooked in rum, pureéd, and then mixed into the batter. They make the texture amazing and add sweetness without more sugar. The warm cake is soaked in a glorious toffee sauce which seeps in and makes it out of this world amazing. I served mine with some vanilla ice cream with promptly melted, but whipped cream would be great too.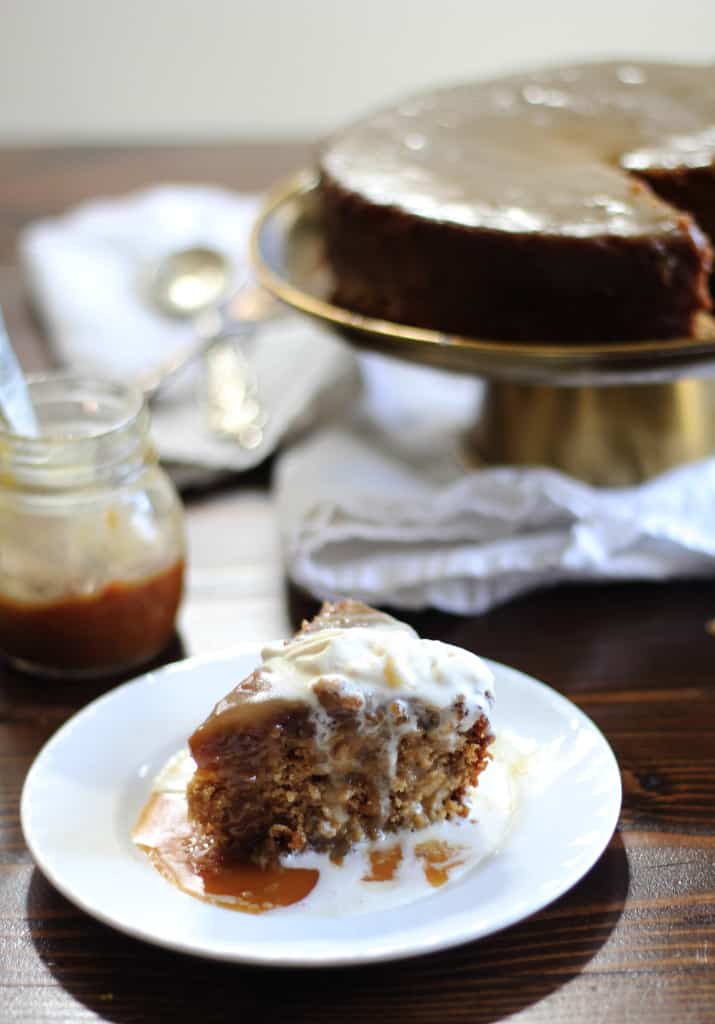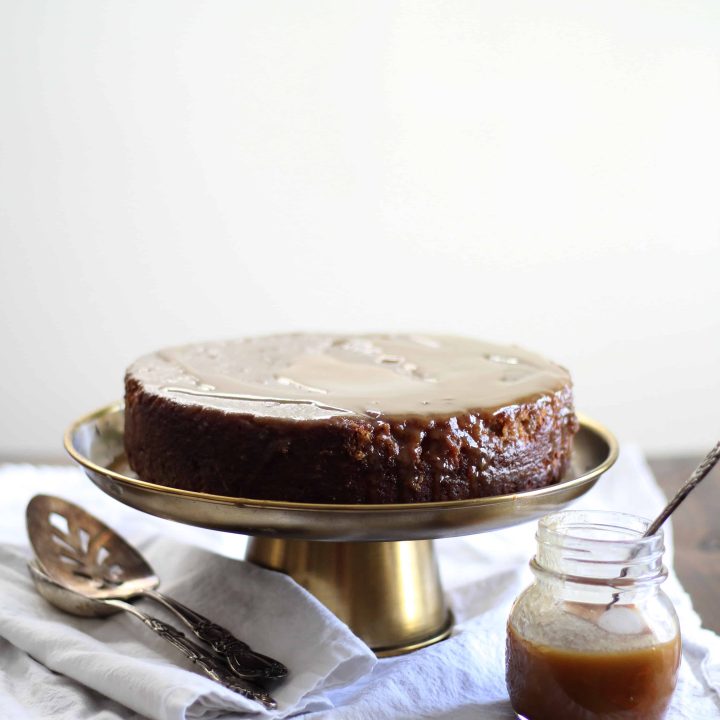 Sticky Toffee Pudding
Ingredients
For the cake:
8 ounces dates, pitted
1/2 cup light rum
2 cups all-purpose flour
1 1/2 teaspoons baking powder
1/2 teaspoon salt
1/2 teaspoon ground cinnamon
1/4 teaspoon baking soda
1/2 cup (1 stick) unsalted butter, softened, plus more for pan
1 cup packed dark-brown sugar*
2 large eggs, room temperature
For the sauce:
1 cup heavy cream
1 cup packed dark-brown sugar*
1/4 cup (1/2 stick) unsalted butter, cut into small pieces
1/4 cup light rum
1/2 teaspoon sea salt
Instructions
Preheat the oven to 350F. In a small sauce pan combine the dates and rum and bring to a boil. Then reduce head to low and simmer for about 3 minutes, until the dates are blistery and soft. Use an immersion blender or food processor to blend the dates/rum into a creamy paste. Set aside.
Meanwhile, in a medium sized bowl stir together the flour, baking powder, salt, cinnamon and baking soda. Stir together and set aside.
In a large bowl use an electric mixer to cream together the butter and brown sugar until fluffy. Add the eggs one at a time, mixing until well-combined.
Add the flour mixture in batches, alternating with the date paste, starting and ending with the flour. Don't over-beat the batter, mix just until smooth and well-combined.
Grease or spray an 8-inch round or square pan and pour the batter in, smoothing the top with the back of a spoon.
Bake for 20 minutes, and then reduce the heat to 325F and bake for another 10-15 minutes or until a cake tester inserted into the middle of the cake comes out clean.
Let cake cool on a wire rack for 5 minutes and then run a knife around the edge and invert on a cake stand or plate.
For the sauce:
While the cake is baking make the sauce. Combine the brown sugar, butter, cream and rum in a small sauce pan over medium heat. Whisk until well-combined and smooth. Cook until bubbly, then remove from heat and stir in sea salt.
Use a fork to poke holes all along the top of the cake, trying to get at least half way through. Slowly pour about half the sauce over the top and sides of the cake, making sure it soaks in before adding more.
Serve warm with additional sauce and whipped or ice cream!
Notes
*If you don't have dark brown sugar on hand, (I often don't,) just use regular brown sugar and a splash of molasses- works great!

Recipe adapted from Martha Stewart