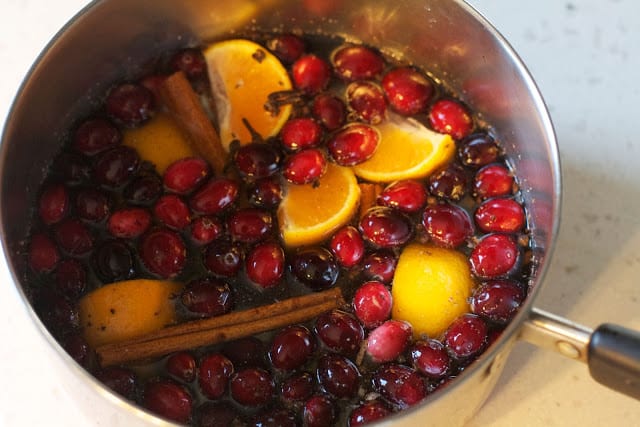 Merry Christmas Eve Eve! I'm sure most of you are cozied up with your families enjoying the lead up to the holiday, but I have one last "recipe" to share that you may like for your celebrations the next couple of days.
I love nothing more than the warm smell of holiday flavors and I truly wish I'd discovered this back at Thanksgiving so I could be enjoying this all season. The mixture of orange, cranberries, cinnamon, cloves, and nutmeg simmer on the stovetop making your home smell like a dream. The best part is that you can re-use the mixture for weeks, simply adding water and simmering on the stove top.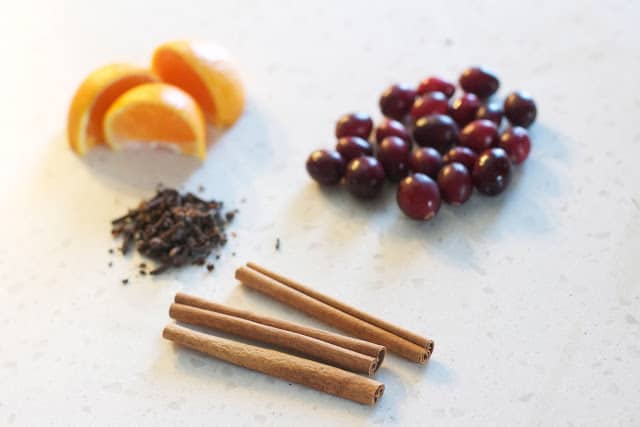 The whole thing can be thrown together in seconds and the only key is not letting the water evaporate all the way. Add water when/if it runs low and store in the fridge until the next time you want to use it. Even if the mixture gets a little brown- it will still smell just as amazing!
Stovetop Holiday Scent
Ingredients
½ cup fresh cranberries
1 orange quartered. (I used 2 small clementines because its all I had.)
2-3 cinnamon sticks
1 tablespoon of whole cloves
a pinch of fresh grated nutmeg (optional)
Instructions
Combine all ingredients in a medium sized sauce pan and cover with water.
Simmer on low.
Enjoy the holiday aroma! :)
Recipe adapted from: Make It Do