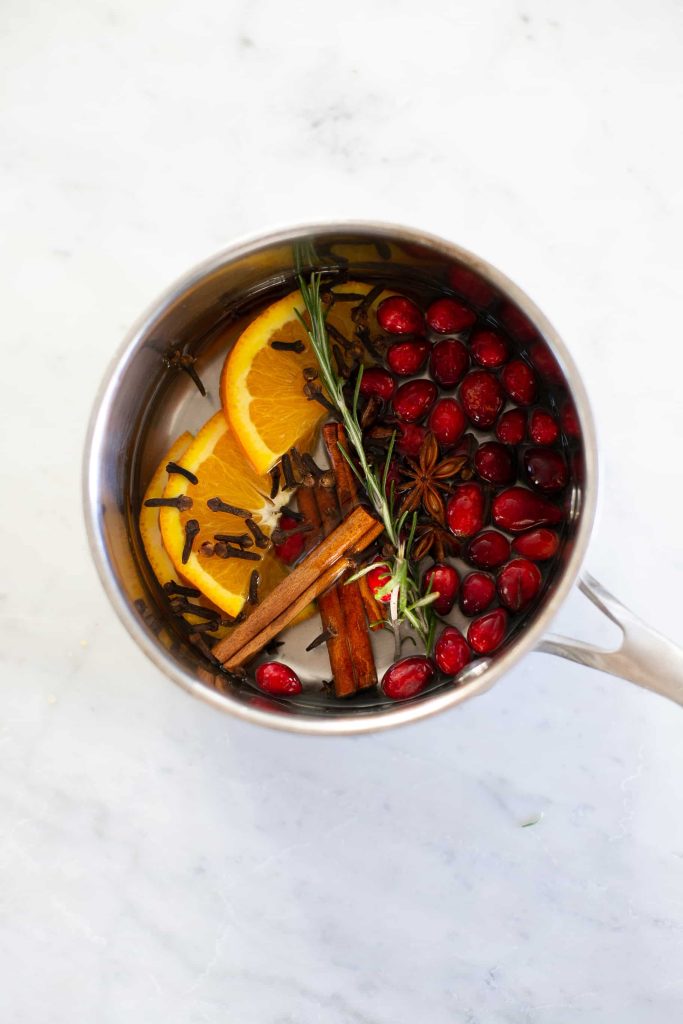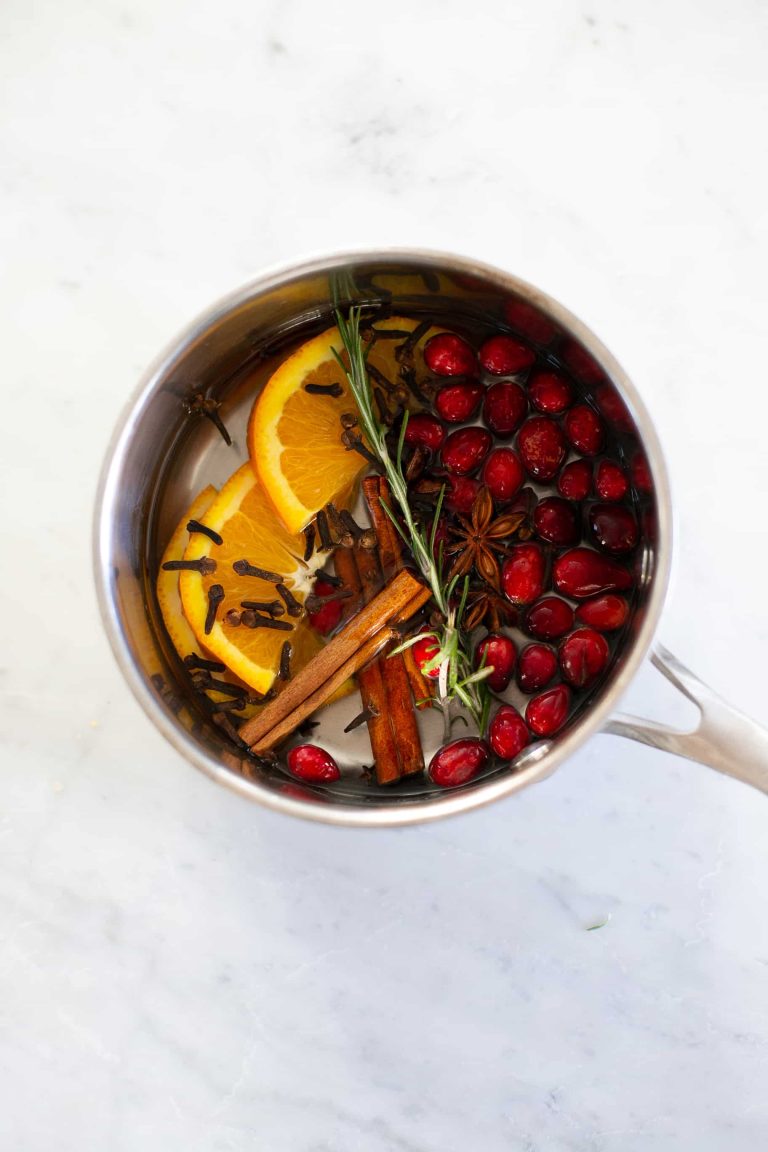 It's the time of year for holiday spirit and the best way to get that is the smell of cozy, warm spices in your home! I love nothing more than the warm smell of holiday flavors and I like to have this homemade potpourri simmering on my stovetop or slow cooker all holiday season. The mixture of orange, cranberries, cinnamon, cloves, and nutmeg simmer on the stovetop making your home smell like a dream. The best part is that you can re-use the mixture for weeks, simply adding water and simmering on the stove top.
This super easy recipe can be thrown together in seconds and the only key is not lting the water evaporate all the way. Add water when/if it runs low and store in the fridge until the next time you want to use it. Even if the mixture gets a little brown- the entire home will still smell just as amazing!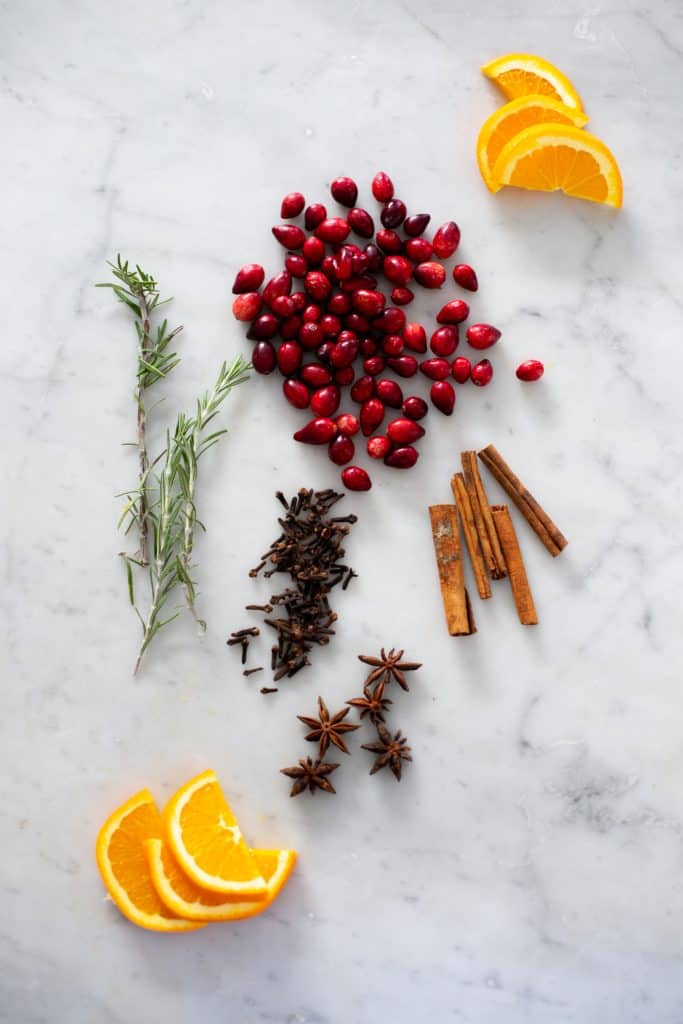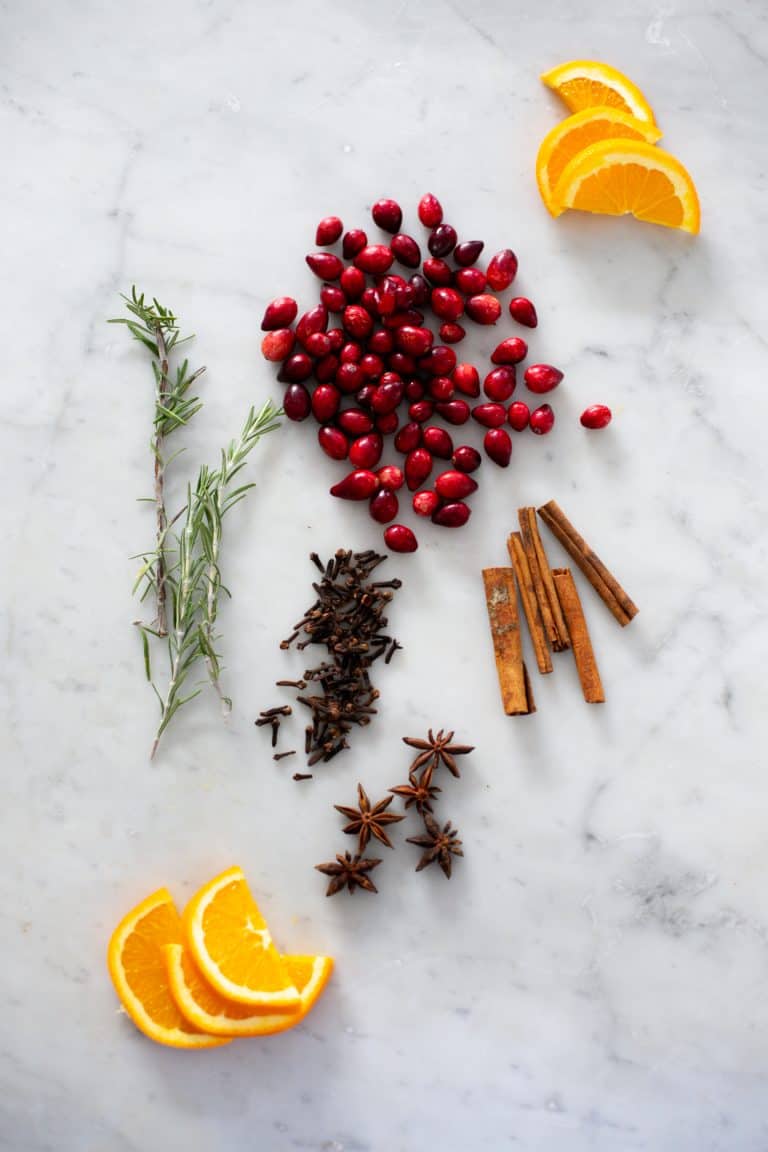 The classic ingredients I like to use for this recipe are listed below, however feel free to experiment with the other options given to make this your own favorite combo.
Ingredients needed for Holiday Stovetop Potpourri:
Cinnamon Sticks
Whole Cloves
Cranberries
Fresh Oranges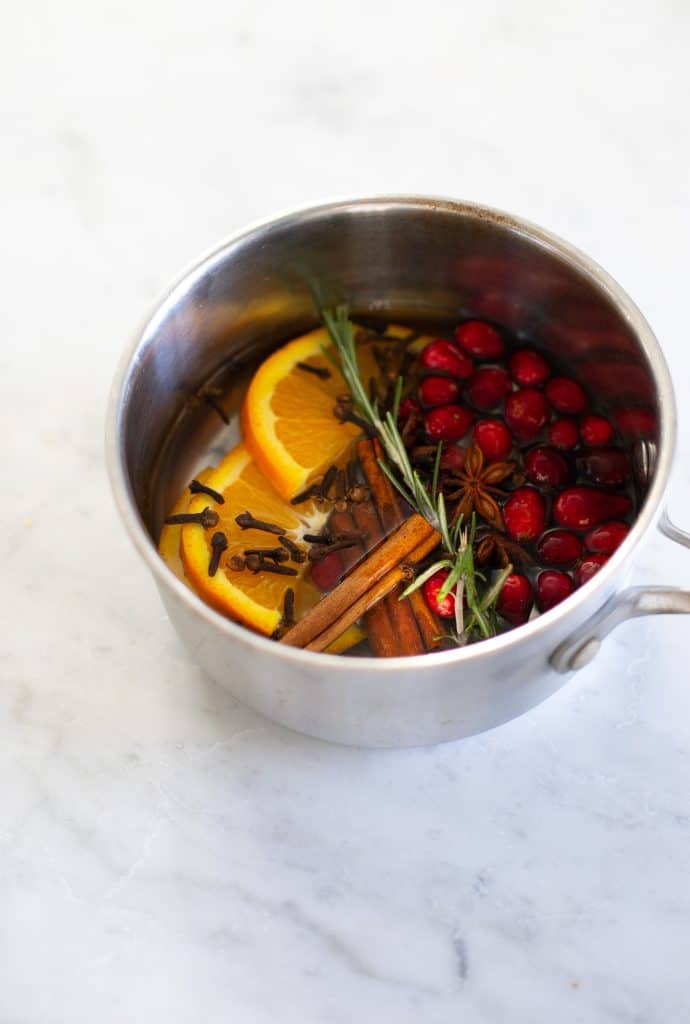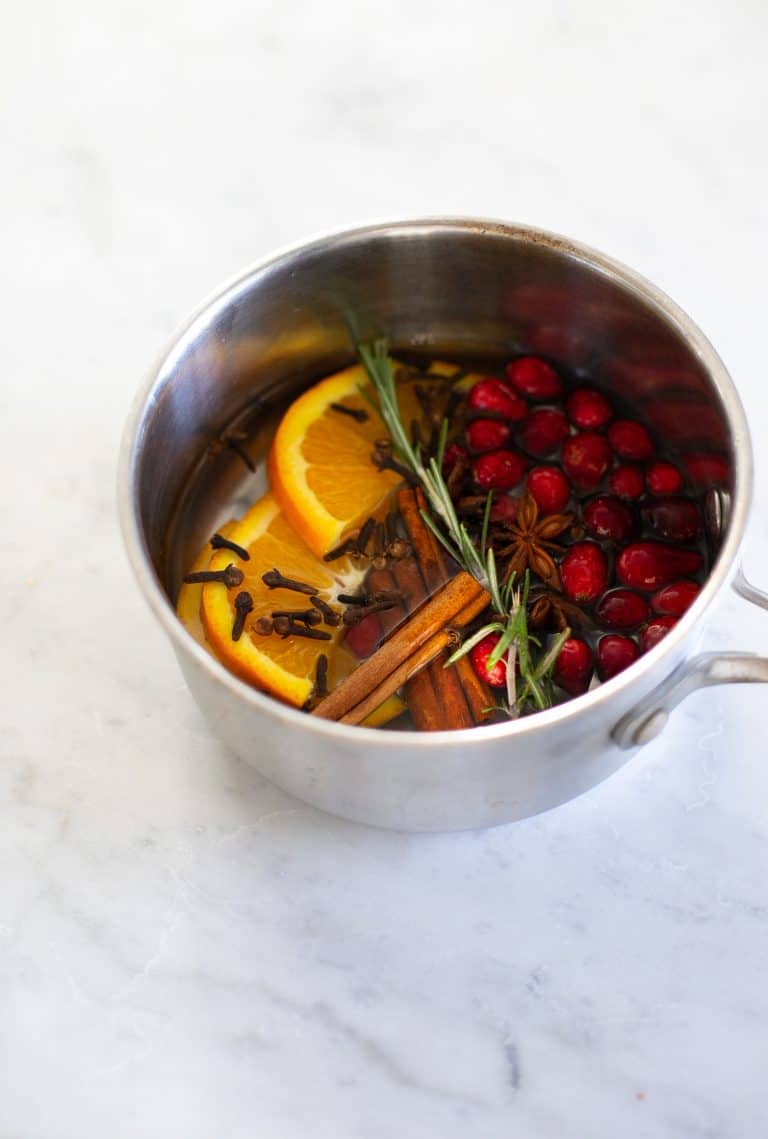 Optional Ingredients to make it your own:
Apple Slices
Pine Needles
Vanilla Bean or vanilla extract
Star Anise
Lemon Slices
Fresh Rosemary
Equipment needed for Christmas Potpourri:
Simmering Pot or Slow Cooker
Water (it's really that simple!)

The process:
Combine your potpourri ingredients and 2 cups of water into a simmer pot and turn to low heat for a couple of hours, adding more water as needed. Enjoy the smells of the season!
How do I package Homemade Stovetop Potpourris to give as a gift?
Making and delivering holiday gifts to friends and neighbors is the best and this could be a very simple DIY project. You have two options for how to package and share this stove top potpourri.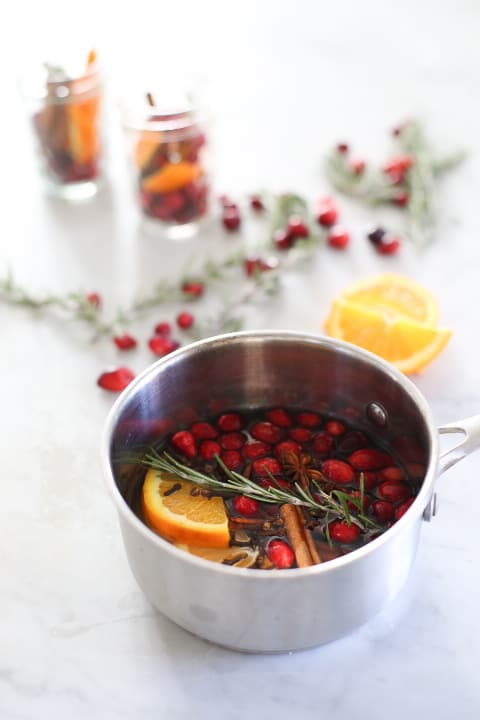 Mason Jar:
Fill a mason jar with all your potpourri ingredients and either give a whole clementine or small orange with instructions to cut it up before using, cut up pieces of orange peels to include in the jar instead of the whole fruit, or dry your orange slices for a shelf stable gift you can make way in advance. (Instructions on drying fruit below.)
You can also store your potpourri ingredients in a cellophane bag tied with a pretty ribbon and an instruction tag.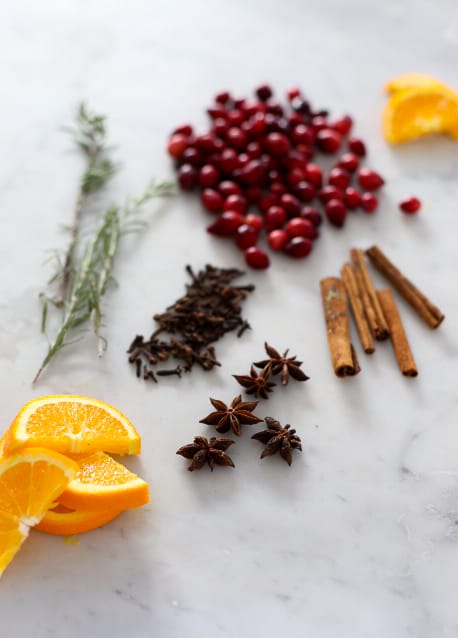 Drying Fruit in the oven:
For oranges, lemons, limes and other citrus fruits, first preheat your oven to 200 degrees. Slice your citrus into 1/4 inch thick slices. Arrange on a parchment paper lined baking sheet. Cook in the oven for about 6 hours or until dry.
Do I need to use whole spices?
Ground spices will certainly smell delicious as well, but I like whole cinnamon sticks and cloves because I can strain the mixture and re simmer it multiple days in a row. In a pinch, ground spices will be fine though!
Fun combos to make for your Dry Potpourri Recipe:
Apple Pie:
Dried Apples
Vanilla Bean
Cinnamon Sticks
Cloves
Nutmeg
Christmas Tree:
Pine Needles
Rosemary Sprigs
Orange
Cranberry
Cinnamon Sticks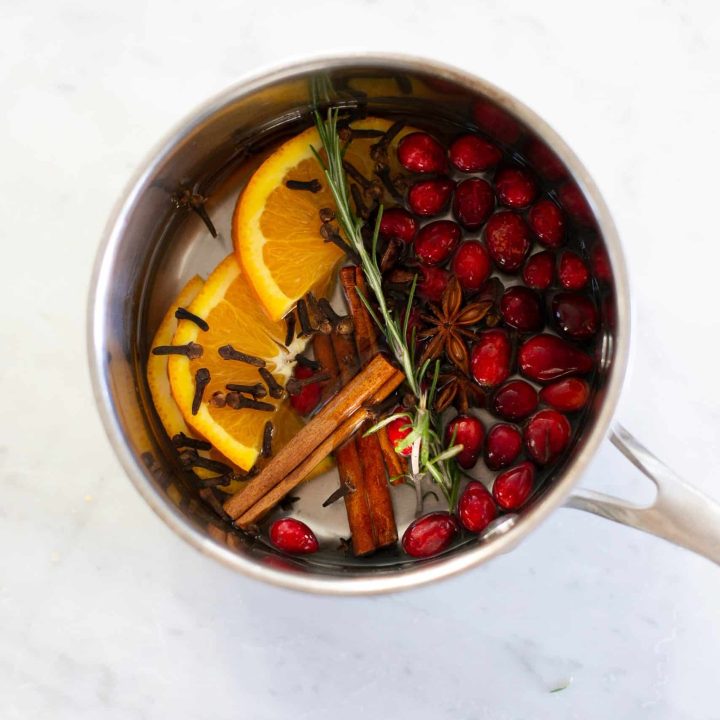 Stovetop Holiday Scent
Ingredients
1/2 cup fresh cranberries
1 orange quartered., I used 2 small clementines because its all I had.
2-3 cinnamon sticks
1 tablespoon of whole cloves
a pinch of fresh grated nutmeg, optional
Instructions
Combine all ingredients in a medium sized sauce pan and cover with water.
Simmer on low.
Enjoy the holiday aroma! :)
Nutrition Information:
Serving Size:

1 grams
Amount Per Serving:
Unsaturated Fat:

0g
This post contains affiliate links