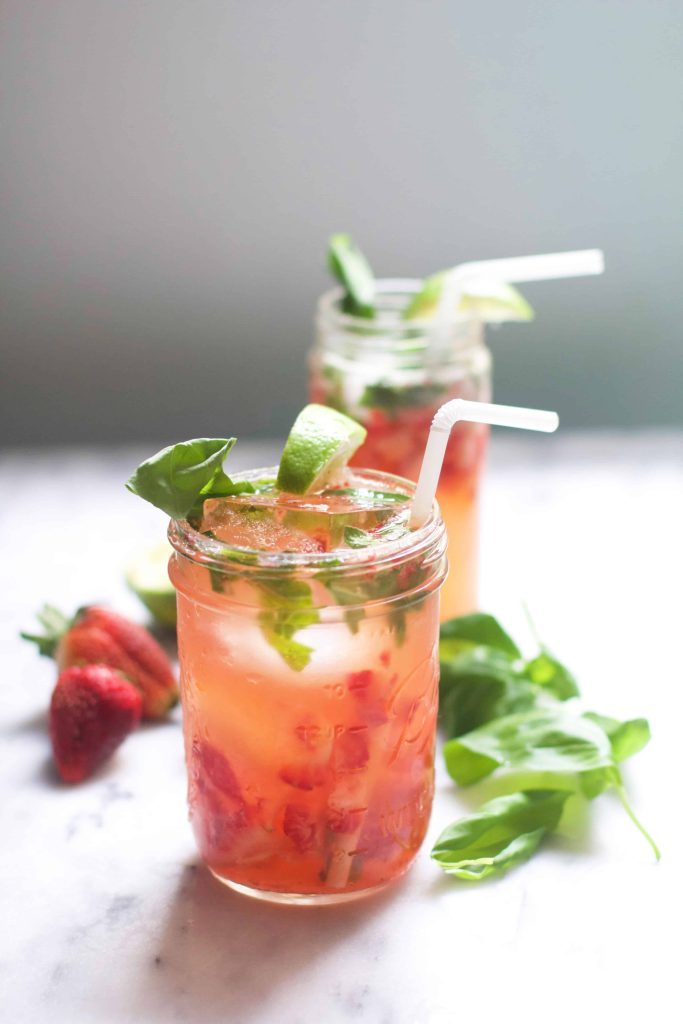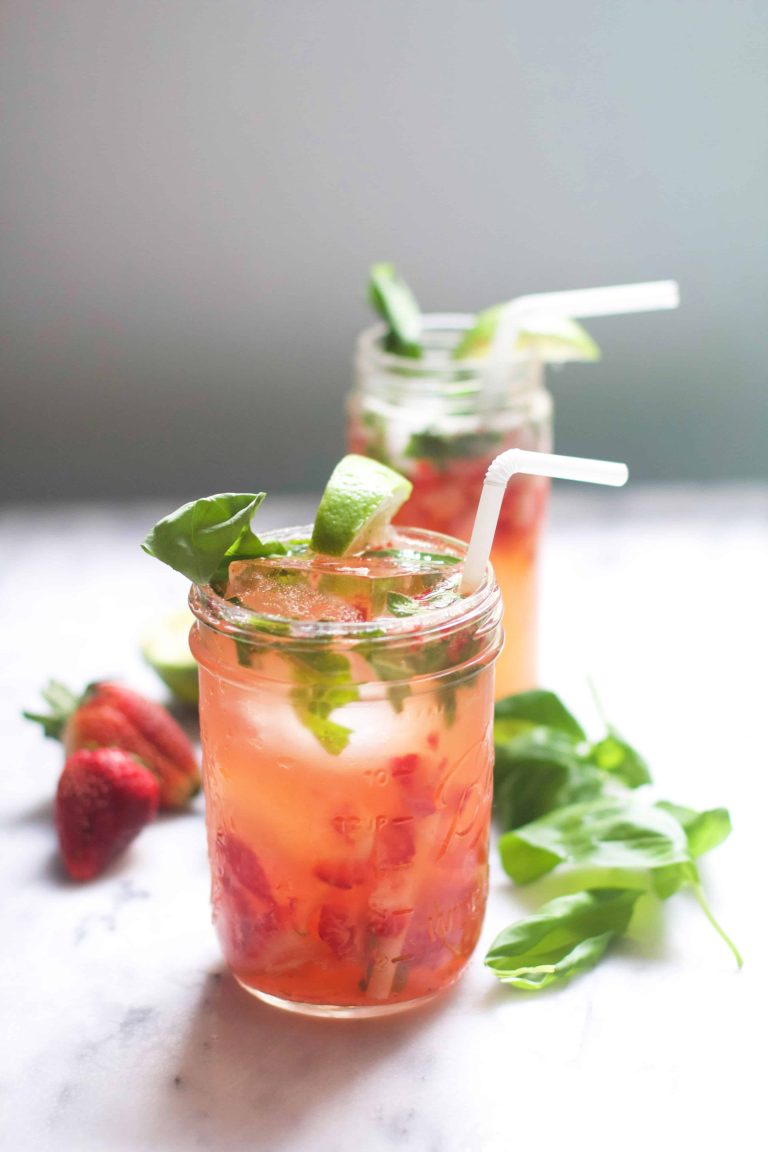 Sit back, relax, have a refreshing drink why don't you! Memorial Day weekend is here, warm weather is upon us, and come on we all deserve it right? Put your feet up and sip on the fruity, fizzy goodness. It's full of spring-y berries, fresh basil, lime juice and bubbly seltzer. Wanting a mocktail? Leave it as is, I can vouch for its delicious-ness without any spirits. But come 5:00 (or whenever,) add a splash of your favorite booze for even more festive fun.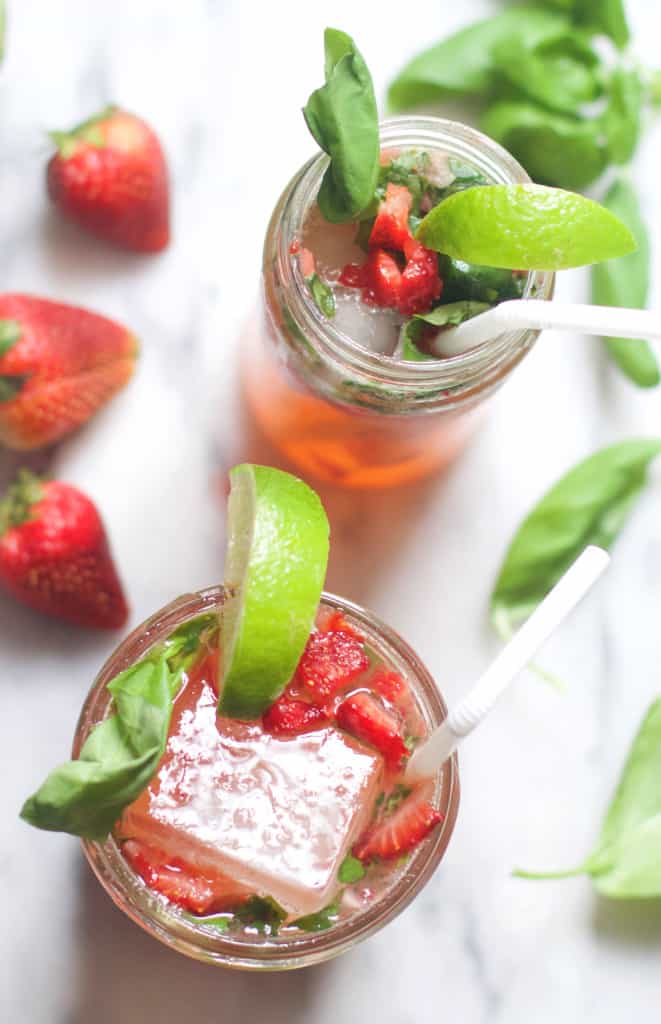 This drink is pretty simple to make, even without any fancy cocktail-making equipment. Fresh macerated strawberries are mixed with basil, lime juice, and lots of selzter. I personally like my drinks tall and not too strong. So I prefer this in a pint-sized glass. I have tried it with rum, and vodka both of which were awesome- but I'm sure bourbon or gin would be great too. It's really just a great base cocktail that can be adapted however you like for your summer drinking pleasure. I love to scoop out the crushed strawberries and basil after I finish drinking with a spoon- they are so delicious after soaking a bit, but you could strain this drink if you prefer. The weekend is here. CHEERS!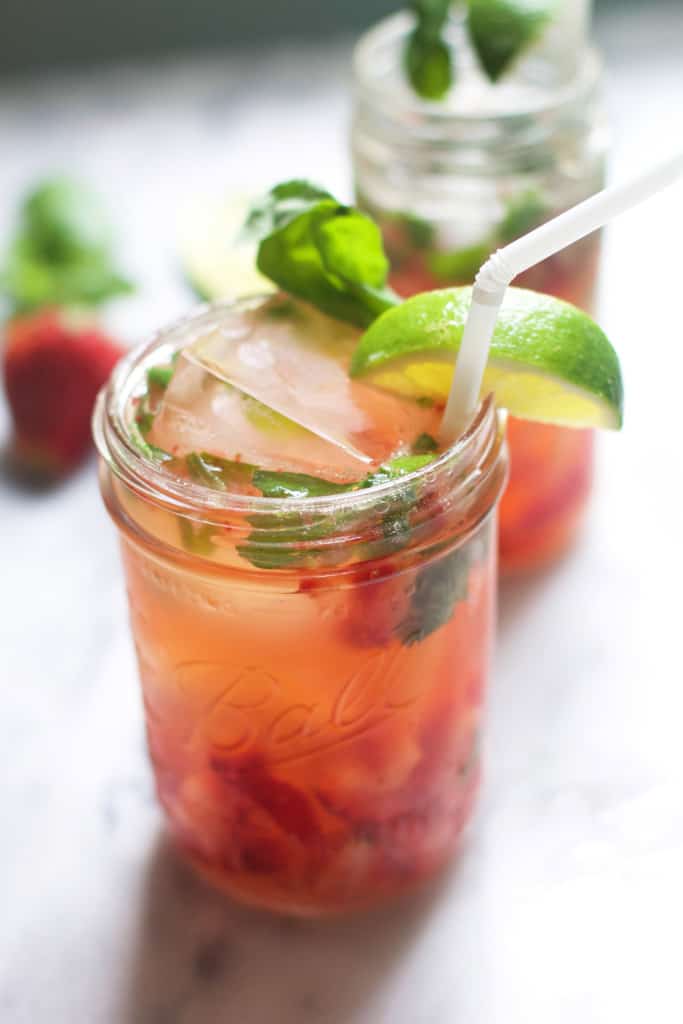 Strawberry Basil Smash
Ingredients
1 cup of strawberries, hulled and quartered
1 large sprig of basil
1/4 cup of sugar
juice of 1 lime
club soda*, between a splash and a cup depending on how strong you want your drink
2 oz. of vodka, rum or other liquor.
ice
Instructions
In two pint glasses divide the strawberries and sugar equally. Use the bottom of a wooden spoon or a muddler if you have one, to smash the berries and sugar together for about 2 minutes. Let them sit and macerate for 5 minutes.
Add the basil leaves, (2-3 leaves per glass,) and lime juice (equally divided.) Muddle a bit more, releases the flavor from the basil leaves and letting it all marinate a bit.
Add the liquor if you are using. Add ice cubes. Fill to the top with club soda and use a straw or stirrer to mix the drink together, stirring for about 30 seconds.
Garnish with a strawberry, lime or basil leaf. Cheers!
Notes
* for a stronger cocktail, serve in a rocks glass and just add a splash of club soda!
Nutrition Information:
Yield: 2 Serving Size: 1 grams
Amount Per Serving: Unsaturated Fat: 0g