Homemade Strawberry Cake with Buttermilk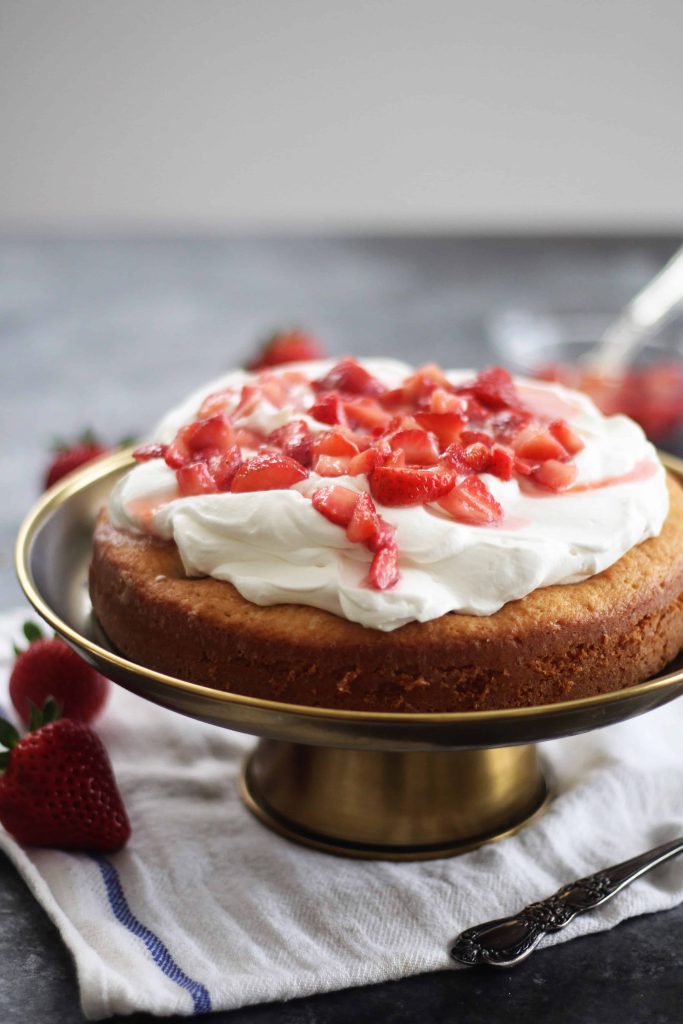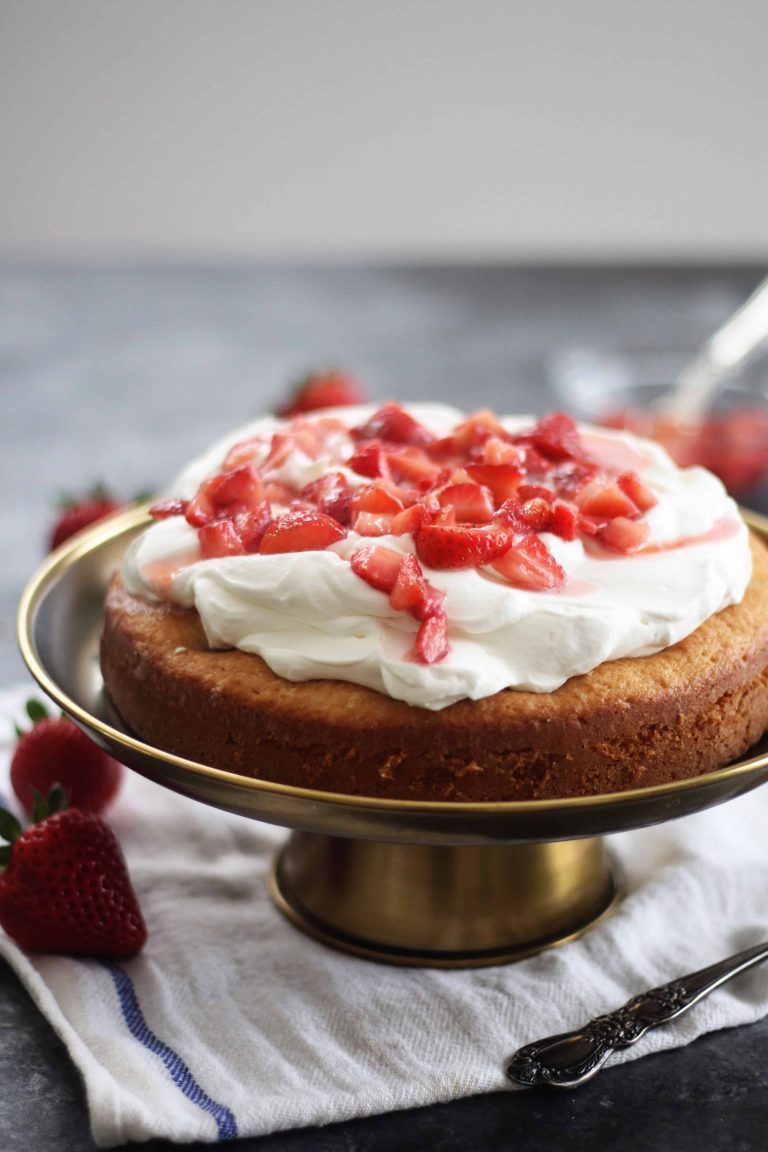 If you're a fan of fresh strawberries, then this homemade strawberry buttermilk cake is the perfect dessert for you! Made with real strawberries and buttermilk, this cake is moist, flavorful, and perfect for Spring. When they come into season, strawberries are my favorite fruit to bake with, and this recipe is a great way to use them.
Whether it's for Mother's Day, Easter, or any occasion when strawberries are in season, this family favorite is a wonderful choice. I love that this is a simple dessert that comes together quickly but doesn't lack in flavor or deliciousness! In this post, we'll explore some tips and tricks to make the perfect homemade strawberry buttermilk cake that is full of natural strawberry flavor and SO good!
Use Fresh Strawberries for Maximum Flavor:
The key to a delicious strawberry cake is using fresh strawberries. When they're in season and at their peak of ripeness, they'll have the best flavor and natural sweetness. Hull and halve the strawberries for the cake, and then you can slice some for the topping.
Buttermilk for Moisture and Tenderness:
Buttermilk is an important ingredient in this cake as it adds moisture and a tender crumb. It also helps to activate the leavening agents, resulting in a light and fluffy texture. Make sure to use buttermilk at room temperature to ensure it mixes well with the other ingredients in the cake batter. If you don't have buttermilk on hand, you can easily make a substitute by adding 1 tablespoon of lemon juice or vinegar to 1 cup of milk and letting it sit for a few minutes until it thickens and curdles.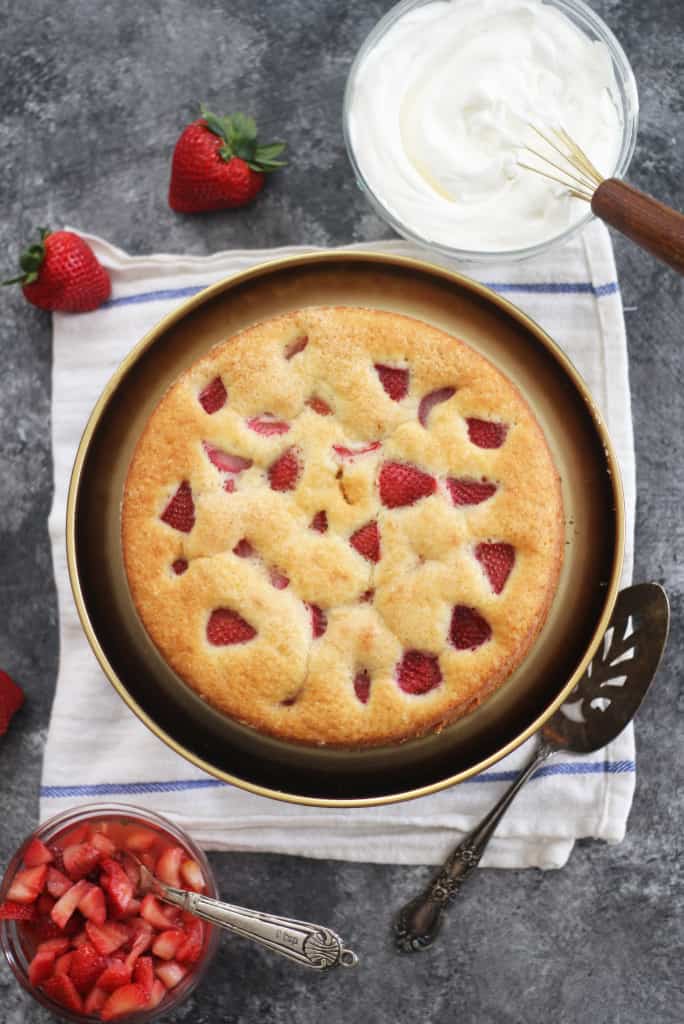 Ingredients needed for Homemade Strawberry Cake with Buttermilk:
All-purpose flour
Baking powder
Baking soda
Salt
Butter
Sugar
Vanilla extract
Egg
Buttermilk
Fresh strawberries
Whipped Cream
Supplies needed for Homemade Strawberry Cake Recipe with Buttermilk:
Large Bowl
8-9 inch cake pan
Electric mixer
Rubber Spatula

Tips for a perfect cake that releases from the pan easily:
To achieve perfectly baked cake layers, make sure to prepare your cake pans properly. Grease and flour the pans, and line the bottoms with parchment paper for easy removal of the cake. This will prevent the cakes from sticking to the pans and ensure they come out cleanly. Also, remember to preheat your oven to the correct temperature and bake the cakes in the center of the oven for even baking. Rotate the pans halfway through baking to ensure they bake evenly. The cake will be golden brown when done and a toothpick inserted into the center will come back with a few moist crumbs.
Mixing the Cake Batter and Dry Ingredients:
In a large bowl with a hand mixer, or the bowl of a stand mixer, use a medium speed to ensure that the ingredients are well combined without over-mixing. You especially want to be careful when adding the flour mixture. Mix just until you no longer see dry spots or streaks in the batter. Over-mixing can result in a tough cake, so be careful not to go too fast or mix too much.
Pour batter into the prepared pan and place the halved strawberries right on top of the batter. The baking time will be around 20 minutes but may depend on your oven.
While the cake bakes you can make the whipped cream (the perfect topping and my favorite,) and slice the strawberries. I like to drizzle them in honey to release some of the juices.

Get Creative with the toppings:
While this strawberry buttermilk cake is delicious on its own, you can take it to the next level with creative frosting and filling options.
Cream cheese frosting pairs wonderfully with the sweet and tangy flavors of the strawberry cake. You can also make some strawberry puree, use strawberry jam, or more fresh strawberries for an extra burst of flavor. Either mix it into the whipped cream or frosting to make strawberry buttercream!
Another option is to add some chopped fresh berries to the frosting for added texture and flavor. A simple whipped cream with fresh strawberries on top of the cake is always wonderful too!
Any pink lovers in your house? Crush up some freeze-dried strawberries to make "strawberry powder" and add them to your whipped cream or frosting for extra real strawberry flavor and a touch of pink color!
Want to make the cake in advance? You can cook the cake and wrap it with a layer of plastic wrap and store it in the fridge for up to a week before serving. You could also place the wrapped cake into an airtight container and freeze for up to a month!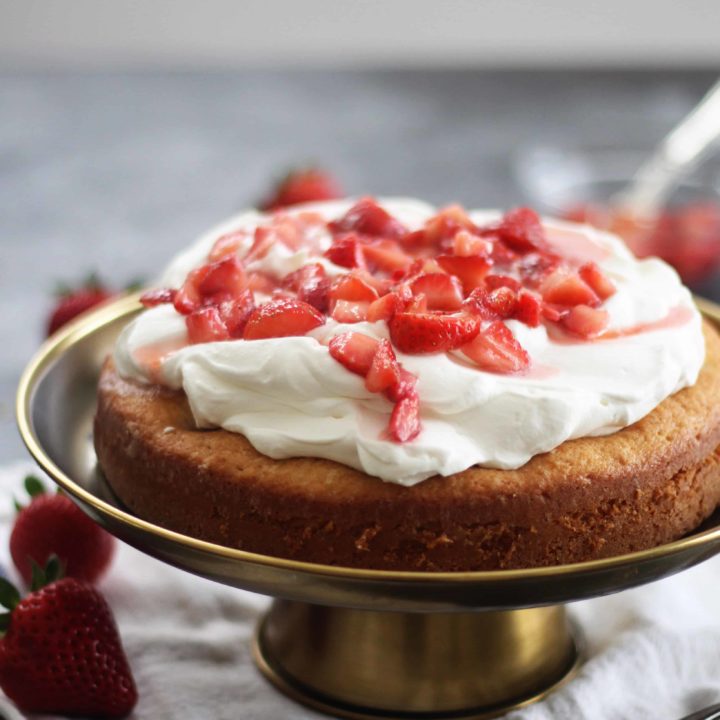 Homemade Strawberry Cake with Buttermilk
Ingredients
1 cup all-purpose flour
1/2 teaspoon baking powder
1/2 teaspoon baking soda
1/4 teaspoon salt
1/2 stick unsalted butter, softened
2/3 cup plus 1 1/2 tablespoons sugar, divided
1/2 teaspoon pure vanilla extract
1 large egg, room temperature
1/2 cup well-shaken buttermilk, room temperature
1 cup strawberries, sliced
For the topping:
1 cup whipping cream
2 teaspoons honey
2 cup diced strawberries
Instructions
Preheat oven to 375°F with rack in middle. Butter and flour an 8-inch round cake pan.
Whisk together flour, baking powder, baking soda, and salt.
Beat butter and 2/3 cup sugar with an electric mixer at medium-high speed until pale and fluffy, about 2 minutes, then beat in vanilla. Add egg and beat well.
At low speed, mix in flour mixture in 3 batches, alternating with buttermilk, beginning and ending with flour, being careful not to over-mix.
Spoon batter into pan, smoothing top with a spoon. Scatter berries evenly over top and sprinkle with remaining 1 1/2 Tbsp sugar.
Bake until cake is golden and a cake tester/toothpick inserted into center comes out clean, 25 to 30 minutes. Cool in pan 10 minutes, then turn out onto a rack and cool until room temperature.
For the topping:
While cake bakes, toss chopped strawberries with 1 teaspoon honey and let sit and get juicy for at least an hour.
Using a cold bowl and cold beaters, whip the cream until stiff and stir in the remaining teaspoon of honey. Spread the whipped cream over the top of the cake and top with the macerated berries.
Notes
Recipe adapted from Gourmet
Nutrition Information:
Yield:

1
Serving Size:

1 grams
Amount Per Serving:
Unsaturated Fat:

0g