Strawberry Cheesecake Ice Cream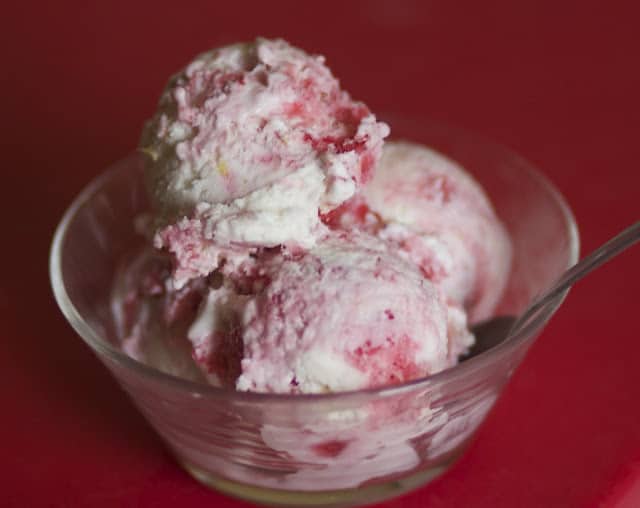 Two days ago we had a taste of summer here in NYC. It was 75 and sunny, and you could feel the happiness in the air. It didn't take long for everyone to toss off their boots and coats and whip out the sandals and sundresses. As I walked around that night in flip flops, I starting thinking up all the ice creams I am going to make once it gets un-bearably hot. And even though today it's back to being cold and rainy, this tasty ice cream gets me excited about what is to come. I love summer!
Once again I went to David Lebovitz for this one. Ever since I bought the book I have been dying to make his cheesecake ice cream. Not only did it seem ridiculously easy, but I knew there would be lots of opportunities for creative mix ins. This time, I went with a strawberry swirl. (Mostly because all the other berries were horribly out of season.) Next time, maybe I'll add some graham cracker pieces too, but for now I kept it pretty simple.
I love the texture of this ice cream! It is super creamy and the strawberry sauce froze almost like a granite, so it gave a nice contrast. Once the ice cream was done, I simply layered it with the sauce in a container and froze it for a couple hours so it all hardened together. I may go have some of this for breakfast. (I need to stop doing that.)
Strawberry Cheesecake Ice Cream
Ingredients
8 ounces cream cheese, cut into small pieces
Zest of one lemon
1 cup sour cream
1 cup half and half
2/3 cup sugar
pinch of salt
Strawberry Sauce, Yields 1 cup:
3/4 pounds strawberries, rinsed and hulled
2 Tbsp sugar
1/2 tsp freshly squeezed lemon juice
Instructions
Zest the lemon directly into a blender or food processor, then add the cream cheese, sour cream, half and half, sugar and salt and puree until smooth. Chill the mixture thoroughly in the refrigerator.
Make Strawberry Sauce: Puree the strawberries with the sugar and lemon juice in a food processor until smooth. Press the puree through a strainer to remove the seeds. Chill the mixture thoroughly in the refrigerator.
Once ice cream mixture and strawberry sauce have chilled thoroughly, freeze the ice cream mixture in your ice cream maker according to the manufacturer's instructions. When it is done freezing, layer it with the strawberry sauce in a container and freeze at least one hour
Nutrition Information:
Serving Size:

1 grams
Amount Per Serving:
Unsaturated Fat:

0g
From: The Perfect Scoop by David Lebovitz