Strawberry Cream Puff Cake (Paris Brest)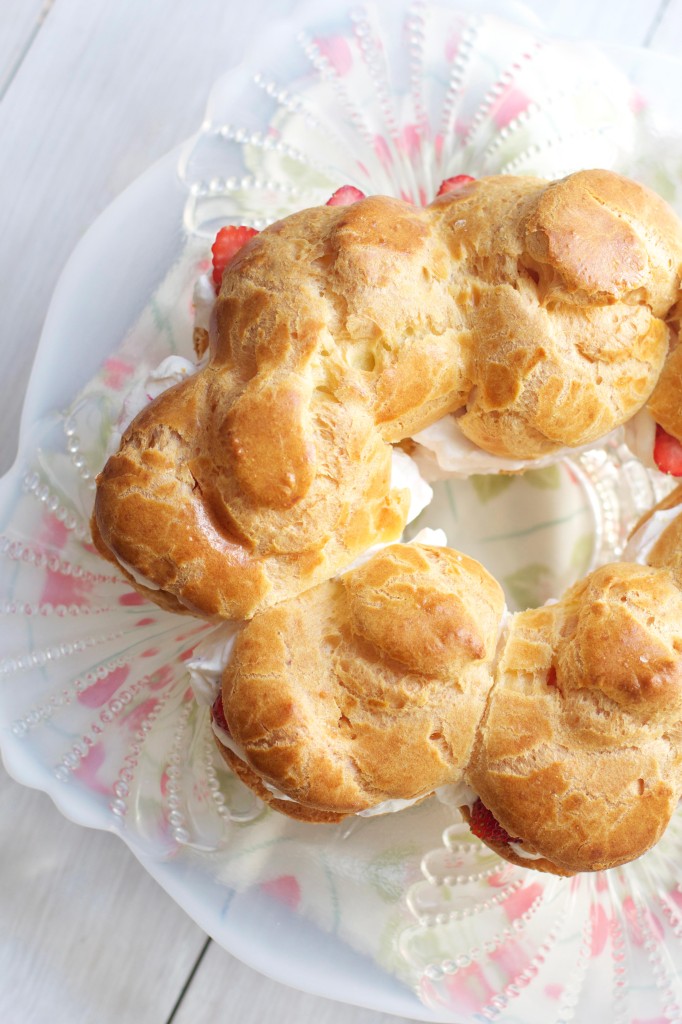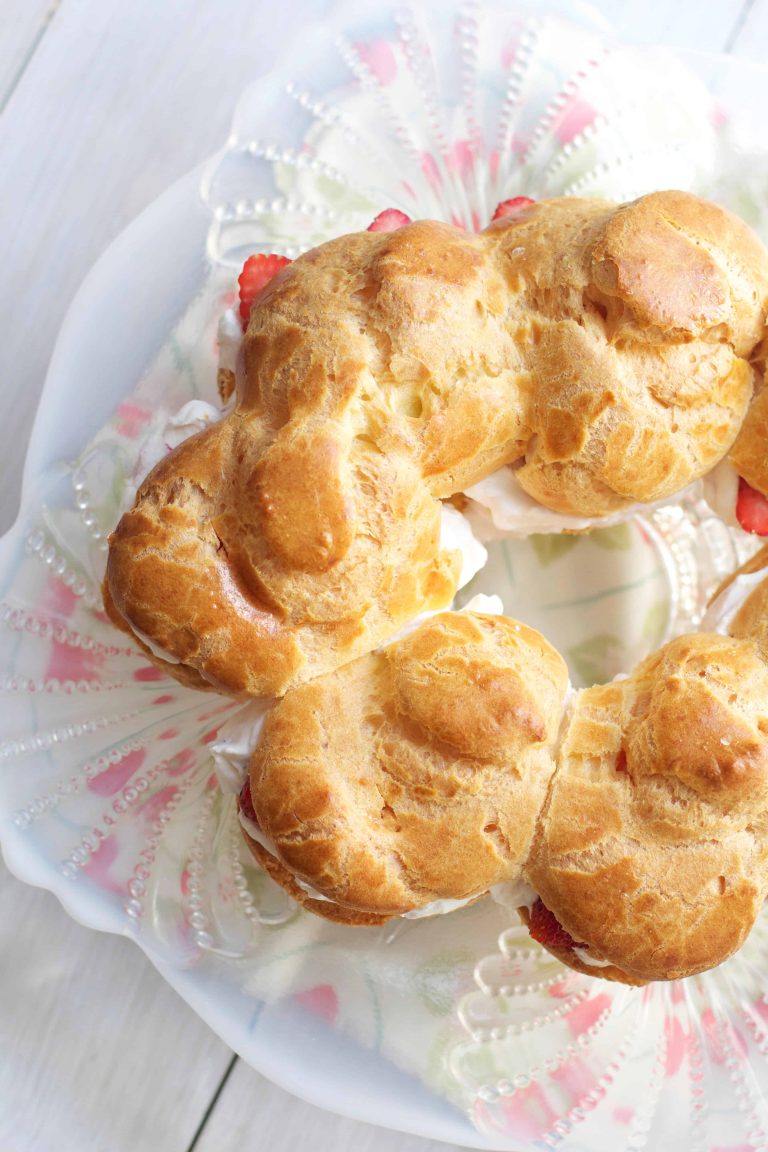 Since becoming a Mama 3 1/2 months ago, I occasionally get myself into something that I call "baby lockdown." I'm in the recliner, with a sleeping baby sprawled all over me after what may be a long stretch of napless-ness. So I'm desperate for him to stay asleep, but I'm hungry or thirsty or needing to pee. Is it worth the risk of moving/waking him to take care of whatever I need at that moment?
Nope. It's really not.
So- I just accept that I'm on "baby lockdown," and hopefully have the remote handy! I've gotten good at recording shows that are the perfect combination of entertaining and mindless for my general state of exhaustion. My new favorite is Martha Bakes on PBS- have you seen it? There is a new theme every week and Martha demos a few different creations each time. Last week was "Classic French Pastries," and I got very inspired to try my hand at one of them: Paris Brest.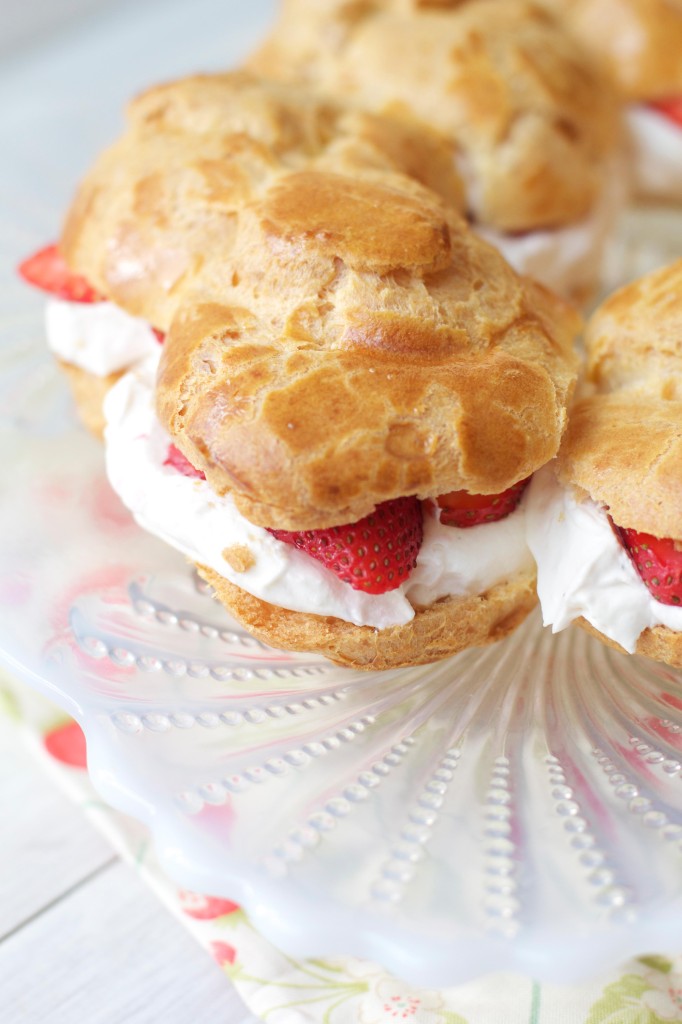 Are you familiar? It's Pate a Choux, which is the dough used for Cream Puffs, Eclairs etc, served as a wreath filled with pastry cream and whipped cream. I loved the idea of it, but didn't have the energy for pastry cream, so filled it with lots of whipped cream and strawberries. It's a light and crisp pastry shell filled with light and fluffy berries & cream. I devoured about a third of this, it's so light and not-too sweet.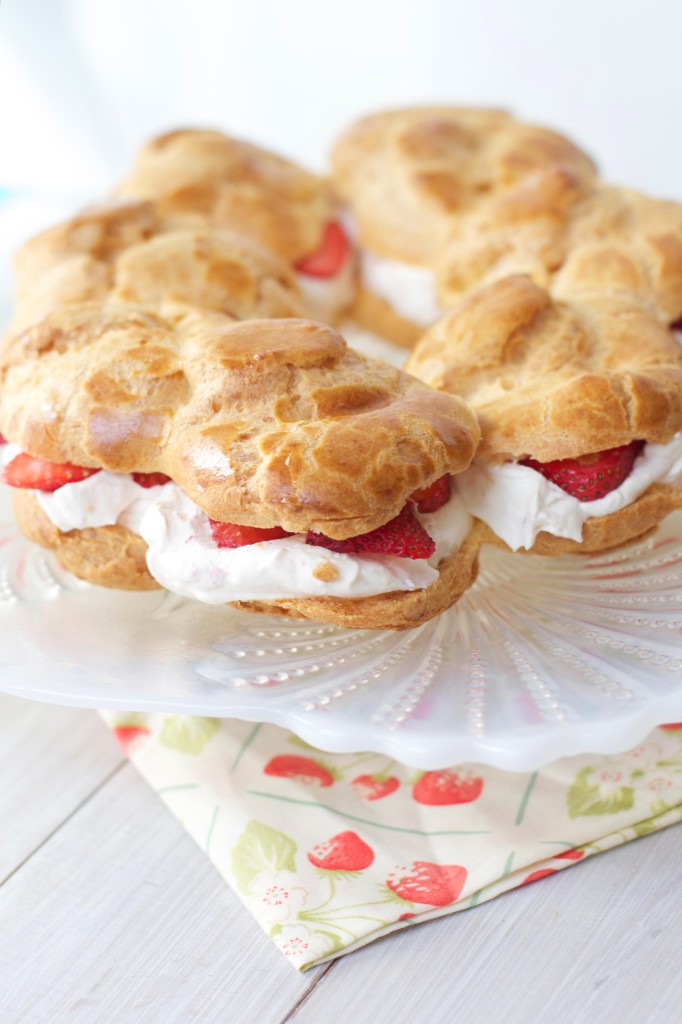 The most challenging part of this was piping it in a ring- and as you can see mine looks kinda just like 7 cream puffs in a circle. And in hindsight- I may as well have just have piped the dough into rounds and made cream puffs, but I did think the "wreath" was pretty :)
I'm so lucky to get to spend my first Mother's Day with my own Mom who arrives later today! I've never been more appreciative of her or all mothers after my first 3 months with a baby. How she had the patience to raise 5 kids I'll never know! My own Mama would love this dessert- I wish I hadn't eaten it all already…;)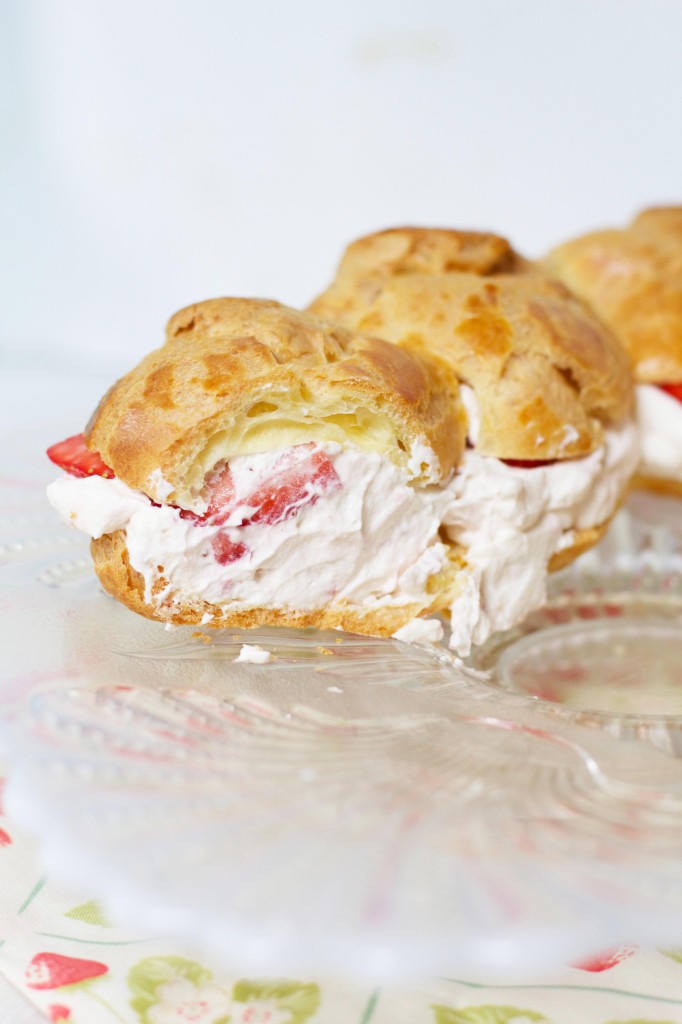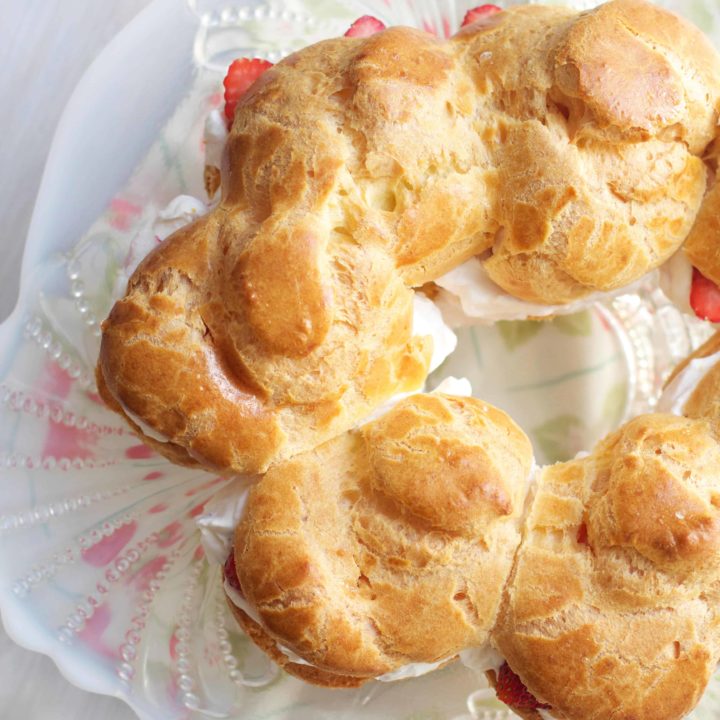 Strawberry Cream Puff Cake (Paris Brest)
Ingredients
For the Pastry:
1 stick, 1/2 cup unsalted butter, cut into pieces
1 teaspoon sugar
1/2 teaspoon salt
1 cup all purpose flour
4 large eggs, plus 1 large egg for egg wash
Filling:
2 cups heavy cream
3 tablespoons confectioners' sugar, plus more for dusting
1/2 teaspoon pure vanilla extract
1 cup sliced strawberries
Instructions
For the pastry wreath:
Preheat oven to 425 degrees. Use a 9-inch round pan to trace a circle onto a sheet of parchment. Flip the parchment over and set aside.
In a medium saucepan over medium-high heat, combine butter, sugar, salt, and 1 cup water. Bring to a boil and then immediately remove from heat. Using a wooden spoon, quickly stir in the flour until combined.
Return pan to medium-high heat and cook, stirring vigorously, until mixture pulls away from the sides and a film forms on the bottom of the pan, just a minute or two.
Remove from heat and transfer contents to a bowl to cool slightly. Add eggs, one at a time, stirring vigorously after each addition, waiting until each is totally incproarted before adding the next.
Transfer pate a choux dough to a pastry bag fitted with a 1/2-inch plain round tip. Pipe a teeny bit of dough to each corner of the parchment to stick it to the baking sheet. Then pipe dough arond the outline, into 1 3/4-inch mounds*. If there are any weird tips you can pat them down gently.
Whisk remaining egg with a pinch of salt and brush over top of pastry wreath.
Bake until pastry just starts to puff, about 10 minute, then reduce the oven temperature to 375 degrees. Bake until pastry is fully puffed and golden brown, about 30 minutes.
Turn oven off, remove wreath, and pierce top and sides about 8 times using the tip of a sharp knife to release steam. Return to oven, and prop door open with a wooden spoon. Let stand for 1 hour to dry.
Transfer pastry wreath on parchment to a wire rack. Let cool completely.
To Fill/Assemble:
Beat the heavy cream, confectioners' sugar, and vanilla until stiff peaks form. Separate pastry wreath into top and bottom halves using a serrated knife.
Spread or pipe the whipped cream into the wreath and layer with the berries. Place the top of the wreath over the cream.
Cut and serve. (Chill if you're not eating it right away.)
Notes
Recipe slightly adapted from Martha Stewart *I halved this recipe in the version I photographed, but am sharing the whole recipe. Either way works:)
Nutrition Information:
Yield: 1 Serving Size: 1 grams
Amount Per Serving: Unsaturated Fat: 0g