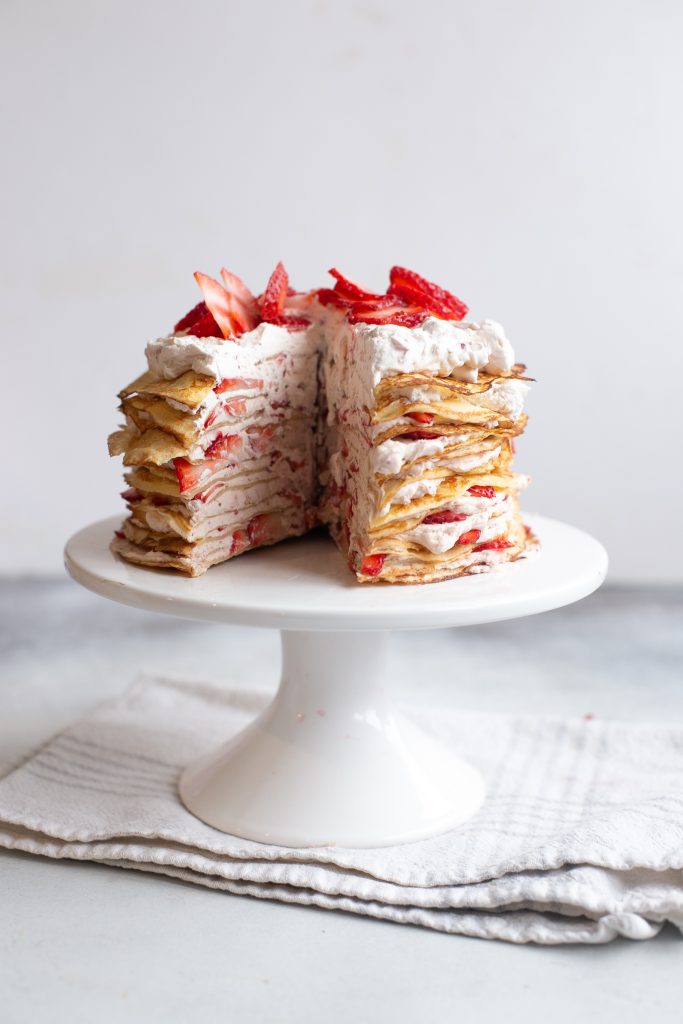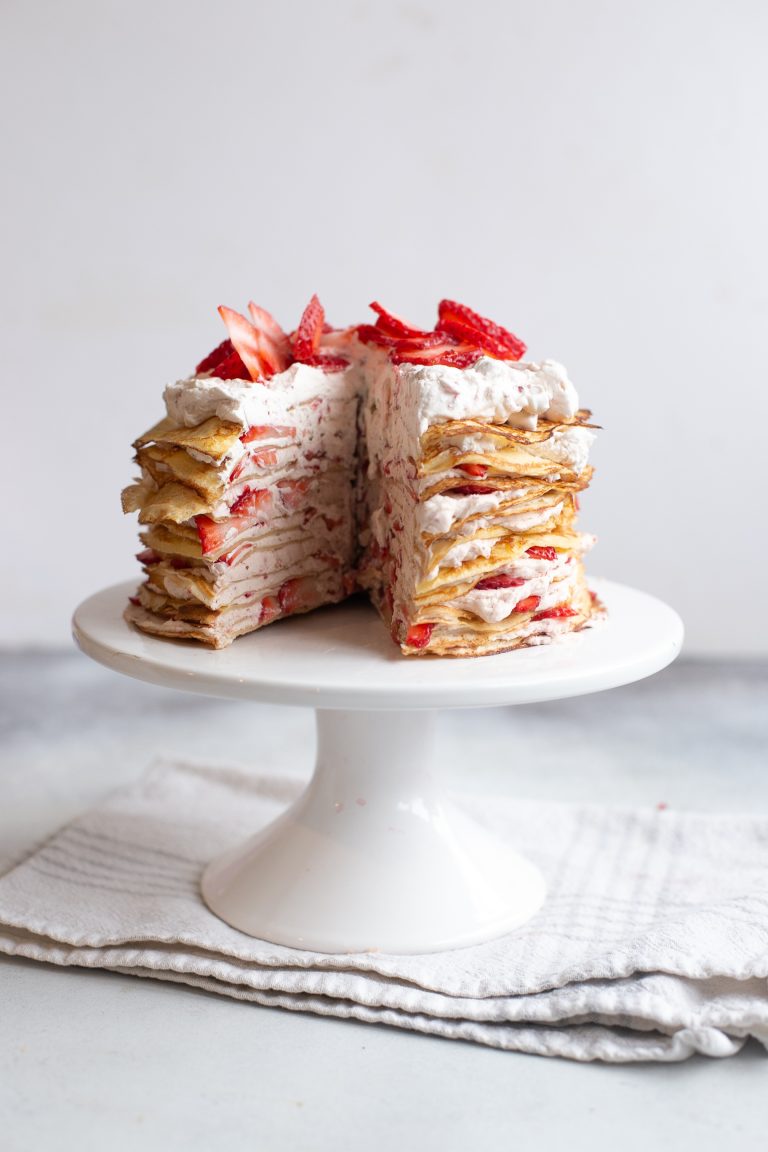 This Strawberry Crepe cake is a beautiful and delicious dessert perfect for Valentine's Day, Mother's Day, or any other occasion where you want a light and fruity treat. It is also called a "mille crepe cake" which refers to the many thin and delicate layers. This beautiful crepe cake is so light and springy as the actual cake is make up of tender homemade crepes and the filling combines layers of fluffy and light cream and sweet strawberries.
The filling is made by combining fluffy whipped cream with mascarpone or cream cheese as well as some strawberry jam and juicy strawberries, but once you get the technique of this type of dessert down, the flavor options are endless!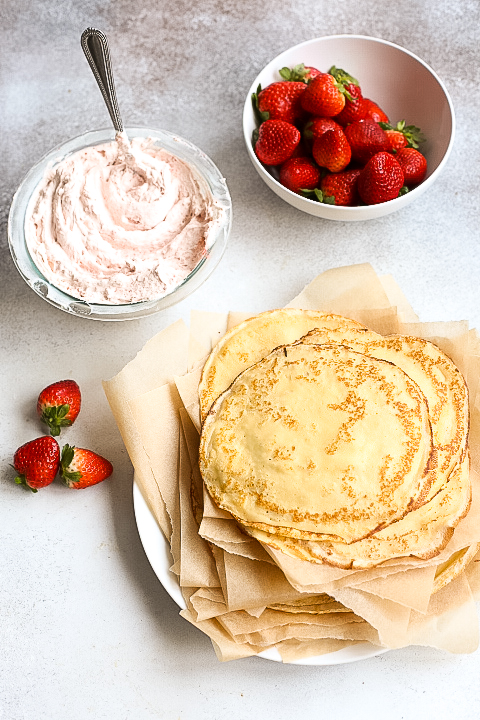 Ingredients for Strawberry Crepe Cake Recipe:
Fresh Strawberries
Eggs
All Purpose Flour
Unsalted Butter
Heavy Whipping Cream
Mascarpone Cheese
Sugar
Powdered Sugar
Strawberry jam

Supplies needed for Strawberry Crepe Cake:
Hand Mixer
Nonstick frying pan or crepe pan
Large Bowl
Parchment Paper
Cake Stand
How to make my favorite crepe recipe:
In a large mixing bowl combine the melted butter, eggs, milk, and whisk or mix with an electric mixer. Add the flour, sugar and salt and stir until a smooth crepe batter as formed. If there are chunks, I sometimes will use an immersion blender to make the whole thing more smooth. You can also make the batter in a blender or food processor from the start.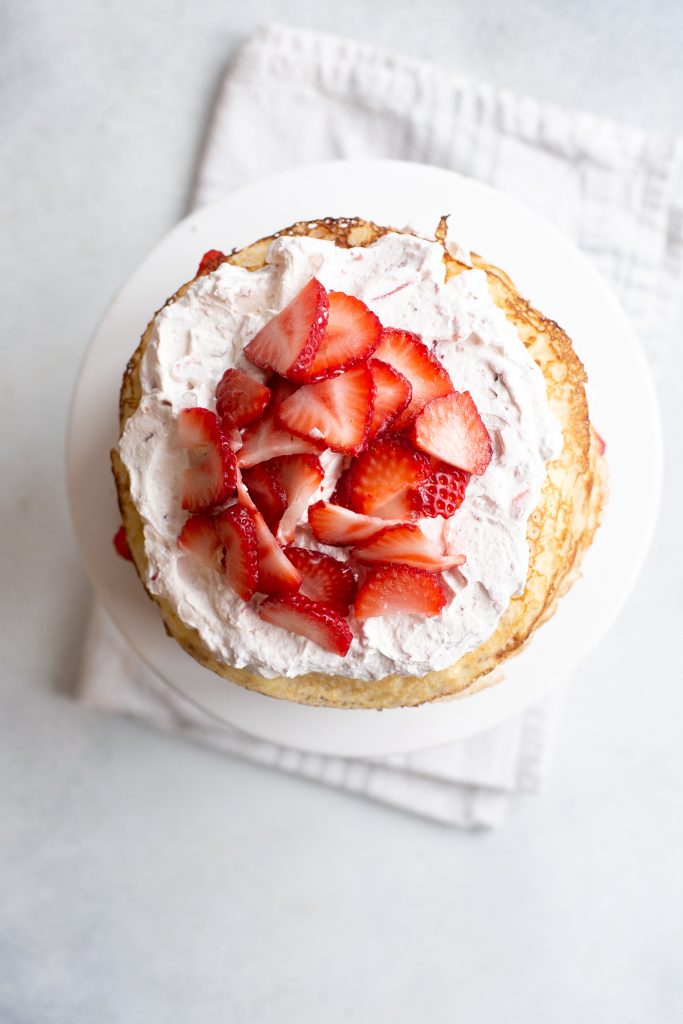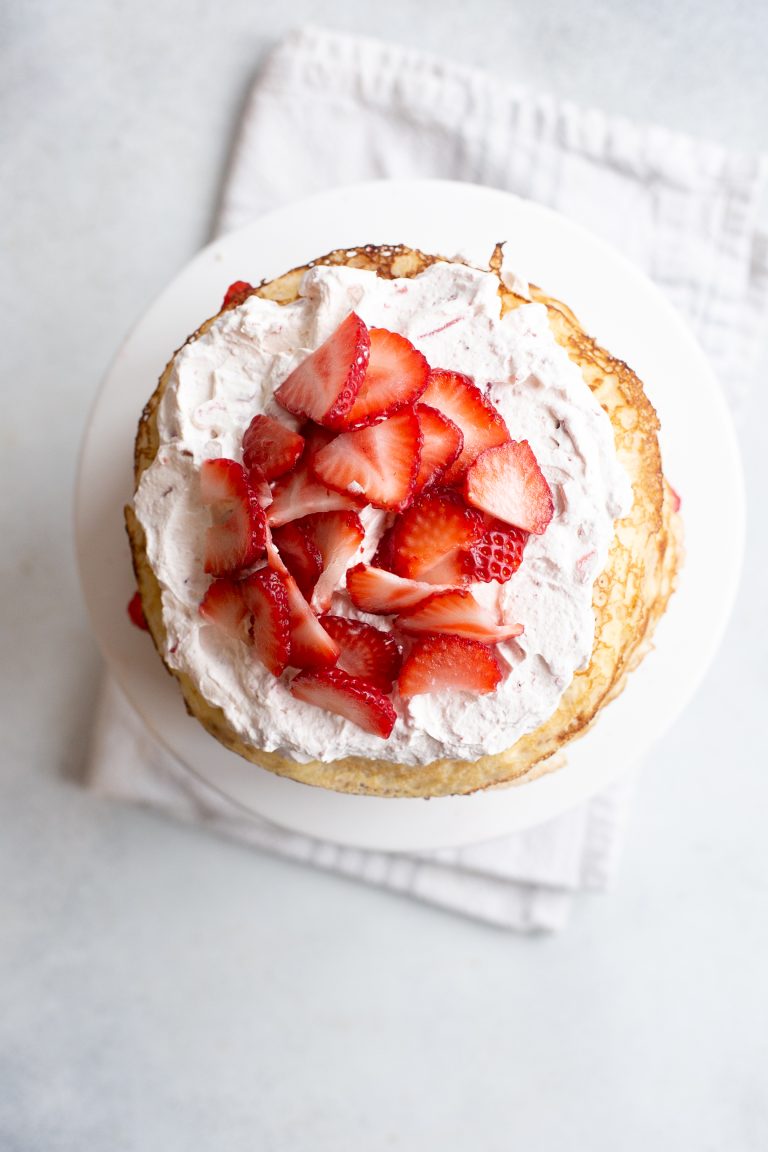 Heat a small nonstick skillet on medium heat. Scoop about a 1/8 cup batter into the bottom of the pan and swirl it a bit to the edges. You want a thin layer that hits the surface of the pan. Adjust your quantity as needed. The first crepe is always a bit of a mess so just snack on that and don't worry as you figure out your technique. Use the remaining batter to make the rest of the crepes one at a time, placing some parchment or paper towel in between the crepes on baking sheet or large plate while you make the rest of the crepes.
You need bout 20 good crepes for the crepe layers, and I always like the last crepe used for the top of the cake to be my best one- so set that aside.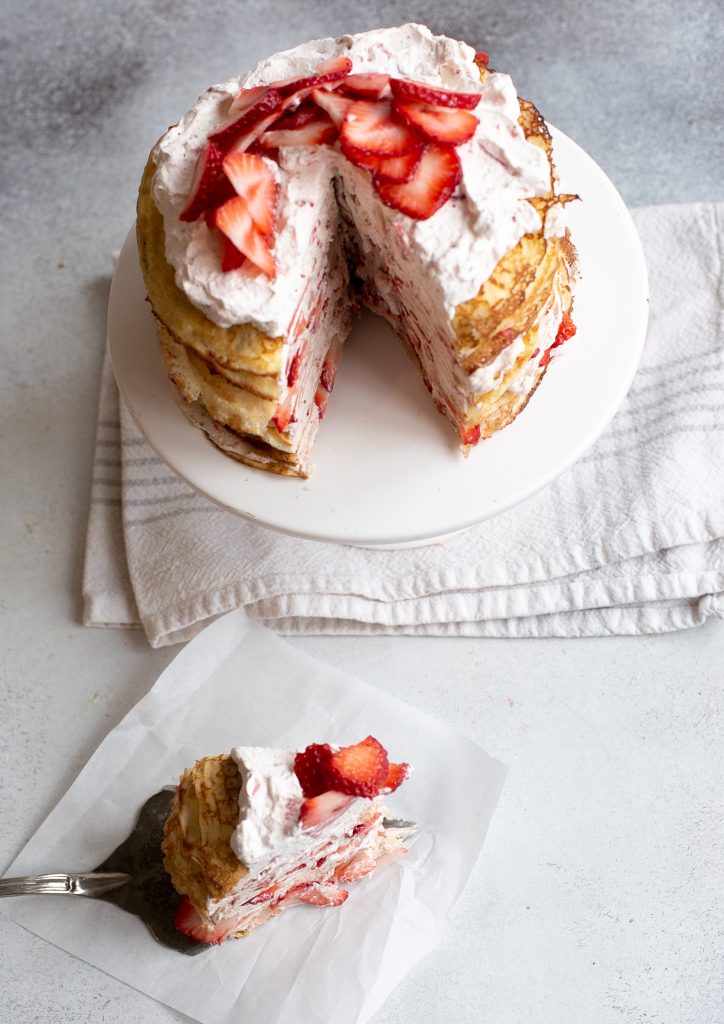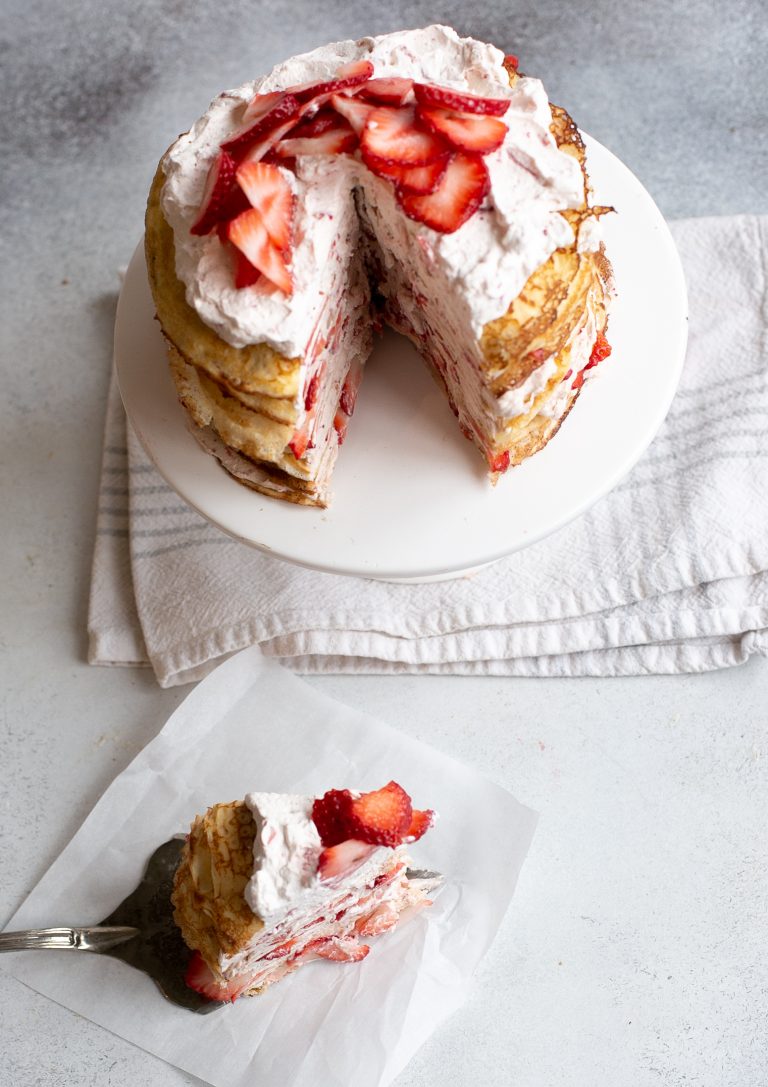 For the filling:
In a medium bowl (a chilled bowl will help make the cream whip faster.) whip the heavy cream to stiff peaks. (But don't over-mix your whipped cream or it will get thick and turn into butter!) Gently fold in the strawberry preserves, powdered sugar and mascarpone cheese.

To assemble your Strawberry Crepe Cake:
On a plate or cake stand place one crepe in the center. Add a heaping spoon full of the cream filling, and gently spread it to the edges. Top it with a thinly sliced fresh strawberry. Top with another crepe and repeat the process until you run out of filling. (I always reserve 20 crepes but this time I wanted a thicker cream filling so used less.) End the cake with a filling layer, top with more fresh strawberries and chill the cake until ready to serve.
Not a strawberry fan? Here are some other filling ideas:
Instead of the strawberry jam use an 3 tablespoons of lemon curd and lemon zest for a luscious lemon crepe cake.
Use a different jam and fruit combo. I think peach jam/thinly sliced fresh peaches would be great.
Fold some Nutella into the whipped cream for a chocolate hazelnut crepe cake!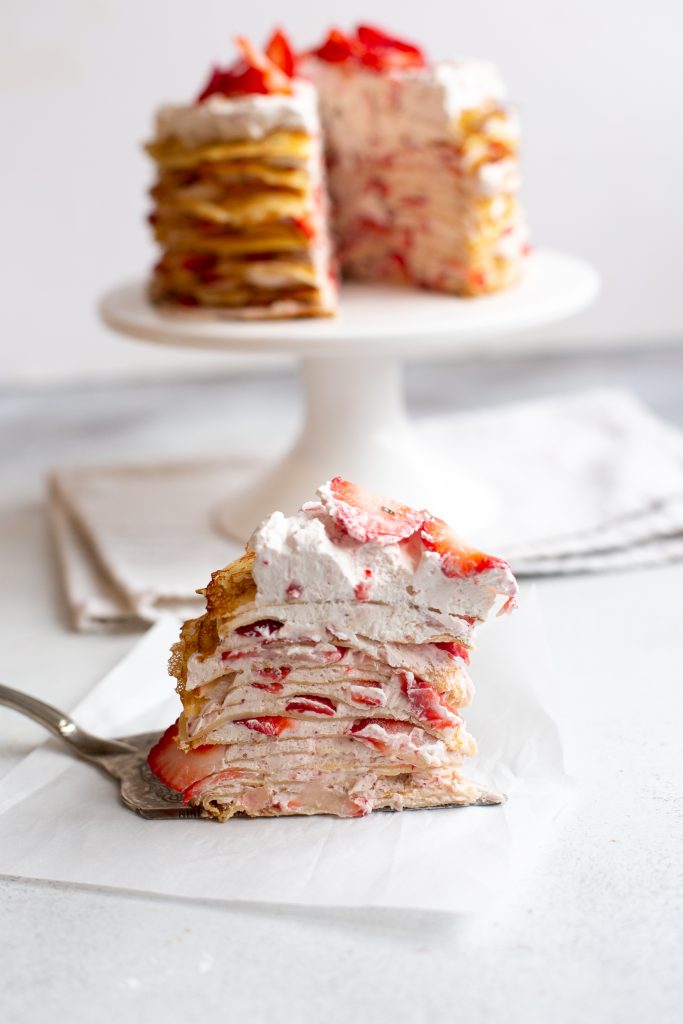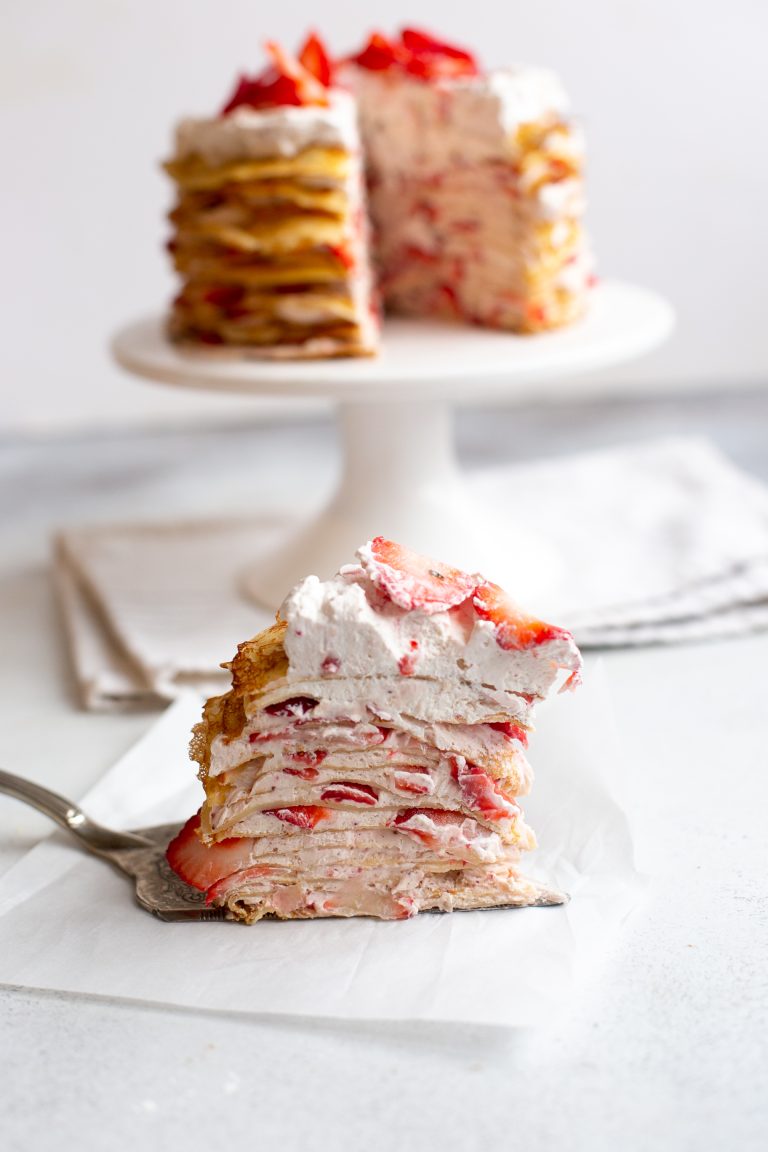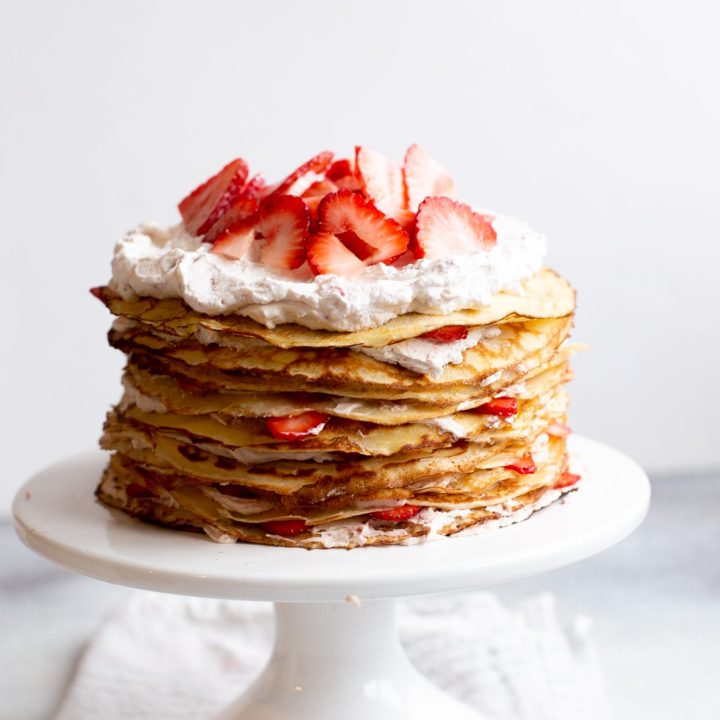 Strawberry Crepe Cake
Additional Time:
30 minutes
Total Time:
1 hour
5 minutes
Ingredients
For the Crepes:
6 tablespoons butter, melted
3 cups milk
6 eggs
1½ cups all-purpose flour
7 tablespoons sugar
Pinch salt
For the Filling:
2 cups heavy cream
2/3 cup strawberry preserves
2 tablespoons powdered sugar*
1 cup mascarpone cheese**
2 cups sliced fresh strawberries
Instructions
First make the Crepe Batter:
In a small pan, warm the milk until steaming; remove from heat and set aside to allow to cool slightly.
In a large bowl using your electric mixer at a low speed or a whisk, mix together the eggs, flour, sugar, and salt. Slowly add in the warm milk and melted butter. Use right away or pour the batter into a tightly-sealed container to refrigerate for at least 2 hours (or overnight.)
To make the crepes:
If your crepe batter has been chilled, remove the prepared crepe batter from the refrigerator and bring to room temperature.
Prepare some sheets of parchment paper for cooling the finished crepes. (You don't want to stack them directly on each other, but with a layer of parchment between they will be OK.)
Use a nonstick pan over medium-low heat. (I didn't have to spray mine since it's very non-stick- but you may need to.) Pour about 3 tablespoons of the crepe batter into the pan, and swirl to cover the surface of the pan. Cook approximately 1 minute or just until the bottom of the crepe becomes lightly browned. Use a spatula to help lift the edge, and then use your clean fingers to gently and carefully turn the crepe over and continue cooking for another 15-20 seconds. Remove the cooked crepe and place on parchment to cool.
Repeat this process until you have 20 perfect crepes. (If their sizes are slightly different that is OK, but you want them to be round without tears.)
For the Filling:
In a medium sized bowl (chilled if possible,) whip the heavy cream to stiff peaks. (You want to stop when it has just reached the stiff peak phase, be careful to not over whip the cream.)
Fold in the strawberry jam, the powdered sugar, and mascarpone cheese. Taste the filling and add a little more powdered sugar if desired.
To Assemble:
Place one prepared crepe on a large cake plate.
With a small spatula, completely cover the crepe with a thin layer of the filling mixture (about ¼ cup). Add a layer of thinly sliced strawberries.
Cover with another dry crepe and repeat covering with the Pastry Crème until you have reached 20 layers. Save the nicest looking crepe for the 20th (top) layer. If your layers seem uneven or your cake seems tilted at all, adjust your filling to even it out.
Refrigerate the prepared cake for 1-2 hours. Top with fresh strawberries and a sprinkle of powdered sugar if desired.
Notes
*Feel free to add more powdered sugar as needed for your desired sweetness
**Cream cheese can also be used in a pinch