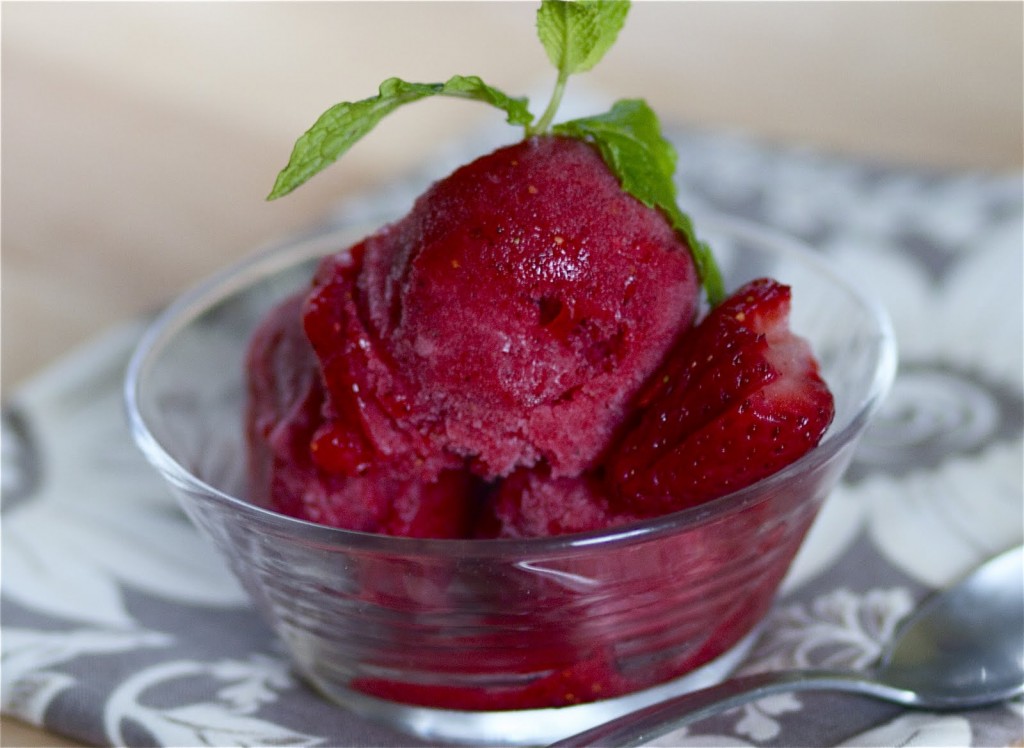 One of the challenges of having a baking blog is the general contents of my pantry. I always seem to have plenty of the basics: flour, sugars, vanilla, eggs, butter, but never actually have anything to eat. I swear- I spend more at the grocery store than I ever have, but there is NOTHING to eat (except for the fixings to bake pretty much anything! ) So when I actually buy fresh ingredients (like strawberries and mint,) I make sure to not waste them. I also TRY to make things that I will actually feel like eating at the end of the day.
This sorbet is SO good and satisfying that it took every ounce of self control to not eat the whole batch in one sitting. Normally that wouldn't be a big deal at all as this recipe doesn't yield more than a pint or so and it is fat-free and relatively healthy. The problem was that I made it at 8 PM and I knew I had to save at least a couple scoops for a photo the next morning. I honestly kept going back for a spoonful at a time, thinking that a smaller and smaller portion would be fine for the photo. (There is plenty in there right??)
Anyway- I will absolutely be making a double batch next time as this was crazy good. The mint was subtle but so refreshing. The sweet strawberries and dash of lime was exactly what I needed on this hot day. Don't have an ice cream maker yet? I promise this is the recipe to buy one for!
Ingredients
1 lb. Strawberries washed and hulled
1/2 cup mint leaves
1 tsp. Kirsch or Vodka, what I used- both are optional though
1 tsp. freshly squeezed lime or lemon juice
3/4 cup sugar
Pinch of salt
Instructions
Slice the strawberries and toss them in a medium bowl with the sugar and liquor, if using, stirring until the sugar begins to dissolve. Cover and let stand for an hour, stirring every so often.
Puree the strawberries and their liquid with the lemon/lime juice, mint leaves and salt in a blender or food processor until smooth.
Chill the mixture thoroughly, then freeze it in your ice cream maker according to the manufacturer's instructions.
Nutrition Information:
Serving Size:

1 grams
Amount Per Serving:
Unsaturated Fat:

0g
Adapted from The Perfect Scoop by David Lebovitz