Strawberry-Raspberry Rhubarb Pie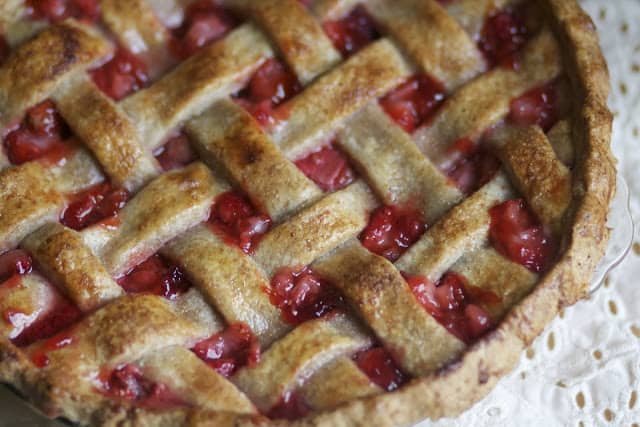 When I started this blog in February I already loved to bake. I made cookies and cupcakes all the time and had tried a couple cheesecakes, banana bread and other basics, but most of the sweets that I've made on here are first-timers for me. I love that because not only am I getting to be a much more well-rounded baker, but I get to document my progress in the blog! How it is that I managed this long without making a pie though is a mystery. Don't get me wrong- I probably "helped" my Mom make Thanksgiving pies every year when I was a kid. But that mostly consisted of watching her and then getting distracted by a new episode of Full House or something. I'm a firm believer that the only way to really learn now to do something is to just figure it out yourself!
Anyway- this was my first actual pie that I made all by my lonesome and I think it turned out great! I brought it to book club the other night and we pretty much scarfed it down. The filling was the best part-tart, sweet, juicy but not watery. I had been debating on what kind of berries to use, but ended up doing a combo because they both looked so fresh and lovely at the market.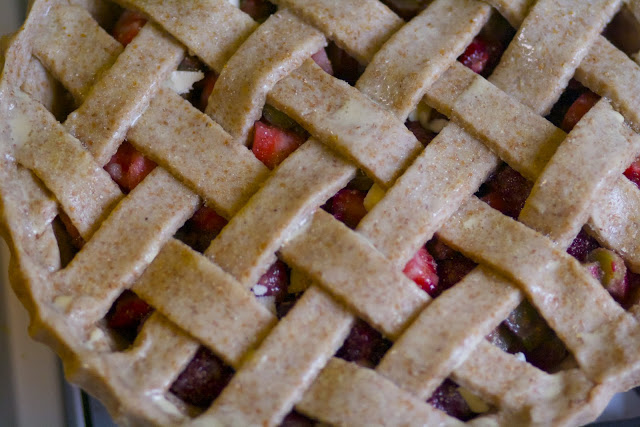 The crust turned out well, but that is the only part of the process where I had a bit of a problem. See- I ran out of white flour half-way through measuring it. I recently got a box full of different flour products to try out from Hogdson Mills (more on that later,) and the only one I thought I could use was a 50% white 50% whole wheat. I used that for the remaining cup or so of flour. I don't recommend using any whole wheat flour when making crust. Everything looked fine and it really tasted good, it just wasn't the same. Ah well- lesson learned….I mean it was my first time. :)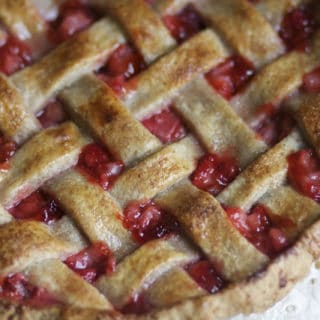 Strawberry-Raspberry Rhubarb Pie
Ingredients
1 Double Pie Crust
1/2 cup all purpose flour plus more for dusting
1/2 lb rhubarb, trimmed and cut into 1/2 inch pieces (4 cups)
1 1/2 cups raspberries
1 1/2 cups strawberries, hulled and sliced
1 1/4 cups sugar, or more to taste
Freshly squeezed juice of 1/2 lemon
1 tablespoon cold unsalted butter, cut into small pieces
1 lg. egg, lightly beaten
2 tablespoons heavy cream
Instructions
Preheat oven to 350 degrees
On a lightly floured surface, roll out half of the dough for the bottom crust. Fit into an 11 inch pie plate. Trim pastry using scissors or a sharp parking knife and chill. Keep remaining half of the dough in the fridge for the lattice.
Combine rhubarb, strawberries and raspberries in a large bowl. Sprinkle with sugar, flour and lemon juice. Toss gently so as not to break the raspberries. Spoon into pie shell, and dot with butter. Refrigerate with preparing the lattice top.
In a small bowl combine the egg and cream , whisking lightly, and set aside.
On a lightly floured surface, roll out remaining dough for lattice, and cut into one inch strips. Weave strips over filling, and place an extra strip or two along the edge, where the bottom crust joins the lattice top; press this strip in with a fork or fingers to seal it well.
Brush lattice and all pastry edges with egg glaze, sprinkle top with sugar, and place on a parchment lined- baking sheet.
Bake until pastry is golden brown and juices in center of pie are bubbling. 1 1/4 to 1 1/2 hours.
Transfer to wire rack to cool before serving.
Nutrition Information:
Serving Size:

1 grams
Amount Per Serving:
Unsaturated Fat:

0g
Adapted from Martha Stewart