Strawberry Rhubarb Almond Danishes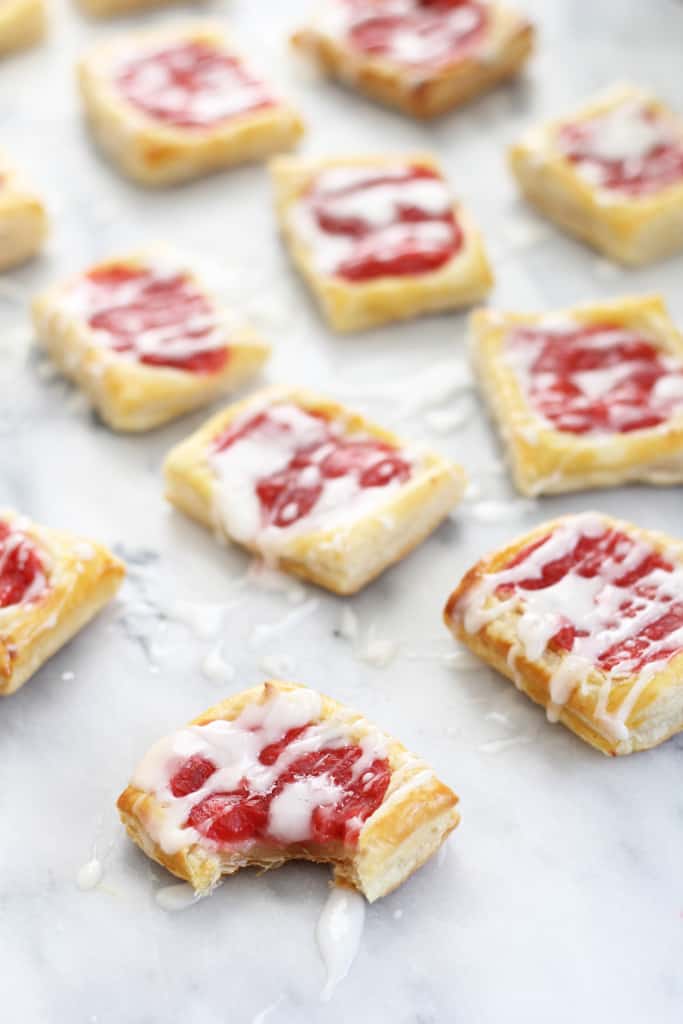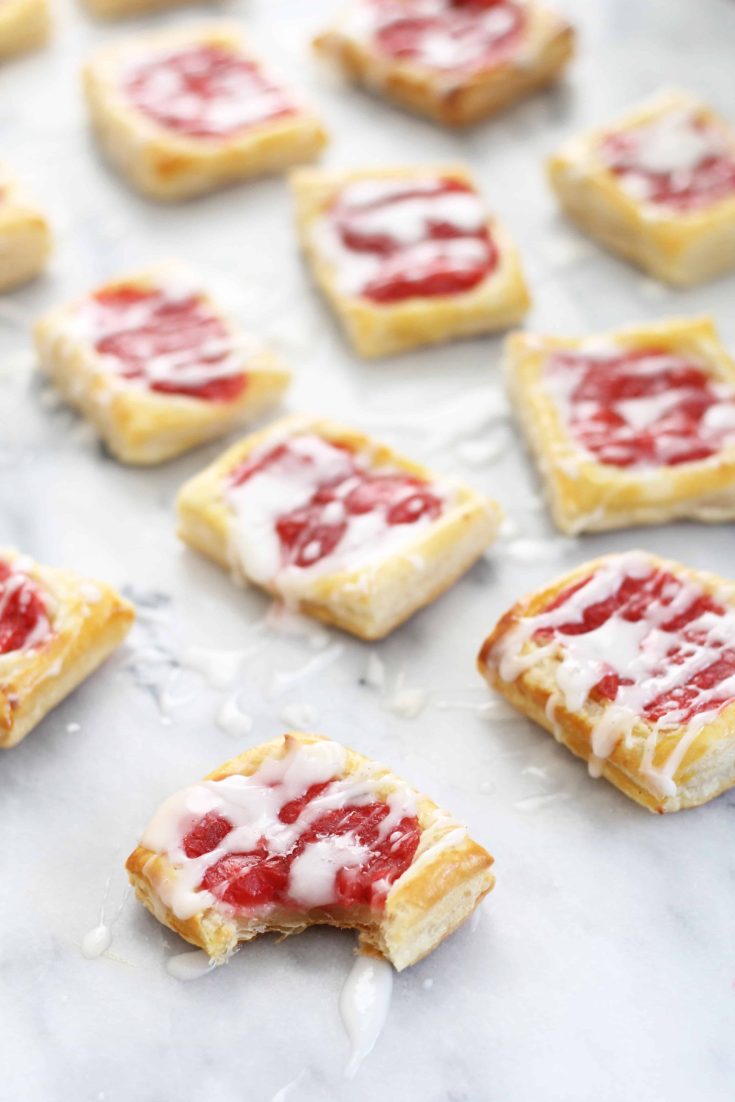 Puff Pastry. I have entered the world of frozen, store-bought puff pastry and now I'm not sure I can turn back. I never have tried the stuff before because I always prefer to make things from scratch so that's the route I've taken. I'm madly in love with this Quick Puff Pastry recipe, and have made Homemade Croissants enough times to appreciate the work that goes into a dough like that. But…store-bought frozen puff pastry means that I can have danishes in about 20 minutes and well, I have a 2 year old who never stops moving and a new baby. So frozen it is!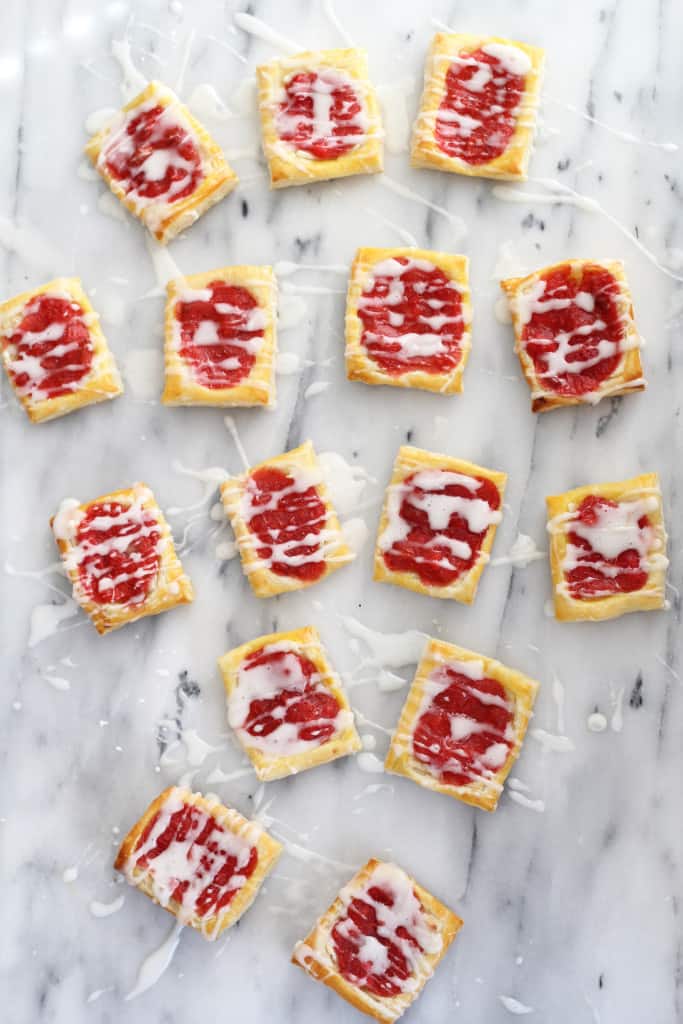 These danishes are inspired by a Strawberry Rhubarb Croissant I ate at Bouchon, Thomas Keller's bakery here in NYC. It had a layer of sweet almond filling topped with some tart strawberry/rhubarb compote. That paired with the flaky pastry was just perfection. I've been thinking about it ever since and this was my chance to get those flavors back together for a grand reunion. Man oh man were these good. I absolutely love them. So much that I think I ate 5 the first day. (There weren't any left the second day.)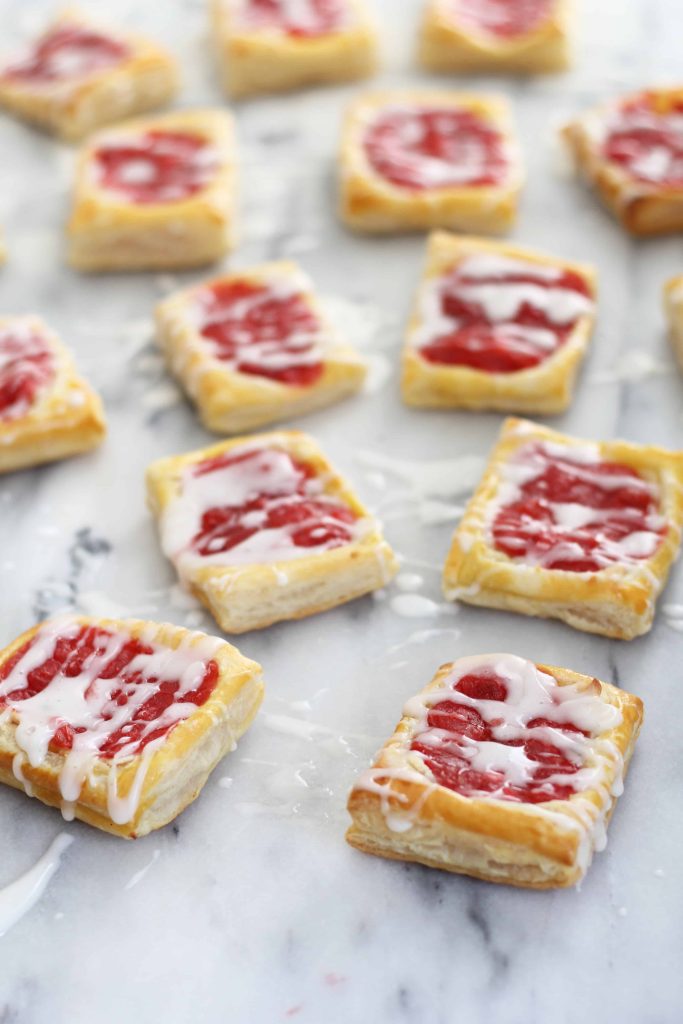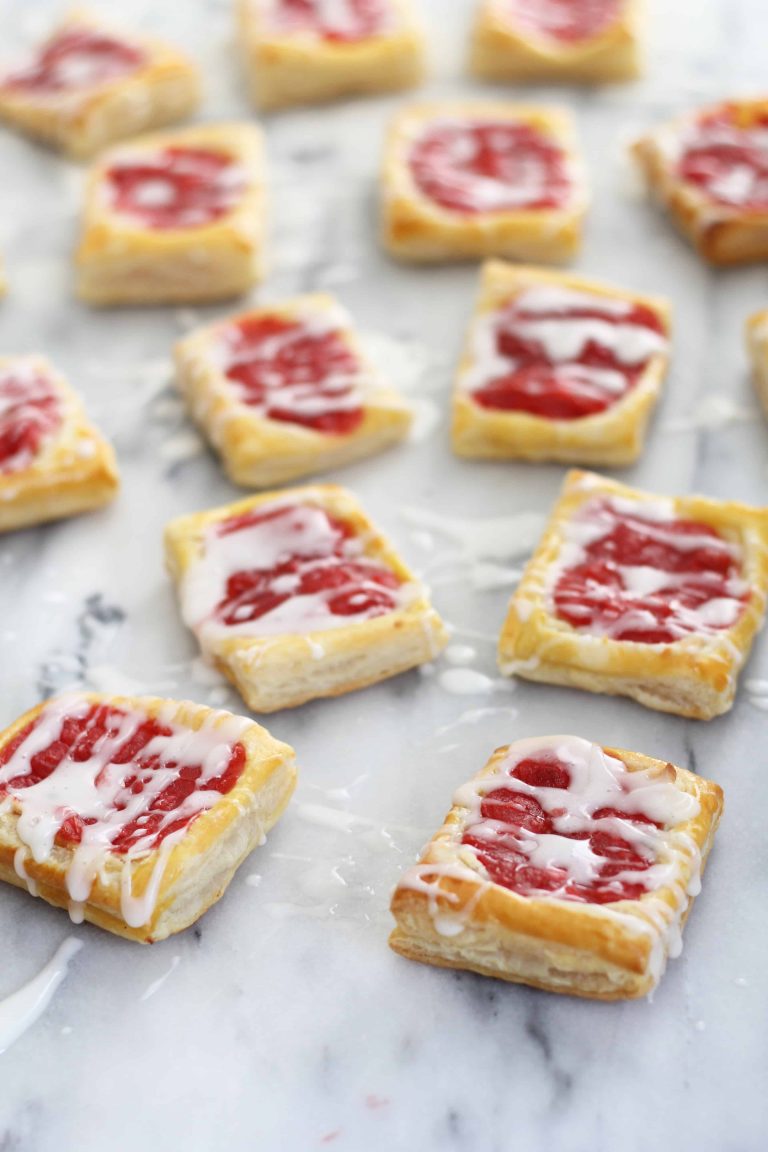 Using puff pastry makes these so.freaking.easy. I had made some Strawberry Rhubarb Compote a few days before so I just layered some almond paste, (this was my first time using it, it comes in a block that you slice and then place right on the dough,) a dollop of the compote and then bake them right up. Once they're out of the oven they get drizzled with a simple glaze and you're good to go. Fresh from the oven these are spring, fruity, buttery perfection. Enjoy!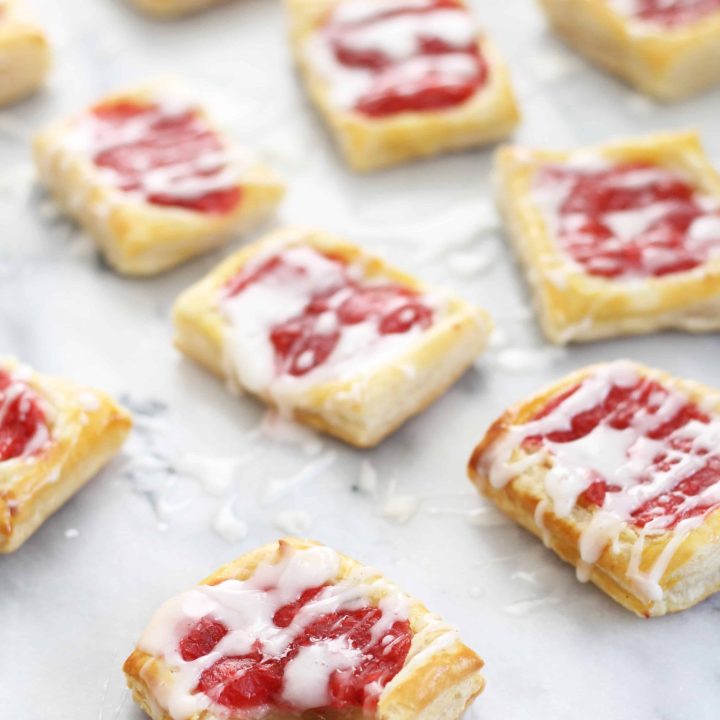 Strawberry Rhubarb Almond Danishes
Quick and easy strawberry danishes using puff pastry and strawberry jam.
Ingredients
1 sheet of frozen puff pastry, thawed slightly*
1/4 cup almond paste
1 egg yolk for brushing
For the glaze:
1/2 cup powdered sugar
few drops of milk
few drops of vanilla extract
Instructions
Roll the puff pastry sheet out slightly and cut into 16 even rectangles. Using a sharp paring knife, score a smaller rectangle on the inside of each one, being careful not to cut all the way through. You just want to create a little border so the outside edge puffs up.
Thinly slice the almond paste and place a small piece on the inside of each piece of pastry. Dollop a little compote on the inside of each one and use the back of a spoon to spread it to the edge.
Brush egg yolk along the border of each pastry. Bake for 15 minutes or until puffed and golden.
Whisk together the powdered sugar, milk, and vanilla until a thick glaze forms. Drizzle over pastries and enjoy warm.
Notes
*The full recipe for the compote makes much more than 1/2 cup- feel free to cut the recipe in half, or just make it all and top your yogurt, pancakes, etc with it!