Strawberry Rhubarb Cupcakes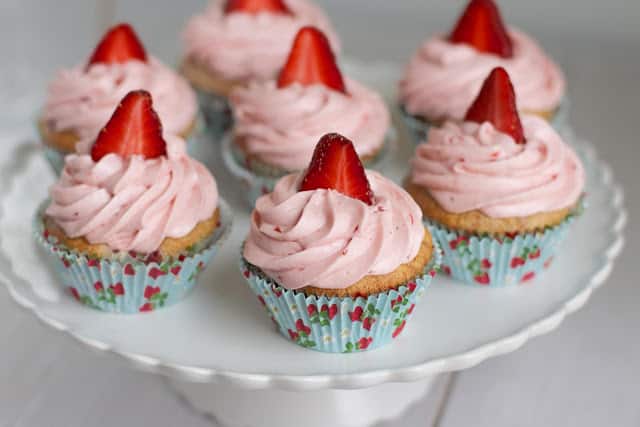 People always ask me where I get the inspiration for the recipes I make on the blog. Usually it's either something I've been craving, or a version of something I've seen in a magazine, cookbook or blog. But these cupcakes were 100% inspired by a something totally different…
Cupcake liners.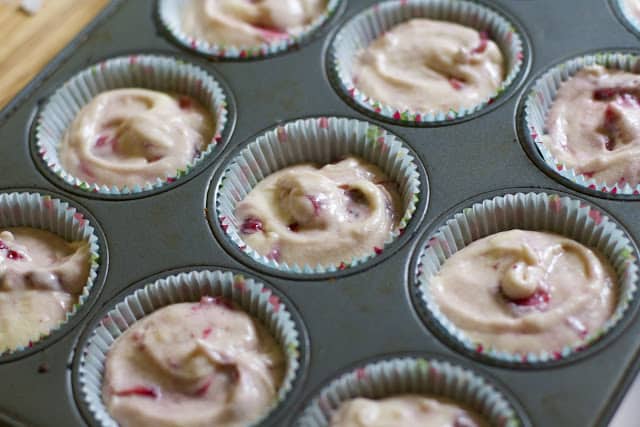 Yup- that's right- my friend Rebecca thoughtfully gave me a pack of these cute strawberry liners a few months ago and I've been dying to use them ever since. (I know these pictures don't really show the pattern off, but it's cute little berries and blossoms. I die!)
Since rhubarb season seems to be coming to an end, and since I happened to have plenty of Strawberry Rhubarb Compote leftover, I thought it would be the perfect thing to bake into a cupcake.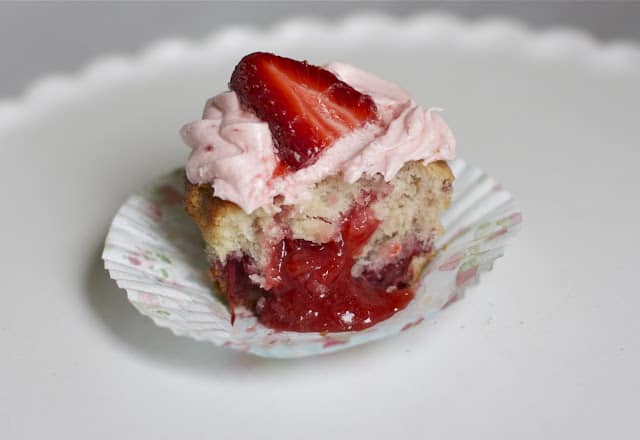 I started with a soft and flavorful strawberry cupcake that had chopped up berries swirled into the fluffy batter. Once baked, I cored out a little bit of each cake and filled it with a dollop of the compote. More compote was swirled into the frosting, and they were topped with juicy strawberry slices.
I brought these to my friend Natalie's birthday party and everyone went nuts for them. I loved that no one was expecting them to have a filling so there were plenty of "Oohs" and "Ahs" as they took the first bite. (Isn't other people loving things you bake the best?)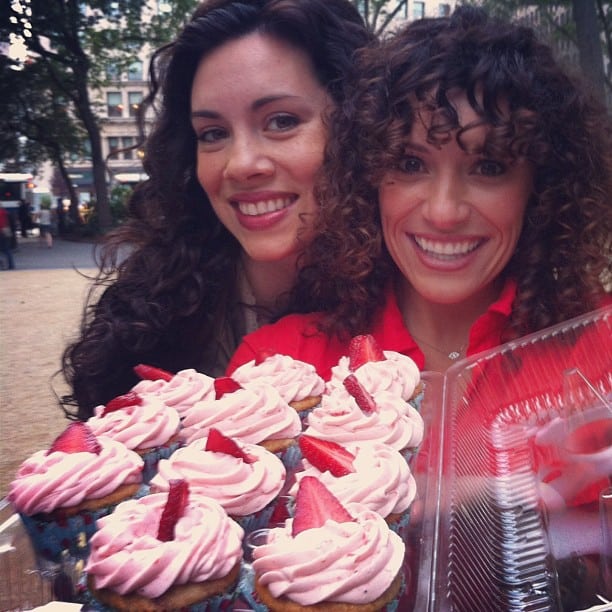 As complex as this recipe may seem, it really isn't at all. Since the compote is used for the cupcakes and the frosting, it makes everything much easier. The cupcake batter comes together in no time, and after a quick chill in the freezer, they'll be ready to core and fill. A simple butter cream is easy to whip up, mix in a few spoons of compote and you're ready to go!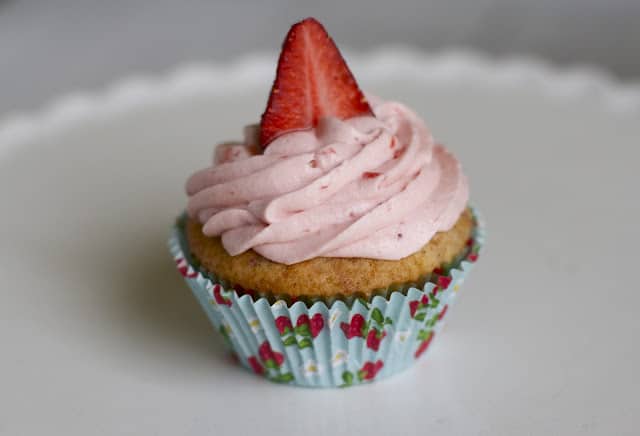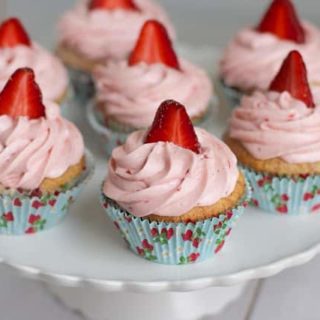 Strawberry Rhubarb Cupcakes
Ingredients
2 3/4 cups all-purpose flour
1/2 cup cake flour, (not self-rising)
1 tablespoon baking powder
1 teaspoon salt
8 ounces 2 sticks unsalted butter, softened
2 1/4 cups sugar
3 large eggs
1 large egg white
1 cup whole milk
1 1/2 teaspoons pure vanilla extract
2 cups finely chopped strawberries, plus more for garnish
1 batch of Strawberry Rhubarb Compote
3 sticks of unsalted butter., 16 oz. room temperature
6-8 cups of powdered sugar
Instructions
To make the cupcakes, preheat the oven to 350? F. Line cupcake pans with paper liners.
In a medium bowl, combine the all-purpose flour, cake flour, baking powder and salt; whisk to blend.
In a large bowl, combine the butter, sugar and vanilla. Beat on medium-high speed until light and fluffy, about 3 minutes.
Beat in the eggs and egg white one at a time, mixing well after each addition and scraping down the sides of the bowl as needed.
With the mixer on low speed, add the flour mixture in two additions alternating with the milk, mixing each addition just until incorporated. Gently fold in the chopped strawberries with a spatula.
Divide the batter between the paper liners, filling each about ¾-full. Bake until light golden and a toothpick inserted in the center comes out clean, about 25-28 minutes, rotating the pans halfway through baking if they are browning unevenly.
Allow to cool in the pans a few minutes, then transfer to a wire rack to cool completely. (Or just put the whole pan in the freezer like I do!)
Once the cupcakes are cooled, with a paring knife use the "cone method" to core out a cone-shaped piece of cake. Angle the knife, and carve out a circle in the top of the cupcake.
Remove the cone, slice off the top and fill the cupcake with a tablespoon of compote. Place the top back on the cake and repeat with the others.
For the frosting:
Place butter in a medium sized bowl, and using an electric mixer, beat on medium-high speed until fluffy. Gradually add in the powdered sugar until thick. (Mixture may be dry at this point.)
Add a tablespoon at a time of the compote until frosting has reached a good piping/spreading consistency. (I think 2-3 tablespoons is perfect.)
Spread or pipe frosting on cupcakes and garnish cupcakes with a slice of fresh strawberry.
Notes
If rhubarb isn't your thing. (or you just can't find it,) leave it out and make all-strawberry compote. Just adjust the sugar level as you won't need nearly as much without the tart rhubarb. I think 1/4 cup would be plenty unless your berries are very sour!
Nutrition Information:
Yield: 34 Serving Size: 1 grams
Amount Per Serving: Unsaturated Fat: 0g
Cake recipe adapted from: Martha Stewart Cupcakes