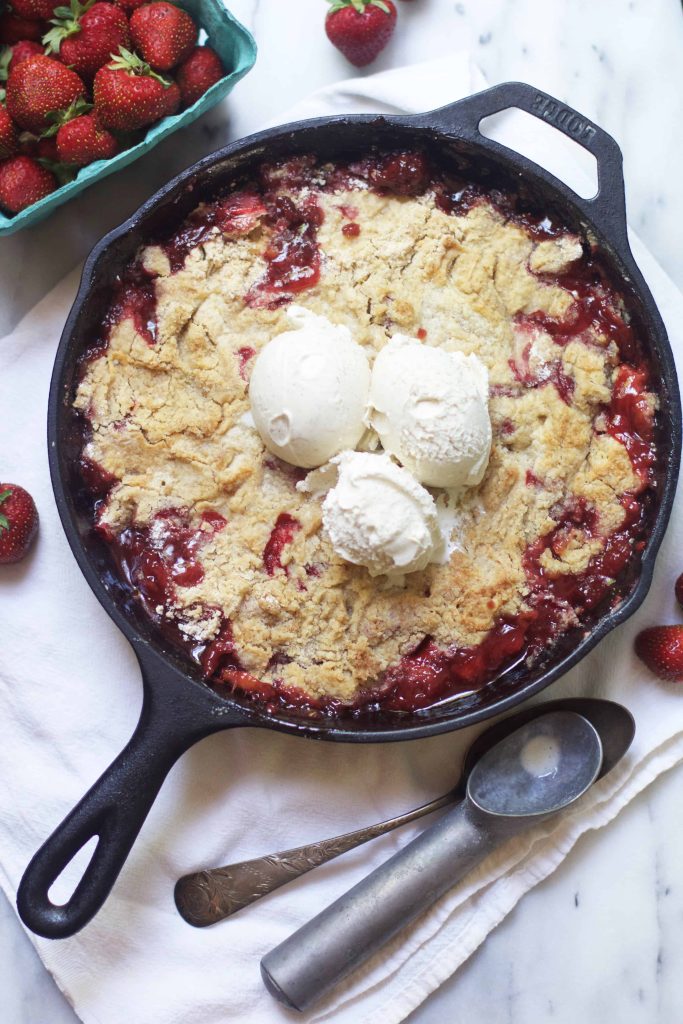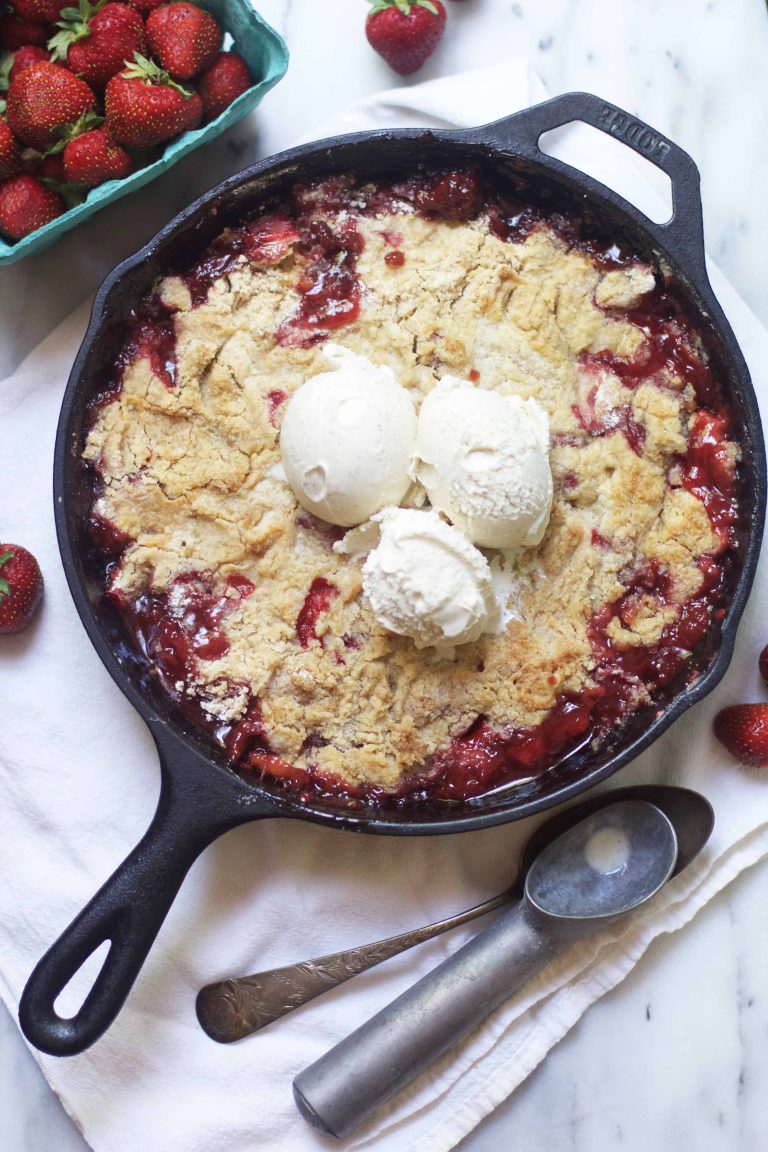 We've all been there, you're down to the wire, company is coming over with little notice and you need a dessert. (Ok maybe we haven't all been there but I seem to be a lot!) You want something super fast, impressive, but one that will require little effort, (even more so with a toddler at your heels!) If you haven't heard of "dump cake," ignore the unfortunate name and just trust me that it's the best. The idea here is that you literally just "dump" all the of the ingredients into the pan and bake. What comes out is a perfect, cobbler like cake with a thick fruit layer and a soft and tender topping. It seems just as fancy as the cobblers and crisps that take a little more work but in this case it's easy as pie. (Actually way easier than pie…pie isn't always that easy right?)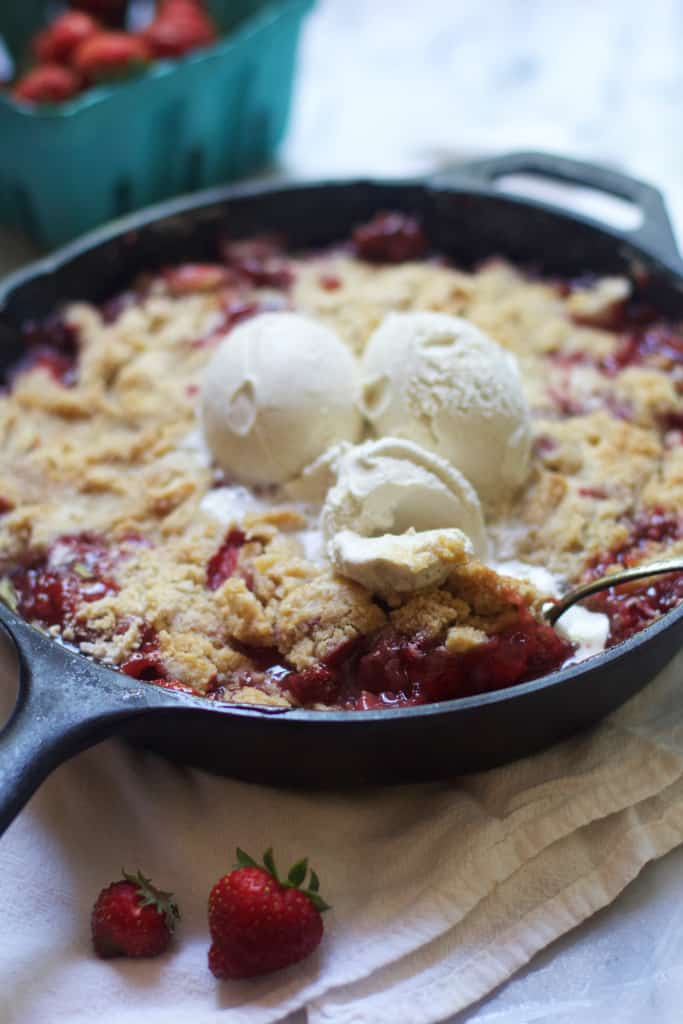 Now I have to confess that the original concept of dump cake is a whole step easier than the recipe I'm sharing with you. You toss the fruit into the pan, sprinkle with sugar and corn starch, dump some yellow cake mix top, dot with butter and call it a day. People seem to adore this combo and you could totally go that route, but I like to complicate things so I make my own "cake mix" to toss on top. I'm not a cake mix person and never have it on hand so rather than buy a box I'd probably never use again- I simply mixed some flour, brown sugar and baking powder for the "mix," and it worked great. Dot with little bits of butter and you're good to go.
As you can imagine the fruit options with this type of dessert are endless. Peaches would be divine (and I plan to try that for sure.) as would any other berry, apples, cherries etc. I am going to be really honest and confess that Andy and I ate this entire thing in a 24 hour span. We have a bit of a weakness for fruity desserts what can I say? :)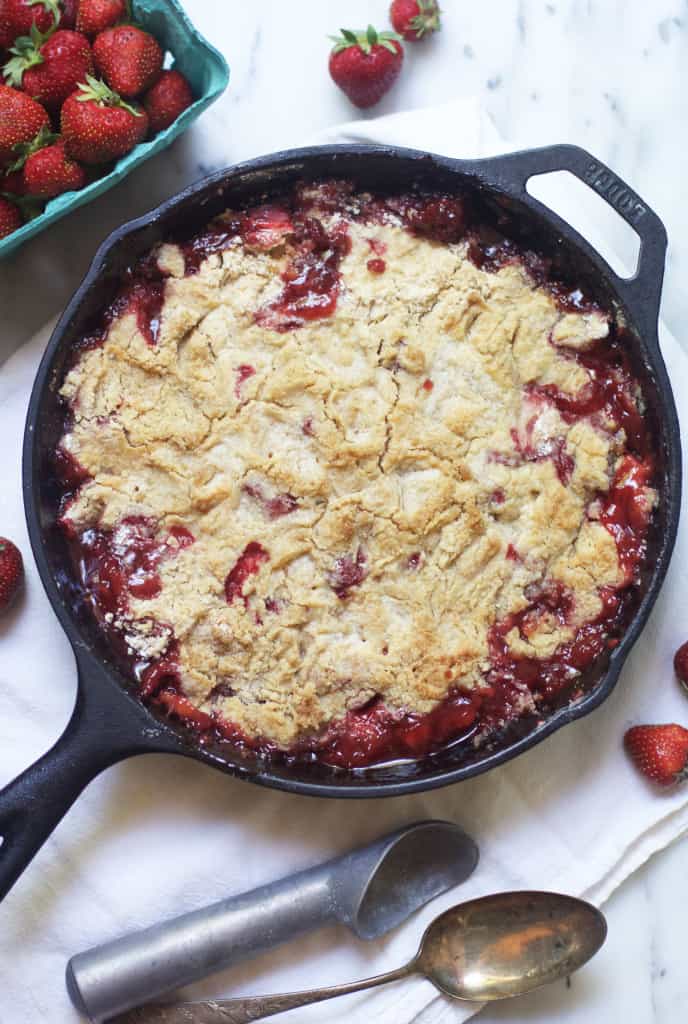 Strawberry Rhubarb Dump Cake
Ingredients
6 cups of strawberries, hulled and quartered
2 stalks of rhubarb, sliced (about 2 cups)
½ cup of sugar
2 tablespoons cornstartch
1 and ¼ cups flour
¾ cup brown sugar
1 teaspoon baking powder
½ teaspoon salt
1 stick of unsalted butter, cut into small pieces
Instructions
Preheat oven to 350F. "Dump" the strawberries and rhubarb into a 9inch skillet, pie dish or a square baking dish. Sprinkle evenly with sugar and cornstarch.
In a small bowl stir together the flour, brown sugar, baking powder and salt. Sprinkle evenly over the fruit mixture. Dot with the butter pieces, making sure they are evenly places over the dry mixture.
Bake for 45-55 minutes, or until the fruit is bubbly and thick, and the topping is golden and slightly crisp.
Serve warm with ice cream.