Strawberry Rhubarb Slab Pie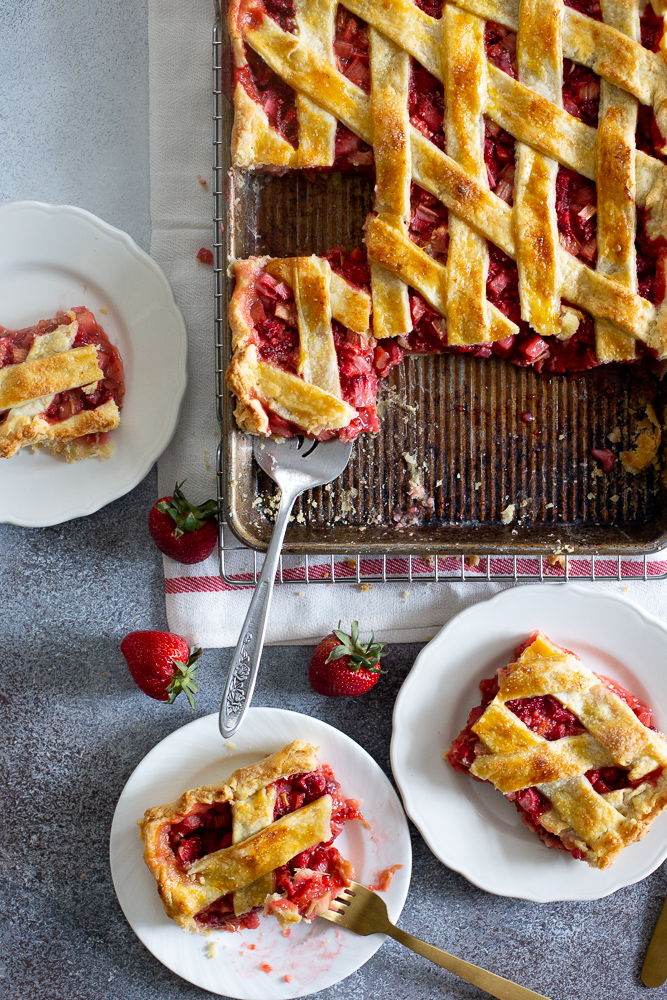 It's no secret that I love the strawberry rhubarb combo to the max. The minute I see the ruby red stalks at the store I grab a large bunch and get scheming.
In the past I have shared a classic Strawberry Rhubarb Pie, but that was before I discovered how to best thicken pie filling when using berries and that filling was too juicy for a slab pie.
The goal was to be able to pack the slices up for a picnic- and easily eat it by hand- just pick it up and enjoy you know?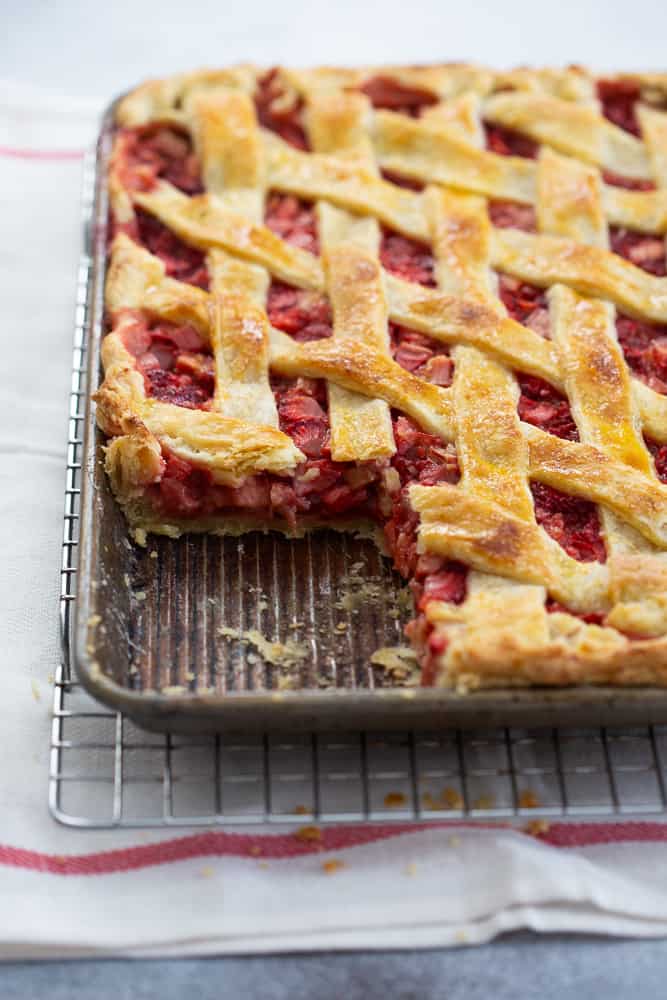 Strawberry Rhubarb Slab Pie is perfect for a picnic, cookout, or any event where you are looking for a utensil-free dessert that is full of spring-y flavors. (You can of course eat this with a fork, but the crust is sturdy and it's totally snack-able.)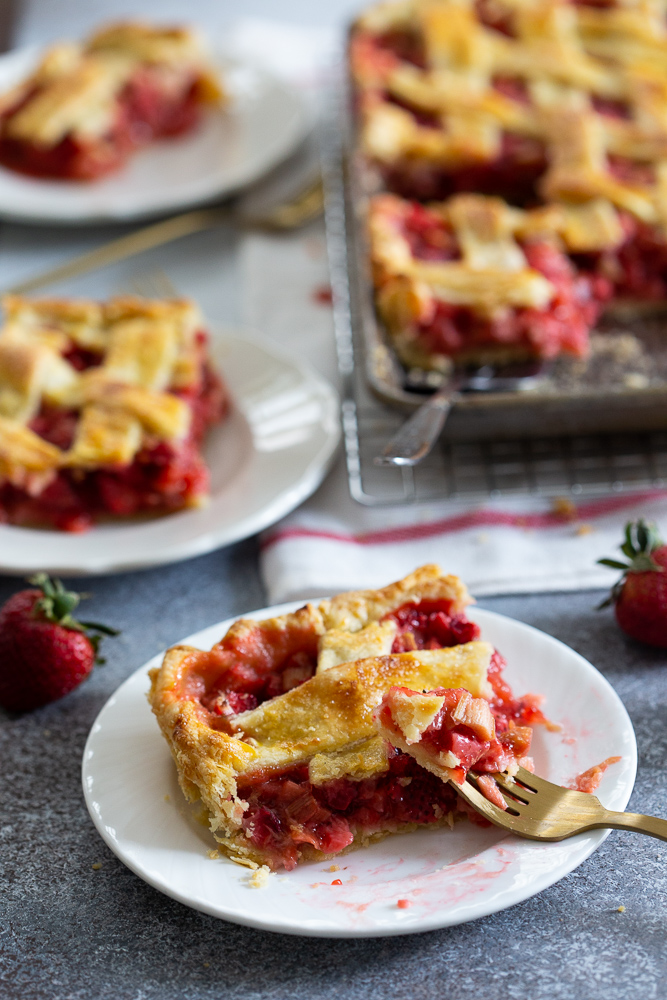 I purposely added minimal sugar to this recipe so I could really enjoy the sweet/tart strawberry rhubarb combo, but you can add more if desired. As is, it's not too sweet to be a breakfast pastry, but with a dollop of ice cream or whipped cream could be a fabulous dessert as well.
In terms of crust- I have been really into a new recipe lately that I just adore. It's the super flakey pie crust from Bravetart and it's all I've been using lately.
The crust doesn't hold fancy crimping or designs as well as my normal pie crust, but for something simple like this it's just the best.
The butter/flour ratio is much different than what I normally use (more butter, less flour,) and the result is flakey crust perfection. Try it out and let me know what you think!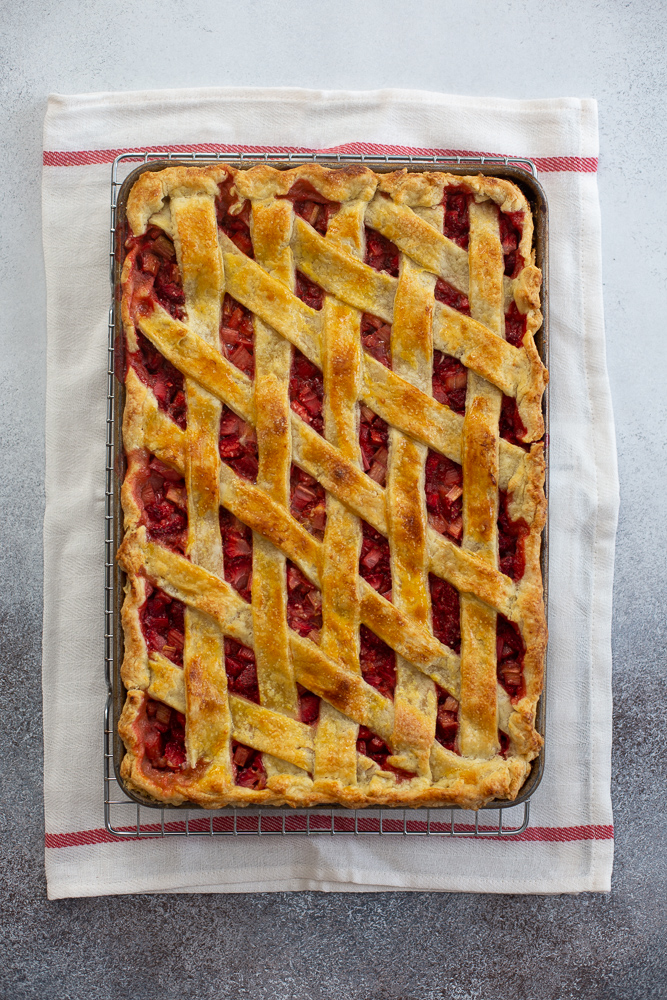 A note about pie thickener:
If you love berry pies as much as I do I strongly recommend getting your hands on some instant tapioca or tapioca starch (which is just instant tapioca ground to a powder.) Both work exceptionally well at absorbing excess liquid so your crust doesn't end up a soggy mess. For this recipe I used enough to make sure the pieces were solid and not so juicy it was a mess to eat by picking it up, but for a juicier pie you could use less. I buy this from Amazon and it lasts me for a couple years of fruit pie baking.
A note about the pan:
I like my quarter sheet pan for its high edges which keep the crust and filling nicely contained. This is the one I use!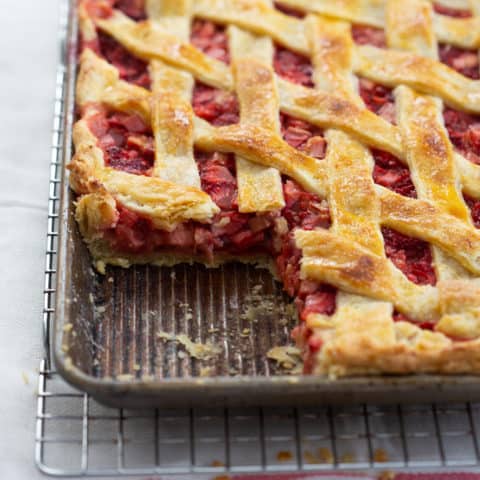 Strawberry Rhubarb Slab Pie
A beautiful spring pie baked in a sheet pan- perfect for packing up for a picnic!
Ingredients
For the crust:
3 cups (390 g) all-purpose flour
1.5 tablespoon (22.5 g) granulated sugar
1 teaspoon fine sea or table salt
1.5 cups (390 grams, 12 ounces, 3 sticks or 24 tablespoons) cold, unsalted butter
3/4 cup (180 grams) very cold water
For the filling:
4 cups diced rhubarb (about a lb.)
4 cups diced strawberries (about a lb.)
3/4 cup sugar* (200g)
juice of 1 lemon
3 tablespoons instant tapioca*
For the top of the crust:
1 egg, beaten
1-2 tablespoon sugar for sprinkling (fine or coarse is fine)
Instructions
For the crust:
Place your flour, sugar, and salt in a large bowl and whisk to combine.
Cut your butter into 1/2 inch cubes and add them into the flour mixture.
Toss them around so that they're coated and used your fingers to roughly smash each butter cube into flatter pieces. (Don't over mix it, just smash each piece flat and toss with flour.)
Pour the cold water over butter-flour mixture and knead until the dough forms a ball. (It may feel more sticky than normal but it's ok!)
Divide dough into two parts, and turn onto a well-floured work surface. Roll each section into a rectangle (I did about 8x11,) and then fold the rectangle into thirds, then then in half, and wrap in plastic wrap.
Chill in the fridge until firm — one to two hours. (I usually do a little freezer time here if I'm in a pinch.)
!For the filling:
In a large bowl, combine the strawberries, rhubarb, sugar, lemon juice, and tapioca. Toss to combine and set aside until the crust is ready.
!To assemble:
Preheat oven to 425F.
Roll out one half of the dough to an 11x15 rectangle and transfer it to your quarter sheet pan. Gently press the crust up the sides and along the bottom.
Spoon in the filling and spread to the edges.
For the top crust, either simply roll out the second sheet and seal the edges, or cut into strips for a lattice top.
Brush crust with the beaten egg and sprinkle with sugar.
Bake for about 45 minutes, or until the filling seems bubbly and juicy. If the crust is getting too dark, lay a piece of tin foil over the top of the pie while the filling finishes cooking.
Allow to cool before slicing.
Notes
*3/4 cup sugar in the filling yields a pie that is sweet but not too sweet at all. I really wanted the tart rhubarb to shine so this is perfect for me. With some ice cream on top it's a wonderful dessert, or by itself it's mild enough for breakfast. If you want a sweeter pie- you could up it to a full cup.
Crust recipe from Bravetart.
Pin Strawberry Rhubarb Slab Pie for later!