Sweet Cherry Buttermilk Cake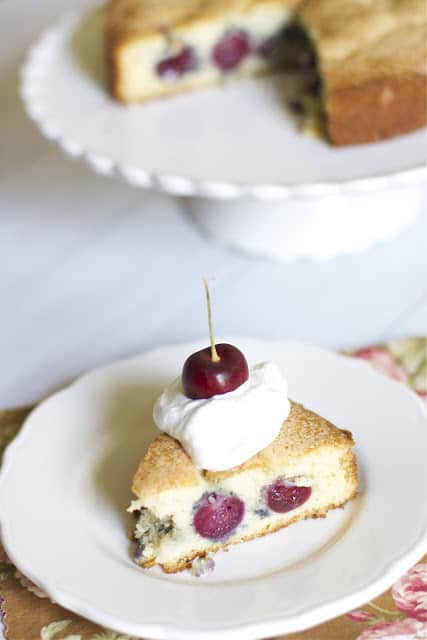 You guys it is happening. My wedding is in 6 weeks and I am going a little bit crazy. I really had hoped I would avoid getting too stressed out during this time by starting my projects early and staying super organized. I made my table numbers back in February, started my DIY table runners months ago, and have planned the homemade soy candles my Mom and I are making since April. Yet here we are, 6 weeks to go, and my home looks like a craft-tornado has swept through.
I know this is my fault, as I continue to come up with ideas for new projects. I'm now hand-making 160 dinner napkins to later be turned into a quilt, and I just finished hand cutting-fusing and gluing 160 little "Yay!" flags to be handed out before the ceremony. Yeah- I am really using my time wisely huh? I just can't help it…since my wedding is in Milwaukee and I can't do many of the actual important stuff, I'm left to create more and more craft projects to keep me busy here in New York.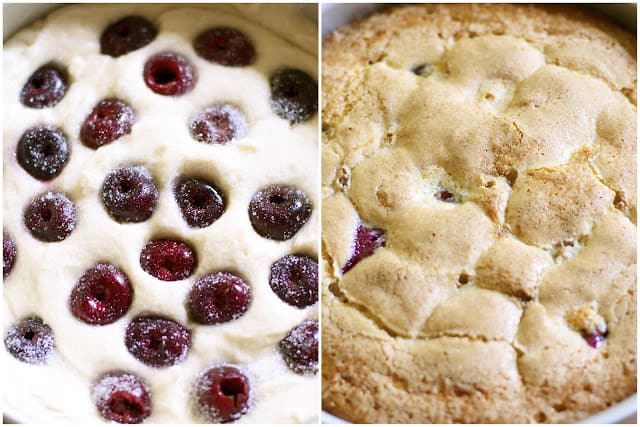 My point? I feel like the time of my day that I usually devote to baking, dessert-creating, blog-commenting, and maybe making some new photo backdrops is now spent sewing, cutting, gluing and searching Etsy for a sash that will go with my dress. Please don't stop liking me if I can't post as often the next few weeks OK?? And on that note- I will try to post a couple tutorials for some of the crafts I think you'll like best as well as a recap of all my projects. Maybe if you are involved in the mayhem you'll understand. :)
Onto the cake… I made this super simple Cherry Buttermilk Cake when my dear friend Bertie was coming over to help me make table runners, and we needed something fruity and delicious to snack on. I had a bag of juicy cherries waiting and I thought this recipe would be perfect. I've made a strawberry version before, and I remember this being one of the easiest desserts to whip up ever!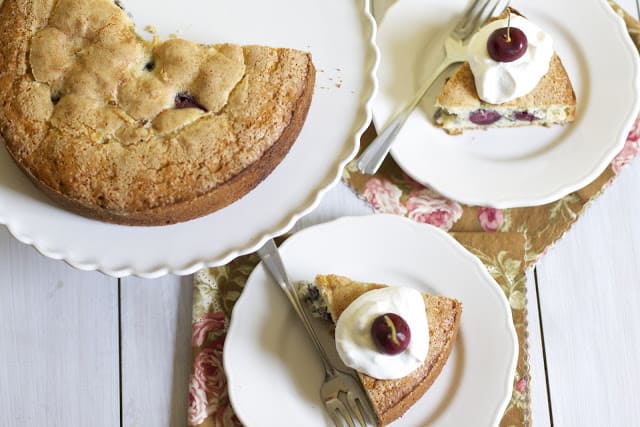 I chose to reduce the sugar of this not-too-sweet dessert even more so it was better for breakfast and also let the cherries shine. A quick dollop of fresh whipped cream and a cherry on top were perfect and I thought this cake was delicious with a side of iced coffee. The sprinkling of sugar on top creates a delicious crust which contrasts nicely with the soft cake and juicy cherries.
Anyway- thanks for listening to me ramble.. :)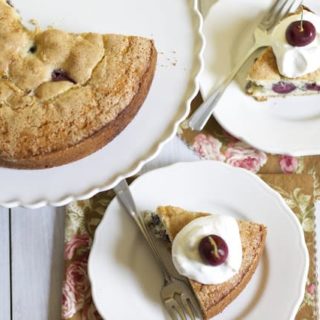 Sweet Cherry Buttermilk Cake
Ingredients
1 cup all-purpose flour
1/2 teaspoon baking powder
1/2 teaspoon baking soda
1/4 teaspoon salt
1/2 stick unsalted butter, softened
1/2 cup plus 1 1/2 tablespoons sugar, divided
1/2 teaspoon pure vanilla extract, almond extract would also be great with these flavors
1 large egg, room temperature
1/2 cup well-shaken buttermilk
1 cup pitted cherries
whipped cream and cherries for garnish, optional
Instructions
Preheat oven to 400°F with rack in middle. Butter, flour and parchment a 9-inch round cake pan.
Whisk together flour, baking powder, baking soda, and salt.
Beat butter and 1/2 cup sugar with an electric mixer at medium-high
speed until pale and fluffy, about 2 minutes, then beat in vanilla. Add
egg and beat well.
At low speed, mix in flour mixture in 3 batches, alternating with
buttermilk, beginning and ending with flour, and mixing until just
combined.
Spoon batter into cake pan, smoothing top. Scatter cherries evenly over top and sprinkle with remaining 1 1/2 Tbsp sugar.
Bake until cake is golden and a cake tester/toothpick inserted into
center comes out clean, 25 to 30 minutes. Cool in pan 10 minutes, then
turn out onto a rack and cool until room temperature.
Cake can be served warm, but if you plan to top it with whipped cream, allow it to cool all the way.
Nutrition Information:
Yield:

1
Serving Size:

1 grams
Amount Per Serving:
Unsaturated Fat:

0g
Recipe adapted from Gourmet