Sweet Corn & Zucchini Chowder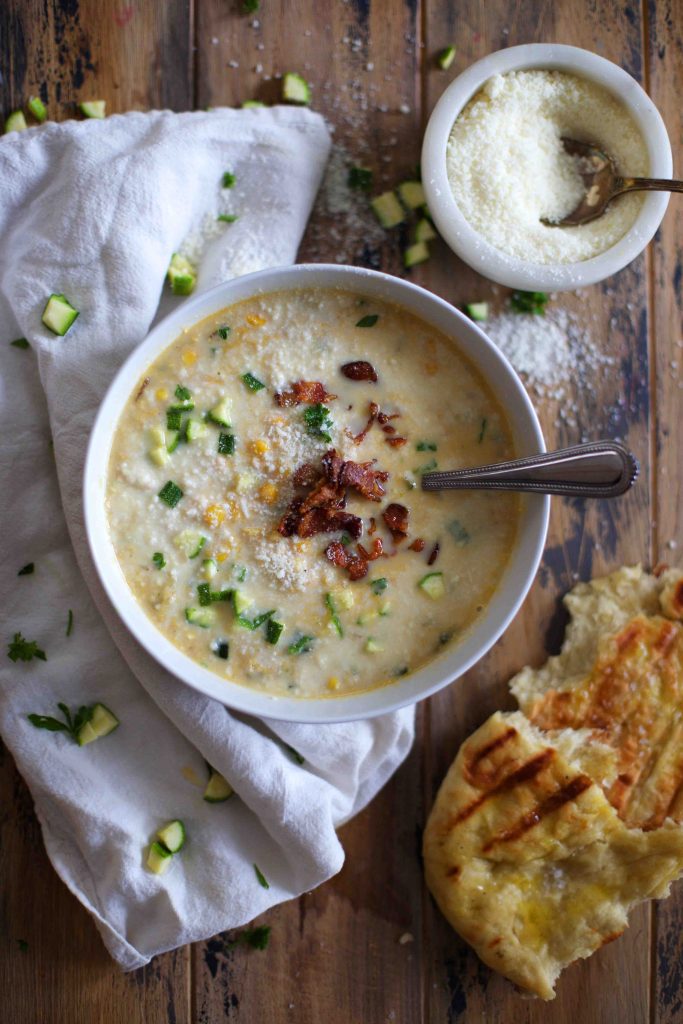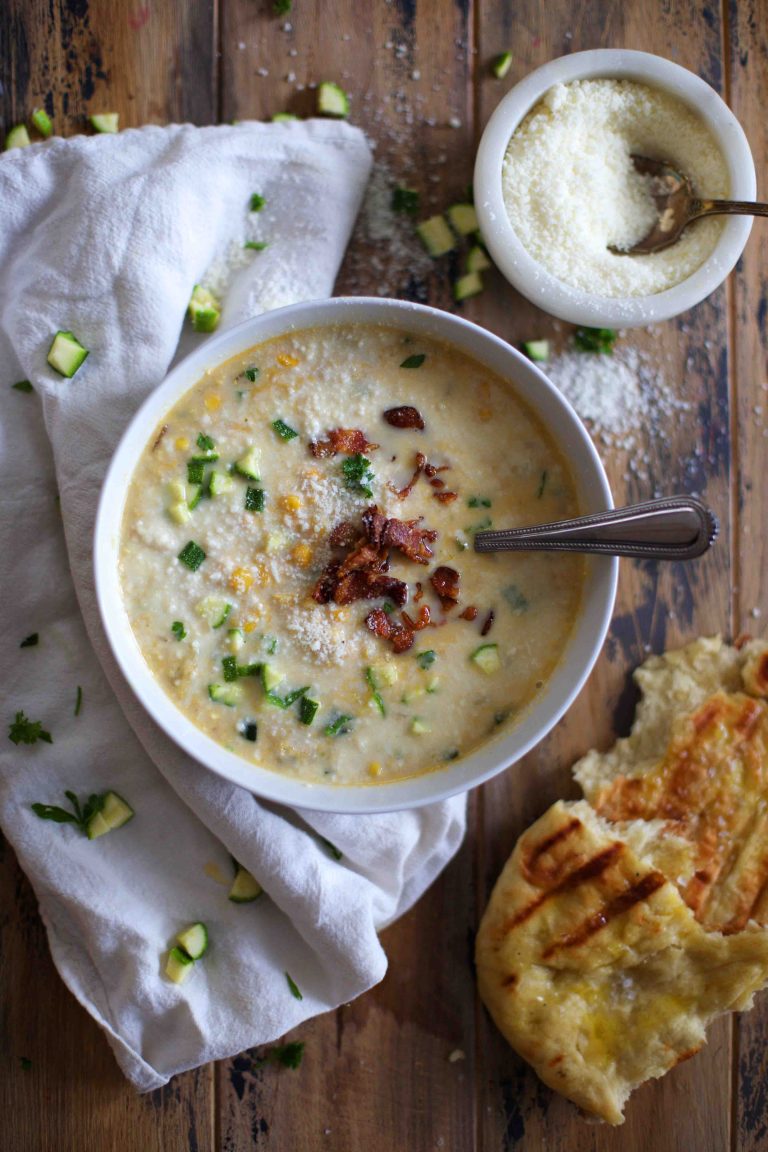 Soup in the summer: yay or nay?
I'm in the yay camp, because soup is the perfect vessel for including all the seasonal ingredients you have on hand and need to use up. I love throwing a soup together with whatever I have on hand, and that includes delicious summer veggies like corn, peppers, and zucchini.
All the veggies I used for this soup was either garden grown or bought from our farmer's market and that is summer dinner goals for me!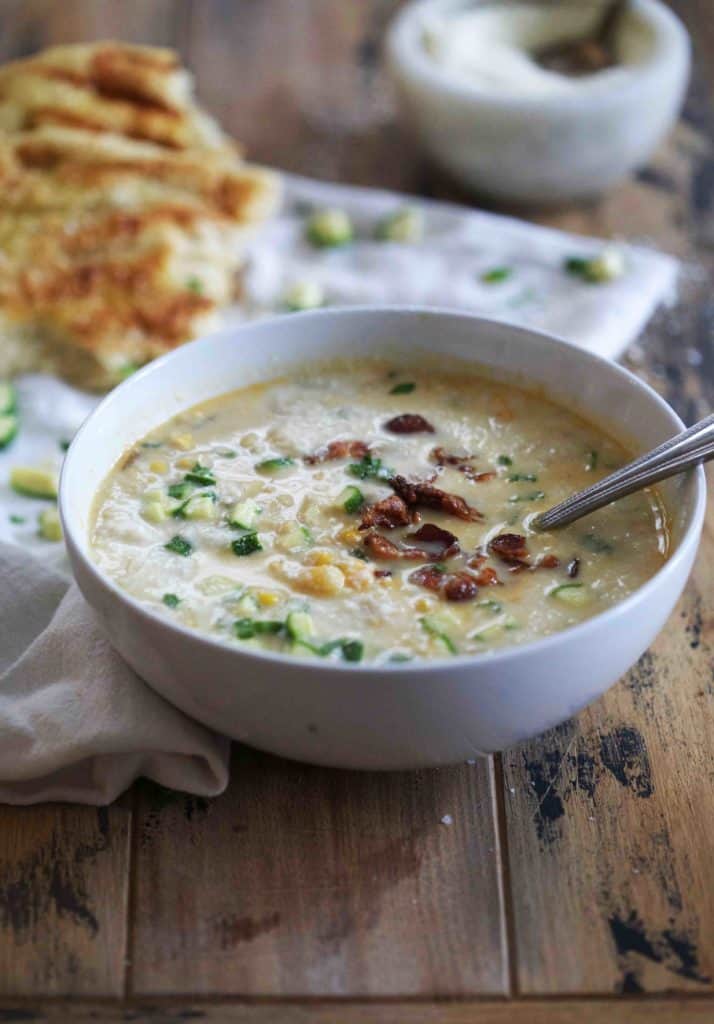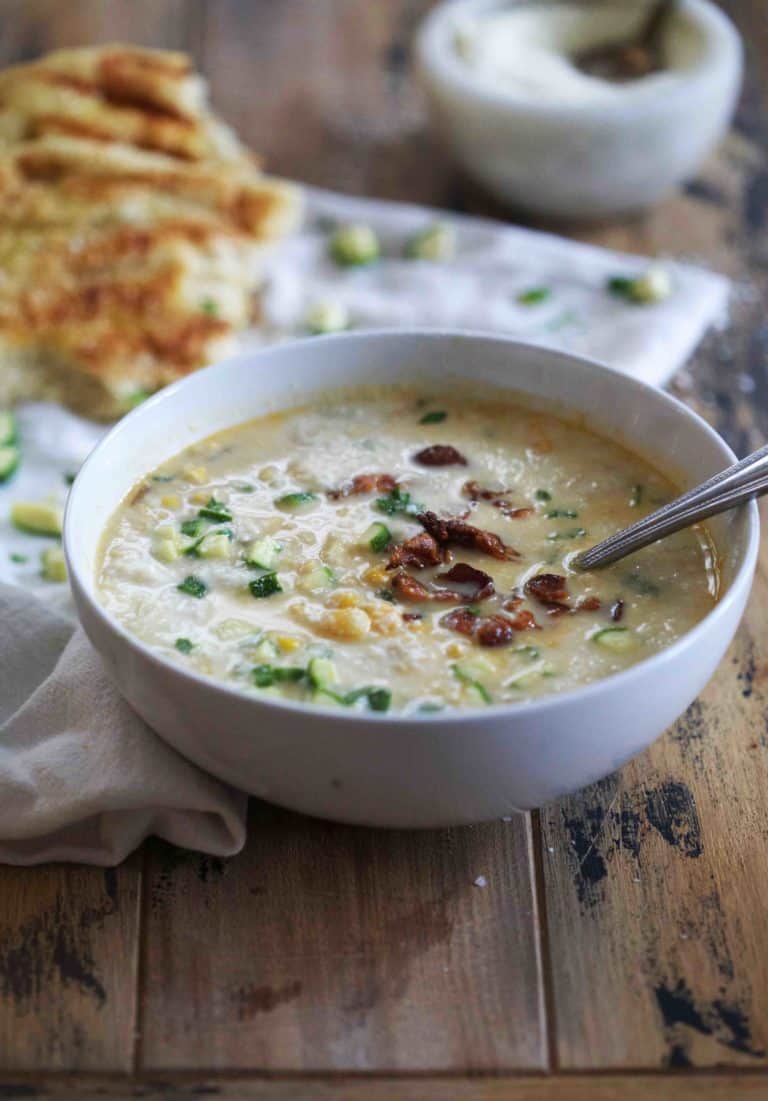 This soup comes together easily, starting with cooking a little bacon and then saving it to sprinkle on the top of the soup. The veggies are cooked in the same pan, with half the corn pureéd to give it a creamier texture. Some broth is added, a little half and half gets stirred in, and you're good to go! We sprinkled the reserved bacon and a bit of cotija cheese on top, but you could use feta or whatever you had on hand that sounded good.
This soup was a hit with my whole family, and we loved the Grilled Flatbread on the side for dipping. Dinner plans: check!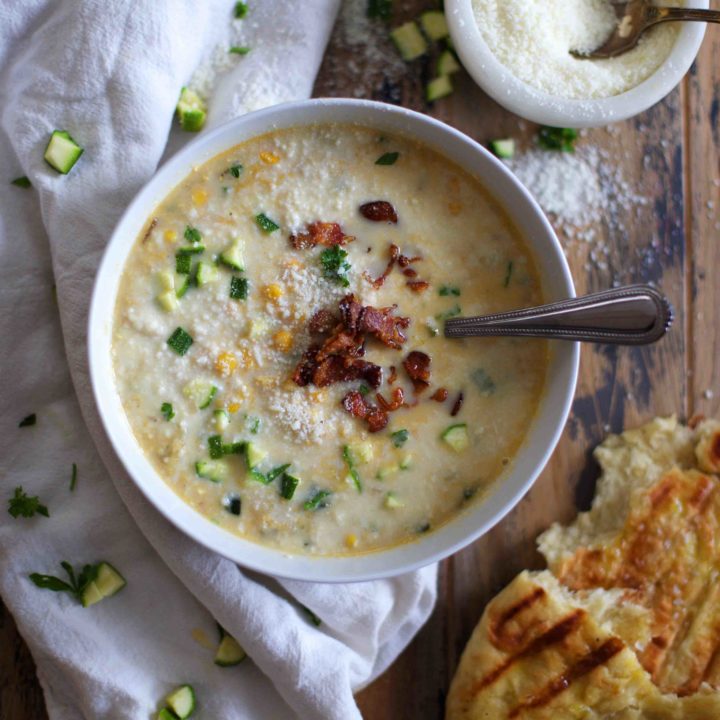 Sweet Corn & Zucchini Chowder
Ingredients
6 slices of bacon, diced
1 medium onion, small diced
1 cup of diced poblano peppers (other mild peppers would work too)
2 small/medium zucchini, small diced
1 teaspoon smoked paprika
salt and pepper to taste
2 tablespoons butter
2 tablespoons flour
4 cups chicken broth
7 medium ears of corn, husked and cut off the cob*
1 cup half and half
Cotija, Feta, or other cheese for topping
Instructions
In a large pot over medium-high heat, cook the bacon until crispy. Remove the bacon with a slotted spoon onto a paper towel-lined plate and set aside.
Add the onion and pepper to the bacon grease and cook for 5 minutes, or until soft and slightly browned. Add the zucchini and cook for a few minutes until golden.
Add the smoked paprika, salt and pepper and stir to combine. Add 2 tablespoons of butter and stir to melt and coat the veggies. Stir in the flour.
Add the broth, a little at a time, stirring as you go.
Add half the corn to the soup, and using a food processor or blender (I used my immersion blender in a tall jar,) roughly pureé the rest of the corn. Add it to the soup.
Bring the soup to a boil and then reduce the heat to low, simmering for a few minutes.
Before serving stir in the half and half, adding more salt or pepper to taste.
Top with crisped bacon and cheese.
Notes
*Make sure you scrape the cob with the back of a knife before tossing them to get all the corn "milk" and juices.