Sweet and Salty Peanut Butter Mousse Torte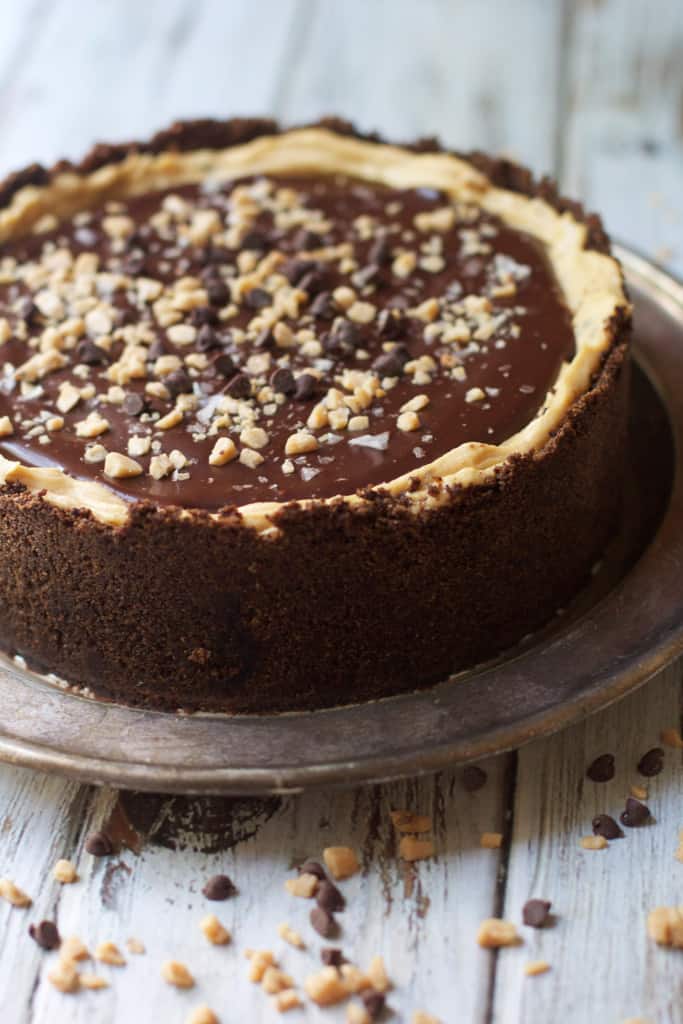 Oh man you guys. This dessert was too good to save to share with you guys. I had originally planned to post something else today but I was just too excited about this one to wait any longer. We devoured this yesterday at a little family cookout (I still can't believe we get to grill out here in NYC,) and I figured you'd all want the delicious recipe too.
I've been eyeing this on Annie's blog for years now, waiting for the right time to make it. What is better than a chocolate crust, creamy peanut butter filling, with crunchy bits throughout and a sprinkling of sea salt? Not much I can guarantee you and my family would agree!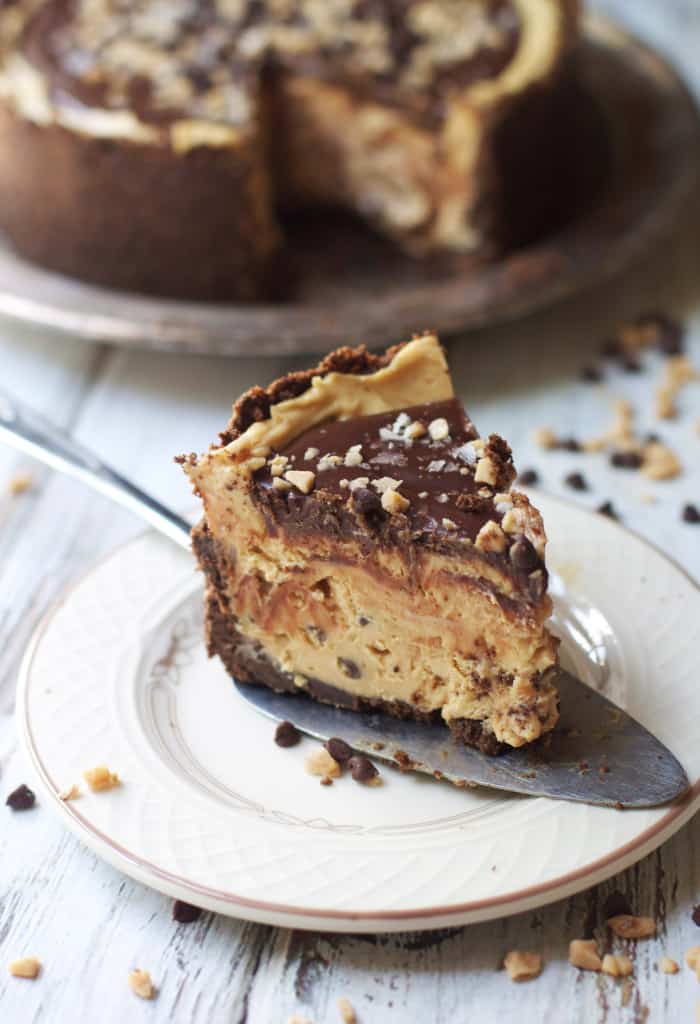 The original recipe uses chopped peanuts throughout the filling and as a topping. You may remember me saying how Andy doesn't do nuts- (creamy peanut butter is different I guess?) Anyway- I subbed the crunchy peanut mixture with a combo of crisp toffee bits, mini chocolate chips, and flaky sea salt. It is folded into the tart as well as sprinkled on top and it adds a wonderful element to the whole thing. I thought about leaving it out all together but am so glad I didn't. We all agreed the little bursts of flavor and texture throughout were awesome!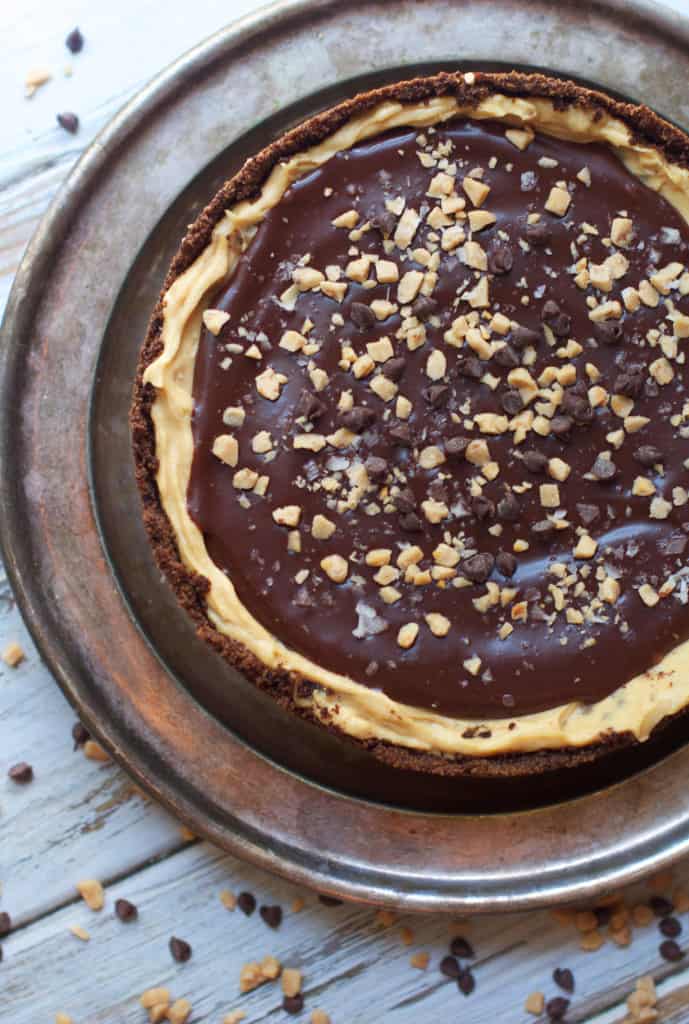 Though this torte is on the rich side for sure, but given that it's served cold it didn't seem too heavy for the warm weather. With the chocolate crust and thick ganache topping- this really tasted like a big slice of peanut butter cup- so creamy, so delicious. In a way it's similar to a no-bake cheesecake, but much creamier in texture. I loved it most when my slice sat out for a few minutes and got extra soft and creamy. Yum. What are you waiting for? Go make! :)
Sweet & Salty Peanut Butter Mousse Torte
Ingredients
For the crust:
2 1/2 cups finely processed cookie crumbs*
5 1/3 tbsp. unsalted butter, melted and cooled
pinch of salt
For the crunch:
½ cup toffee bits
½ cup mini chocolate chips
large pinch of flakey sea salt
For the filling:
2 cups heavy cream
12 oz. cream cheese, at room temperature
1½ cups creamy peanut butter
2 tbsp. whole milk
1¼ cups confectioners' sugar
For the topping:
½ cup heavy cream
4 oz. dark, or bittersweet chocolate, finely chopped
Sprinkling of toffee bits, mini chocolate chips and flakey sea salt for topping
Instructions
Preheat the oven to 350F. In a large bowl, combine the cookie crumbs, melted butter, and salt. Toss with a fork until well combined, and press crumb mixture into the bottom of a greased 9-inch springform pan.
Freeze for 10 minutes and then bake for 10 minutes. Allow to cool on a wire rack while you prepare the filling.
In the bowl of a stand mixer fitted with the whisk attachment, (chilling it helps,) whip the cream until medium-stiff peaks form. Transfer the whipped cream to a bowl and wipe out the stand mixer bowl. (You don't need to wash it.)
Switch to the paddle attachment and beat the cream cheese until perfectly smooth. Add the peanut butter, milk and powdered sugar, and beat until everything is very well combined.
Gently fold in about a quarter of the whipped cream with a spatula. Fold in the crunch mixture and then the rest of the whipped cream.
Spread the filling in the cooled crust and pop in the freezer for a few minutes or until the mousse has set. Cover with plastic wrap and chill for at least for hours or overnight.
To finish, place the chopped chocolate in a heatproof bowl over a small pot of simmering water (makeshift double boiler.) When the chocolate just starts to melt and get glossy, remove it from the heat and dump out the water.
Add the heavy cream to the pot and heat until boiling. Pour the cream over the chocolate and whisk until perfectly smooth.
Pour the ganache over the top of the filling and smooth with an offset spatula. Sprinkle with toffee bits, more mini chocolate chips and flakey sea salt.
Chill for a few minutes so the ganache can set- serve chilled.
Notes
* I used a mix of graham crackers and chocolate wafer cookies. I ended up using about 20 graham cracker squares and 30 chocolate wafers. You can also use 32 whole Oreo cookies, or a mixture of whatever you have on hand. Recipe adapted from: Annie's Eats
Nutrition Information:
Yield:

1
Serving Size:

1 grams
Amount Per Serving:
Unsaturated Fat:

0g