Tata's Homemade Pita Bread
My grandmother's recipe, a staple in our house growing up, this pita bread is crisp, fluffy perfection!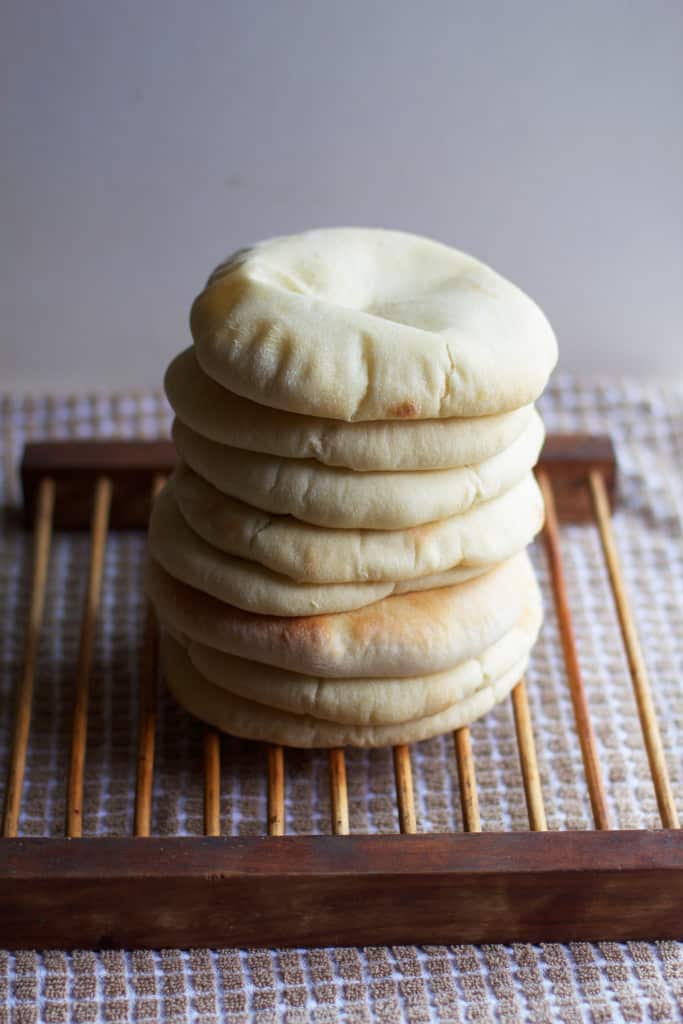 This didn't start with me. It started in Jordan sometime in the 1940s, or maybe it was actually Palestine- and several years before that. My paternal grandmother who we called "Tata Em Saleem," baked bread for her eleven children. Soft, puffy, and crispy rounds of pita bread that fed her family of thirteen.
When a family can't always afford things like meat or even milk, three ingredients were easier to come by: flour, water and yeast, (a teeny bit of salt & sugar too I suppose…) My Dad's fond memories of eating his Mom's bread with every meal translated to our kitchen table, where no meal was complete without a few toasty rounds of bread.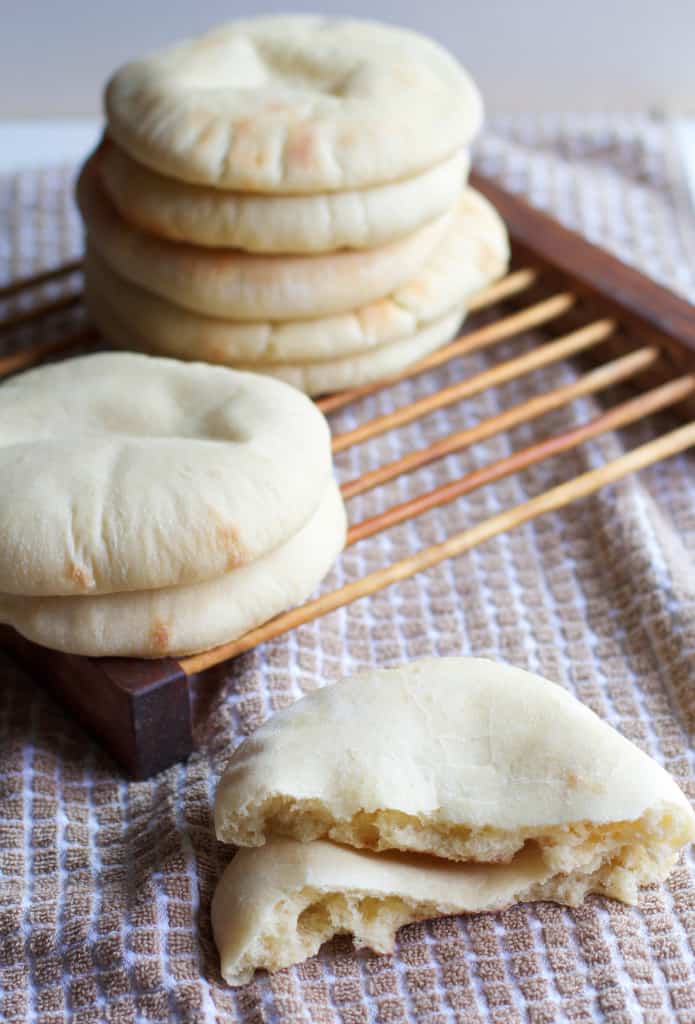 In our home, pita bread (called "khubez" in Arabic,) was more of a utensil than a side dish as most things we ate were dipped. As a result, my sisters & I grew up to be proficient "dippers," knowing how to use a piece of bread to accurately scoop up a bit of whatever delicious thing my parents had prepared.
Throughout the years I was able to taste this amazing homemade bread several times when either my Tata was visiting or one of my Aunties prepared it, but I always knew learning to bake it myself was a must. Luckily my Mom took notes on Tata's recipe from when she visited when I was a kid, and we worked from those notes to recreate this fluffy, wonderful bread.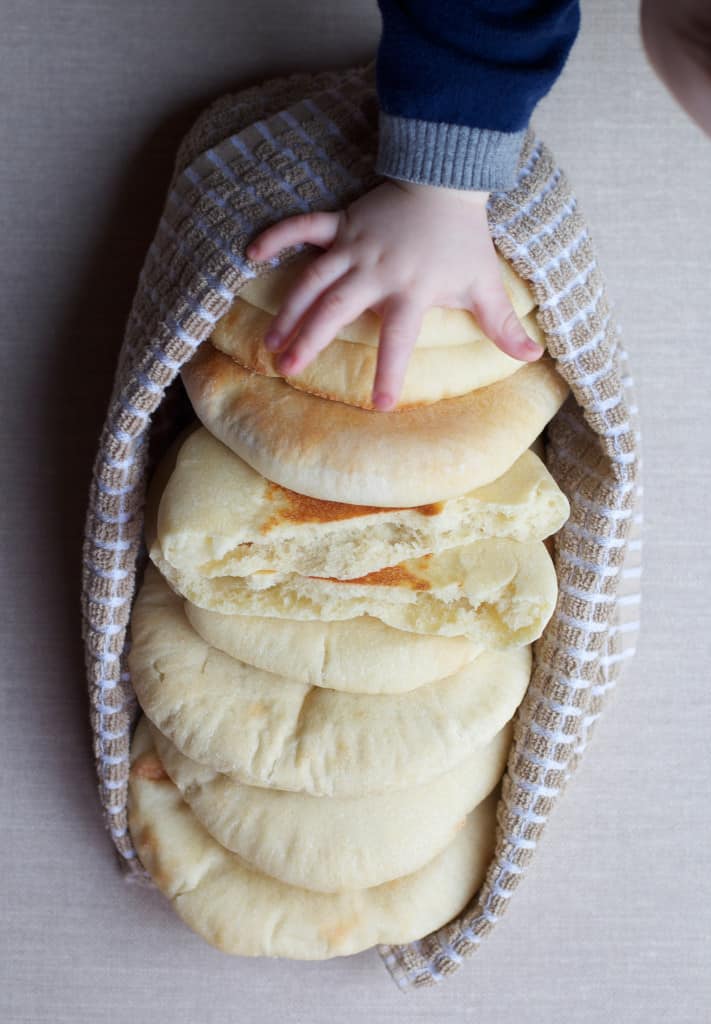 As far as bread recipes go, this one is pretty straightforward. Each step requires some proofing, but a couple hours of work results in the most perfect stack of puffy pitas. These are wonderful for making sandwiches, dipping, or anything else you heart desires. This recipe has officially become an heirloom for me and just maybe will for you too!
Note: After I first posted this recipe I have made it a few times, but my Mom is the one who has gone to make it every single week and really work out any kinks in the recipe. I made some edits as of 5/2018 that she insists make this a better recipe!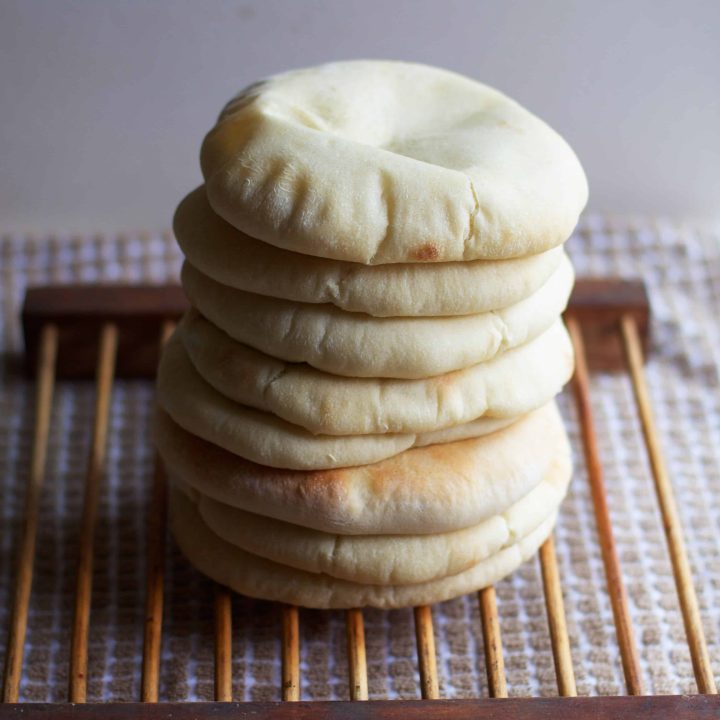 Tata's Homemade Pita Bread
Ingredients
5 cups all purpose flour* (plus a little more for your work surface)
1 teaspoon yeast
1 teaspoon sugar
2 teaspoons salt
2-3 cups warm water
2 tablespoons olive oil plus more for bowl
Instructions
In the bowl of a stand mixer fitted with a dough hook**, Stir together the flour, yeast, sugar, salt and olive oil.
Turn the mixer on low and add the water, starting with 1 1/2 cups, and then adding about 1/2 cup at a time. You want the dough to be tacky, but not too sticky. You will know it is the right consistency when it sticks to the bottom of the bowl but pulls away from the sides. If you add too much water, add a little more flour until dough reaches the right consistency.
Let the machine do it's magic for a few minutes until this consistency is achieved and the dough springs back when lightly pressed.
Remove the dough, rub some oil onto the inside of the bowl and cover loosely with plastic wrap. Allow dough to proof in a warm place for 60-90 minutes or until doubled.
When the dough is done proofing, punch it down and turn it onto a lightly floured surface. Use your hands to shape the dough into 8 equal-sized balls. (You can squeeze the dough through a small hole made with your fingers to shape it.)
Place the balls of dough on a lightly floured surface and cover with a clean, damp, kitchen towel.
On a floured surface, roll each dough ball into a thin round about 6 inches diameter. (1/4-1/2 inch thick) Cover rounds with the damp cloth while you finish rolling the rest.
Let the rolled out dough rest for 20-30 minutes or until slightly puffy. (Depending on the temperature of your home your dough may not get puffy at this stage. If so don't worry, it will still bake up fine.)
Preheat oven to 500F or as high as it will go. (The higher the better for this recipe.) Place an upside-down cookie sheet or pizza stone in the oven to get hot as well.
To bake:
Carefully place 2-3 dough rounds onto the pre-heated cookie sheet or pizza stone.*** (You can transfer them into the oven directly or bring the cookie sheet out.)
Bake for about 6 minutes, or until dough is puffed up, golden, and slightly crisp. Repeat with remaining dough.
Notes
*You can use up to half white whole wheat flour, but will likely need more water to reach the desired consistency.

** My Tata obviously did this by hand, but since we had a stand mixer at our disposal that is how we tested the recipe. You could obviously knead the dough by hand as well.

*** My Mom likes to place her shaped dough rounds on a plastic place mat which makes it super easy to peel off and transfer to the cookie sheet. You could also use parchment paper.