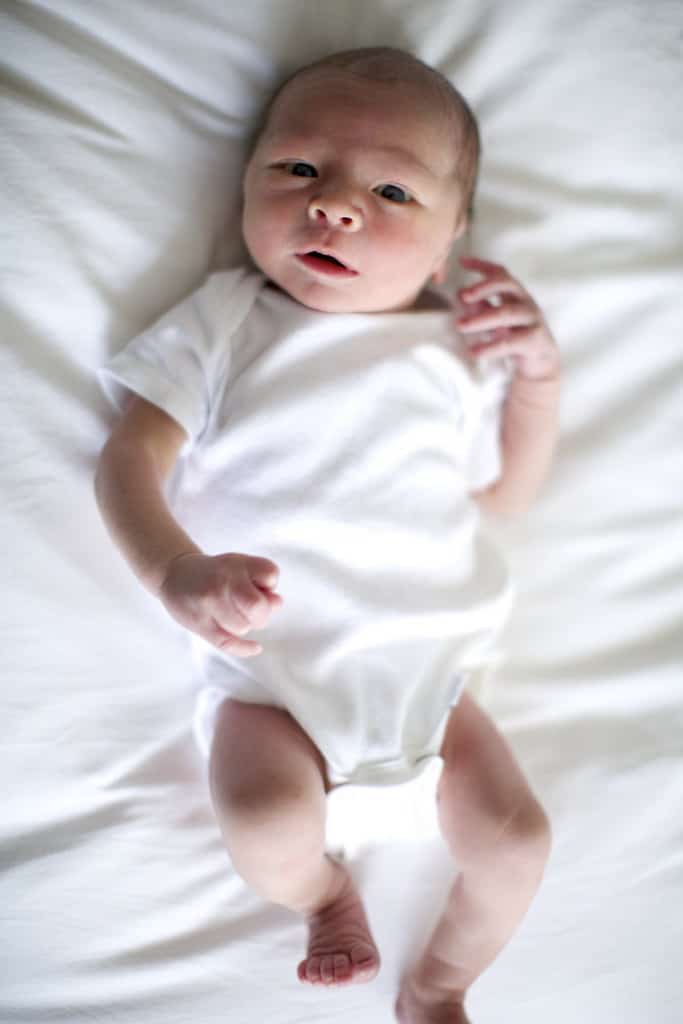 Warning- this is a non food related post!! I know not all of you may be interested in reading my birth story- but it's something I really want to share in my little corner of the internet. I did include cute baby pictures from Hugo's first few days so maybe that will be enough to interest you :)
First of all I want to talk about why I chose a home birth. I guess you could say it chose me, as I was born at home as were my 4 other sisters. I even cut the cord at the age of 9 at my youngest sister's birth, so it was always something I viewed as normal and familiar. I knew way before I ever got pregnant that I wanted to have my babies at home and luckily Andy was on board from day one.
I've never been scared of birth, instead viewing it as something very natural and normal and an act that my body is totally capable of all on my own. I found a midwife that we trusted and loved, created a small team of support people to be by my side and let nature take it from there. Everyone needs to feel safe and comfortable to give birth successfully, and for me, I felt safest away from the hospital and in my warm & cozy apartment.
Ok- onto the actual story: my due date was 1/24 and for the week leading up and the days following, I was a bit of a nervous wreck. I don't like "not knowing" and the waiting game of when labor would begin was driving me crazy. I really wanted my Mom to be there for my birth but since she lives in Milwaukee, we had a variety of plans set up so she could get here right when things started. She had a ticket booked for Sunday afternoon 1/26 but when we spoke that morning I was convinced nothing was happening so I told her to cancel it. I worried that having her here too soon would put the pressure on for things to start even if it wasn't time.
Monday 1/27 I had a burst of energy, which my Mom apparently knew to be a sign that labor was imminent. We roasted a chicken, made 4 quarts of stock, I prepared 3 pans of lasagna for the freezer, and baked cheesecake bars. At 3:00 I was exhausted, and feeling a little crampy. Nothing major- just some back pain and a dull crampiness. I called my Mom who thought things were starting, (she had wagered on my having the baby on the 28th weeks ago,) but I assured her they weren't. Andy called from work to check in, I filled him in on how I was feeling, and I left to go get a mani pedi with my sister Noelle. I picked a place about a mile away on purpose as I thought the walk would be good for my overdue-ness. I was crampy the whole way there, which was normal for me those last few weeks when I walked as the baby seemed to be nudging my pelvis.
I was fine at the nail salon, still feeling a bit of back pain and annoyed that my massage chair didn't work. I took the subway two stops home and started heating up some lasagna when I just started feeling like crap. They weren't contractions as I was still having Braxton Hicks and the pain didn't seem to be linked. I was expecting period cramps but it wasn't quite like that. So- I called my Mom who was anxiously looking into flights for that evening. Then I called our doula Madeline and said this could definitely be nothing but I was feeling a bit of discomfort and that it was a heads up just in case things did start. Then I called our midwife Marcy who instructed me to have a glass of wine and try to go to sleep as soon as possible. This was 6:00 and Andy wasn't due home until close to 9. I knew I'd never be able to go to sleep until he came home.
I paced around for a bit- feeling yucky and trying to kill time. Finally at 6:30 I decided that whether or not this was really labor, I wanted Andy to be home and so I called him at work and he left right away. (I remember telling him not to be mad at me if it was a false alarm!) In the meantime I got in the shower and the warm water helped a ton. When Andy got home around 7:45 I don't think either of us thought I was in labor. But- we finally opened up a special bottle of "labor wine" and tried to sit down and play cards to take my mind off things. That lasted until about 8:45 when I was too uncomfortable and went to lie down. (If you know me you know it must have been bad for me to leave a card game early!) I called my midwife again who suggested a bath and a warm drink of milk, rum, cinnamon and honey to help me relax. Both those things helped a ton and at 10:00 I was able to fall asleep with my "hypnobirthing" relaxation tape playing as I rested. I urged Andy to get to sleep as well in case it was a long night and he said he would.
12:00 AM I jump out of bed and feel a gush. My water broke! I ran from the bedroom to the bathroom passing Andy still awake watching TV. "My water broke!! This is happening!" I told him as I shut the bathroom door, phone in hand- texting my Mom and Madeline the good news. (I was so happy that I hadn't cried wolf!) my Mom had planned to take at 8 AM flight here arriving at 11 AM unless I wanted her earlier in which case she'd try for a 6 AM flight. Madeline said she'd come whenever we needed her and told her I was fine for now and she could sleep.
I went back to bed and Andy finally joined me, (maybe) realizing this was the real thing. Around 12:45 AM contractions began. They were sporadic and mild at first, but they grew in intensity pretty quickly. By 1:45 they were hard enough that I was moaning in bed and decided it was time to start timing them. 10 minutes apart. I tried to let Andy sleep- going out to the living room and lying on the couch- but after about an hour I woke him up needing some support. At some point in there I texted my Mom telling her I definitely wanted her to take the earlier flight and to get here ASAP.
I stayed in the bed for my contractions until 4 AM when I begged Andy to fill up the birth tub. We had asked our doula to come at 6- but at this point I thought I needed her earlier so we told her to arrive ASAP. Andy inflated the tub but we had to wait for Madeline to arrive to help him fill it and protect the floor. She got here at 5:30 and first thing was to fill the tub. My contractions were closer to 5 mins apart at this point and quite intense. I got into the tub around 6- right when my Mom got on her plane in Milwaukee- planning to arrive here at 8:30 AM.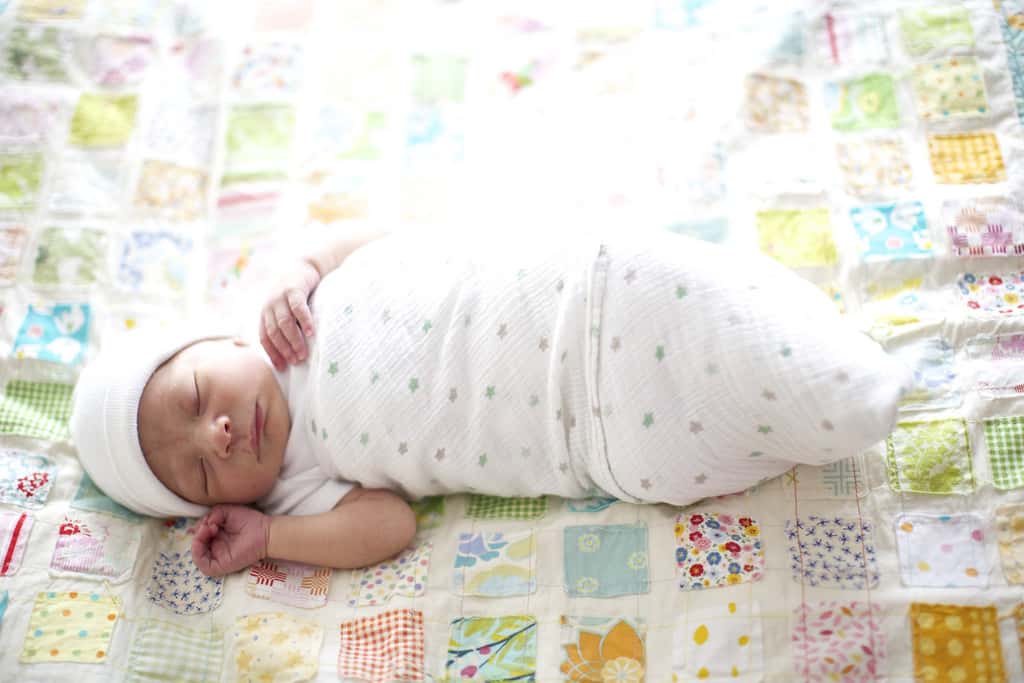 The tub didn't do anything to bring me relief unfortunately. It was tepid but not warm enough to relax my muscles. They worked on making it warmer while I tried a few other labor coping techniques- I think Andy and I changed between living room, birth ball, bed etc. he squeezed my hips, we tried out the TENs machine and really nothing helped. This was a challenging part of labor for me. I remember telling Andy "We're never having more kids!" and "Why did I decide to do this?? This was a huge mistake!!" For some reason- my "coping technique" was fighting against the contractions instead of yielding to them. Madeline the doula was helpful in trying to get me to accept them, saying that I had to get through it to get to the other side. When I made it back in the tub I found something that seemed to help. With each intense contraction I really imagined the baby moving down my body- and viewing it as productive pain that was actually serving a purpose really helped. I was able to find some inner peace and breathe through each contraction for about an hour.
At some point in there (7:00-8:30AM) I decided I wanted Marcy to come so we called her and I said I needed her. Andy thought we could hold off a bit but for some reason I thought having her would give me an idea of how I was doing/ if I was making progress. I also kept crying for my Mom. "I want my Mommy!" I remember saying. She was in the air- hooked up to WiFi, so Andy was able to keep her posted on how I was doing. At 8:30 Marcy arrived, came and gave me a kiss on the cheek, checked the baby's heart rate with her Doppler as well as my blood pressure. I asked if she was going to check me and she said no, that I had to get through the labor no matter how dilated I was, so there was no reason to mess with me mentally. In hindsight this was very very wise. I would have been very discouraged if she had told me I was only a couple centimeters dilated at this point- (though I guess she had estimated I was actually about 6-7cm.)
At 9:20 my Mom finally arrived. Marcy, with her tough love that I so needed, heard me crying , "I want my Mommy" and came over to sternly remind me that my Mom wasn't going to be able to make this go away. She was right of course, but I still wanted her .
The contractions were challenging at this point. Very challenging. They started in my back and wrapped around my belly- lasting about a minute and probably about 3 minutes apart. My Mom came to my side with orange slices (first thing I was able to eat since starting labor as I had been throwing up earlier in the morning,) and the comfort only your Mom can bring- even if she couldn't make it go away.
Around 10:00 Marcy suggested I get out of the tub and try something new. She thought either I could get into the shower and Andy could kinda hold me up during contractions, or we could go lie in bed for awhile. I chose the bed option because get this- I had blown my hair out while I was waiting for Andy to get home the night before and I didn't want to ruin it. (Not quite sure how my vanity was still a priorty during what was likely the transition stage of labor!) Anyway- we headed to bed for a bit. It was great for the brief "downtime" between contractions, but I found lying down to be horrible for when the contractions actually came on. It all felt much too intense without being able to ground myself somehow.
After 15-20 minutes I had an overwhelming, intense urge to use the bathroom and I bolted up saying, "I have to poop! Right now!!!" Andy helped me waddle to the bathroom but of course I didn't actually have to go. The baby was moving down and the pressure on my bottom gave a similar sensation. Back to the bedroom…
Around 10:45 AM Marcy came in and said, " Ok Audra- I'm going to check you- but only under one condition- I'm not going to tell you how far along you are." I agreed and she checked me for the first time. You have no idea the relief and happiness I felt when she sweetly said, "Well guess what Mama? One small lip and you're ready to push!" (Which means I was 9.5 cm dilated!!) I couldn't believe it. I had no concept of how long labor had gone or what my body was doing, but knowing that it actually was working and that it would all be over soon gave me a brief sense of such relief and joy! But I couldn't enjoy it for long because that urge to use the bathroom took over again and I was bolting across the apartment. By 11:15 or so my contractions had turned into something new- pushing contractions- which basically felt like an overwhelming urge to go to the bathroom. For this reason- I stayed on the toilet for awhile- not before declaring to Marcy that "I really really don't want to have the baby on the toilet!!" which she assured me I wouldn't.
I moved back into the tub around 11:30 and found it to be a huge huge relief. The water was nice and warm and I was able to really relax. It felt like my breaks between contractions were now so much longer than before. (Andy says the breaks were only a couple minutes but they felt like ages!) He was such wonderful support to me, squatting behind the tub holding me up and giving me words of encouragement. I really loved leaning against his chest during the contractions- he helped to keep me grounded so I could push. Marcy came over at this point and said that I was welcome to stay in the tub, but that it was slowing things down- and if I wanted to push the baby out leaving the tub would probably make that happen sooner. I begged to stay in a little while longer, and she kept checking the baby's heart rate to make sure that the slowing of labor wasn't affecting it.
After awhile, (at around 12:15) baby's heart rate was starting to slightly slow down so I got out of the tub and onto the bed to move things along. My Mom and Madeline had prepped it for birth- covered in plastic and then another soft sheet. I sat in the corner, propped up on Andy's chest. I found pushing to be very intense, but a bit of a relief after the contractions I'd experienced during active labor. I remember that with each push, Marcy, my Mom and Madeline would get so encouraging, begging me to find a little more strength and to push just a little more. At one point they could see baby's head and Marcy told me to reach down and feel but I couldn't. I had to use every single bit of my energy to focus on the task at hand. (I do remember someone announcing he had dark hair though which even in that intense moment made me happy.)
With every push, it seemed like the baby was moving further and further down and out as everyone would cheer me on and tell me I was doing so great. I remember turning back to Andy behind me telling him not to look down- and to just look at me, somehow thinking that seeing the baby actually come out would be too much for him. (He actually later said it was the most amazing thing he'd ever seen and that he couldn't look away. I guess seeing your own child be born is something different from all the birth videos we had to watch in class!)
Anyway- I pushed with every single bit of strength that I had, digging deeper that I ever knew I could, knowing what I was doing was working- and knowing the harder I pushed the sooner I'd meet my babe. Marcy was pouring olive oil on to prevent tearing (which worked!) and using her hands to help guide the baby out.
I felt the well known "ring of fire" as the baby's head came out which wasn't as intense as I thought and with another huge push the baby's head was delivered followed immediately by the rest of him. (At 12:45 Pm on the dot!) I somehow thought the shoulders would be harder to deliver than they were- they actually slid right out. He was crying right away, a bit purple and so beautiful. That moment was like none other. To be feeling something so severe that with one last push all went away was amazing. I was flooded with a rush of everything good: euphoria, joy, relief, love. Hugo was placed on my chest where he stayed for a couple of hours. I honestly didn't know that with something so challenging could become the most beautiful and rewarding gift of all.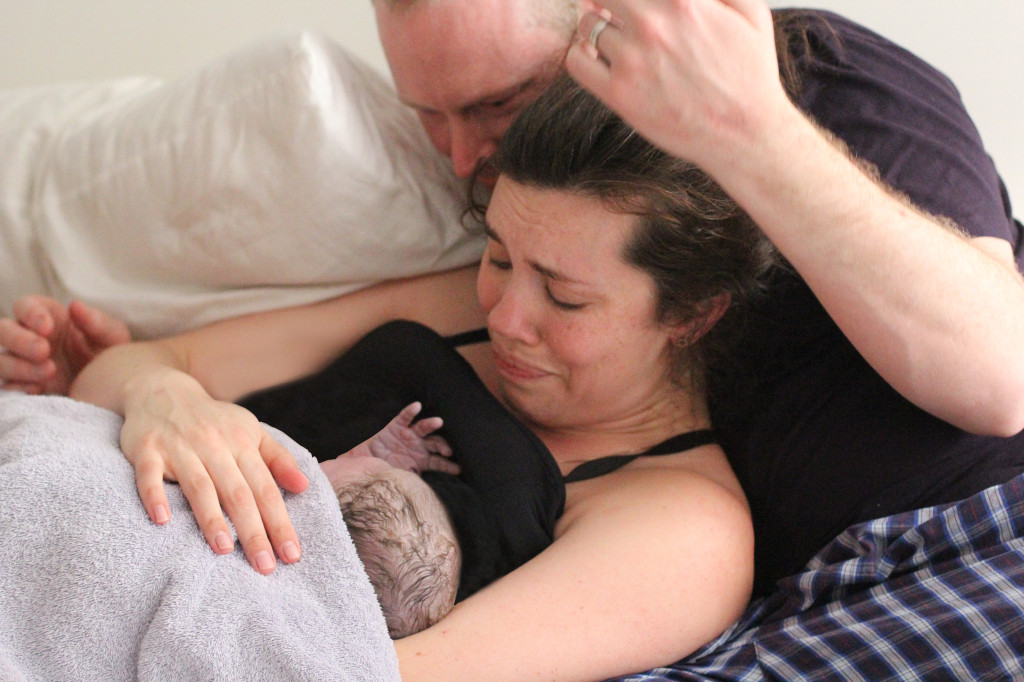 First Family Photo
When Marcy told me that my labor had only been 12 hours with an hour and half of pushing, PLUS- Hugo had been posterior (face up, which means a larger portion of the head is delivered, sometimes meaning a more difficult labor,) and over 9 lbs I felt like I had just achieved the greatest feat of my lifetime. (I also turned to Andy and said- "Ok we can have more kids- it will be so much shorter next time!!") Marcy told me I had an "amazing pelvis" which made me feel so proud of the birthing hips I'd resented all those years ;)
I have never felt more proud or amazed at what my body could do. I grew a human, and sustained him and birthed him all by myself and now am sustaining him again. Isn't the miracle of life amazing?
I am so in enamored with our little bundle, even though I never sleep anymore and sometimes wonder how I will ever get anything done again. – but I know it's all a phase and I welcome every moment of these newborn weeks as I know they don't last long. Anyway- that's the story of baby Hugo's arrival- dare I say I'm actually excited I get to do it all again someday?

(Photos courtesy of my sister Nadia Quinn)