The only Roast Chicken recipe you ever need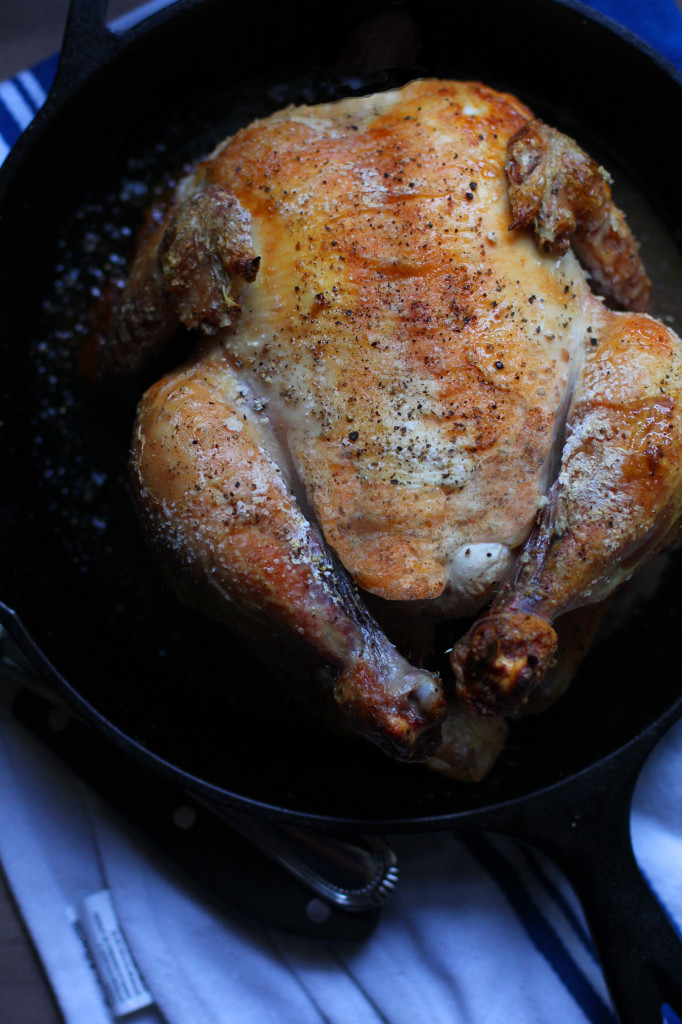 Over the last 4 years I've shared over 200 dessert recipes with you, and throughout that time I've been asked one question time and again: "What do you really eat?" I get it. I mean- it seems ludicrous to have that many sweets in the house and obviously if I know how to bake I must be cooking too right? Well not exactly… until recently I have always been a "cook 1/2x a week person," relying heavily on the convenience of NYC takeout. You can pretty much have anything delivered any time of day so after a day of baking, I'd often feel less than excited about yet another kitchen project so we'd find ourselves eating Pad See Ew or BBQ from our local place.
Having a child is a game changer though. I've mentioned this before, but I really love cooking now more than ever. Having 3 people share a meal, (even one of them tiny,) really gives me the motivation to prepare good food for my family. This chicken my friends, is just too good. My dear friend Tricia shared the recipe with me shortly before Hugo was born, and we've made it dozens of times since then. She described it as the meal that makes you feel like Superwoman and man is it true. Considering how easy this thing is to make, it sure is impressive. Serve it with a green salad or some roasted veggies and you have yourself one amazing dinner.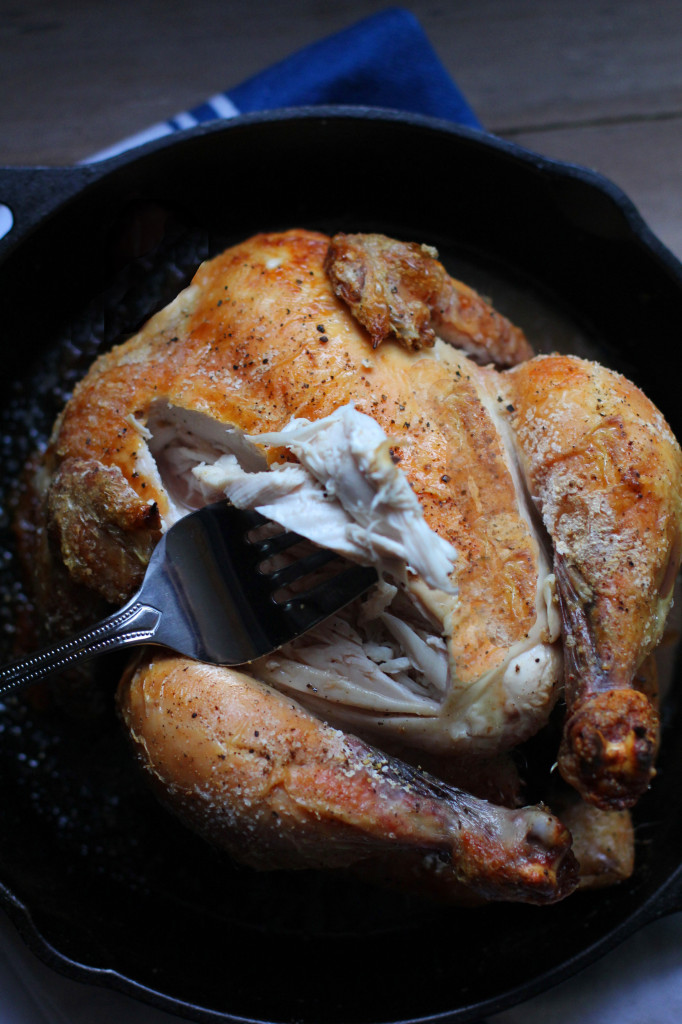 Would you believe that to make this meal you really only need 2 ingredients? The chicken of course, and salt. Lots of salt. Pepper doesn't hurt of course, and I used it of course, but the salt is the important one. Salt both on the inside and outside of the bird yield the most perfect, crispy skin, and juicy, melt-in-your mouth meat. I'm a white meat girl and the chicken breast on this thing is insane. So juicy, so tender, and full of flavor even without lots of herbs and butter. Who would know that keeping everything as dry as possible actually resulted in moist, juicy chicken?
This technique belongs to the genius Thomas Keller (of Bouchon fame,) and I think he has discovered culinary gold. I really mean it when I say this is the last chicken recipe you need. It's practically perfect, really easy, and most important simple. I have discovered that usually my favorite classic recipes are!
Note: Learning to truss a chicken is really quite easy, and a must-do for this recipe to be successful. I have found this photo tutorial to be super helpful in mastering this!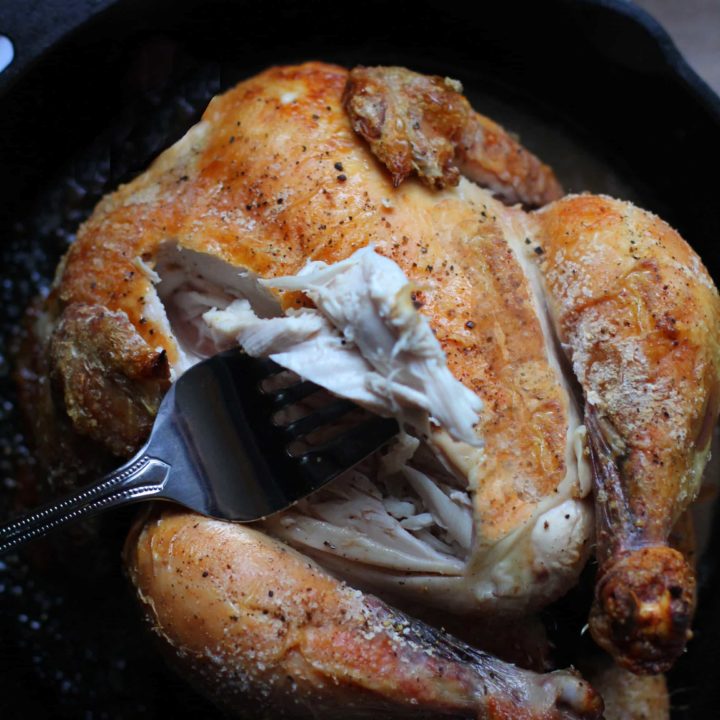 The only Roast Chicken recipe you ever need
Ingredients
One 2- to 3-pound farm-raised chicken
Kosher salt and freshly ground black pepper
Instructions
Preheat the oven to 450°F. Rinse the chicken, then dry it very well with paper towels, inside and out. A dry chicken means less steam means crisper skin and juicer meat!
Salt and pepper the cavity, then truss the chicken. (trussing helps the chicken to cook evenly)
Now, salt the chicken—Pour about a tablespoon of salt over the bird and use your hands to make sure it makes a nice uniform coating so the skin is crisp and salty. (You should be able to make out the salt on the crispy skin after roasting.) Add pepper to taste.
Place the chicken in a cast iron skillet or roasting pan and place in the oven. Leave it alone- don't check on it or mess with it. Roast for 50-60 minutes or until the skin is golden, and crisp.
Spoon the pan juices over the chicken and allow it to rest for 15 minutes before eating.
Notes
Recipe from Thomas Keller
Nutrition Information:
Yield:

4
Serving Size:

1 grams
Amount Per Serving:
Unsaturated Fat:

0g