Toasted Coconut Caramel Cream Pie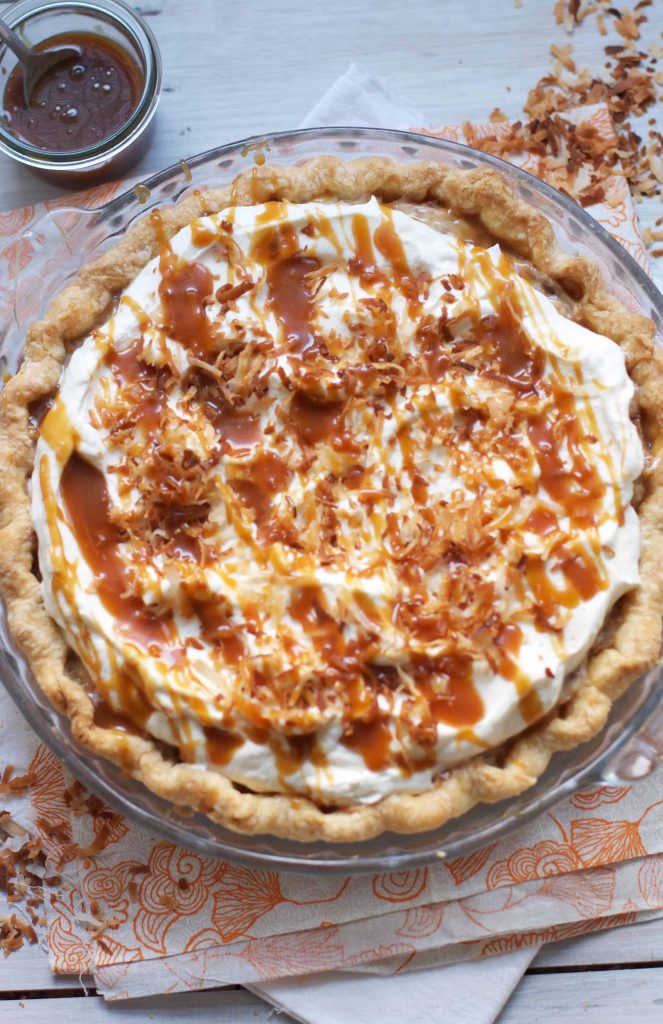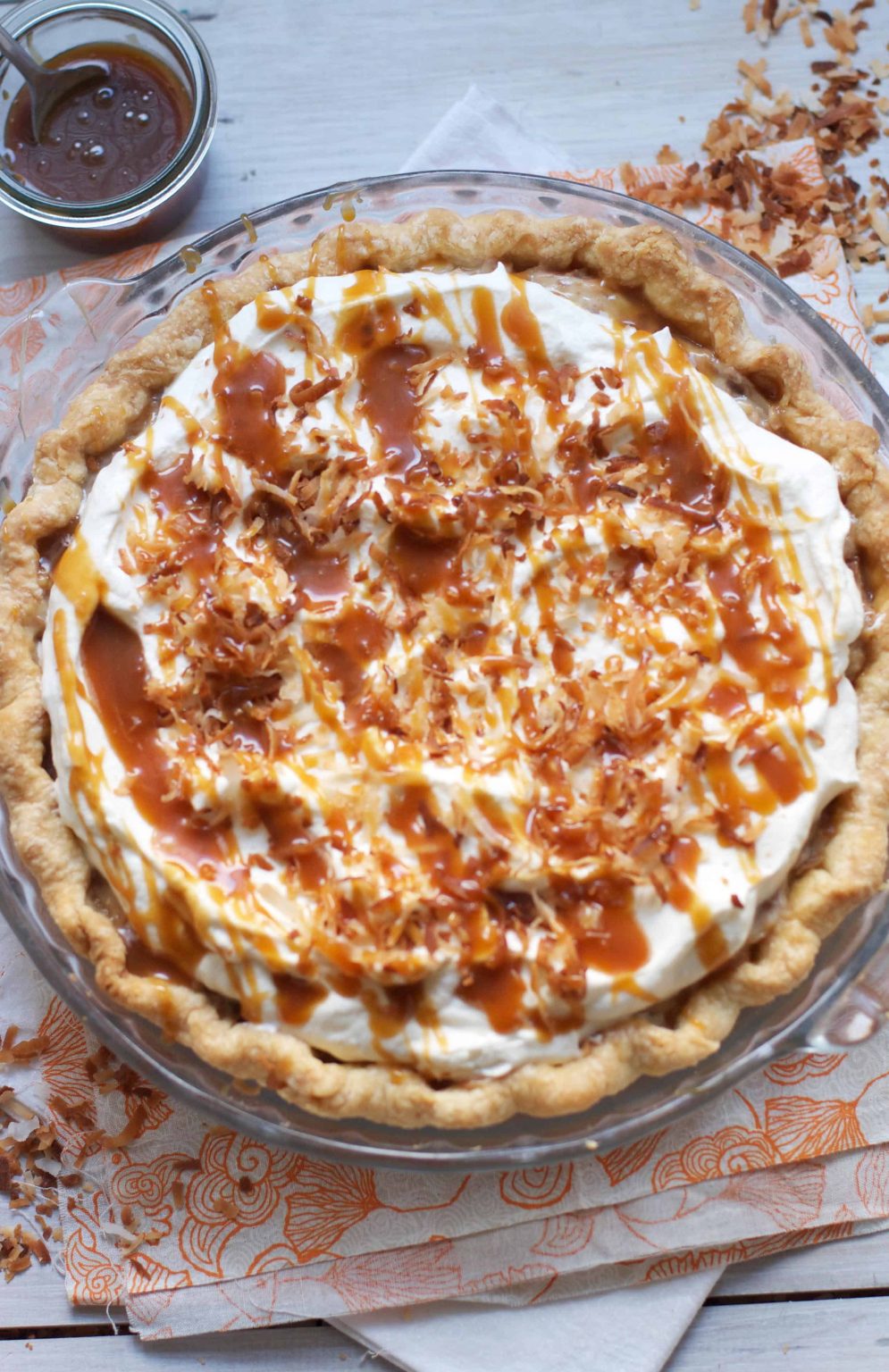 It's the final day of Pie Week and I've saved the richest, most decadent pie for last! This pie is an example of times when I imagine a recipe in my head and decide that I'm going to make it and that it's going to be awesome before I really have any clue how I'm going to pull it off.
I knew I wanted crisp toasted coconut, (my favorite) salted caramel sauce, and a flaky pie crust to somehow hold it all together. I worked with a few different recipes I found and made something that is truly to die for.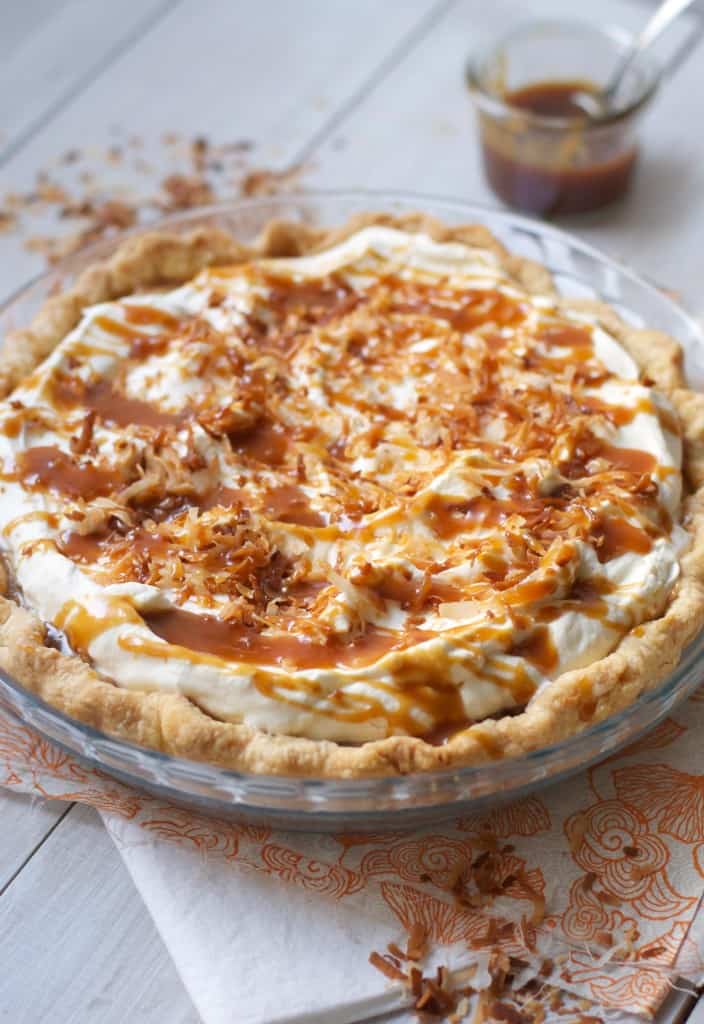 The pie shell is filled with a layer of caramel sauce, followed by vanilla pudding with a healthy amount of toasted coconut mixed in, giving lots of flavor and occasional crispy bits.
Then comes some (un)sweetened fresh whipped cream, more coconut and a drizzle of caramel. I think of it as a few bites of heaven in a slice. I am making 3 or 4 pies this Thanksgiving and I keep changing my mind as I make each new pie.
How do you decide what to make? I feel like without traditional pumpkin and apple my family may be a little bummed. I really want them to try the Cranberry Blueberry Pie I posted Wednesday because I'm a bit obsessed with it…and then? I think it has to be this. My Dad doesn't like sweets much but he does like coconut a whole lot so I have to right? Decisions decisions…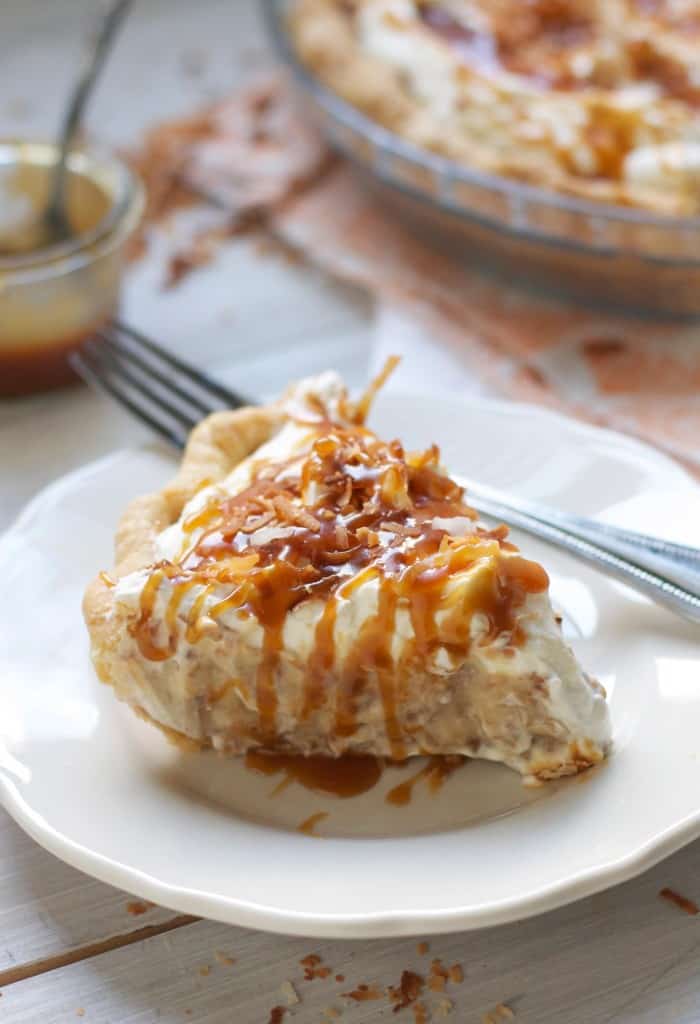 I like this pie because the crust and pudding part can be totally prepared a day or two in advance and just sit in the fridge until Thanksgiving.
I like my whipped cream to be fresh- so I plan to smooth that on and drizzle the toppings as we're getting desserts ready. I can't believe all the amazing pies I've seen this week- I hope you are as thoroughly inspired as I am. Monday I plan to share my most cherished family heirloom recipe for my Great Grandmother's famous stuffing. It's to die for- so check back for that!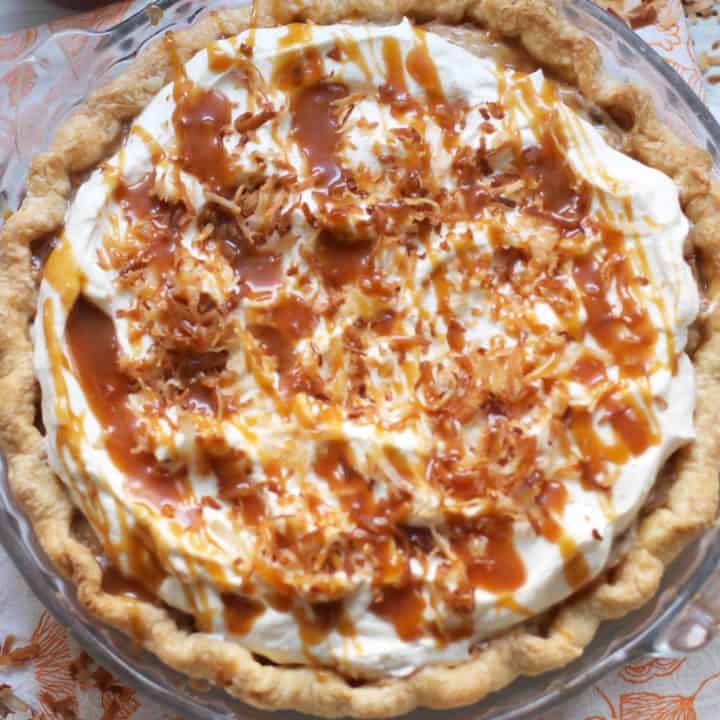 Toasted Coconut Caramel Cream Pie
Ingredients
1/2 recipe Pie Crust (1 single sheet)
3/4 cup caramel sauce
For the pudding:
2 1/4 cups whole milk
2/3 cup sugar
3 egg yolks
1/4 cup cornstarch
1 teaspoon vanilla
1 3/4 cups toasted coconut*
1 tablespoon butter
For topping:
1 cup heavy whipping cream
Instructions
For the crust:
Roll the crust out to a 12 inch circle and drape it over a 9-inch pie pan. Trim/crimp the edges and prick the inside of the crust with a fork. Let it chill for 30 minutes.
Preheat oven to 375F. Line chilled pie shell with foil and then fill with pie weights or dried beans.
Bake for 15 minutes or until the edges start to turn golden. Remove foil/pie weights and continue to bake for another 15 minutes or until crust is a nice golden amber color. (You don't want soggy crust with this pie!)
Set baked crust aside while you prep the filling.
For the filling:
Combine 2 cups of milk and the sugar in a medium-sized saucepan over medium heat. Stir together and heat until simmering.
Whisk egg yolks together and slowly pour about half of the milk mixture into it with one hand while whisking with the other until combined. Pour the egg mixture back into the pot with the rest of milk.
In a small bowl combine the remaining 1/4 cup of milk with the cornstarch until thick and combined. Pour it into the milk mixture and turn the heat back up to medium. Whisk constantly until very thick and bubbling like lava.
Remove from heat and stir in the vanilla, 1 1/2 cups of the coconut and butter.
Spread 1/2 cup of the caramel sauce into the baked crust and top with the pudding. Let cool completely and chill overnight or until ready to serve.
Whip up the cream and dollop it over the chilled pie. Sprinkle with the remaining 1/4 cup of toasted coconut and the remaining caramel sauce.
Notes
* To toast coconut, spread it in an even layer on a foil-lined cookie sheet and bake at 350 for about 10-15 minutes, checking it often and stirring it with a spatula if needed.
Recipe loosely adapted from The Food Network