Traditional Irish Soda Bread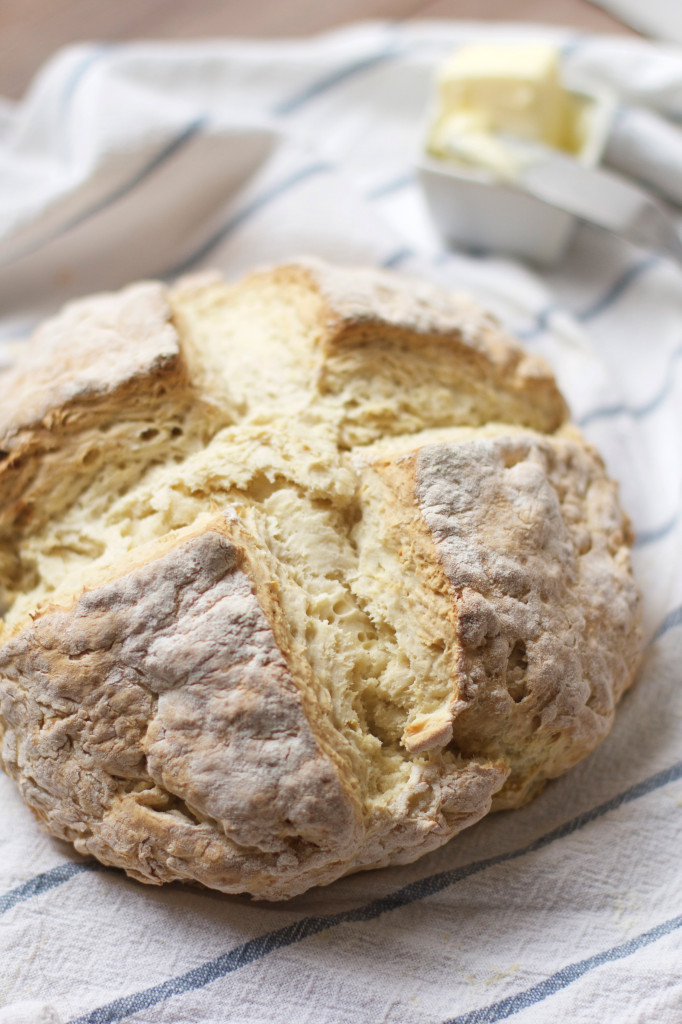 First some quick business: tomorrow I am launching a shiny and new blog design! The transition should be happening tonight so you may notice a little bit of downtime if you try to visit. (Print any recipes you may need now!) I'm hoping everything is up and running smoothly tomorrow morning, but if not please be patient. I'm really excited about the new look- I hope you love it too!
Ok- onto the bread…
Since I first met Andy 5 years ago, he's always spoken so fondly about the trip he took with his mom to Ireland. He's talked about the beautiful countryside, the special moments he shared with his mom, and how they would share a loaf of Irish Soda Bread for lunch. As I was searching recipes to try for upcoming St. Patrick's Day, I asked Andy how in the world he enjoyed eating this bread in Ireland since he hates raisins. Every loaf of this soda bread I've tried is studded with raisins and caraway seeds, and I figured that was the authentic way of making it. He swore that the stuff they ate was sans raisins and I didn't believe it until I did a little internet sleuthing of my own and figured out he was right! It turns out adding raisins, caraway seeds, and other mix ins is a total American thing, and that the authentic Irish version of the recipe is much more simple.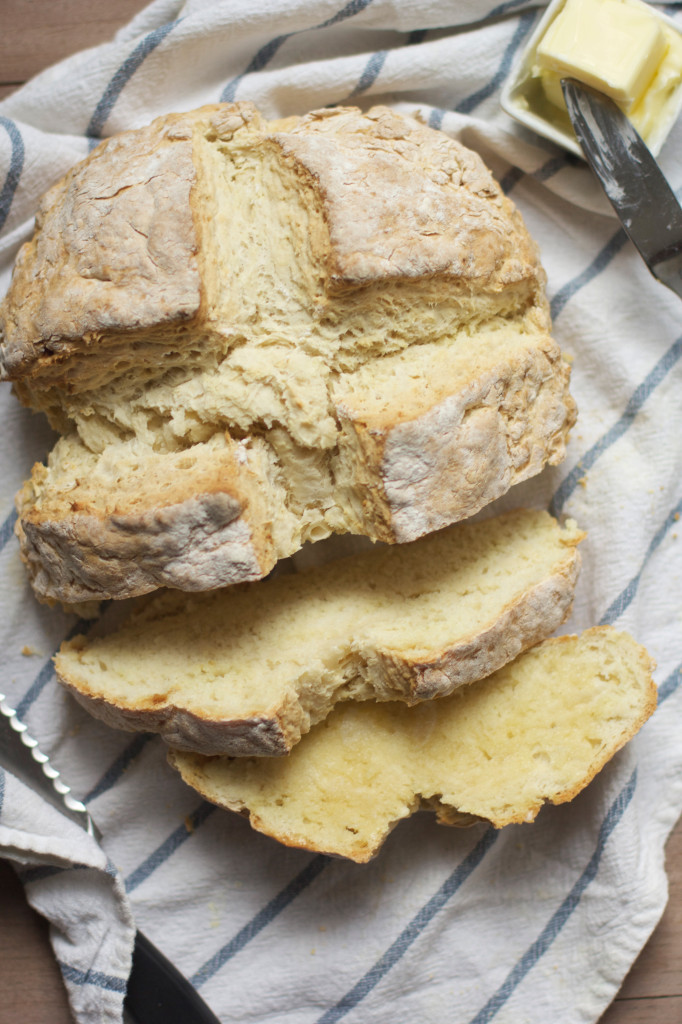 I love how simple this recipe is. It's made up of just 4 ingredients that I usually have on hand, which means I can have a loaf of delicious bread ready and waiting any time I want. Flour- Baking Soda- Salt-Buttermilk. Who would know that simply that could result in such a perfect loaf of bread? With an almost biscuit-like taste and a crisp crust, we slathered this with some delicious salted butter, but a slather of jam or a dunk in a bowl of soup would be a perfect match as well. The bread is simple as can be to throw together and has that rustic, country look I really love. I'm a total fan of making yeasted bread, but this is by far the best I've had for something so quick! I'm glad I discovered this recipe right in time for St. Patty's, but I know it will be a kitchen standard all year round!
Traditional Irish Soda Bread
Ingredients
1 lb. 3-1/2 cups unbleached all-purpose flour; more as needed
3/4 tsp. baking soda
1 tsp. salt
1-1/2 to 1-3/4 cups buttermilk
Instructions
Preheat oven to 450F.
Stir together the flour, salt and baking in a large mixing bowl. Make a well in the middle of the mixture and pour in 1 1/2 cups of the buttermilk.
Use a wooden spoon or your hand to combine the ingredients. You want the dough to be soft- don't over mix it. Add more buttermilk if needed to get the dough to come together.
Turn the dough onto a floured surface and give it a few kneads and shape it into a 6-inch diameter disk (about 2 inches tall.)
Use a sharp knife to score an X on the top of the loaf (I did mine a bit too deep as you can tell, you only need to cut in a little bit.) Transfer to a cookie sheet or pizza stone and bake for 15 mins.
Reduce the heat to 400F and bake for another 20-25 minutes or until the crust is golden, and the bread sounds hollow when you tap it.
Let bread cool slightly before slicing and slathering with salted butter!
Nutrition Information:
Serving Size:

1 grams
Amount Per Serving:
Unsaturated Fat:

0g