Triple Cinnamon Coffee Cake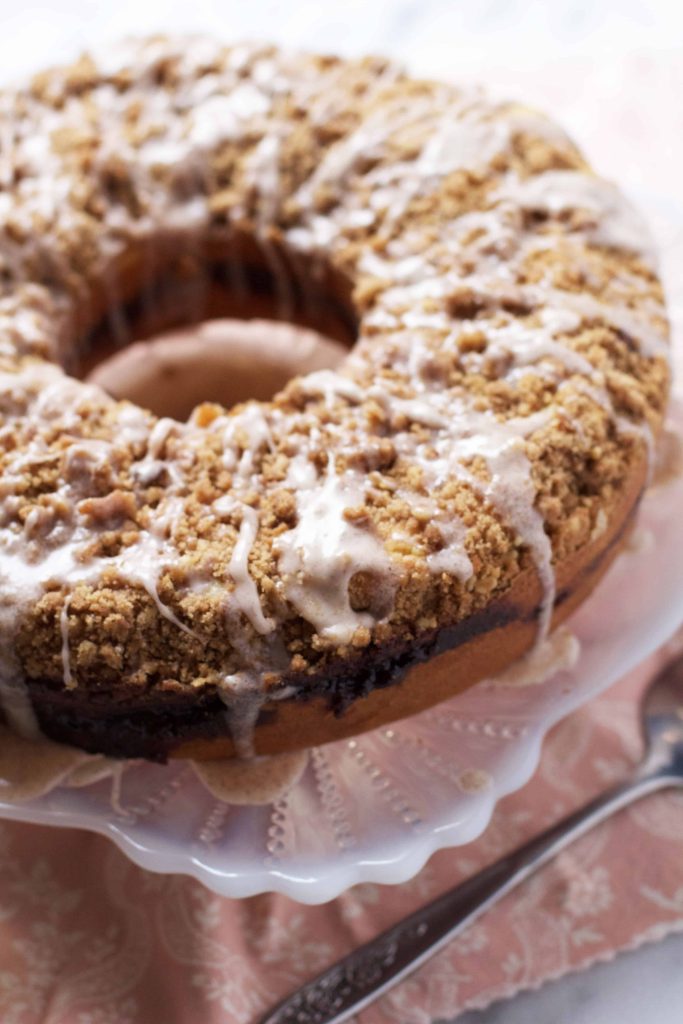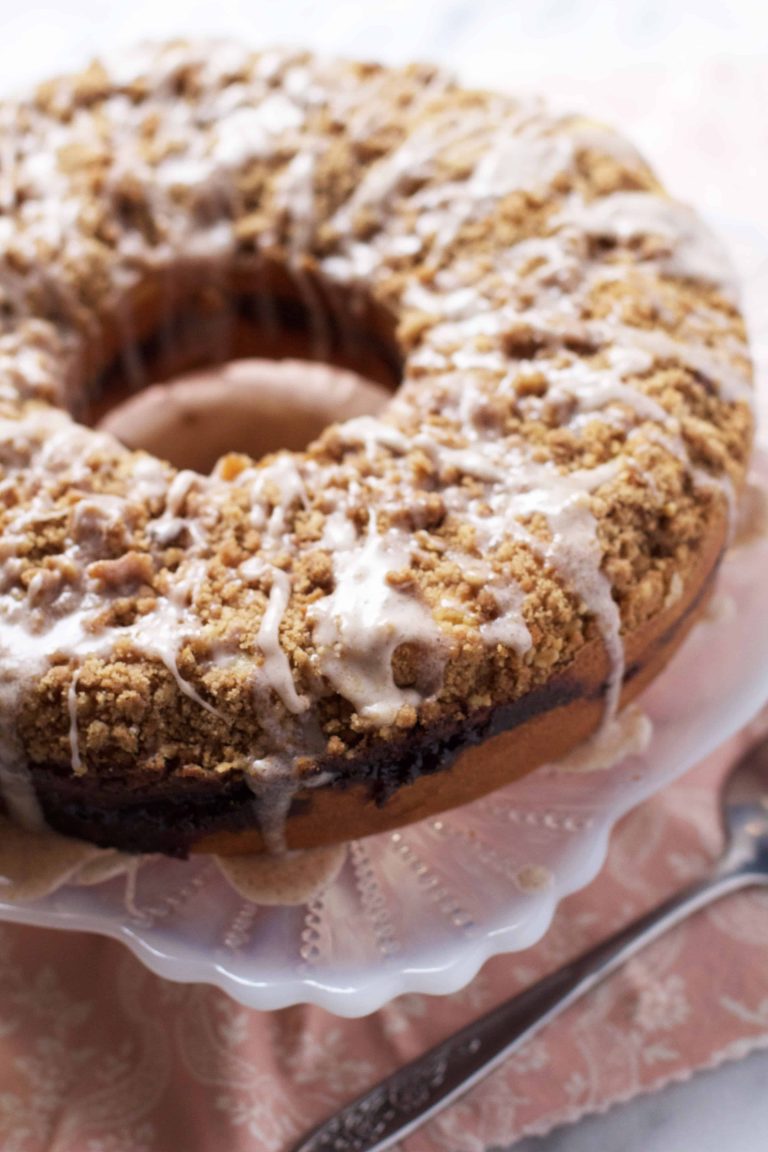 Would you like to join me for a cup of coffee?
We'll probably be sitting on the floor of my living room, as we had to get rid of the coffee table after Hugo learned to climb onto it and then sit precariously on the edge almost giving me a heart attack.
We'll have to keep our coffee in hiding, because it seems like my child has radar for these things, he loves to rest his hand on the cup and say "hot!" sometimes sticking his fingers in too.
He may come over to us and give us sloppy hugs and kisses which are always a perk, and as of late, his favorite activity is to grab books from his little shelf and hand them to you- flapping his little arms until you make room on your lap and read to him.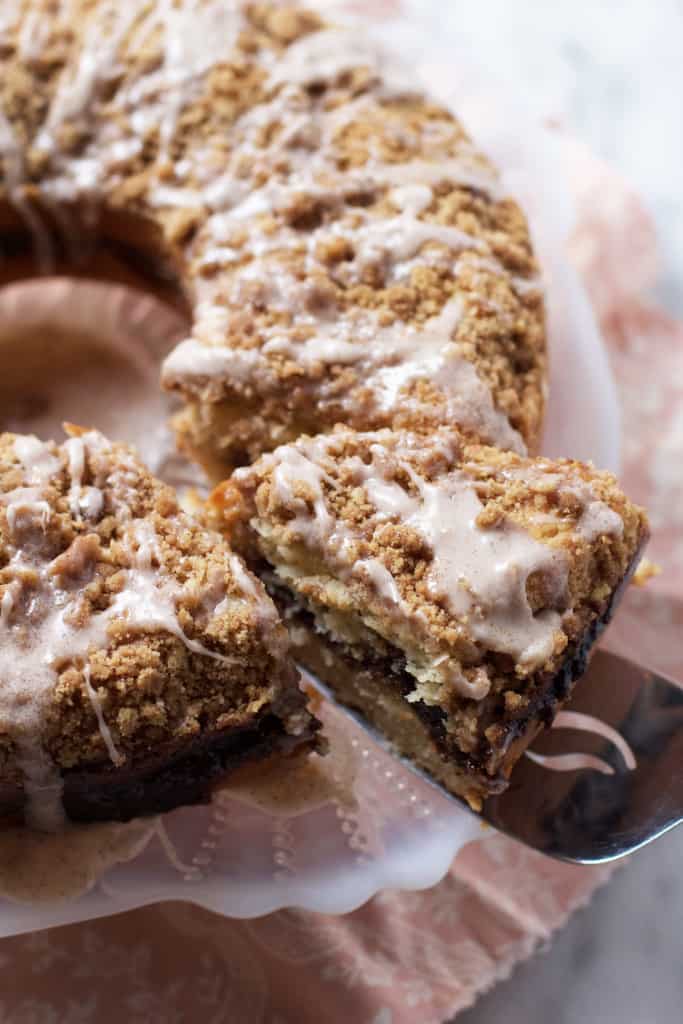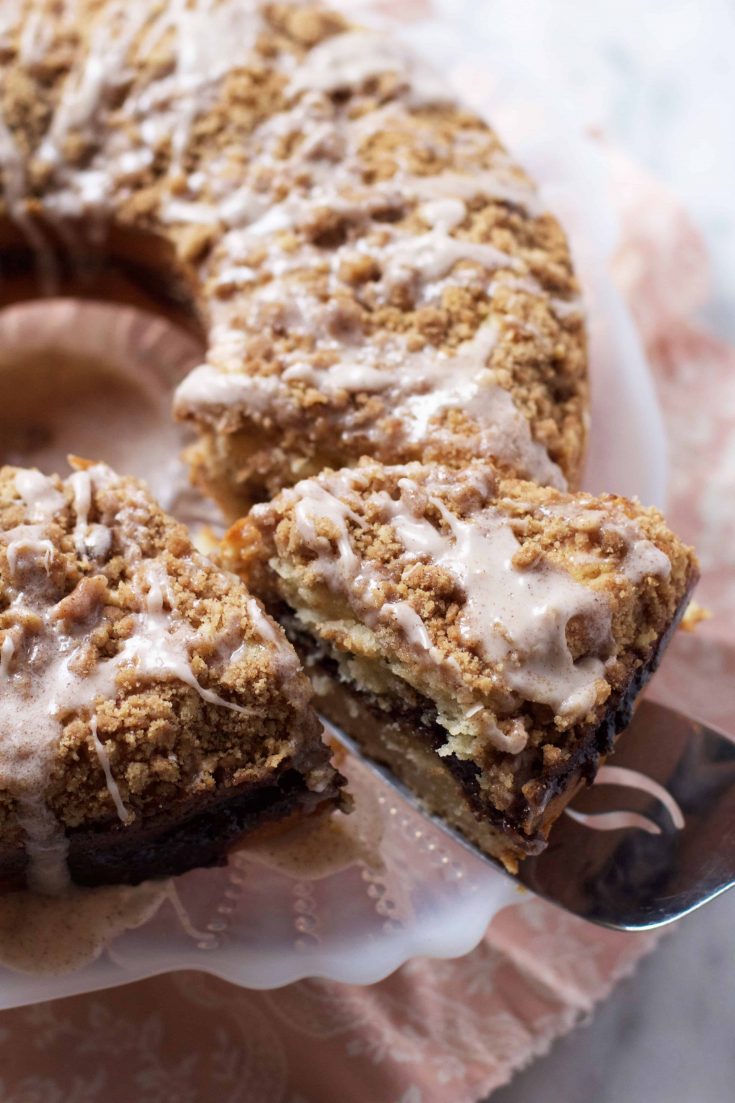 Ok, so maybe we will be doing a little less coffee drinking and a little more toddler entertaining but it will be fun I swear! I also promise to have this coffee cake in the kitchen, which is absolutely delicious and will make up for my coffee date shortcomings.
This recipe is very similar to one I posted a few years ago, and I thought of revamping that and replacing it, but I made enough changes that I thought this recipe needed a post of it's own.
It's really is spectacular, and it my opinion the absolute best coffee cake ever.
The cake itself is superb- moist, buttery, and tender. In the middle is a gooey, cinnamon filling- imagine the best part of a cinnamon roll in a thick ribbon throughout this cake. On top is a crispy crumble and a sweet cinnamon glaze. It's really too good to be true.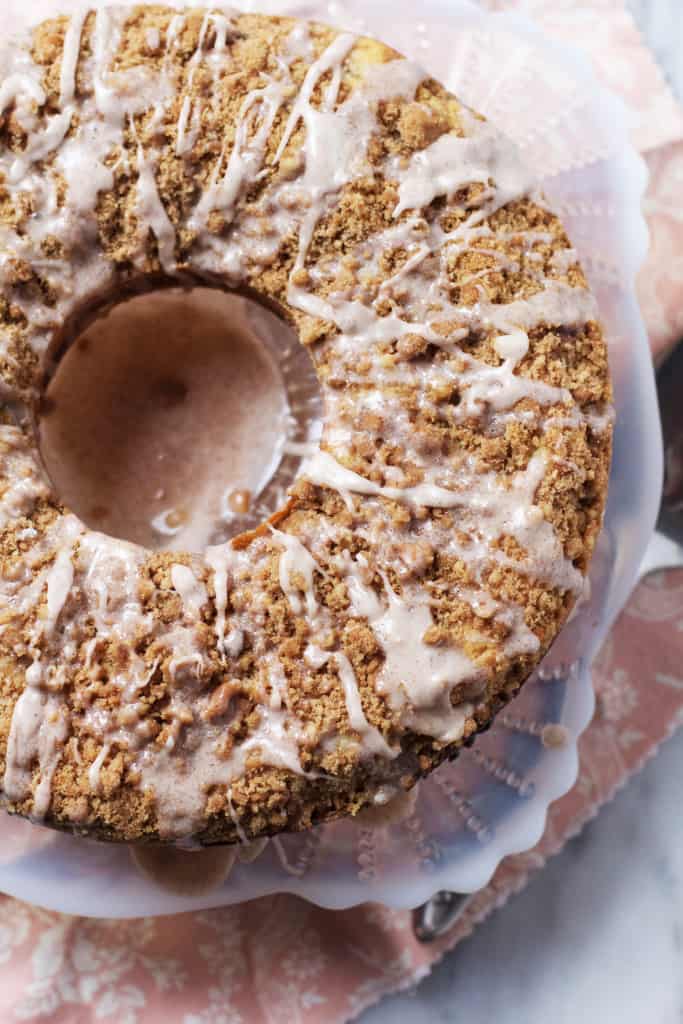 I made this in a 10-inch ring pan, but you could make it in a 9×13 or two round cake pans. (One for you and one for a friend?)
It is delicious warm but keeps well for a couple of days too. I had big plans to freeze slices of this to warm up for breakfast here and there, but I just couldn't resist sending huge hunks of this with my friends and neighbors who stopped by the day I made it. (And I don't think they had too much of a problem with it!)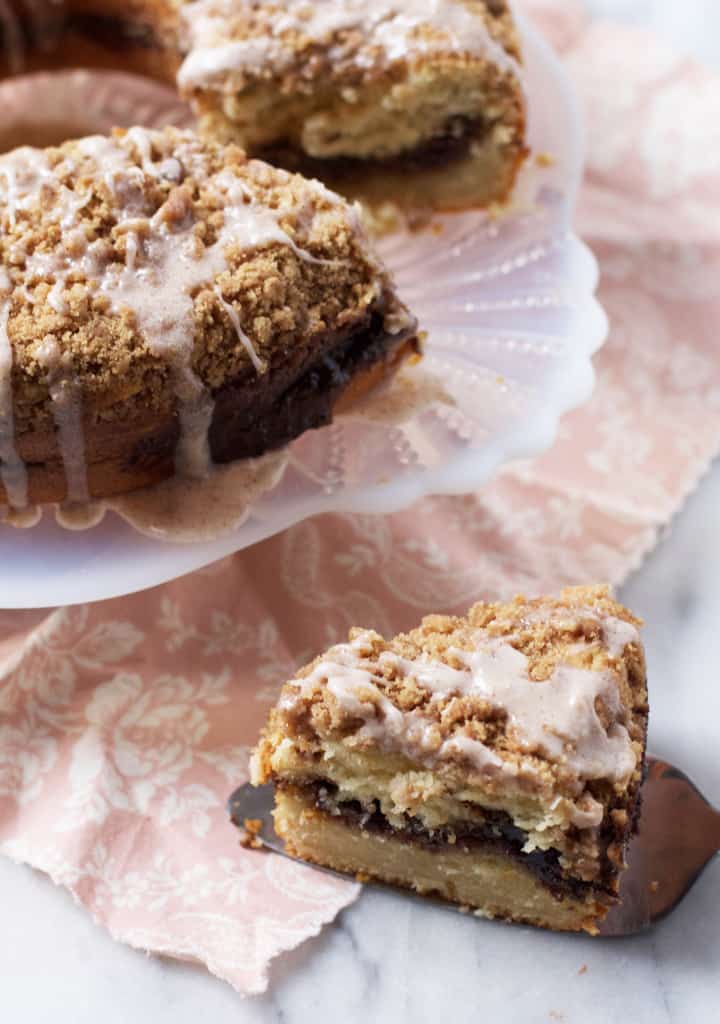 This would be the perfect addition to any brunch spread- I can't wait to make it again for Easter this weekend!
Want more coffee cake goodness? Check out this Sour Cream Coffee Cake– it's divine!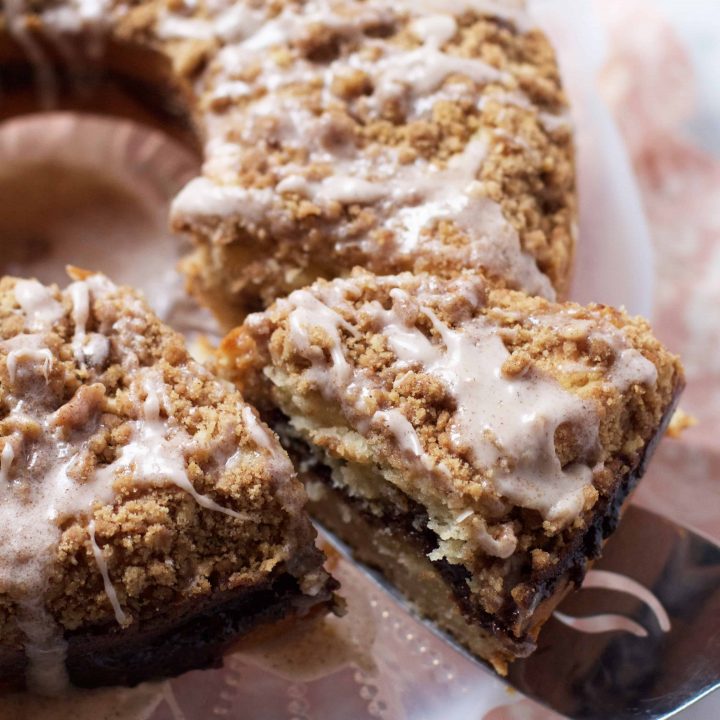 Triple Cinnamon Coffee Cake
Delicious coffee cake with a perfectly moist texture, a thick gooey cinnamon ribbon inside, a crumbly topping, and a sweet cinnamon glaze.
Ingredients
Filling:
1 cup brown sugar, light or dark
1 1/2 tablespoons ground cinnamon
1 teaspoon unsweetened cocoa powder (for color not for taste- you can leave it out if you want.)
Cake:
3/4 cup unsalted butter softened
1 teaspoon salt
1 1/2 cups white sugar
1/3 cup brown sugar
2 teaspoons vanilla extract
3 large eggs, room temperature
2 cups buttermilk, room temperature
2 1/2 teaspoons baking powder
3 3/4 cups all-purpose flour
Topping:
2 cups of flour
2/3 cup brown sugar
1 tablespoon cinnamon
6 tablespoons butter, melted
Glaze:
1 cup of powdered sugar
1 teaspoon of cinnamon
1 tablespoons milk or cream
Instructions
Preheat oven to 350F. Butter and flour a 10-inch ring pan, 9x13 pan or 2 9-inch cake pans* Set aside.

In a small bowl, stir together the filling ingredients. Set aside.

In the bowl of a stand mixer fitted with a whisk attachment, cream together the butter, salt, and sugars Beat until light and fluffy.

Add the vanilla and then the eggs, one at a time, beating well after each addition.

Sprinkle the baking powder over the batter, and then 1/3 of the flour. Beat on low until just combined. Add half the buttermilk. Add another 1/3 of the flour, the rest of the buttermilk and end with the last of the flour, being careful not to over mix.
For the Topping:

Melt the butter in a heat proof bowl and stir in the flour, sugar and cinnamon until crumbs form.

Pour half of the batter into the bottom of the pan and spread evenly with the back of the spoon. Sprinkle the filling evenly over the batter, trying to keep it away from the edges if possible. Spread the remaining batter over the filing and smooth with the spoon. Sprinkle the crumb topping over the batter.

Bake for 50-60 minutes** or until a toothpick inserted into the middle of the cake comes out clean. Allow to cool on a wire rack.

For the Glaze:

Stir together the powdered sugar and cinnamon. Add the milk or cream and stir together until smooth. add a splash more milk if needed until the glaze is a good drizzling consistency.

Drizzle glaze over cooled cake (or slightly warm of you prefer.)
Notes
Recipe adapted from King Arthur's Flour
*When using the ring pan, the cake ends up being taller but more narrow. The filling proportion is thick, gooey, and perfect. If you are using a 9x13 pan, the filling won't be as thick but it will still be a delicious ribbon through the cake. Double it if desired.
**Baking time will vary based on pan size. My cake baked in about 55 minutes.