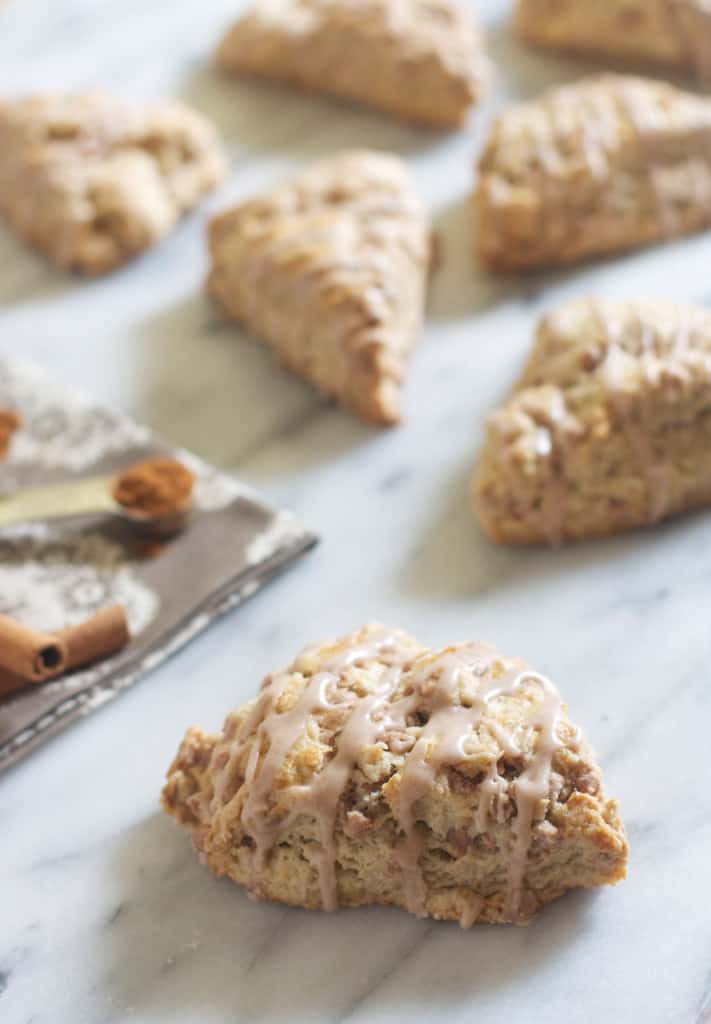 I've been dreaming about these scones for weeks. I've been obsessed with everything cinnamon lately (and always really,) so it's no surprise that back when I was at Blog & Bake, this was the flavor combination I chose when we had a chance to make our own scones. They had the most delicious (and cute,) cinnamon chips as a mix-in option so I knew right away I wanted to toss those into the great base recipe they gave us. (Hershey's makes cinnamon chips as well!)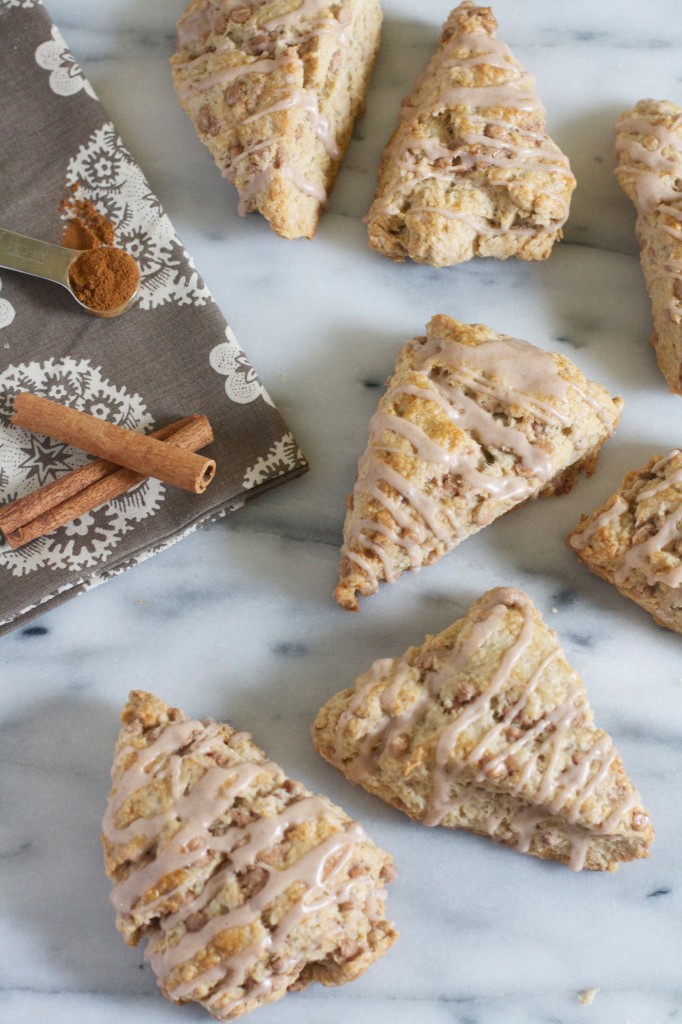 In our scones lesson, we learned that you can make scones two different ways- cakey or flakey. How do you prefer them? I am flakey all the way. I like them to be almost biscuit-like, not too sweet, but super tender. The difference comes from how you break down the butter, smaller bits = more cakey- larger pieces = flakey! In my mind- these are the perfect texture for scones- melting in your mouth with cinnamon bursts and a sweet cinnamon-y glaze on top.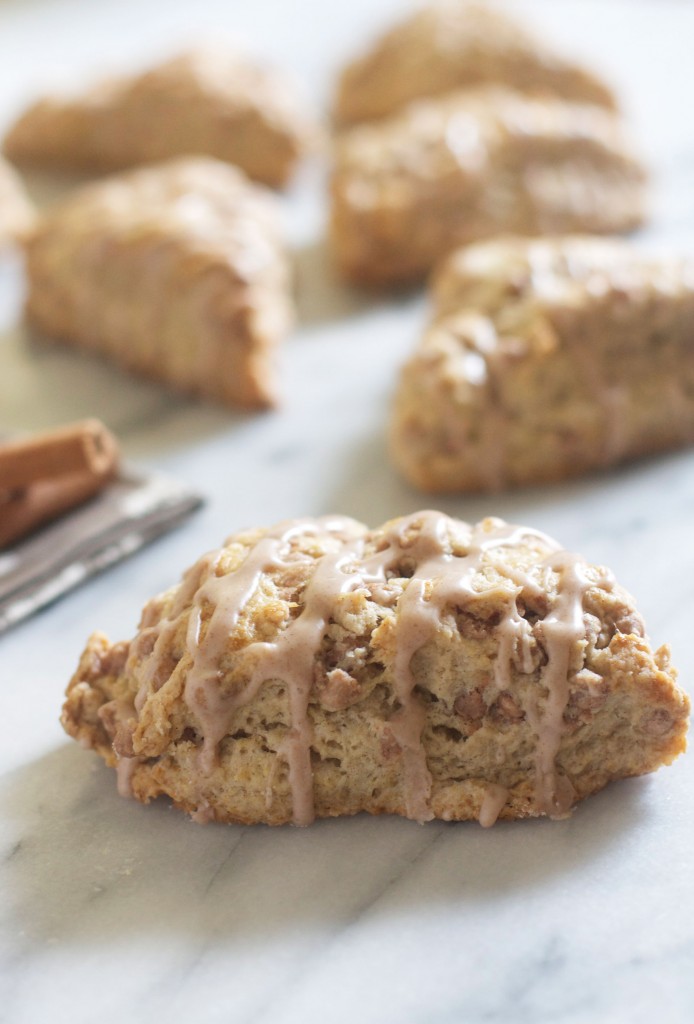 *Another great thing about this recipe is that it's just as delicious with whole wheat flour as it is with all-purpose. (I used white flour in this version, but like it both ways.) Though baked goods with whole wheat flour are stereotypically more dry and tough- you'd be surprised how tender and flakey these are with either type of flour!
Is it really Memorial Day weekend already? Does anyone else feel like this year has just flown by so far? I can't believe it's almost halfway done…I have big baking plans over the weekend and that's about it. Have a wonderful long weekend everyone! xoxo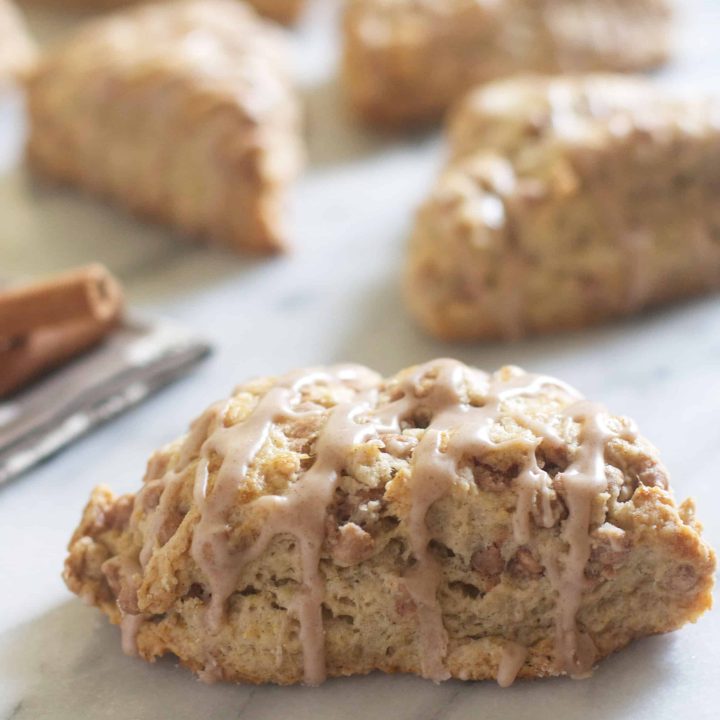 Triple Cinnamon Scones
Ingredients
2 cups or 8 oz flour, (whole wheat or all-purpose)
2 tablespoons sugar
2 teaspoons baking powder
1 teaspoon cinnamon
1/2 teaspoon baking soda
1/2 teaspoon salt
1 stick of unsalted butter, chilled and cut into chunks
1/2 cup cinnamon chips
1 egg, separated
3/4 cup buttermilk, 6 oz
For the glaze:
1/4 cup powdered sugar, more if needed
1/2 teaspoon cinnamon
1-3 teaspoons of milk
Instructions
Preheat oven to 375 F.
Combine flour, sugar, baking powder, cinnamon, baking soda, and salt in large bowl.
Add the butter chunks and use your hands or a pastry blender to work the pieces into the flour. Keep breaking it down until the butter pieces are the size of currants. (Smaller if you want "cakey" scones)
Whisk the buttermilk and egg yolk together and gradually add it to the flour mixture. (You may not need all of it if you use white flour.)
Transfer the dough to a floured surface and knead it slightly until it comes together in a ball.
Flatten the dough into a 7-inch disk and cut it into wedges. Transfer wedges to a parchment-lined baking sheet and brush with egg white.
Bake for 18-25 minutes or until slightly golden. Cool on a wire rack.
For the glaze
Combine the powdered sugar and cinnamon in a small bowl. Add the milk one teaspoon at a time and stir together. Add more milk or powdered sugar until the glaze is your desired consistency. Drizzle over cooled scones.
Nutrition Information:
Yield:

8
Serving Size:

1 grams
Amount Per Serving:
Unsaturated Fat:

0g