Triple Pumpkin Cinnamon Rolls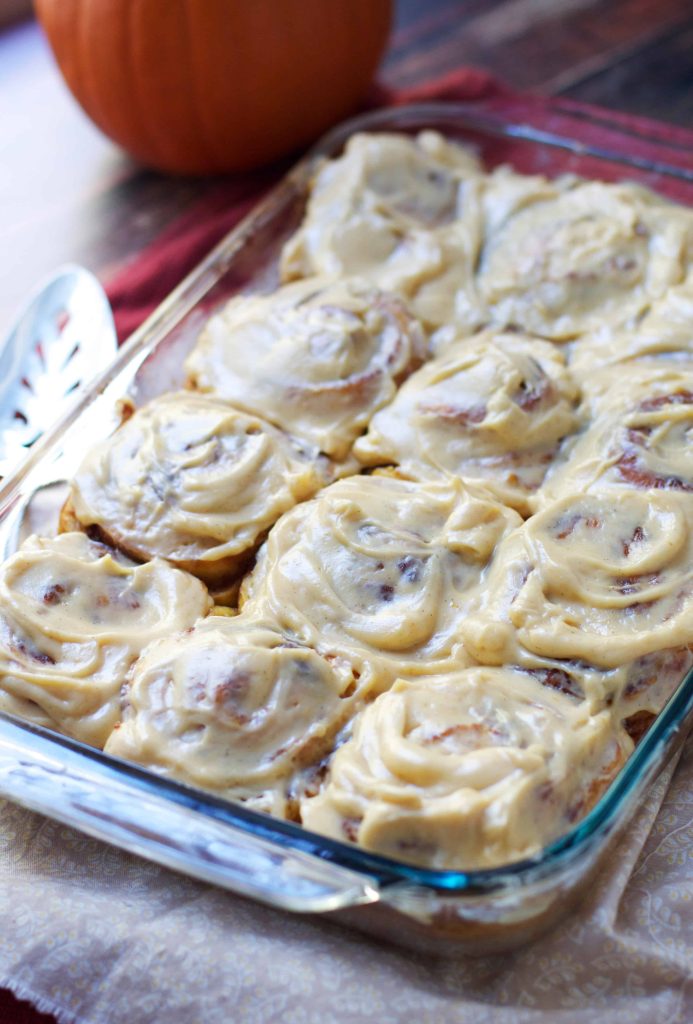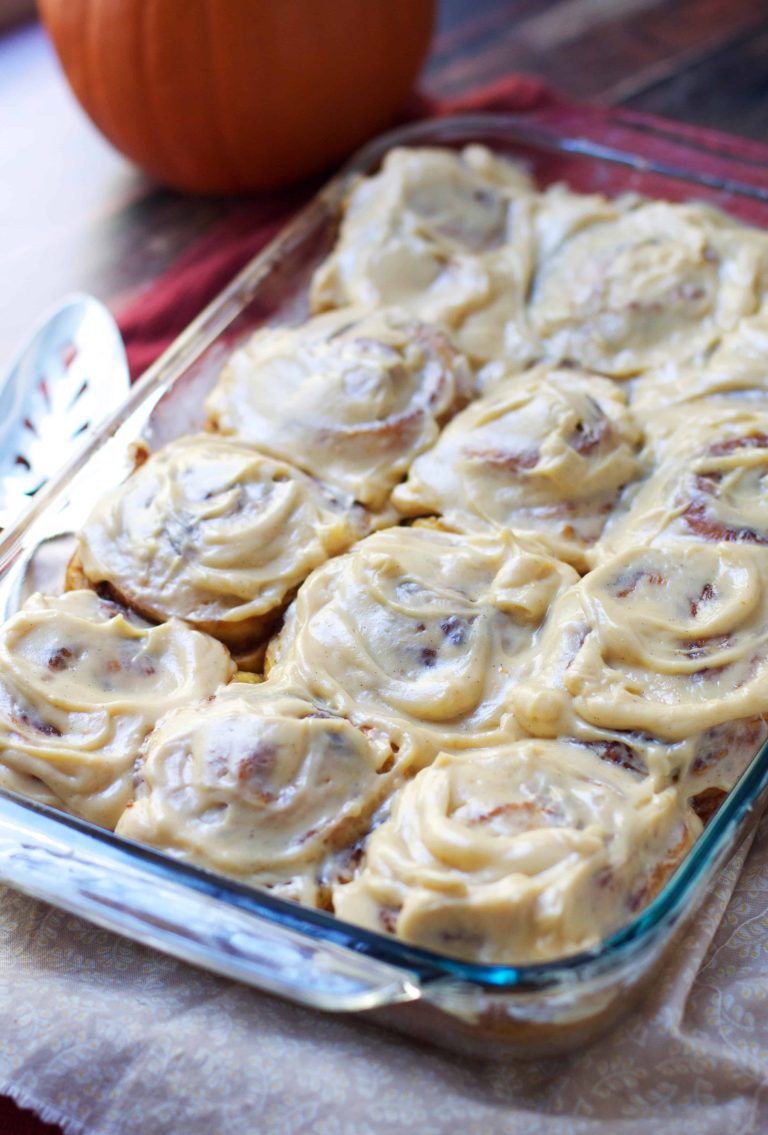 My heart is yearning for a brisk day. Though it's mid-October, the weather has been playing games with us, hitting mid 70s and humid- leaving me using my space heater one night and the air conditioner the next. While this balmy weather is just what the doctor ordered for say- July, I need that crispness. I need to be able to walk out the door with a sweater and scarf, my favorite pair of boots, and a warm coffee. (I had to get iced yesterday!)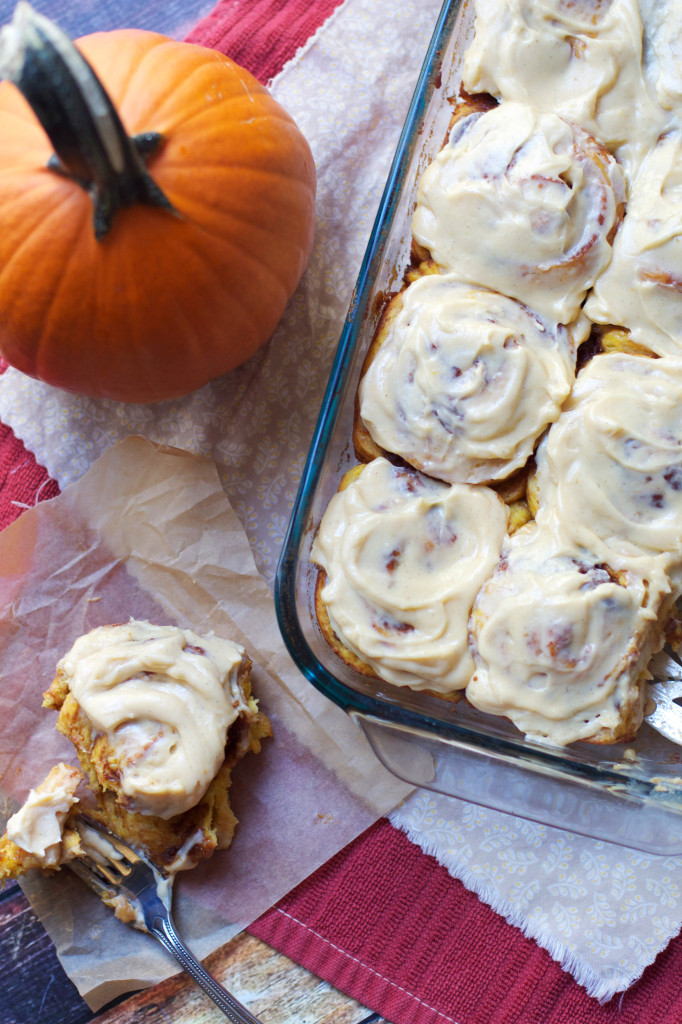 Even though the weather is depriving me of my fall dreams, I'm insisting that they happen in the kitchen. Enter- Triple Pumpkin Cinnamon Rolls, because it wasn't enough for me to just have pumpkin in the dough, I also added it to the filling and frosting. These are a pumpkin-lover's dream!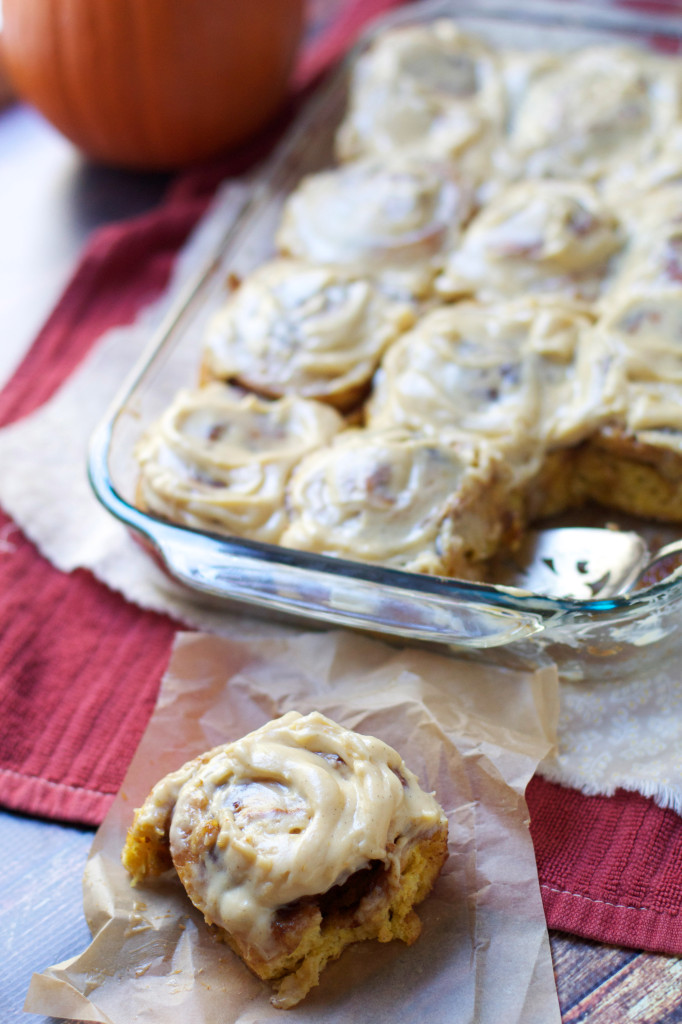 These beauties mix the fluffy, gooey-ness of classic cinnamon rolls with my favorite fall flavor. Every bite is just bursting with pumpkin and spice, and the end result is so so good. If you close your eyes while taking the first bite, you may just transform yourself to the fall scene I'm dreaming of. :)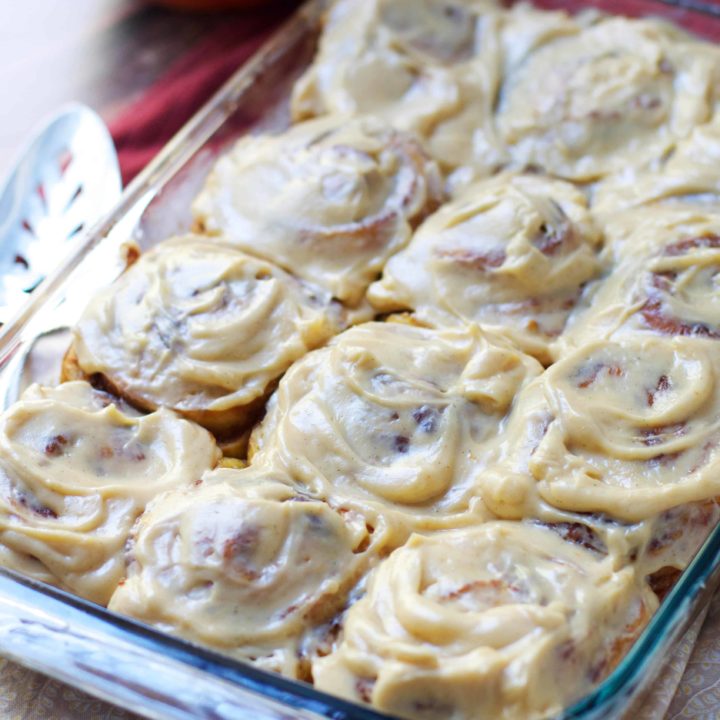 Triple Pumpkin Cinnamon Rolls
Ingredients
For the dough:
1/2 cup milk
1/4 cup butter
3 1/4 cups all-purpose flour
1 .25 ounce package instant yeast
1/4 cup white sugar
1/2 teaspoon salt
1/2 cup pumpkin pureé
1 egg
1 teaspoon pumpkin pie spice
For the filling:
1 cup brown sugar, packed
2 teaspoons ground cinnamon
1 teaspoon pumpkin pie spice
1/4 cup butter- softened
3 tablespoons pumpkin pureé
For the frosting:
8 oz cream cheese softened
1 tsp vanilla extract or paste
2-3 cups of powdered sugar, depending on how sweet you like it.
1/4 cup pumpkin pureé
1/4 tsp cinnamon
1/4 tsp pumpkin pie spice
Instructions
Heat the milk in a small saucepan until it bubbles, then remove from heat. Mix in butter; stir until melted. Let cool until lukewarm.
In a large mixing bowl, combine 2 1/4 cup flour, yeast, sugar, pumpkin pie spice and salt; whisk together. Add egg, pumpkin, and the milk mixture; beat well with an electric mixer. Add the remaining flour, 1/2 cup at a time, using a wooden spoon to stir well after each addition. (dough will be too thick and sticky to use the mixers at this point.)
When the dough has just pulled together, turn it out onto a lightly floured surface and knead until smooth, about 5 minutes. (dough will spring back when lightly pressed.)
Cover the dough with a damp cloth and let rest in a warm place for 10 minutes.
Meanwhile, stir together the brown sugar, cinnamon, pumpkin pie spice and pumpkin pureé and set aside.
On a lightly floured surface, roll out dough into a 12x9 inch rectangle. (use your 9x13 baking dish as a guide.) Spread the dough with the softened butter. Slather it with the filling mixture, getting all the way to the edges.
Carefully roll up dough and pinch seam to seal. Cut into 12 equal size rolls and place in a 9x13 baking dish. Take a small spoon to scoop up any oozed-out filling and gently dab it into the rolls.
Cover with the damp cloth and let the rolls rise in a warm place until doubled, about 30-45 minutes. Preheat oven to 375 degrees F (190 degrees C).
Bake in the preheated oven for 20 minutes, or until browned. Let cool for about 10 minutes and then spread them with frosting. (directions below) Serve warm.
For the Frosting:
Whip together the cream cheese and pumpkin with an electric mixer until smooth and creamy. Add the vanilla, spices and the powdered sugar, 1/2 cup at a time. Beat until creamy and spreadable.
Nutrition Information:
Yield:

12
Serving Size:

1 grams
Amount Per Serving:
Unsaturated Fat:

0g