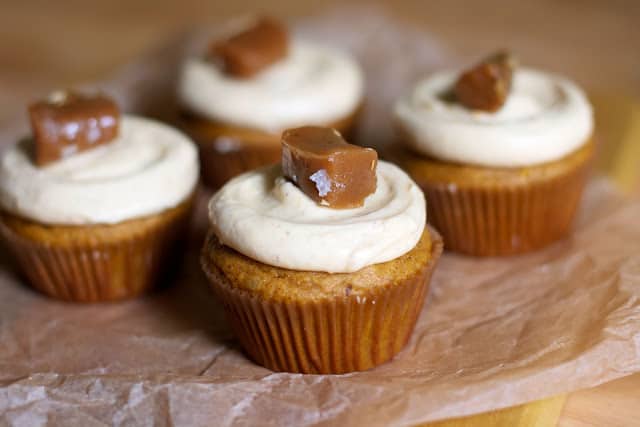 This recipe is not for the faint of heart. I mean- if you are a fair-weather pumpkin lover, or are on the fence about this popular fall flavor….this cupcake may not be the one for you. It is pretty much a pumpkin explosion- which for me- is absolutely perfect! My inspiration for these came from seeing this pumpkin frosting. I started to brainstorm other cupcake flavors that would go well with pumpkin frosting, and figured a light pumpkin frosting wouldn't be too much for a spicy pumpkin cake. The pumpkin caramels seemed like the perfect topper- and there you have it!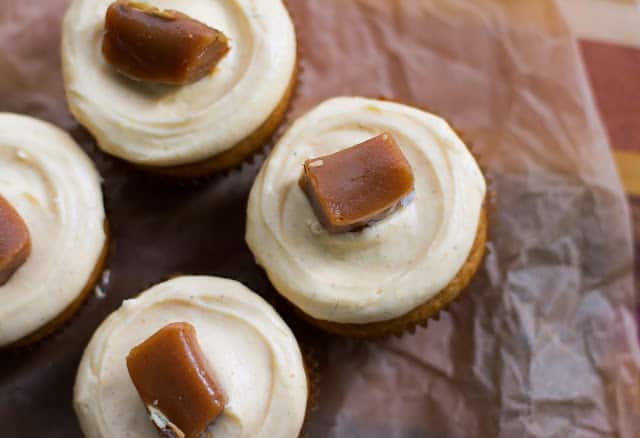 The cake itself is perfection. It's soft and fluffy, with an almost sponge-cake like texture. It's full of lots of spices, and isn't too sweet at all. That leaves room for a sweet pumpkin-cream cheese frosting and a caramel on top. I mixed about 1/4 cup of pumpkin pureé into the frosting, as I didn't want it to be overpowering. On a non-pumpkin cupcake though, I'd probably add more and really give it a pumpkin-y punch. (wouldn't a brown butter cake be perfect with pumpkin frosting?) I made these for my friend Emily's bridal shower last weekend and they were a huge hit. I mean..you can't go wrong with pumpkin in October right?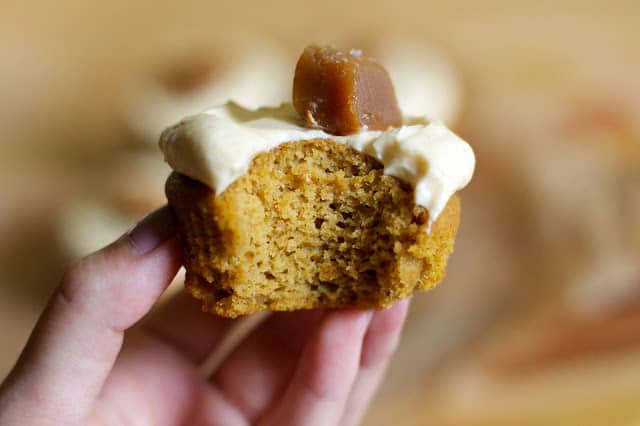 PS- I have only seen one of my professional wedding photos so far, but I can't resist sharing it with you! My photographers were beyond wonderful. I can't wait to get my hands on the rest of the shots…it should be pretty soon now. :)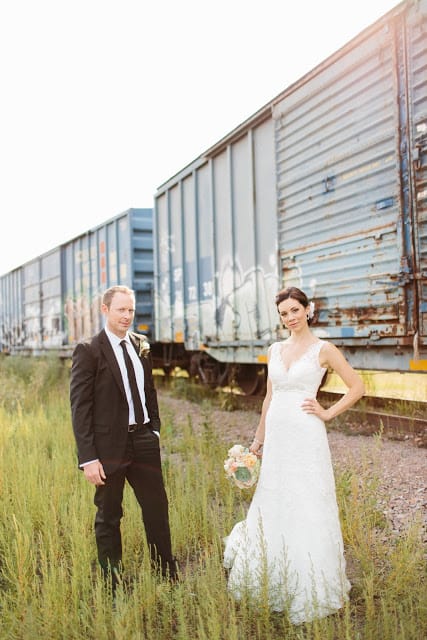 Triple Pumpkin Cupcakes
Ingredients
2 cups all-purpose flour
2¼ teaspoons baking powder
1 teaspoon salt
1 teaspoon cinnamon
1 teaspoon ground ginger
¾ teaspoon baking soda
½ teaspoon freshly grated nutmeg
¼ teaspoon ground cloves
1¼ cups light brown sugar
4 large eggs
¾ cup vegetable oil
One 15-ounce can pumpkin puree
½ cup whole milk
pumpkin cream cheese frosting:
1 8oz package of cream cheese, softened.
4 tablespoons of butter
2-4 cups powdered sugar- sifted
¼ cup pumpkin puree
½ teaspoon of cinnamon
¼ teaspoon of ginger
⅛ teaspoon of nutmeg
pinch of cloves
garnish: pumpkin caramels (optional)
Instructions
Preheat the oven to 350°. Line cupcake tins with paper liners.
In a medium bowl, whisk the flour with the baking powder, salt, cinnamon, ginger, baking soda, nutmeg and cloves.
In a bowl, using an electric mixer, beat the brown sugar and eggs at medium-high speed until fluffy, 3 minutes. Beat in the oil, then beat in the pumpkin puree. Alternately add the dry ingredients and the milk in 3 batches, beating well between additions.
Pour the batter into the prepared pan- filling each tin ⅔ of the way. Bake for 18-20 minutes, until a toothpick inserted in the center of a cupcake comes out clean. Let the cupcakes cool on a rack for a few minutes and then pop them out onto a wire rack to cool completely.
For the Frosting:
in a mixing bowl, cream the cream cheese and butter until smooth. Add the pumpkin pureé and mix until well mixed. Add the powdered sugar gradually until fluffy. Mix in spices. (add more powdered sugar if needed for thickness.) Spread or pipe onto cupcakes.
Garnish with Pumpkin Caramels if desired.
cake recipe adapted from: food and wine