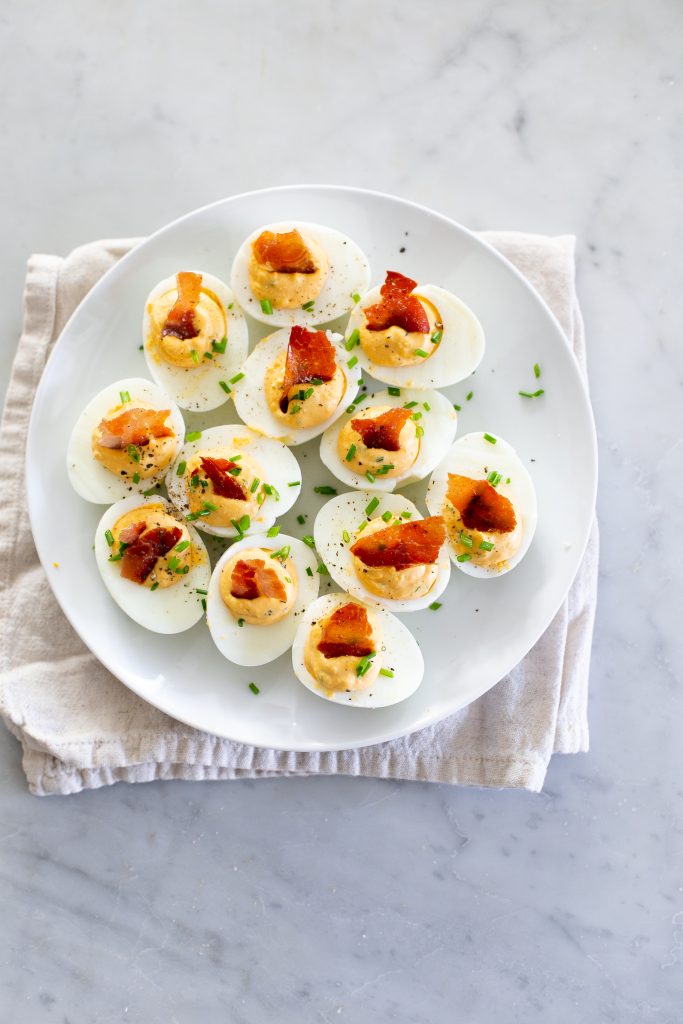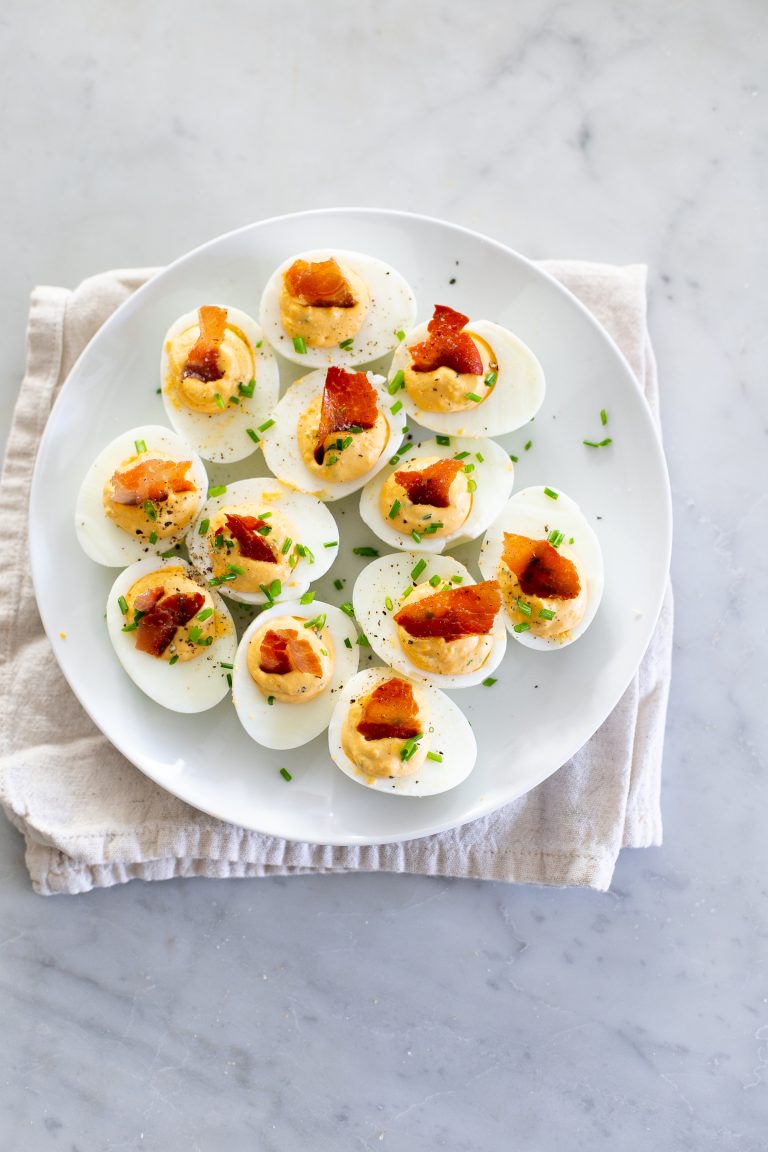 I'd take a festive cocktail party over a sit down dinner any day, and these Truffled Deviled Eggs check off all the boxes for a crowd pleasing holiday hors d'oeuvre. I love these for New Year's Eve, a Thanksgiving appetizer spread, or any festive Holiday gathering in between.
You can make them ahead of time which is extremely helpful when entertaining, they can hang in the fridge until right before you want to serve them, and they are easy as well! I make these for my annual ladies holiday party every year and they are a huge crowd pleaser.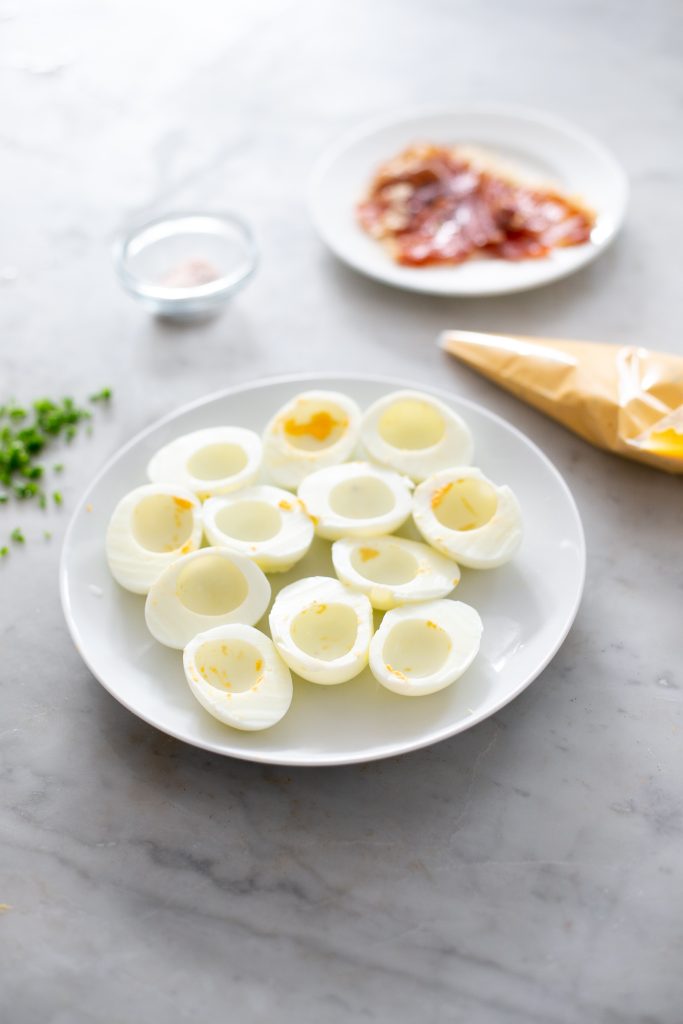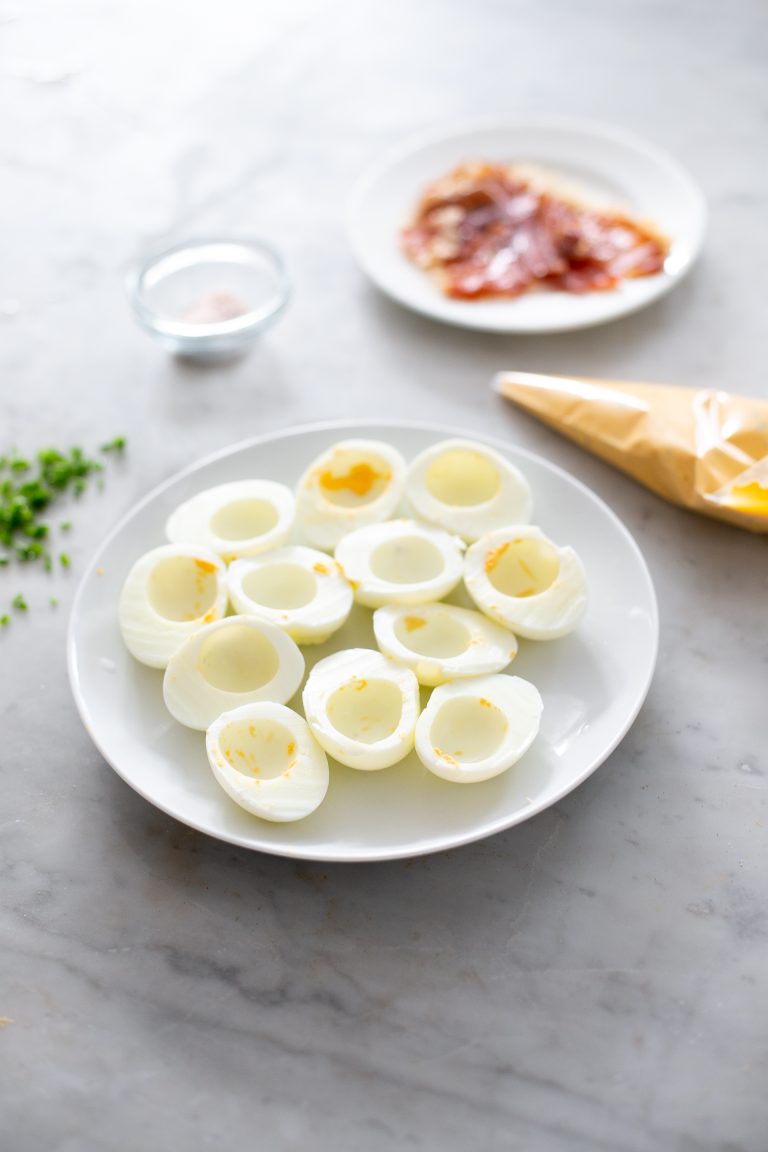 Some people shy away from using truffles in recipes assuming they are hard to find, to expensive to be accessible, or just too fancy. You can use any form of truffle powder, oil or salt in this recipe, or even real truffles if you want to shave them on top. Start with a little and add more to taste. Truffles are amazing but a little goes a long way!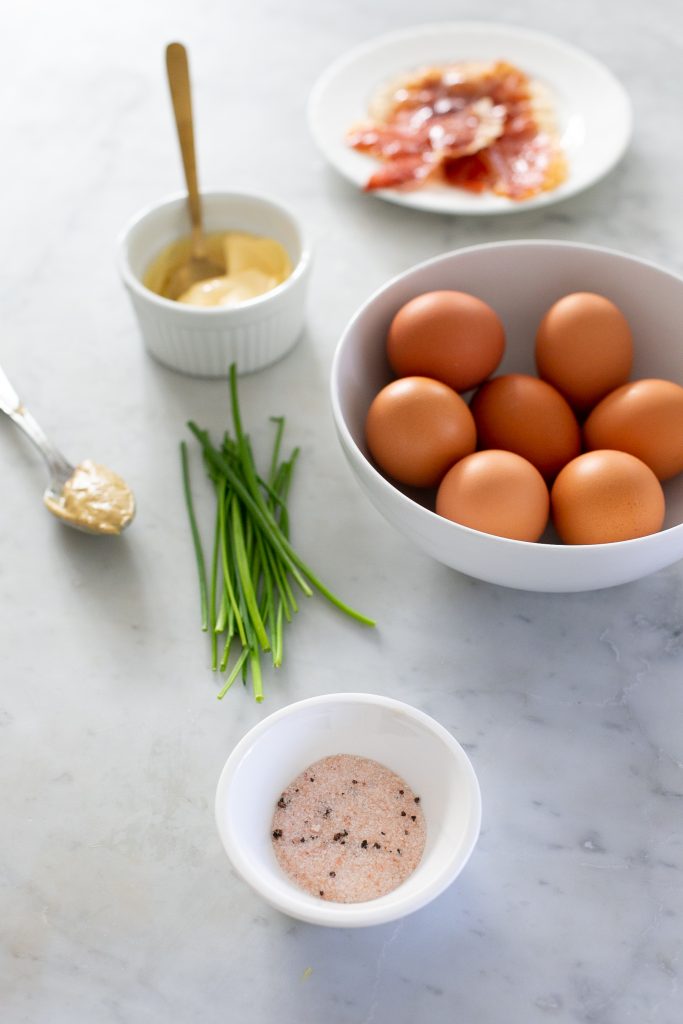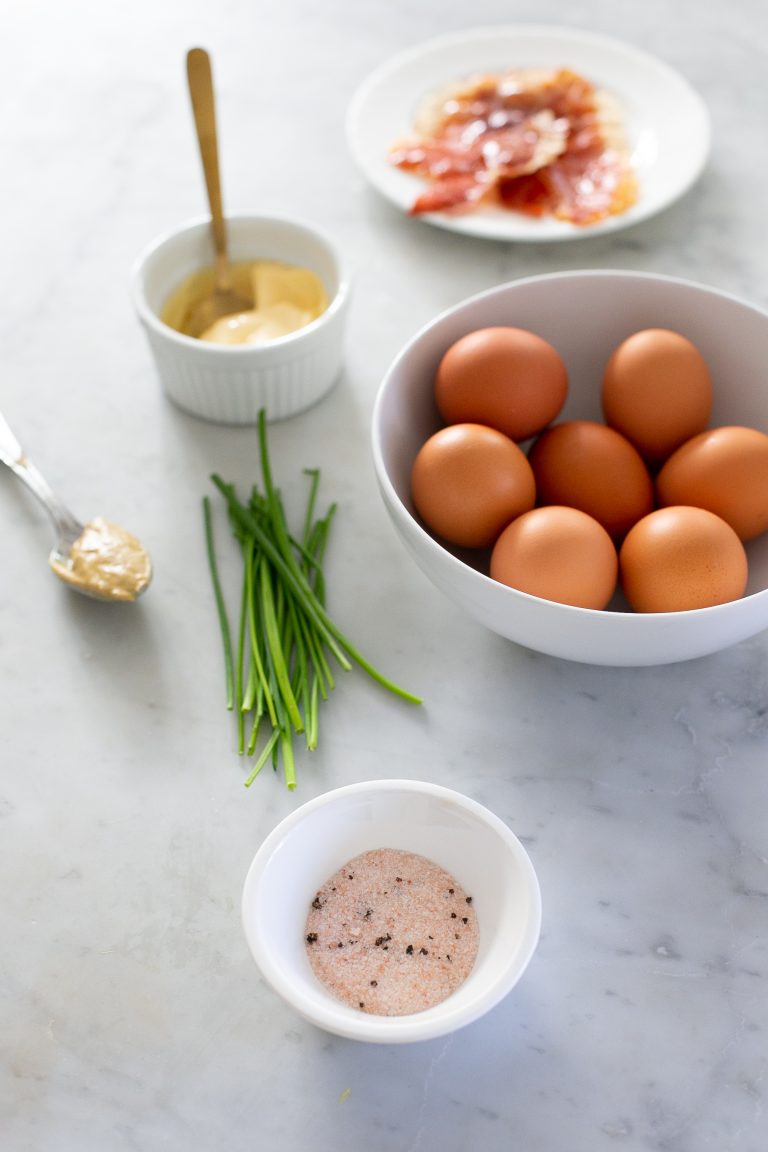 Ingredients needed for Truffle Deviled Eggs:
Hard-Boiled Eggs
Lemon Juice
Regular mayo
Dijon Mustard
Fresh Chives or other fresh herbs
Prosciutto
Shaved truffles, truffle salt or a little truffle oil or shaved fresh truffles if desired.
Supplies needed:
Piping bag or ziplock bag in a pinch
Mixing bowl
Food Processor or electric mixer

Tips for perfect Hard Boiled Eggs:
Place the eggs in a single layer at the bottom of the saucepan and cover eggs with cold water so the eggs are covered by at least an inch or two of water.
Leave the pan uncovered. Turn the heat to high and bring the water to a rolling boil.
Turn off the heat, cover, and let sit for 10-12 minutes.

The process:
Peel your hard boiled eggs, gently remove the egg yolks and add them to a bowl.
To the egg yolk mixture add mayo or sour cream, dijon mustard, salt, pepper, and whatever from of truffle you like. I love the subtle addition of truffle salt at the end of the recipe as well as a little bit of truffle oil added to the mixture. The taste is strong so I'd start with a little and add more as you like. Add fresh chives, add salt and black pepper as needed, and blend up the mixture in a food processor or with a hand mixer.
Fill a piping bag and fill the egg white halves with the yolk mixture.
Crisp up the prosciutto in a pan and top your eggs with bits of that as well as more fresh chives or finely chopped parsley for a pop of color.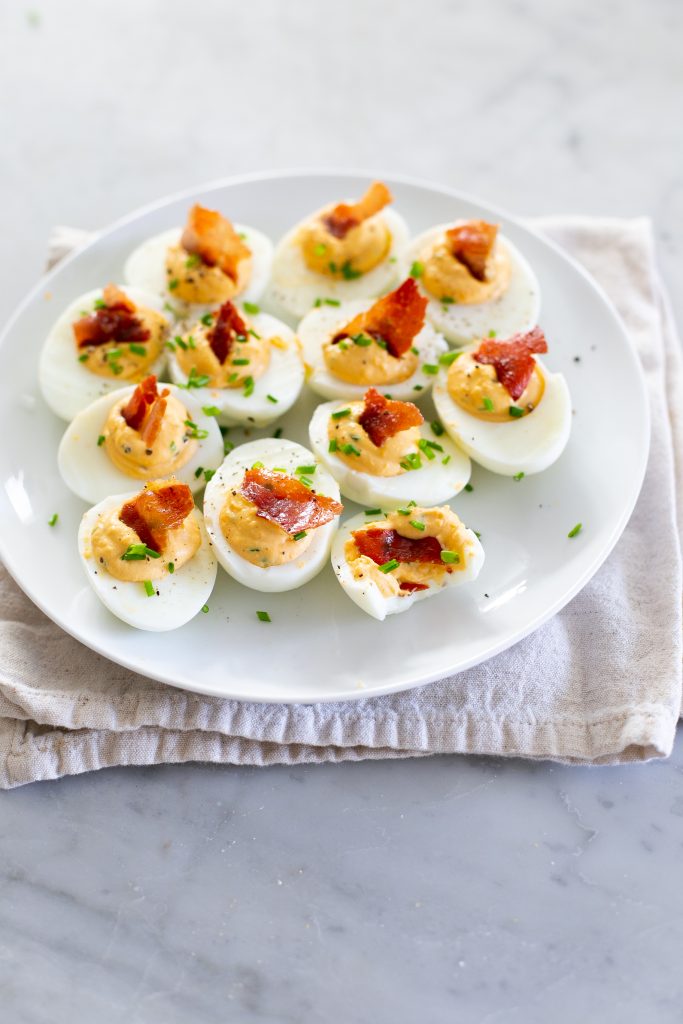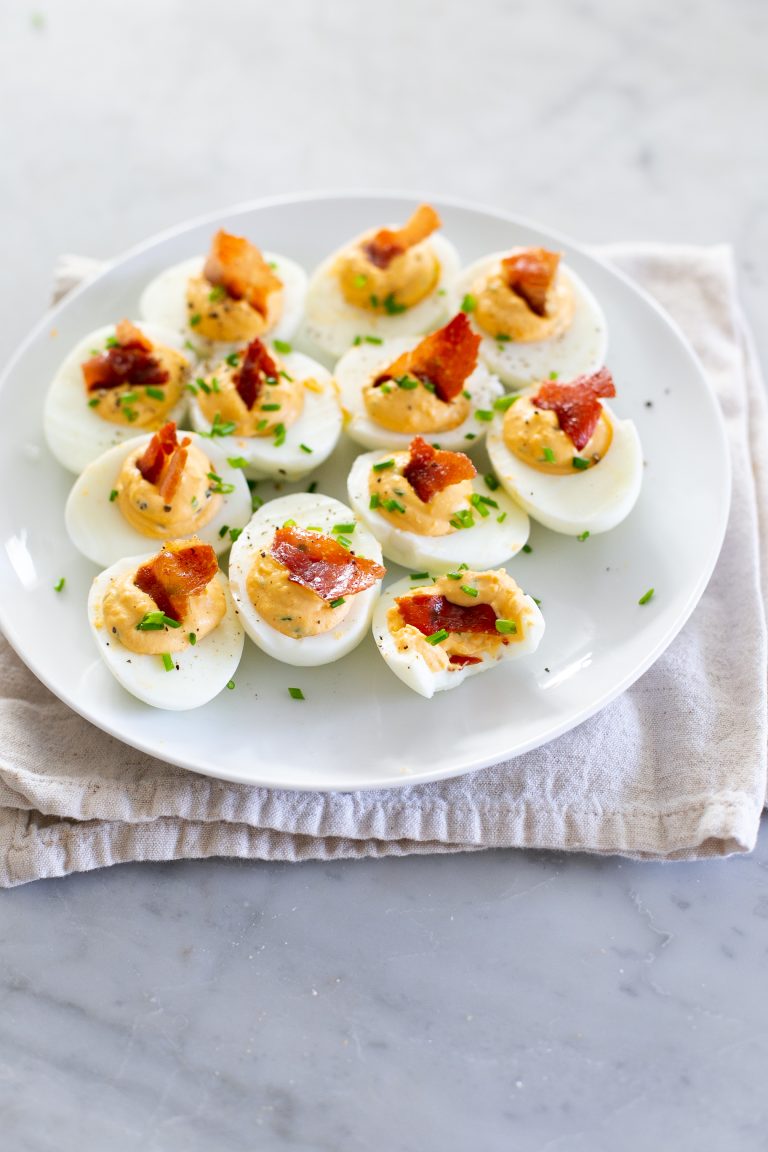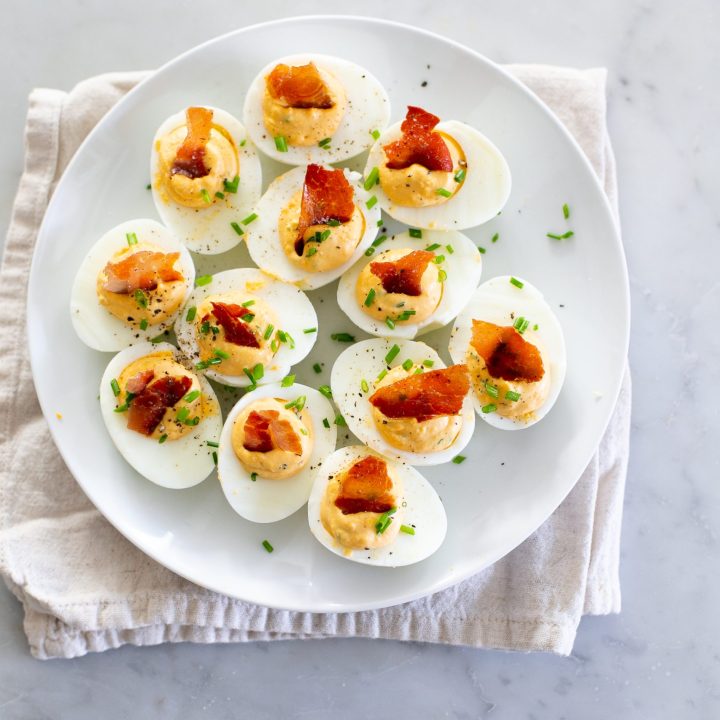 Truffle Deviled Eggs
Ingredients
6 hard boiled eggs
1 teaspoon dijon mustard
3 tablespoons mayo
1 tablespoon minced chives plus more for garnish
juice of half a lemon
truffle oil, truffle salt, or shaved truffle
2 slices of prosciutto
Instructions
Cook the prosciutto in a lightly oiled skillet until crisp. (It is thin so doesn't take long.) Set aside
Halve eggs lengthwise, and carefully scoop out yolks. Place yolks in a bowl, and mash with a fork. Add mustard, mayo, chives, salt, pepper and lemon.
If using truffle oil or powder add a small amount to the yolk mixture until you reach your desired truffle flavor.
Use a hand mixer or food processor to blend the yolk mixture until smooth.
Either spoon it back into the egg whites or use a piping bag to swirl it in.
Sprinkle on some chives for garnish, a sprinkle of truffle salt, and a small crispy piece of prosciutto
Notes
Any version of truffle works for this recipe. You can add truffle powder or oil to the yolk mixture, truffle salt on top, or even finish with shaved truffled pieces. Just taste until it's the right level of truffle flavor!
I doubt you'll have many leftover, but these deviled eggs can hang in the fridge in an airtight container for 2 days. Save the prosciutto garnish for right before serving.