Vanilla Bean Cupcakes and the Perfect Buttercream…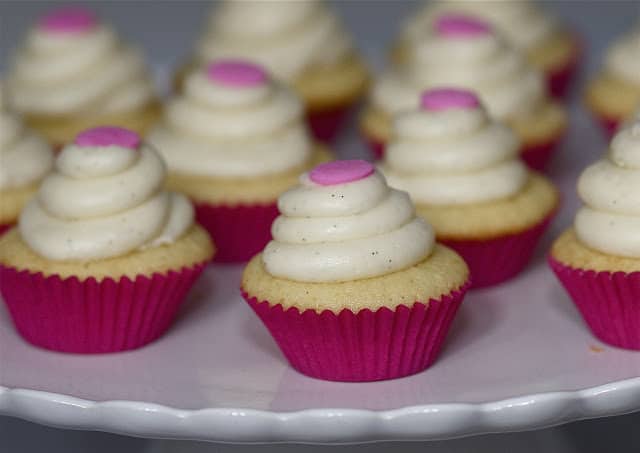 First of all- I got an extreme home makeover! Well not me, but my blog, (though I sure would love one.) I am so thrilled with how it turned out and I hope you guys like it too. My designer Shay Bocks, is outstanding and I highly recommend her!
Now, about these cuppy cakes. (The little girl Alice I babysit for calls them that and I think it's the cutest.) I know I've posted a few Vanilla cupcake recipes before, but that doesn't mean I've found the one. And since the bodega on my block starting selling Vanilla Beans, I've been meaning to try this recipe. I also have been in the process of figuring out the right proportions for creating my "perfect" buttercream and this is definitely it.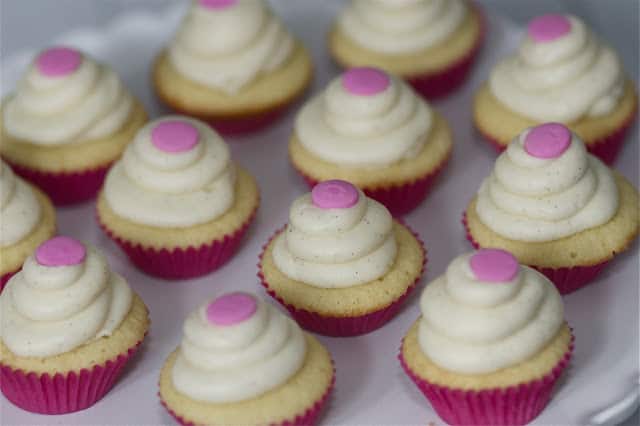 The formula is something like this: 2 sticks of butter softened and beat with an electric mixer until it is creamy and pale (about 3 minutes.) Then 2 1/2 cups of powdered sugar, (I've often used way more and I think that explains buttercream that was on the grainy side.) At this point the mixture will be thick and dense and it's the right time to add any liquids or flavoring (Lemon Juice and Zest for Lemon Buttercream, Vanilla beans and extract for this frosting, or even Peppermint Extract.) If the mixture is still too thick, I add milk or cream a tablespoon at a time until it is just creamy enough. So far it has been fail proof! The frosting is perfect for piping, spreading, filling etc. Hooray! I've been on this quest for awhile it seems…
I brought these deliciously moist cupcakes to my good friend Hiba's baby shower this past weekend. I have known Hiba and her sister Enaas since I was 16 and Enaas and I worked at the Gap at the local mall. (Best discount ever.) Since then, Hiba moved to NYC and we reconnected, started our book club and now she's having a baby girl! I had lots of fun helping Enaas with her big Sister's shower, and I got a chance to take a try at some fun DIY projects as well. (After incessant "pinning" of craft ideas on Pintrest, it's nice to actually do something crafty right?)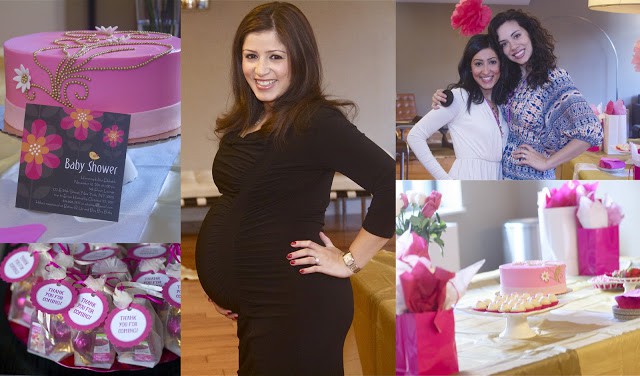 *Note: The original recipe had comments about the liners peeling off the cupcakes and the same thing actually happened to me. I think this is because we stored them in an airtight container and there was too much moisture. These cakes are anything but dry which is great, but the humidity in the tupperware caused the liners to peel. I recommend leaving the container slightly ajar or just cover them with tin foil or something else that isn't air-tight!
Vanilla Bean Cupcakes and the Perfect Buttercream…
Yield:
30 cupcakes or 60 minis
Ingredients
3 cups cake flour
1 tbsp. baking powder
½ tsp. salt
1 vanilla bean, split lengthwise
16 tbsp. unsalted butter, at room temperature
2 cups sugar
5 large eggs, at room temperature
1¼ cups buttermilk, at room temperature
1 tbsp. vanilla extract
For the Frosting:
2 sticks of butter softened
2 1/2 cups powdered sugar
1 vanilla bean, split lengthwise
2 tsp. vanilla extract
2-6 tablespoons of milk or cream
Yield: approximately 30 cupcakes, Or 60+minis
Instructions
Preheat the oven to 350° F. Line two cupcake pans with paper liners. Set aside.
In a medium mixing bowl, combine the cake flour, baking powder and salt. Whisk together and set aside. Add the butter to a large bowl. Scrape the vanilla bean seeds into the bowl with the butter and discard the pod (or stick it in your sugar canister like I do.) Beat with an electric mixer on medium-high speed for 3 minutes, until light and creamy in color. Scrape down the sides of the bowl and beat for one more minute.
Add the sugar to the butter mixture, ¼ cup at a time, beating 1 minute after each addition. Mix in the eggs one at a time until incorporated. Scrape down the sides of the bowl after each addition. Combine the buttermilk and the vanilla extract in a liquid measuring cup. With the mixer on low speed, add the dry ingredients alternately with the wet ingredients, beginning and ending with the dry ingredients and mixing just until incorporated. Scrape down the sides of the bowl and mix for 15 seconds longer.
Divide the batter between the prepared paper liners, filling each about 2/3 of the way full. Bake 18-22 minutes, or until a toothpick inserted in the center comes out clean.
Allow to cool in the pans 5-10 minutes, then transfer to a cooling rack to cool completely. Replace paper liners and bake remaining batter if desired.
For Frosting:
Beat Butter and scraped out vanilla bean with an electric mixer until pale and fluffy, (about 3 minutes.) Add the powdered sugar and beat well until mixture is thick and almost paste like. Add extract and 1 tablespoon of milk/cream. Beat well. Slowly add more milk 1 spoon at a time if you think your frosting is too thick or dry. Frost cooled cupcakes as desired.
Nutrition Information:
Yield:

30
Serving Size:

1 grams
Amount Per Serving:
Unsaturated Fat:

0g