Vanilla Coconut Caramel Cupcakes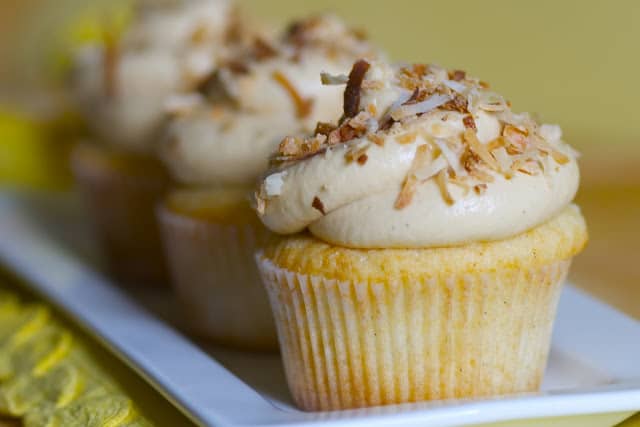 Have you noticed that lately I've been making a lot of cupcakes? I have. I feel like my kitchen has remnants of frosting everywhere!! I shouldn't complain though, because I really love making them. There is something so perfect and complete about a cupcake. It is cased in with it's tidy liner and piled with the perfect amount of frosting for a few bites of heaven. And these cupcakes are especially delicious.
I made these for a birthday party last weekend and to date it was the most cupcakes I've ever baked in my small kitchen (about 3 dozen.) The birthday girl loved them and I did too. This recipe is little more time consuming than others, (usually I find making cupcakes pretty quick,) but by prepping some of it the night before these could be made for a day-of event very easily. They were a hit at the party and if you love vanilla, coconut and caramel as much as I do- you will love them too!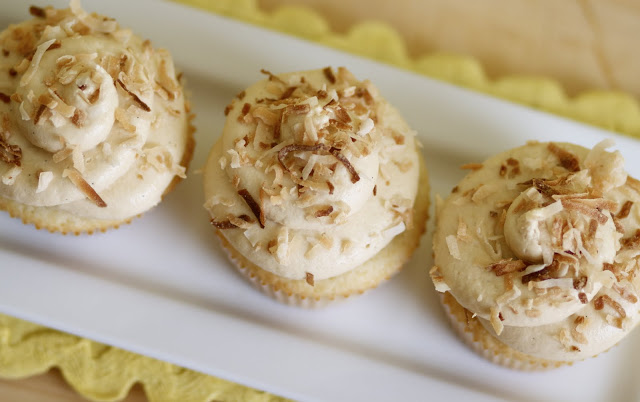 Reasons I love these: 1-the cake has no flake coconut but instead a coconut milk reduction which adds a coconut flavor without the nutty shreds. 2-The caramel-cream cheese frosting is amazing. This is now a staple in my recipe book and I can't wait to use it again on a chocolate or banana or pumpkin cake (so many possbilities.) 3-This was my first time baking with real vanilla beans and now I'll never go back. These have a full bean in the cake and one in the frosting. Perfection!
Vanilla- Coconut- Caramel Cupcakes
Ingredients
2 13- to 14- ounce cans un-sweetened coconut milk, preferably organic
2 cups all purpose flour
2 1/4 teaspoons baking powder
1/2 teaspoon salt
3/4 cup 1 1/2 sticks unsalted butter, room temperature
1 1/3 cups sugar
3 large eggs
Seeds scraped from 1 split vanilla bean or 1 1/2 teaspoons vanilla extract
1 cup reduced coconut milk, see below, room temperature
Frosting:
1 1/2 cups sugar
3/4 cup water
1 vanilla bean, split and seeds scraped
2 and 1/4 sticks butter, 9 oz - softened
3 tablespoons heavy cream
1 tsp. sea salt
1 1/2 lbs cream cheese, cut into 2-inch cubes
Instructions
Make the Frosting:
In a medium saucepan, combine the sugar, water, vanilla bean and seeds. Cook over high heat, stirring, until the sugar is dissolved. Using a wet pastry brush, wash down any crystals from the side of the pan. Cook over moderate heat without stirring until a medium-dark amber caramel forms, about 9 minutes. Remove from the heat and immediately stir in the butter and heavy cream. (Don't worry if the butter separates.) Discard the vanilla bean. (I put it into my sugar canister!)
Transfer the caramel to the large bowl and using an electric mixer (ideally fitted with a whisk attachment,) beat at low speed until the caramel cools slightly and comes together, about 5 minutes. Add the sea salt and mix well.
With the machine on, beat in the cream cheese, 1 cube at a time and beating well between additions, until silky. (this may take 15 minutes or so...)
Transfer the frosting to a bowl and refrigerate until very firm, at least 6 hours. (Or 3 hours alternating between the freezer and fridge.)
Make the coconut milk reduction*:
Bring coconut milk to boil in large deep saucepan over medium-high heat (coconut milk will boil up high in pan). Reduce heat to medium-low; boil until reduced to 1 1/2 cups, stirring occasionally, 25 to 30 minutes.
Remove from heat; cool completely. Transfer to small bowl. Cover; chill (coconut milk will settle slightly as it cools). Can be made 2 days ahead. Keep chilled.
For the Cupcakes:
Position rack in center of oven; preheated to 350°F. Line eighteen muffin cups with paper liners.
Whisk flour, baking powder, and salt in medium bowl.
Using electric mixer, beat butter in large bowl until smooth. Add sugar; beat on medium-high speed until well blended, about 2 minutes.
Add 2 eggs, 1 at a time, beating well after each addition and occasionally scraping down sides of bowl. Beat in seeds from vanilla bean and remaining egg.
Add half of flour mixture; mix on low speed just until blended. Add 1 cup reduced coconut milk; mix just until blended. Add remaining flour mixture; mix on low speed just until blended. Divide batter among muffin cups.
Bake cupcakes until tops spring back when gently touched and tester inserted into center comes out clean, about 20 minutes. Transfer cupcakes in pans to rack; cool 10 minutes. Carefully remove cupcakes from pans and cool completely on rack.
Notes
Since the frosting is made using hot caramel, it needs to chill quite a bit before it will be the right consistency. I recommend either making it the night before or with plenty of time to spare. The original recipe said to chill it for 6 hours. I chilled mine for about 3 hours half of which was in the freezer. The coconut reduction also will need to chill before using it. You can speed this up in the freezer (mine needed about an hour,) but if you have the time, do it the night before.
Nutrition Information:
Yield:

18
Serving Size:

1 grams
Amount Per Serving:
Unsaturated Fat:

0g
Inspiration: Bon Appetit Magazine and Food and Wine