Vegan Chocolate Salted Caramel Cupcakes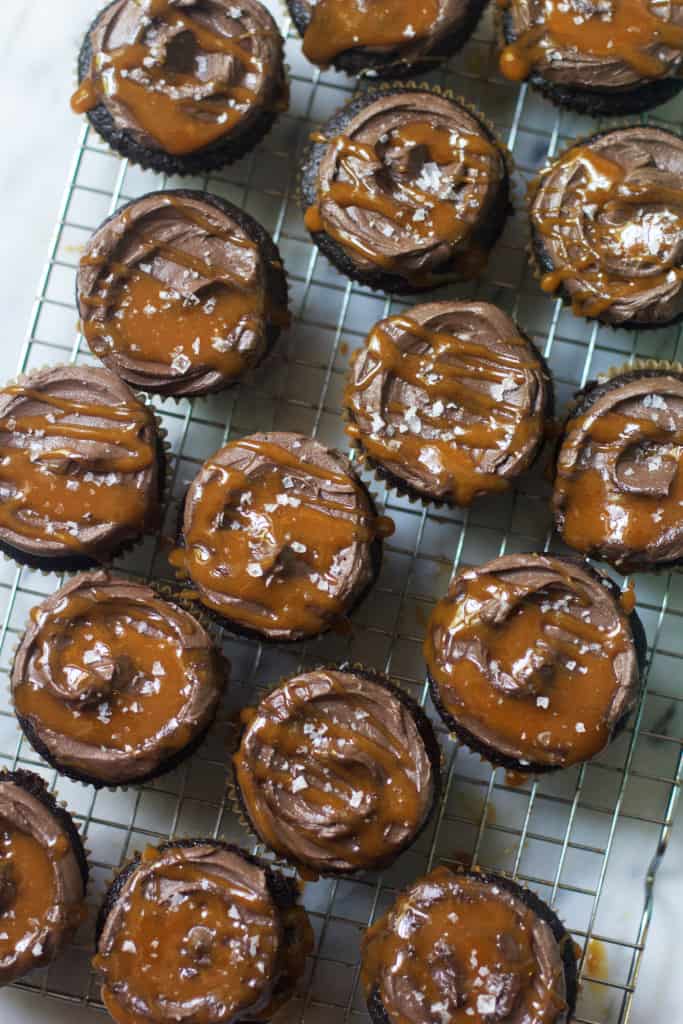 Whenever I poll my readers for what they'd like to see more of around here, I always get a few requests for more dairy free desserts. I have to admit that I typically prefer baking with the ingredients that I'm familiar with like butter, eggs and milk since I know what to expect, but I love to change things up now and then. A good friend got engaged last week and since she's vegan, I wanted to surprise her with a rich and decadent dessert she could actually eat.
I swear you would never ever know these cupcakes were vegan and everyone at her engagement party agreed. The chocolate cake is rich and moist with a creamy chocolate "butter"cream and salted caramel sauce made with coconut cream instead of butter and heavy cream. I have to admit that coconut oil, milk and cream really make dairy free baking for me, as I adore the natural flavors and they add such amazing texture as well.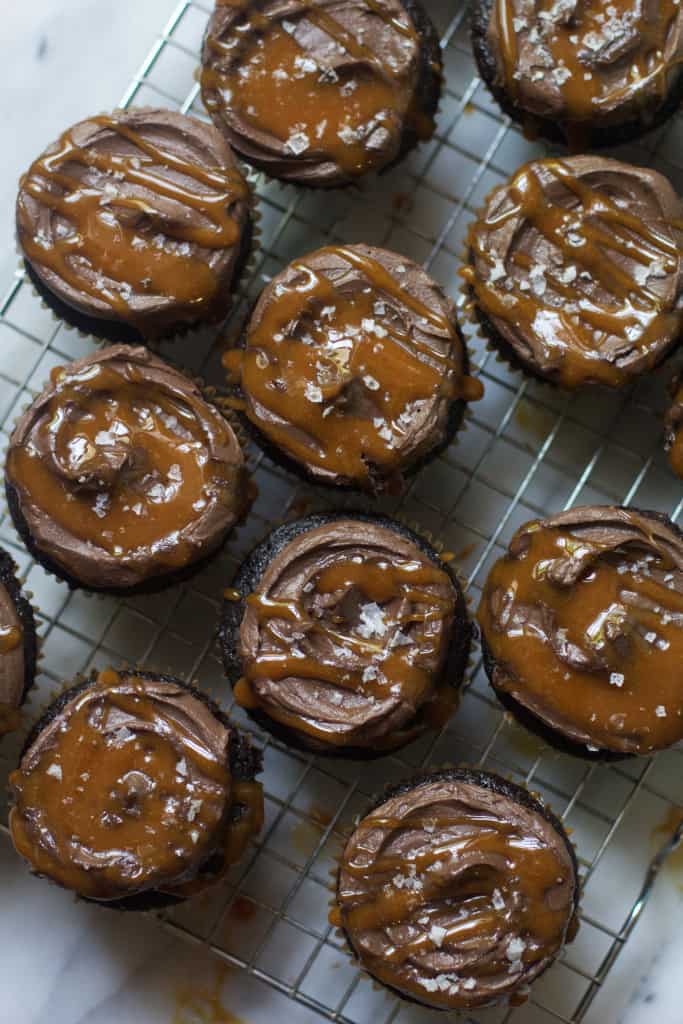 The cake and frosting recipes were super easy and required no more effort than a normal recipe, but I must admit the caramel sauce tripped me up a bit. I make salted caramel sauce all the time, and I've never had a problem with it seizing up after I add the butter and cream. In this situation, a huge candy-like mass formed as soon as I added the coconut cream and for a few moments I was worried I'd have to scrap the whole thing. If this happens to you, don't fret too much. I put the whole pot onto low heat and just stirred and stirred until the candy-like mass started breaking up and dissolving into the liquid. You could also use an immersion blender to make sure it was perfectly smooth without any chunks. (Or run the whole thing through a food processor.) It's possible you won't even need to, but I was relieved to discover that the whole thing didn't need to be scrapped. In the ended up being perfectly smooth and totally delicious with a mild coconutty flavor.
Vegan Chocolate Caramel Coconut Cupcakes
Ingredients
For the Cake:
1 1/2 cups all-purpose flour
1 cup granulated sugar
1/4 cup cocoa powder
1 teaspoon baking soda
1/2 teaspoon salt
1/3 cup vegetable oil
1 teaspoon vanilla extract
1 teaspoon distilled white vinegar
1 cup water
For the Frosting:
1 cup nonhydrogenated shortening
3 1/2 cups powdered sugar
2 tablespoons cocoa powder
1 1/2 teaspoons vanilla extract
2-4 tablespoons of coconut milk
For the Caramel Sauce:
1 cup sugar
1/2 cup coconut cream, cold*
1 teaspoon flakey sea salt
Instructions
For the Cake:
Preheat oven to 375F. Line 12 muffin tins with paper liners, set aside.
In a large bowl whisk together the flour, sugar, cocoa powder, baking soda and salt. Make a well in the dry ingredients and add the oil, vanilla, vinegar and water. Whisk together until smooth and lump-free.
Divide the batter between the cupcake liners and bake for 18-20 minutes, or until a toothpick inserted into the middle of the cupcake comes out clean. Cool the cupcakes on a wire rack while you make the caramel sauce.
For the Caramel:
Place a heavy-bottomed 2 or 3 qt. saucepan over medium-high heat and sprinkle about a tablespoon of the sugar into the bottom.
Lift the pan over the heat and shake/swirl the sugar until it starts to melt. Continue swirling the pan around until the sugar is all clump-free and melted.
Sprinkle some more sugar on top and repeat the "swirl and shake" over the heat until the new sugar is incorporated and melted into the first batch. (The sugar will start to caramelize at this point which is why you want to lift if off the heat, preventing it from burning.)
Repeat the previous step with the remaining sugar, sprinkling a little at a time until it is all melted and a dark amber color.
Remove the pan from the heat and add the coconut cream very gradually, whisking constantly.
If the mixture seizes up and clumps form, return it to low heat and continue to stir, breaking up the clumps until they dissolve. Stir in sea salt.
Pour caramel sauce into a glass jar and let it cool in the fridge or freezer while you make the frosting.
For the Frosting:
Beat the shortening until fluffy. Add the sugar and cocoa and beat for about 3 more minutes.
Add the vanilla and coconut milk, one tablespoon at a time, and beat for another 5 to 7 minutes until fluffy, adding more coconut milk if needed.
Spread or pipe the frosting onto the cooled cupcakes and drizzle with caramel sauce and sprinkle with flakey sea salt if desired.
notes
Notes
Cake recipe adapted from All Recipes * Coconut Cream is the thick layer on the top of the can of coconut milk, keep it chilled until ready to use to ensure it has separated. Use some of the thinner milk for the frosting.
Nutrition Information:
Yield:

12
Serving Size:

1 grams
Amount Per Serving:
Unsaturated Fat:

0g